Lying in the Easternmost north of Nepal, Kanchenjunga Mountain is the world's second-highest peak. And the Kanchenjunga Circuit trek goes around the mountain, almost making a circle. Kanchenjunga trekking has been opened for foreigners almost half a century back and remains one of the toughest and most rewarding trekking routes in Nepal.
Due to the tough geography of Mt. Kanchenjunga, this trekking region has remained a camping trek of Nepal for many years. However, now Kanchenjunga Trekking accommodation has been upgraded to tea house accommodation. This means you get to stay in the comfortable guest house at the end of the trek. The tea houses have a service of basic sleep and food. However, there is only a handful of tea houses at each stop during the 21-night Kanchenjunga Trek Itinerary.
Let's learn about accommodation availability as per Himalayan Masters Kanchenjunga base Camp trek Itinerary.
What kind of Kanchenjunga Trekking accommodation should I expect?
Firstly, you should know what a tea house is. These are the small guest houses owned by the locals. Often, the tea house has 4-5 bedrooms with two or three twin beds. The rooms are cozy, separated by a wooden plank. They provide you mattress, pillow, bed sheet, and a small blanket. Sometimes, you get an extra blanket, and sometimes, you don't (so, always carry your sleeping bag). If you are seeking a better facility, you better try the Luxury Everest Base Camp trek.
The bathroom is available on sharing basis. Almost all tea houses have two or three bathrooms that have Indian-style seats. You won't find a private bathroom above Taplejung. For the hot shower, you will have a geyser in the lower region or get a bucket of hot water at a higher altitude.
For Mt. Kanchenjunga Trekking accommodation, the tea house will have a central dining hall that is often heated with fire. You can stay in the dining hall for interaction and camp firing experience. Food in Kanchenjunga is provided as per the menu and the menu is similar almost through the trek trail.
Kanchenjunga Trekking accommodation
Hotels or Guest houses in Illam 
Illam is one of the major touristic destinations for Nepalese and international tourists. This means, there are many luxurious hotels around Illam. We will stay in a 3-star standard hotel with a private bathroom and hot shower. This is probably the most luxurious Kanchenjunga Trekking accommodation you stay at. You can have the food in the hotel itself or in any other restaurant of your choice.
Hotel and Guest house in Taplejung 
Taplejung is the commencing point of our trek. As we stay in a city area, there is a great option for the hotel in Kanchenjunga. You can get rooms for Rs 500 to Rs 700. Rooms cost makes up only a small part of your Kanchunjenga trekking cost. Even in Taplejung, you can find hotels with private baths and comfortable facilities. It's suggested to have your food in the hotels where you stay.
Tea house in Chirwa
As we are still at a lower altitude, there are somewhat bigger villages and some good Kanchenjunga Trekking accommodations along the route. Although remote, the village of Chirwa has many great tea houses for the so-called romantic stay. The room cost between Rs 300 to Rs 600 depending on the number of beds. Food is available in the tea house itself.
Note: From Chirwa, you must have your dinner and breakfast in the tea house at Kanchenjunga where you stay. Otherwise, the owner adds about $10 to the cost of your hotel room.
Tea house in Lelep
There are only a couple of tea houses in Lelep. Although this is a big village, there hasn't been much construction for the hotels. However, Lelep will have good tea houses in the near future as the villagers are getting attracted to the tourism business, build news Kanchenjunga hotels.
Alternatively, the trekkers can also stay at Sekathum or in Japantar which is only 10mins from Sakathum. Both places has one Kanchenjunga mountain accommodation and cost Rs 200 to Rs 300 per person.
Tea house in Amjilosa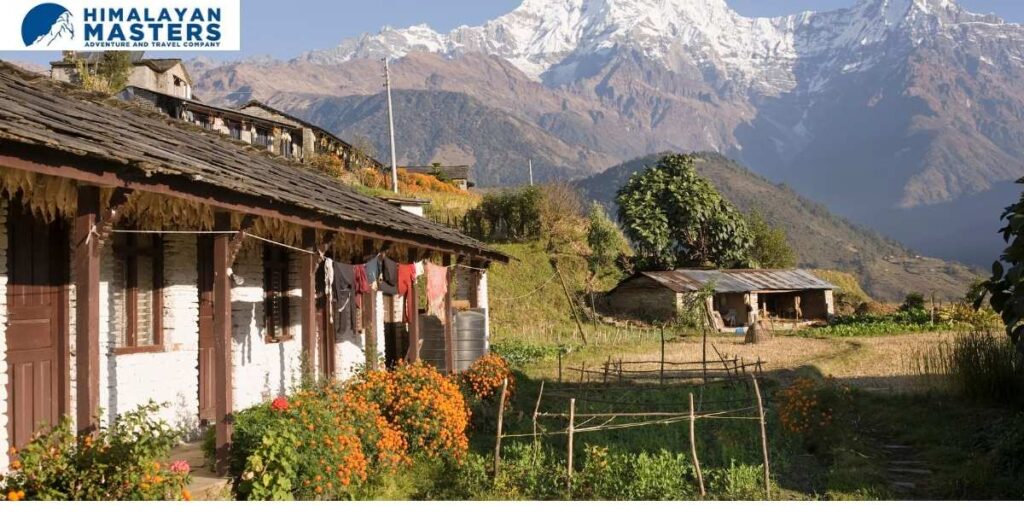 In Amjilosa, you can find two guesthouses. The one above the road on the left is newly built and better than the one at the end which is always noisy. The first Kanchenjunga guesthouse has one has six double rooms and the cost is Rs 200 to Rs 300 per person. The views from the hotel make it among the best treks in Nepal.
Tea house in Gyabla
Gyabla also has only two guest houses and you can stay in either one of them during the Kanchenjunga climb. The facility is quite basic and the hotel looks like a hut. The cost is similar to that at Amjilosa. They also serve quite good food here.
Tea house in Ghunsa 
Ghunsa is among the largest settlement you see on the days of the Kanchenjunga trek. In this large Tamang village, you can see nine Kanchenjunga tea houses with many bedrooms. Since most tourists stop here for two days, the villagers have made effort to make comfortable hotels here. So, your two nights of stay in Ghunsa are going to be quite comfortable and the cost is Rs 200 per person. If you don't like the tea house you stayed at on the first night, we can switch to another one in the second night.
Tea house in Kambachen
Khambachen is a great stop for the Kanchenjunga trekking. We stay here for two nights in a comfortable guesthouse. This yak pasture has three teahouses run by the locals. The settlement here is also quite beautiful. Here, you can stay at White Horse Guest House which serves great food from an expert chef. Other hotels are also equally good. Here, the price for a triple room is Rs 800 to Rs 1000. The cost for a double or single room is relatively low.
Tea house in Lhonak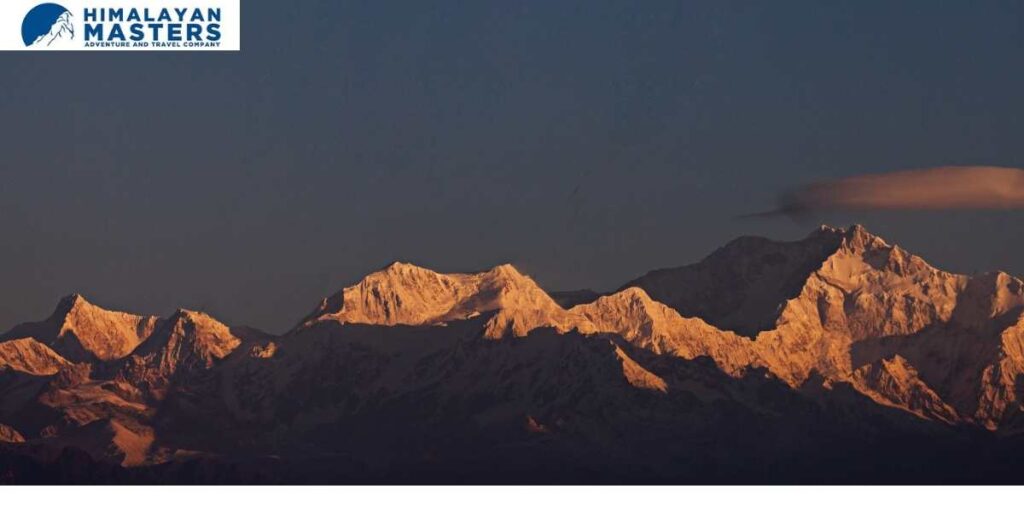 Now, we will be trekking in the most remote land where you will find only the small huts for Kanchenjunga Trekking accommodation. If you have carried camping equipment, you can start building your camps from this point. If not, you can stay in the Lhonak Guest House which is on the right side of the village. The cost of rooms is a bit higher (Rs 500 per person) but the hotel is clean and comfortable. There are only four double bedrooms here.
Now, we can stay at Pangpema during the day tour at Kanchenjunga North Base Camp. However, there's only one hut with no toilet, and it's not very clean. The cost is Rs 500 per person. Instead of staying in Pangpema, you can get back to Lhonak for the night's stay.
Tea house in Ghunsa
We walk down from Lhonak to Ghunsa and stay in the tea house where we have previously lived.
Tea house in Sele 
Crossing Sele Le Pass is one of the hardest parts of the Kanchenjunga trek and this is also the most difficult landscape here. In Sele, there's one small hut with no toilet just as in Pangpema! However, the hotel in Sele is slightly bigger with five rooms. Here, the cost is Rs 500 per person, and food is also served inside the hut.
Tea house in Cheram
With three beautiful tea houses, Cheram is a quite good place to stay. The hotels in Cheram are growing rapidly and you might find other newly made guest houses. The cost of the room is Rs 800. From here, we get to Kanchenjunga's south day drip and get back to Cheram for the night.
Or we can stay in Ramche if you are tired to go back to Cheram. Ramche has one small stone wall with only a few bedrooms. However, it's closed in winter and operational in Autumn. The cost is about Rs 500/ person. If possible, please get back to Cheram for a comfortable sleep.
Tea house in Torongding 
Torongding also has two hotels where you can get good food and sleep. The price is similar to the one in the Cheram. The owner of the hotel on the left is the same as the hotel in Yamphuding. So, if you stay in his hotel for two nights, you might get some discounts.
Tea house in Yamphuding
Since we now approach bigger villages, the Kanchenjunga hotel facility starts to get better. Yamphuding has some good options for the hotel room and costs about Rs 500 for a double or triple room. There is also a four-bed dormitory which is even cheaper. Food in Yamphuding is also great.
Tea house in Khebang 
Khebang is also a big village with many good tea houses and homestays. Here, we suggest you spend the night in the homestay where you can get some warm food and cultural insight into the Tamang village.
Tea house in Khamdime
This is your final night of stay in the remote region of Kanchenjunga. It's also our last tea house stay. Since Khamdime has access to the road network, the hotel/ guest house here is quite luxurious. If you are lucky, you can even find a room with a private bathroom.
Hotel and guest house in Bhadrapur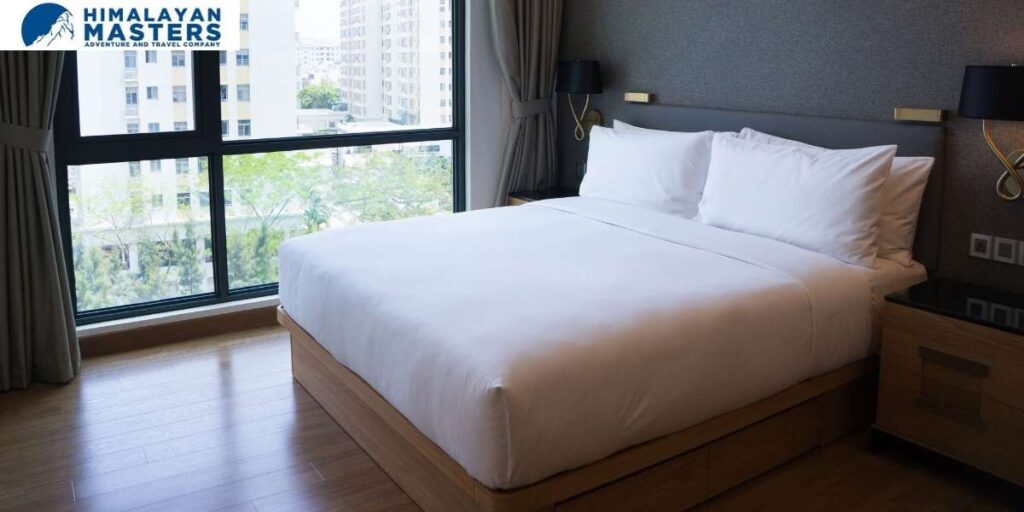 Well, Bhadrapur is a large city in Jhapa, Nepal's easternmost district. There are hundreds of great hotels in Bhadrapur. You can pick the one that suits you most and the cost ranges from $15 to $25 for a double room. Also, the option for food is unlimited and you can enjoy a lavish dinner in any restaurant you want.
Electricity in Kanchenjunga Base Camp 
Tea houses in the Kanchenjunga region have electricity from the local hydropower and solar part. The villages either have electricity from local hydropower or the people have solar power. As long as you stay in the tea houses, you get to charge your phone. However, the rooms might not have the plugs, and you need to charge the devices at the reception desk, which might cost $2 to $3. In the rainy season, solar power is not available, and in winter, most of the tea houses are closed.
For the Kanchenjunga camping trek, carrying solar-charged power is the best option. Also, carry a few extra batteries for your phone and camera. As long as you have your own charging device, you wouldn't have to rely on others.
Internet service during Kanchenjunga Trekking 
Internet is a luxury you wouldn't enjoy during the trek. The chances are, only the tea houses up to Lelep might have an internet connection. That means you might get some kind of Wi-Fi in the lower region. The owner might charge you a couple of dollars to use the Wi-Fi, which is basically very slow and unstable. Beyond that, even if you stay in the tea houses, you wouldn't get any Wi-Fi facilities. So, you will be out of internet connection for 15 days or more. In Kathmandu, you shall get an internet connection with a decent speed. You can complete all your work before flying to Bhadrapur. Wi-Fi in Kathmandu is free.
Telephone in Kanchenjunga circuit trekking
As soon as you land in Nepal, you can issue a local SIM card. NTC and NCell coverage is satisfactory in the lower region of Kanchenjunga. You can issue the SIM with your valid passport or ask your trekking agency in Nepal to get you one. The SIM might be useful to use 3G data in the lower part of the trek. It's also useful if you separate from the team during another emergency. Sadly, most part of the trail in Kanchenjunga Mountain does not have network coverage. Thus, getting a SIM card will also not solve your internet issue in the Mount Kanchenjunga base camp area. Since this trek is a true adventure in nature, it's suggested that you don't bother yourself with an Internet connection and actually enjoy the trek.
FAQ about Kanchangunga Trek tea house 
Should I book my hotel in advance?
Every travel blogger suggests you book your hotels in advance. However, it's almost impossible to do that by yourself during the Kanchenjunga peak trek. These hotels in the Kanchenjunga trekking route don't have any presence online. So, the only way to book them is via phone call. And you won't find their name and number on the internet.
So, how do you book?
Actually, it's your travel agent who does the booking for you. The guide who has been working in the Kanchenjunga region has the contact details of all owners along the route and they will make your booking. All you can do is remind your guide to make the booking in advance or ask for the number of the owner yourself.
Is a Camping trek available in Kanchenjunga?
Yes, the Himalayan master arranges the camping trek in Kanchenjunga. It's mostly preferred by climbers for the Kanchenjunga climb. We can start the camping trek from Chirwa. Here, we will be spending nights in the camp set by the porters. The cook will prepare your food, and you will eat everything that has been carried in your bag. The freezing temperature, cold weather, basic food, no charging/ shower, and many other difficulties accompany the Kanchenjunga peak camping trek. However, it's the proper form of adventure, and the thrill of camping before the majestic mountain of Kanchenjunga is second to none. If you can make it a tea house + camping trek where we can set camps for some nights and stay in tea houses at some stops.
Final words,
Himalayan masters have been operating Kanchenjunga treks for more than a decade. We can organize a well-arranged tour for you. So, please send us an email or leave a comment below so that we can guide you to the best tour of your life.