Hello everyone! This is a long article that covers almost everything you should know about Kanchenjunga Circuit Trek cost by a local Trekking guide who has been to this trail more than 20th times. This is the most updated article you could ever find online, so enjoy reading it.
Today, let's discuss Kanchenjunga Trekking Cost.
Kanchenjunga region of Nepal in the far-east homes world's third-highest mountain. The name comes from the Tibetan word "Yang-chhen-dzö-nga", meaning "Five Treasuries of the Great Snow." The range composes of 16 peaks that are over 7,000 m and many others at lower altitudes. 22- days Kanchenjunga Circuit trek takes you to this magical land, making a full circle to the mountain and viewing it from the Kanchenjunga base camp.
Since this is the most rewarding and also the most challenging trekking route in Nepal, only genuine adventure seekers have set foot in the wilderness of Kanchenjunga. Two significant routes, i.e. Kanchenjunga Circuit trek route and the Kanchenjunga Base Camp trek route are prevalent. Other hikes combined with the Malaku region, such as Lumba Sumba and Milke Danda, are also popular.
Being the longest and the most remote trekking route in Nepal, the Kanchenjunga trekking cost is higher than other short treks in Nepal. This article covers different kinds of costs for trekking to Kanchenjunga. At the end of the article, you can figure out the exact price for Kanchenjunga Trek and find an appropriate trek package yourself.
Let's start.
How much does Kanchenjunga Trek Cost?
The Kanchenjunga Trekking Cost is about $1800 per person for the 22 days-package. In addition, you will need about $500 to $1000 for your personal expenses like shopping, tips, showers, etc. This is the price for the all-inclusive Kanchenjunga Trekking package by Himalayan Masters.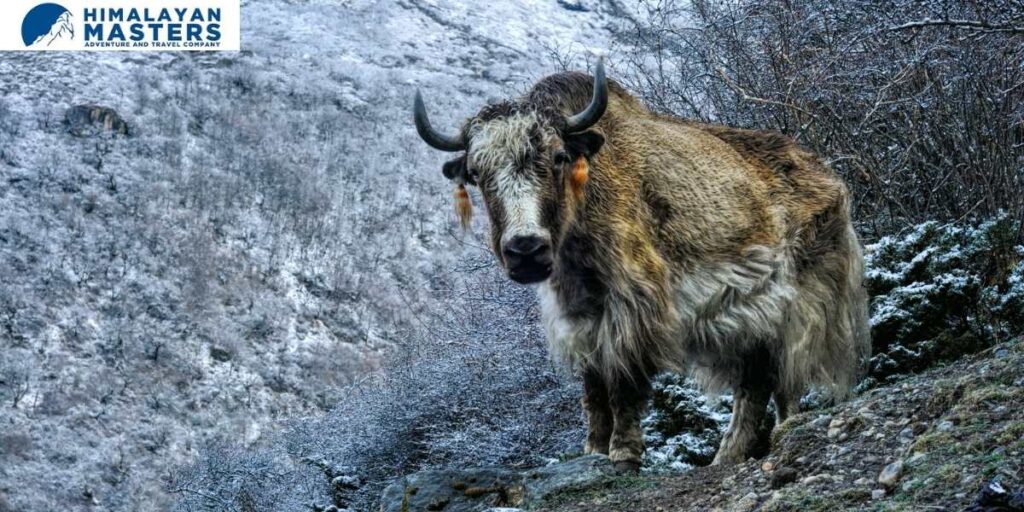 From an International tour agency: If you use a third-party booking service or International booking agency, the price for Kanchenjunga Trek Cost will be about $3000 per person. Depending on your Itinerary, length, luxury, and mode of transportation, the price might differ.
For Independent travelling: Solo or Independent travelling is not permitted in Kanchenjunga as this falls within the restricted region. However, instead of booking the Kanchenjunga Circuit trek cost, you can hire a licensed guide and arrange the rest of the things yourself. For 2 people, travelling without packages, the Kanchenjunga trek cost comes out to be about $2000 per person. This will be cheaper if you are in a group of above 6 people i.e. you can share the cost of a guide and transportation. In a larger group, trekking to Kanchenjunga yourself can cost about $1500.
Detailed Kanchenjunga Trekking Cost
Kanchenjunga Permit cost
We all need a travel visa to Nepal which is issued at the airport upon arrival. The cost of the visa is USD 30 and USD 50 for 15 and 30 days respectively. For Kanchenjunga Circuit Trek, you need to issue at least 30 days of visa. Along with the visa you need to issue two other permits. They are:
 Kanchenjunga Restricted area permit
Cost: USD 10 i.e. Nrp 1000
Kanchenjunga Circuit Trek falls under the restricted taking region of Nepal. This means you need to get a special permit from the Nepal government and need to complete a few more papers works before you head for the trek. The permit needs to be issued by the immigration department in Kathmandu. Before you apply for the permit you must have hired a licensed trekking guide and be in a group of at least two people. This permit will be checked before you enter Olangchung Gola village.
 Kanchenjunga Conversation area permit
Cost: USD 200 i.e. NRP 2000
To protect the rear flora and fauna, the government of Nepal has kept the entire region inside a conservation area. You will need a special entry permit to get inside this conservation area. The permit can either be issued in Kathmandu or at the entry gate while you are on the trek.
The Kanchenjunga trek package is by a reliable travel agency in Nepal like Himalayan Masters we issue all the permits for you. So this is not something you need to worry about. Similarly, you should know that there is no need for a TIMS card during the trek. This card was compulsory a few years back and you might see some websites still writing that you will need a TIMS card.
Kanchenjunga Transportation cost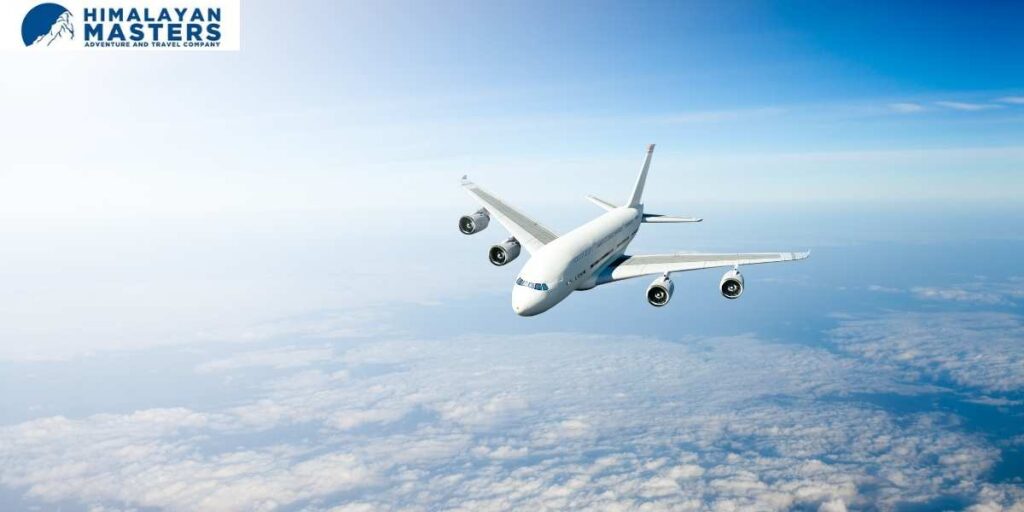 Let's not talk about the cost of flying up to Kathmandu, Nepal as that totally depends upon where you fly from. We shall discuss all costs of transportation to and from Kathmandu.
Flight to Bhadrapur
We need to fly to the easternmost airport of Nepal at Bhadrapur Jhapa on the first day of our trek and on the last day. This costs USD 137 to USD 200 depending on the season and how you book the flight. Booking once you come to Nepal is cheaper. The one-way flight cost for Nepalese is about RS 5000 and that for Indians is slightly higher than for the Nepalese.
Drive to Illam
From Bhadrapur, we drive to Illam on the same day. This costs about NRP 300 or less on a public bus. One can also ride in a private car or sharing jeep which cost up to USD 50 up to IIam.
Drive to Taplejung
You can directly drive to Taplejung from Bhadrapur but we suggest one night's stay in Illam, a beautiful tea garden state. You can get a public bus (cost about Rs 1000) or hire a jeep (USD 159 to 250) from Illam to Taplejung. Since this is a long ride (about 6 hours) the small seats and noise of the public bus might be difficult. Sharing a jeep with 6-8 people is a good option.
Drive from Khamdime to Bhadrapur
On the 21st (second last day) of our Kanchenjunga trek, we drive from Khamdime to Bhadrapur which also costs about NRP 1000 on a public bus. The cost of hiring a local jeep is USD 200 to 250 which can be shared with 6 to 8 people.
If you are unsure of the Kanchenjunga trek, you can also check out 15 other best treks in Nepal.
please feel free to contact us, if you are looking for someone like I just described ( email: info@himalayan-masters.com
Cost of Guide/ Porter
to Kanchenjunga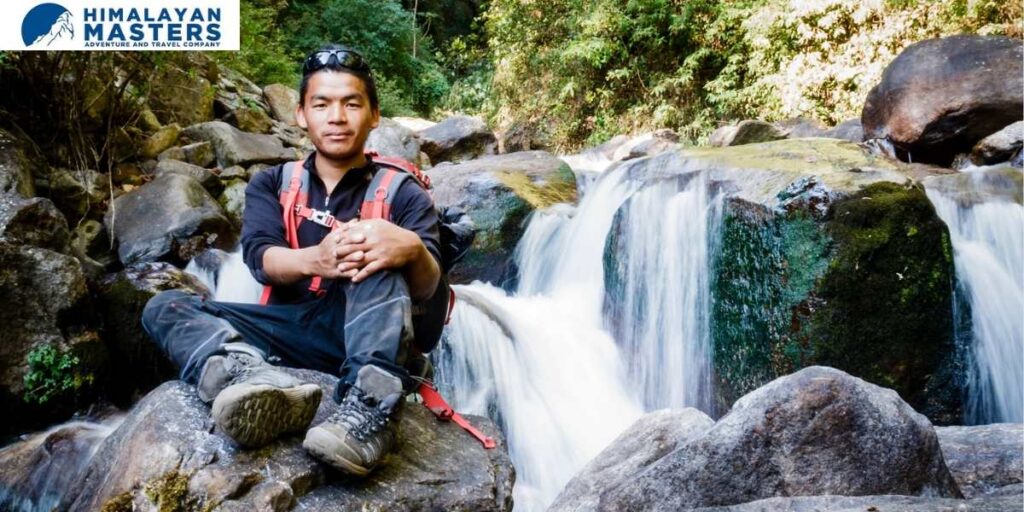 Now, this makes a major part of your Kanchenjunga Trekking. Since this is a restricted region, you will need to hire a licensed trekking guide to Kanchenjunga. The cost of the guide ranges from USD 20 to USD 30/day. These English-speaking guides are very familiar with your trekking route and come in handy during an emergency. Having a good relationship with a travel guide makes your journey even better. They will help you build a better relationship with the locals, find a hotel, and order food. Our guides at Himalayan Masters are also trained in first aid and emergency conditions.
Next, you will need a porter. Since Kanchenjunga Trek is a completely remote hike route, you need to carry everything you need for the journey. This makes your bag very heavy, and hiring a porter is an easier way to deal with the load. You can hire one or two porters (one porter often carries the bag of two people if it's not that heavy) as per your will. The cost of a porter is about USD 15 to USD 20/ day. Now, multiply the cost by the number of days, and there you got the cost for the guide and porter.
Saving Tips
Travelling in a group helps you save a lot for a guide and porter. An experienced person can effectively guide a group of 6 to 8 people and a porter can carry the load of 2 people. Hiring both a guide and a porter as a Solo traveler is quite expensive.
If you don't have such a group, Himalayan Master's might be able to arrange a larger group for you
Kanchenjunga circuit trek Accommodation cost
Before the trip, you will be in Kathmandu for a couple of days and the cost of accommodation, while you are in Kathmandu, is USD 20 to 100 depending on your budget. A comfortable 3-star hotel room with an attached bathroom is available for up to USD 200 while a single bed in dorm rooms is available for $5 to $10. The cost of the room in Illam is also about $20 and no dorm rooms are available there.
From Taplejung, we shall be staying in local tea houses which is basically a small guesthouse owned by the locals. They have to build cozy rooms with two to three single beds only. In the tea house, you will be provided with a mattress, a blanket, and a pillow. As you move higher, the facility becomes limited and the room gets colder. The bathrooms are only available on a sharing basis.
The cost of accommodation in a tea house in Kanchenjunga is USD 6 to 8 dollars (rooms for two people). In the off-season, the cost might be even lower. Now, don't be excited about getting rooms at a much cheaper price. This doesn't include the cost of Wi-Fi, Phone charging, and hot shower. The additional cost to be paid during the stay in the Kanchenjunga hotel are:
About $3 for Wi-Fi in the regions where there is an internet connection. In the highlands, you might be able to use the mobile data from the NCELL sim card which is quite cheap.
$2 to $4 for a hot water shower. In the lower region, you will have a geyser or solar-powered hot water shower. In the mountains, they give you a bucket of hot water for a shower.
Phone/ camera charging also cost about $2 per device. Remember to add all these costs to your list.
know more about Kanchenjunga trek accommodation.
Kanchenjunga circuit trek Food cost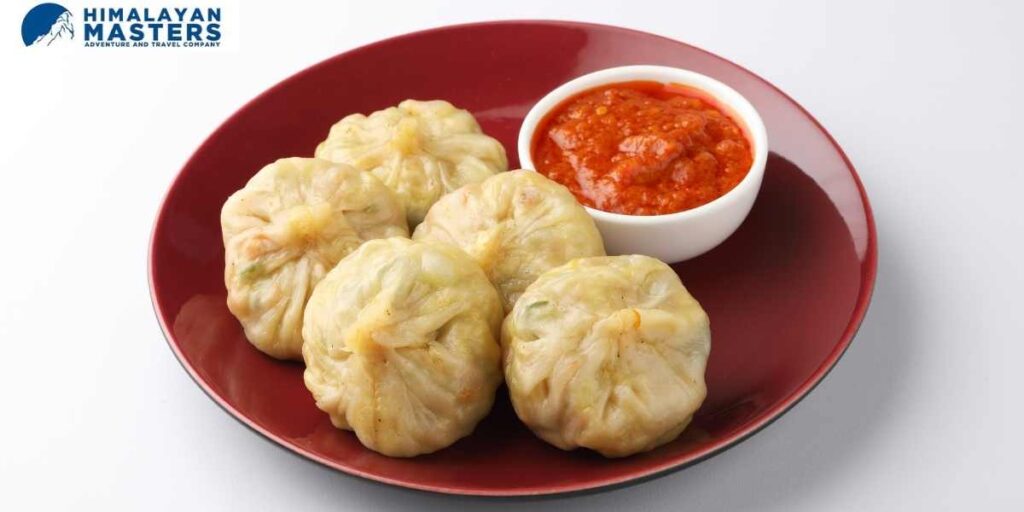 Different kinds of Nepalese and international cuisines are served in the tea house you stay at. You must eat your dinner and breakfast in the same hotel where you stay, otherwise, they add additional costs for the room.
For breakfast, there are tons of options like bread, omelette, pancakes, oats, muesli, and fruits. The cost for breakfast is about $5 to $7. Then, you have pasta, momo, noodles, soup, rolls, and some other dishes for lunch and dinner. However, the best combination is Nepalese dal, Bhat. The unlimited Buffet of Nepalese khana has steamed rice, lentil soup, vegetable curry, spinach, and some pickle. Also, you can find some desserts like Pudding and chocolates. Lunch and dinner cost $7 to $9 as per your choice, while dessert is about $3. The cost of food in Kanchujunga is about $25 to $30 per day, depending on what you order.
know more about food in the Kanchenjunga trek.
Water during Kanchenjunga trek
A bottle of water can cost $1 to $2 in the higher mountains. When you buy 3 to 4 bottles each day, this adds a lot of cost to your time. So, it's wise to carry a hard plastic water bottle and some sterilizer pills to purify the water. The bottle can be re-filled on the trek route or at the tea house.
Tips to save money on food
Order only one item which is high in calories and very fulfilling to your stomach
Carry some instant coffee, tea, instant noodles, chocolates, cookies, juices, and an energy bar so that you don't have to buy them at mountains in high cost
Don't spend your money on any alcoholic beverages. They are not just bad for your pocket but also make you extremely dehydrated and might be deadly.
Note: The taste of other international cuisines might not be as good as you expect, the chefs in these hotels are not the expert cooks. So, ordering Nepalese and Indian food is always safer. Trekking in the mountains is a wonderful chance for some local food hunting. We suggest that you must try Tibetan bread, Gundruk Dhindo, butter tea, Thukpa, yak cheese, and Nepali curd. You can ask the tea house owner if they can prepare anything special for you, or you can even learn to make it yourself.
Other Kanchenjunga Trekking cost
Insurance cost
Before you book your trip to Nepal, having travel insurance that covers the cost of high-altitude rescue is compulsory. Since trekking to Kanchenjunga above 5000 meters is a very risky task, you might not know when things turn out bad. So, add the insurance cost to your total travel cost.
Shopping cost
We have only been talking about the cost while you are on the trek. However, a large portion of the money goes for shopping for trekking gear. Check our packing list for Kanchenjunga here and find out what you already have and what you need to buy. Some essential trekking gear like a Sleeping bag, Down jacket, trekking bag, trekking boots, etc can be rented in Thamel for $1 to $3 per day.
Tips and donation
The tips to the hotel owner and restaurants are all your choice. The guide and porter will also expect some tips for their service. So, if you are satisfied with their work, you can tip up to $100 or 10% of their rate. Some donations to temples and monasteries might also be needed. Sometimes, you spend a lot on souvenir shopping.
The cost depends upon
 Trek season
Nepal season in Nepal somewhat determines your cost. The packages in the peak season like autumn and spring are a bit more expensive than in the off-season. Flight cost is also a bit low in the off-season. However the difference in the cost is low and the difficulty you faced in the off-season is pretty hard, so we must say that it's not worth the price.
Group size
The larger the group, the lower will be your trek cost. That's the obvious fact.
Final words,
So are there any more queries you have?
Drop them in the comment section below or leave us a mail at himalayanmasters0@gmail.com