TRIP DURATION

12 Days
MAX. ALTITUDE

5320
TRIP GRADE

Moderate
LODGING

Tea house
BEST SEASON

Springs and autumn
MEALS

Breakfast lunch dinner
COMMUNICATION

Local sim card
PER DAY WALK

5 to 6 hours
Nar Phu Valley Trek
The Nar Phu Valley trek tops the list among many of Nepal's hidden zones. This is the true Himalayan wilderness on the unspoiled valleys of Nepal. Nar Phu Valley is tucked between the famous Annapurna and Manaslu regions. If you seek a real wilderness and cultural insight that can change your life forever, the Nar Phu Valley trek awaits you.
Nar Phu Valley was opened for tourists only in the year 2002. Their extraordinarily pristine culture has been preserved from the world for centuries. Even now, it's one of the restricted trekking regions where you shall need an independent guide for the trek. Nowhere else in the world, you can experience such a lifestyle dating back to the 19th century.
The Nar Phu valley trek Itinerary initially follows the route of the Annapurna Circuit trek via Besisahar. We Branch east from Koto to reach the Nar Phu valley. From the Nar Khola River, we get towards the Phu village. The history of Phu goes back to the 5th century. You can witness the unique building blocks made in the village heart's sloping hill.
The obligatory Mani walls around the monasteries and the unlimited colorful prayer flags fascinate every soul. The Tibetan culture intrigues each prayer wheel. This valley is the gateway to Himlung (7126m) and its base camp. Along with Nar and Phu valley, Kang La pass (5360m) is also the major highlight of this trip.
Eventually, you can hike back to Pokhara to have a relaxing time in Lakeside. In short, the Nar Phu valley trek has the comfort of a popular trail and the rawness/ purity of an unknown trail. Also, the Nar Phu Valley trek cost is lower than other nearby treks. So, this is the time you stop overthinking and pack your bags.
Nar Phu Valley Trek Highlights
Venture into an unknown remote land for the sense of true adventure
Awesome view of Annapurna range, Himlung Himal, Gangapurna, Tilicho Peak, and dozens of other peaks
Optional hike to Himlung Base Camp for the sense of a true base camp trek
Wander in the ancient villages that still reflect the mountain lifestyle from the 1900s
Visit many cultural heritages that have been dated back to the 5th century e.g. Tashi Lhakhang Gompa
Experience the raw cultural beauty and Tibetan lifestyle, a throwback to a distant past in the restricted valley of Nepal
Diverse Himalayan fauna and alpine flora- a complete natural insight
Best Season For Nar Phu Valley Trek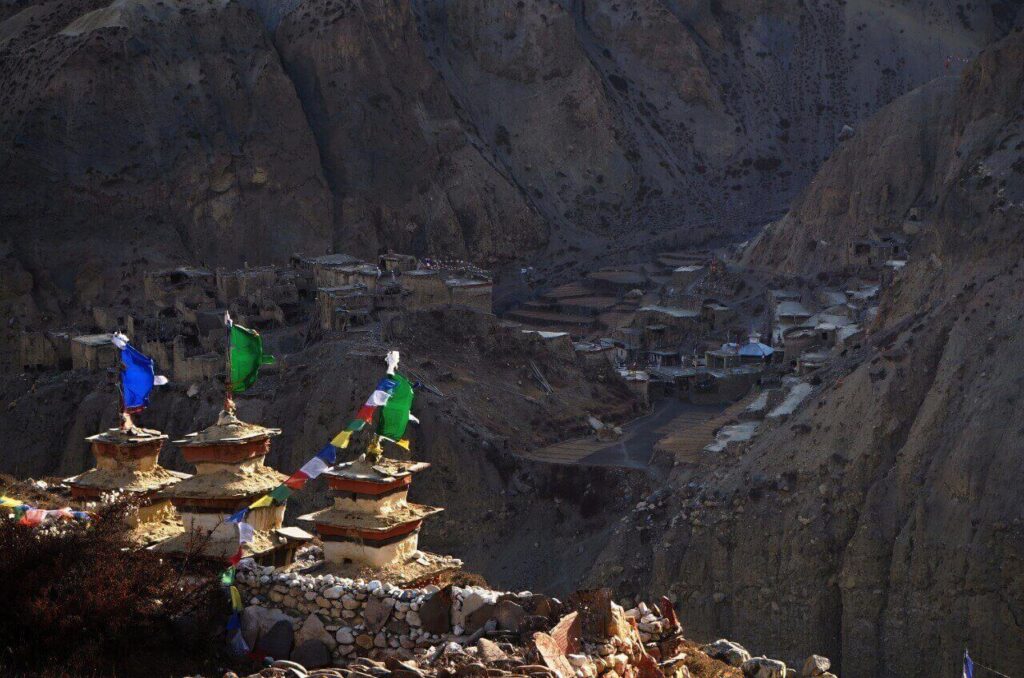 Nar Phu valley trek is possible throughout the year except for January and February. During winter, the overall region is surrounded by a thick layer of snow, and it's really challenging. However, it's also the months with some wonderful mountains and frozen lake views. You will need special guidance from the team of Himalayan masters. Otherwise, the Nar Phu Valley trek cannot be done year-round.
Spring (March, April, and May) is also a popular month for the trek. The Rhododendron blooms in different hues, and warm weather makes it the best month. However, autumn (September, October, and November) is the most crowded month in Nar Phu valley. The days are long, and the chance of rainfall in autumn is low. Along with fantastic weather, autumn is also time for festivals and celebrations- a great season for the Nar Phu trek.
We still have summer (June, July, and August) left for the trekking. While these are the warmest month, the cloud might block the view for a few days. Summer trek needs preparation against the slippery trail, mosquitoes, and leaches. If you have a flexible Nar Phu Valley trek itinerary, you can avoid trekking on rainy days and enjoy walking in calmer hours.
ITINERAY
Day 01: Arrival at kathmandu
Upon landing, you will see our representative with a placard of your name. You will be driving to the hotel in Thamel in a luxurious private car. Then, the guide helps you shop for the essential gear and pack your bag. Soon, you will be enjoying the welcome dinner in the colorful streets of Thamel.
Overnight in Kathmandu
Day 02: Drive to Koto from kathmandu via besishar (8 hours Drive)
We start the Nar Phu Valley trek by joining the Annapurna Circuit trek at Koto. Earlier, people used to start the month-long trek to Annapurna from Besisahar. Nowadays, we can keep a jeep in Besisahar that drives to Koto. This adventurous ride of 3-4 hours on the off-road of the hills has its own perks. In Koto, we will be staying in our first tea house.
Overnight in Koto
Day 03: Trek to Meta from koto (5 hours Trekking)
We start our Nar Phu trek quite early in the morning. After crossing a river, we leave the classic Annapurna Circuit trek trail and enter the Nar & Phu valleys. Passing via beautiful cave shelters and narrow canyons, we set our journey to Meta by climbing the big steep hills. Meta is a beautiful settlement in the big open plan and has many lodges.
Overnight in Meta
Day 04: Trek to Phu from meta (5 to 6 hours Trekking)
Ready for an exciting day in the mountain? Trekking beyond Meta, we walk on the path of beautiful Tibetan Buddhist chortens. Here, we can see the huge Nar Phedi between the beautiful canyons and gorges. In a couple of hours, we get to the steep trail up to Phu.
Then onwards, we get our initial views of the old "dzong" (Tibetan-style fortress). There are two ruined forts, which are impressively located on
top of
the flatlands before the village. Crossing a suspension bridge we get into Phu. In the evening, we visit the famous Tashi Lhakhang Gompa.
Overnight in Phu
Day 05: Rest in Phu (Acclimatization day)
Before we gain more altitude in this Nar Phu Valley Trek, it's ideal to stop for acclimatization in Phu. We can either visit the places around or head for hiking in the Himlung Himal base camp. Phu is itself a very exciting village with yaks, wools, and oil all around. If we hike to the Himlung Himal base, we also get to visit the glacial valley. This 7,125 m. peak has been lately open for climbing and the base camp trip is very exciting.
 Overnight in Phu
Day 06: Trek to Nar Phedi from phu ( 4 hours Trekking)
First, we re-trace our original route to Meta. Then, we take a different route leading us to the Nar Phedi monastery. This monastery is actually our accommodation for the night. We stay with the welcoming nuns and join them in Kitchen. Our plan is to join the nuns at the Puja session in the evening. It's a very rewarding stay in the mountains.
Overnight in Nar Phedi
Day 07: Trek to Nar Village from Nar Phedi ( 4 hours Trekking)
Today, we hike outside of Nar Phedi and head up to Nar on
a winding path. Walking around the bamboo-topped chortens, we reach Nar at around lunchtime. You can observe that Nar valley is a bit livelier than the Phu. There are many village 'squares' where people are gathered to talk and have
fun. On the outskirts of Nar, there are few newly built tea houses with good facilities.
Overnight in Nar
Day 09: Trek to Ngawal via the Kang La Pass (5,240m) (7 hours trekking)
The Nar Phu hike on the 9th day starts before sunrise as we walk towards the Kang La Pass. Back to the famous Annapurna Circuit route, we conquer this very challenging hike. From the top, the views of Annapurna II, Gangapurna, and Tilicho Peak are just wow. After lunch, we walk to Ngawal, on the upper Pisang. Here are some good lodges with Wi-Fi and other facilities.
Overnight in Ngawal
Day 10: Trek to Pisang/ drive to Besisahar ( 3 hours Trekking and 4 hours drive)
Today, we descend on a really long route. We lose about 2000 meters of
altitude and walk downwards for the entire day. Make sure that you walk slow and take enough rest. From Pisang, we can get a jeep that takes us to Besisahar. Besisahar is a big settlement, headquarters
of Lamjung.
Overnight in Besisahar
Day 11: Drive to Kathmandu From Besishar ( 6 hours drive)
From Besisahar, we will be driving along the Highway. We join the route to Pokhara at Dumre and continue driving along the Trishuli Highway. Upon arrival in Kathmandu, we will have some time for rest and souvenir shopping. In the evening, the entire team gathers for a farewell dinner.
Overnight in Kathmandu
Day 12: Departure
It's time to fly back home or to a new destination. Enjoy some final moments in Nepal as you sip your coffee. As per your flight time, we will drive you to the airport in a private car. The memories of this Nar Phu Valley trek will remain with you forever. 
include / exclude
Trip Cost Includes
Airport Pickup by private car
Guide for 11 days
Annapurna conservation area permits.
Trekkers information managment system (TIMS)
Nar Phu valley Permits
Kathmandu to besishar by local bus.
Besishar to koto by local jeep.
Nagwal to Besishar by local jeep.
Besishar to Kathmandu by local bus.
One set Breakfast, one set Lunch, one set Dinner and tea coffee During the trekking days.
Best avaliable tea house accomodation during the trekking days
Company Service Charges and Local tax
Trip Cost Excludes
International Flight Ticket
Nepal visa fees
Hotels in kathmandu
Food in kathmandu
Tips for guide
useful info
Permits Required For Nar Phu Valley Trek
Nepal's government has kept Nar and Phu valley as the restricted region to preserve this place's local culture and tradition. This means you need a specialized permit for trekking in Nar and Phu valley. Your trekking agency in Nepal issues the Nar Phu Valley Restricted Area (NRA) Permits.
The Nar Phu permit costs U$D100 per week per person. You need to pay $10-$15 per day if you stay longer. Independent trekkers cannot issue the Nar Phu valley permit- you need to be accompanied by a licensed guide. Also, a team of two trekkers can only issue the permit. Next, you have Annapurna Conservation Area Project (ACAP) permits.
This permit goes for managing the wildlife in the area and costs U$D30 per person. You might also need the Trekking Information management system (TIMS) card. This permit helps the government to locate you inside the country and help you guide during emergencies and costs U$D20 per person (the permit cost is $10/ per person).
Note: If you are a solo trekker and wish to explore Nar and Phu valley, please send us an email or fiil up the this here and we might be able to arrange the permit.
Accommodation For Nar Phu Valley Trek
For Kathmandu and Pokhara, we will be staying in a 3-star hotel. The rooms will have a private bathroom, hot shower, Wi-Fi, and electricity for free. However, on the trek, you will be staying in the local guesthouse called tea houses. Locals run these tiny wooden homes along with different places on the Nar Phu Valley trek map.
They provide rooms with two or three twin beds, a mattress, and a small blanket (you should carry a sleeping bag). A private bathroom is not available for the trek, and you should use the common bathroom. Hot showers, Wi-Fi, and electricity are available in Nar and Phu valley, but they will cost a few dollars.
Note: The rooms will be provided on a sharing basis for two. If you want the single facilities, you can get single room as well you don't need to pay additional costs.
Food Available At Nar Phu Valley Trek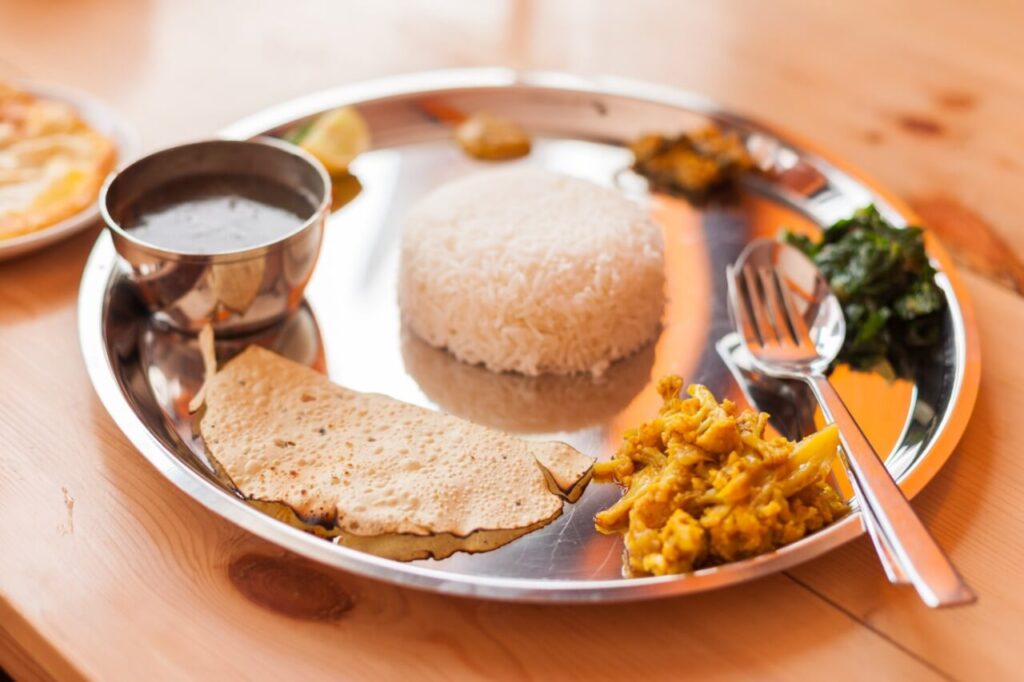 Usually, the foods in the city, i.e. Kathmandu and Pokhara, are not included in the package. That's because you have an unlimited choice of food in Thamel and lakeside, and we want you to enjoy whatever you wish to eat. During the trek, all three meals of the day are included. Since this is a tea house trek in Nepal, there are a good number of choices on the menu.
Once you trek in Nepal, you shall realize that getting warm and healthy food in such a remote landscape is a blessing. There is an option of pancakes, bread, muesli, prodigies, and more for breakfast. Dal Bhat is the best lunch and dinner we suggest for you; it's a very fulfilling and delicious Nepalese cuisine. Other options like Chowmin, Noodles, Mo: Mo, Rolls, pizza, and spaghetti are also available.
Do try some local foods such as Dhindo, Thukpa, Yak cheese, butter tea, etc. There are some juices, tea, and coffee for drinks. You can also find some hard drinks, but we don't recommend anything that makes you dehydrated during this Nar Phu trek Itinerary.
FAQs
Why should I take the Himalayan Masters Nar Phu trek package?
First and foremost, Himalayan masters have been offering excellent trekking packages throughout Nepal, and the trekkers love our service. We always keep our trekker's comfort and safety at the utmost position. Next, since Nar and Phu valley is restricted regions of Nepal, you will need a trusted agency to get the permits and guide.
We will help you book the rooms, get all those permits, and during an emergency. Everything will be neatly arranged while you are busy making beautiful memories. That's why you should take our Nar Phu trek package.
How difficult is the Nar Phu trek?
Will I have internet/ Wi-Fi in Nar Phu Valley Trek?
How much extra personal expenses do I need for this trek?
How do I withdraw cash in Nepal?
What should I pack for Nar Phu trek?
UNSURE WHERE TO GO? WE CAN HELP
Based on your preferences, location, timeframe, and budget, our team can design your dream trek based on our extensive knowledge and experience of the Himalayas. Get in touch with us for detailed information and assistance planning your dream trek. With our 97% success rate on trekking and climbing trips in 2022 and 2023 spring season, we will answer any questions you may have and guide you for an unforgettable experience.