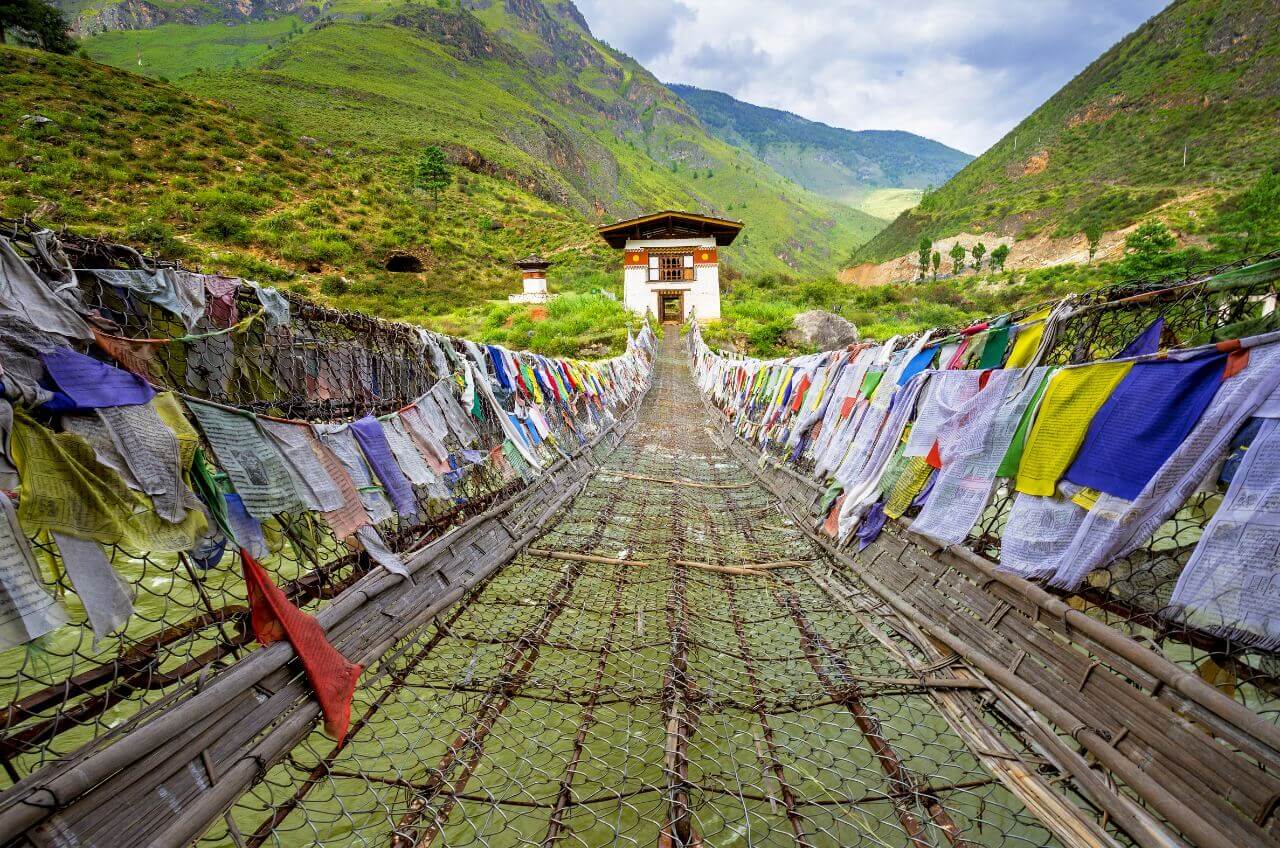 TRIP DURATION

3 Days
TRIP GRADE

Easy
LODGING

Hotel
BEST SEASON

12 months a year
MEALS

Breakfast lunch dinner
COMMUNICATION

Local sim card
2 Nights 3 Days Bhutan Tour
Highlights Of 2 nights 3 days Bhutan Tour
Experience a thrilling flight to Paro with views of the world's tallest Himalayan peaks including Everest.
A peaceful Hike to the Tiger's Nest Temple that lies at 3180m.
Visit many Dzong, museums, and chortens around Paro and Thimpu Valley.
Be part of Bhutanese culture and tradition for a day.
Enjoy the rich hospitality of warm welcoming Bhutanese.
Stay at a luxurious hotel and drive in a private car during a well-managed holiday.
Facts Of Bhutan Tour
Starts in: Kathmandu
Ends at: Kathmandu
Trek Region: Bhutan
Maximum altitude: 3180 meters
Transport: Flight and private car
Duration: 3 Days, 2 nights
Trip Grade: Easy
Accommodation: Hotels
Season: Year-round booking
Bhutan Tour Overview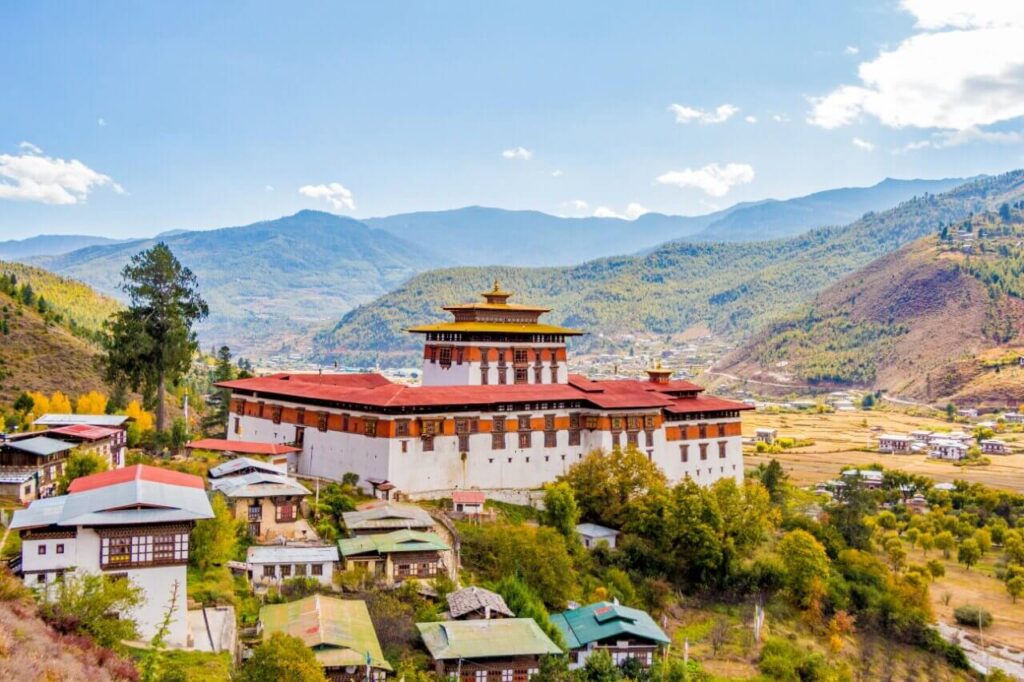 Ever heard about the land of Thunder Kingdom?
Bhutan is the Himalayan wonderland, preferred for its cultural settlements, and unusual landscapes. This lowland subtropical region of Bhutan lies between huge lands of China and India. Right before the majestic Himalayan range, Bhutan has managed to keep its cultural richness intact over the years.
Rest assured, this tour of Bhutan is going to be a life-changing opportunity for you. A life guided by Buddhist belief has led to the formation of many Dzongs, Temples, and Chortens within the pristine beauty of the valley. Bhutanese awesome architecture includes the masterpiece that has been cliffed in the middle of high hills.
Tracing back the history of these Bhutanese heritages, we get back to the 7th century. Even now, these places to visit in the Bhutan tour are the centre for cultural performances, mask dances, and Bhutanese songs. With the background of the awesome Himalaya range, the calming cities of Bhutan make a rejuvenating stay.
The Himalayan Master's Tour Bhutan Itinerary is designed to cover a maximum number of places during your short stay. Firstly, we fly to Paro from Kathmandu and drive via the winding roads in the hills to Thimpu.
Observing the people's lifestyle for a brief hour and visiting many tranquil monasteries, we get back to Kathmandu. In conclusion, your short Bhutan tour will be luxurious, rewarding, and rejuvenating, all at a time. So, are you ready for this exciting journey to the land of the Dragon King?
ITINERAY
Day 01: Fly to Pare & Paro Sightseeing
Distance 54 Km
We fly from Kathmandu to Paro in the morning- the start of our tour of Bhutan. We fly as early as possible so that we get an entire day for the visit. A private car picks you up from any part around Kathmandu valley and drops you at the international airport of Kathmandu. Then, we fly to Bhutan with the Panorama of Himalaya range before us.
During the flight, you can even see Mount Everest, Lhotse, Kanchenjunga, Cho Oyo, and many other peaks above 8000m. Landing at the Paro airport, we shall then drive towards our hotel in Paro. After some rest, we drive to visit the Paro Dzong. Also called Rinpung Dzong, this is dzong is regarded as a high point of Bhutanese architecture.
The massive structured walls have huge Buddhist monasteries and fortresses inside them. The Dzong also has administrative offices in Paro. After that, we might also visit Kichu Lhakhang (also called Lho Kichu Temple). Located in Paro at the place called Lango Gewong, it's the oldest temple in the country of Bhutan.
Meal : Lunch and dinner
Accomodation : Hotel
Day 02: Hike to Tiger Nest and drive to Thimpu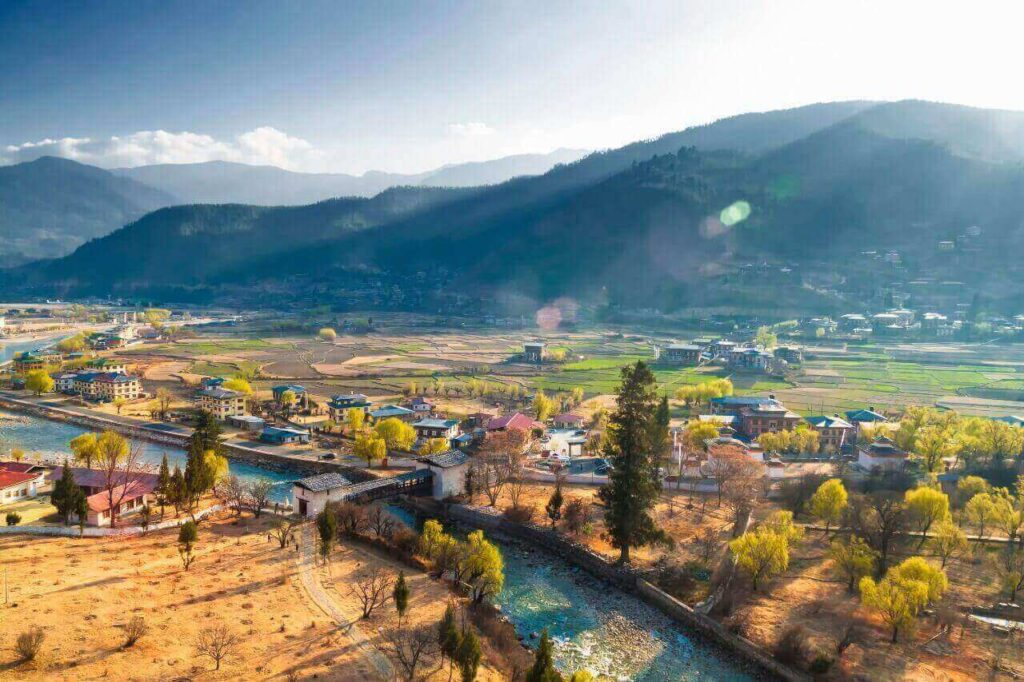 We wake up early to hike up to the Tiger Nest. This famous monastery of Buddhist people was cliffed in the hills. As per the traditional myth, the monastery has been built in the place where the Guru Rinpoche stayed for 3 months long meditation. He flew from Tibet to Bhutan on the Tiger's back and got to these hills.
The hike is about 3 hours long on the stone stairs and sub-tropical forest. You can also ride on horseback for an adventurous ride. From the top, the overall area feels extremely peaceful. Also, one gets to witness the awesome panorama of the Himalayas range within the mountains.
We get back to the hotel in Paro for lunch and then start driving towards Thimpu. Driving on the winding roads of the hills is obviously magical. This 45-mins relaxing drive brings us to the capital of Bhutan by evening. If our time permits, we will be visiting the following places on the Bhutan tour.
Kuenselcholing View Point:
This place offers the view of Thimphu valley that is seen from the Buddha point called Kuensel Phodrang. You shall offer prayers to the largest Buddha statue in the country; a relaxing moment during tour Bhutan.
Memorial Chorten:
This memorial Chorten was made in the year 1974 in memory of King Jigme Dorji Wangchuck. King Jigme is the father of modern Bhutan who holds high respect in Bhutan's society.
Tashichho Dzong:
This Fortress of Glorious Religion dates back to 1641. Zhabdrung Ngawang Namgyel made this Dzong that has the office of the king and the central monk body. We visit this Dzong during the evening on a tour of Bhutan.
Meal : Breakfast Lunch Dinner
Accomodation : Hotel
Day 03: Departure
This is the final day of our 2 night 3 days Bhutan trip. We wake up quite early to leave this city of Thimpu and start driving towards Bhutan. This 45-mins of the drive will re-trace our journey back to Paro. In Paro, we wait for our flight to Kathmandu. The short i.e. about one hour-long flight from Paro to Kathmandu will obviously be exciting. Back to Kathmandu, you will be only be left with awesome memories of the trip.
Meal : Breakfast Lunch Dinner
Accomodation : Hotel
FAQs
Should I book my tour with a travel agency in Bhutan?
Yes, tour Bhutan promotes eco-tourism where they prohibit Independent traveling. This means you must book your trip with a travel agency in Bhutan. This list of these local tour operators is available on Bhutan Tourism Council's official website.
While booking via an international agency, they need to be associated with Bhutanese local tour operators. Since it's easier to book a Bhutan tour from Nepal, you can book your 2 night 3 days tour of Bhutan with Himalayan masters. You must be accompanied by a tourist guide.
Do I need a visa for the Bhutan tour?
What does the daily package include?
How do I get to Bhutan?
Is such an expensive tour to Bhutan worth it?
UNSURE WHERE TO GO? WE CAN HELP
Based on your preferences, location, timeframe, and budget, our team can design your dream trek based on our extensive knowledge and experience of the Himalayas. Get in touch with us for detailed information and assistance planning your dream trek. With our 97% success rate on trekking and climbing trips in 2022 and 2023 spring season, we will answer any questions you may have and guide you for an unforgettable experience.