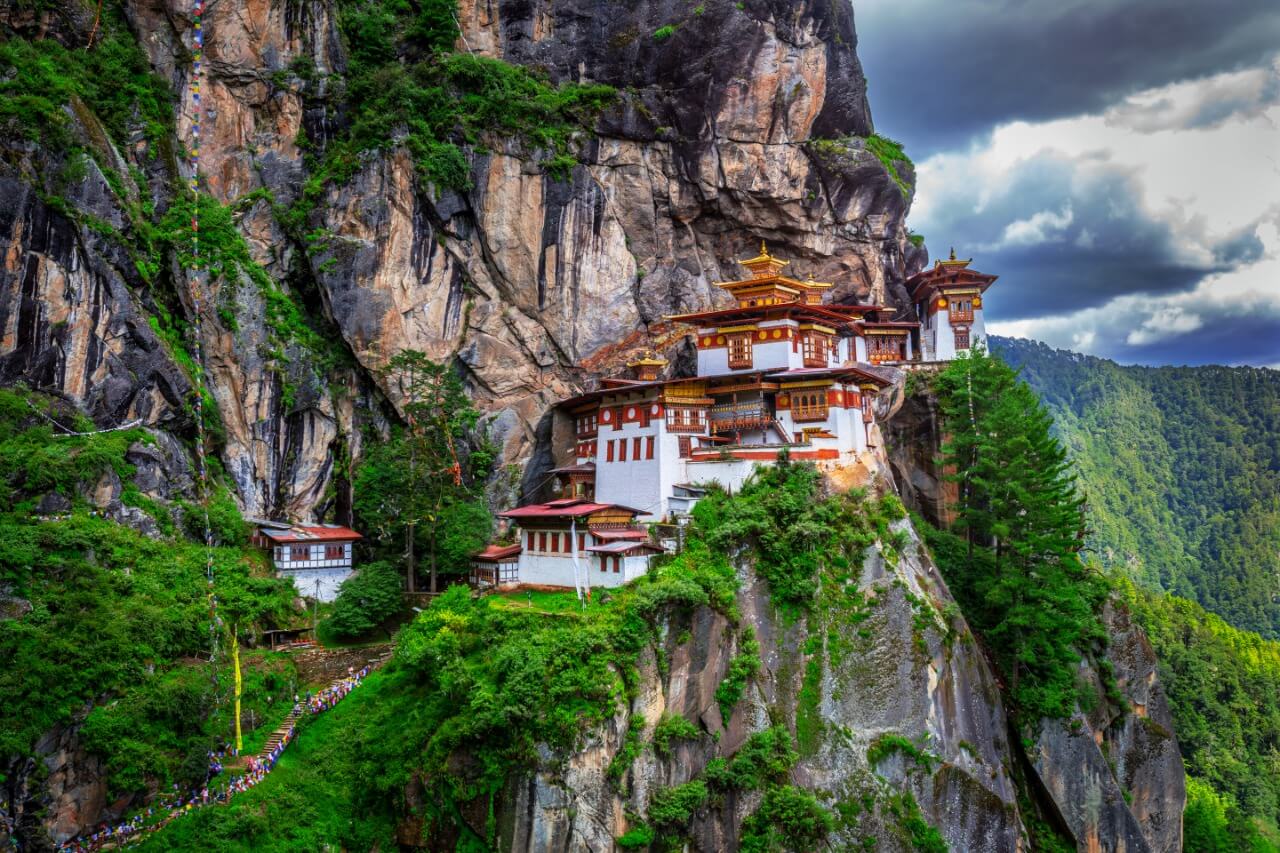 Bhutan Cultural Tour
Bhutan, A small south Asian country is the wonder of cultural and natural delights. Located right in the Himalayan's foothills, Bhutan is probably the most mysterious nation on the global map. Right before the majestic Himalayan range, Bhutan has managed to keep its cultural richness intact over the year. Rest assured, this Bhutan Cultural tour is going to be a life-changing opportunity for you.
The interwoven Buddhist culture of the Bhutanese people has largely based on Vajrayana Buddhism. People's daily life is guided by the philosophy of Buddhism, and Bhutanese people are amongst the happiest people in the world (they measure their progress based on Gross National Happiness). Other than the people's daily life, Bhutan's culture is reflected in their awesome architecture of Dzongs, Temples, and Chortens.
Many of these masterpieces have been cliffed in the middle of high hills; an unbelievable construction. The architectural stories of Bhutan are dated back to the legend Guru Rimpoche from the 7th century and numerous festivals in these temples are the major highlights of your Bhutan Cultural tour.
Amazing Cultural Bhutan Tours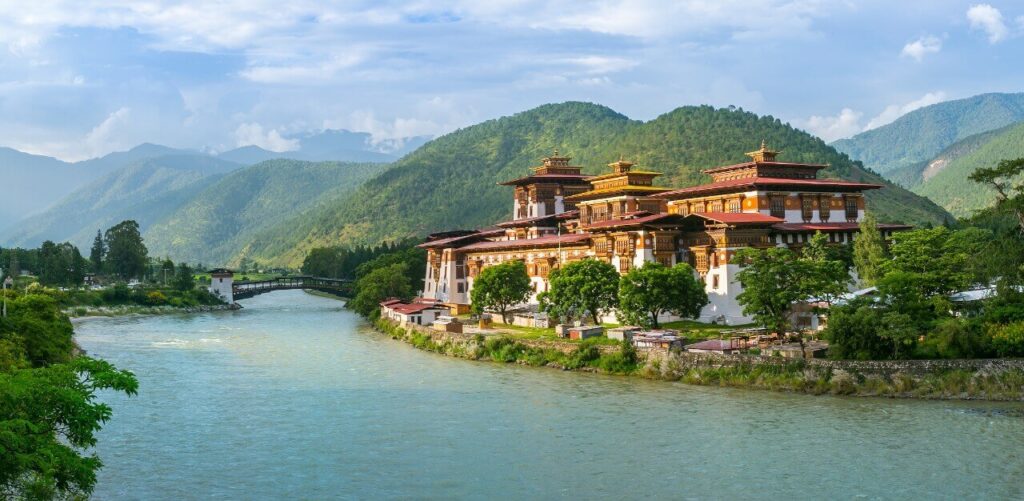 Getting to experience the ethnic dress, songs, and mask dances even for a few days was a life-changing experience. Bhutan has very strict rules for its visitors and aims to prevent the cultural impact of foreign invasion. Thus, you get to be one among the few people to explore this master-land and find true peace.
Himalayan master's Bhutan Cultural tour oversees all beautiful cultural heritage of Paro and Thimpu city. Driving along the small winding roads in the hills, we further take our Bhutan Cultural tour to Punakha and Wangdi. Bumthang and Ura Valley are the centers of our visit before we drive back to Paro. So, book your visit to these Bhutanese hills decorated with tranquil monasteries and find out if the stories of Thunder Dragons are true.
What Are The Best Cultural Tours In Bhutan?
Bhutan cultural tour can be four days to 12 days long. The longer you plan to stay, the more time you have to explore these valleys and heritages of Bhutan. Here are a few best cultural tours in Bhutan.
For a shorter stay, you can visit the places around Paro and Thimpu while Tiger Nest becomes be the major highlight of the trip.
 If you can extend the Bhutan Cultural tour for long, you can add Gangtey, Punakha, and Haa Valley to explore many other heritages around.
For anyone trying to understand the village lifestyle of Bhutan, we suggest the Western Bhutan Tour that goes from Punakha to Phobjikha village and also the central

 

Bhutan tour

 

(around Bumthang)
The best options for a cultural tour in Bhutan is West-East Traverse Tour around Samdrup Jongkhar, Trashigang, Mongar, Khoma, and then to Khoma.
Finally, the last tour is Bhutan Tour with Haa Valley, a great chance to witness the natural wonders of Bhutan in Haa Valley, Thimpu, Wangdue, and Paro.
Also Read:- Langtang Valley Trek In Nepal
ITINERAY
Day 01: Fly to Paro
From Kathmandu Airport, the flight to Paro is about one and a half-hour. The views of the high hills and mountains from the plane are going to be awesome. Upon arrival in Paro, we assist with your paper works and you will be taken to your hotel by the guide and divers. After some rest, don't forget to stroll around the city of Paro.
Overnight in Paro
Day 02: Paro to Thimphu (65kms)
For the Paro Sightseeing on the second day of the Bhutan Cultural tour, we visit
Drugyel Dzong (from early 17th century); from the Dzong, we might be able to see Mount Chomolhari 7320.
Our next stop is a watchtower called Ta-Dzong. The seven floors of the museum reflect Bhutanese history that can be dated back to the 7th century.
Walk around the Rinpung Dzong
Crossing the classic bridge into Paro Town.
Only in the evening, we drive for about 2 hours to the city of Thimphu, Bhutan's capital. The drive is quite comfortable.
Overnight in Thimpu
Day 03: Thimphu Sightseeing
This is a beautiful day of our Bhutan Cultural tour where we visit all major sites of Bhutan and understand the local lifestyle. After breakfast in the morning, we visit the following places
A local hospital to learn traditional old art of healing
Thimpu Art & Craft school,
National Library,
Handicraft centers
Royal goldsmith workshop
In the evening, we visit
Memorial Chorten made by late King Jigme Dorji Wangchuck,
Changangkha monastery,
Motithang mini zoo
Drupthob nunnery temple
Evening market of Thimpu
After all these visits, we get back to the hotel in Thimpu. Overnight in Thimpu
Also Read: Everest Base Camp Luxury Trek
Day 04: Thimphu to Punakha to Wangdi
In the morning, we drive for about 3 hours from Thimpu to Wangduephodrang. On the way, we stop at Dochula pass (3100 meters). If the weather is clear, we can see the eastern Himalayan ranges as Mt.Gangar Punsum (7520 meters). From the pass, we get to the warmer valleys of Lobesa. After visiting the Punakha Dzong, a beautiful fortress is made along two rivers, we drive for another 45 minutes to Wangduephodrang and stroll the area around the market.
Day 05: Day hike Gangtey Monastery.
Our only plan for the 5th day of Bhutan cultural tour day is to walk to the Gangtey Gompa. This is the only Nyingmapa monastery of the west at 2800 meters. Here, you can see 200-300 Black Necked Cranes that have come all the way from the Tibetan plateau. In winter, villagers cannot make loud noises or fish in the river so that these birds are safe. After exploring this fantastic valley, we get back to the hotel. This is a beautiful day of Bhutan tour and travels.
Overnight in Wangdi
Day 06: Wangdi to Trongsa to Bumthang
On this day, we spend 6 / 7 hours driving over the 3 passes which are above 3000 meters. The overall journey shows a beautiful landscape and forest. In the Chendebji Chorten, we stop for the Picnic lunch. Another one and half hour ride take us to Trongsa (which means a new village). The townhomes many new Tibetan refugees and a beautiful Trongsa Dzong that was once the center of west Bhutan. Then, we drive another 2 hours to Bumthang. Reaching Bumthang, we visit the Chume weaving center.
Overnight in Bumthang
Day 07: Bumthang Sightseeing
Bumthang is a beautiful town at 2600m that is deeply rooted in spiritual beliefs. Here, people believe in the stories of Guru Padmasambhava. During this Bhutan tour and travels, we can see some woolen material (Yathra) that could be a great souvenir. A round-trip for sightseeing includes places such as:
Jakar Dzong,
Kurjey monastery,
7th-century Jambay Lhakhang,
Tamshing and Kunchosum monastery
Overnight in Bumthang
Day 08: Excursion to Ura Valley
Today, we get further deep in western Bhutan while we head towards the Ura village, two hours of excursion. On the way, we visit Mebartso Lake (burning lake) and then stop at Ura monastery. After walking in the Ura village, we get back to Bhumthang and visit the Swiss farm. The farm has organic apple juice, cider, cheese, etc made by the locals.
Overnight in Bumthang
Day 09: Bumthang to Wangdi
This is another long day of Bhutan tour and travels. Today, we get to the Wangdi. Most of the roads are familiar to us. We stop at a few places to enjoy the view and reach Wangdi by evening.
Overnight in Wangdi
Day 10: Drive to Lobesa and Paro
We start the drive from Wangdi in the morning and reach Paro within 3/4 hours via Lobesa and Thimpu. On the way, we stroll in the farmhouses and visit the Chime Lhakhang. This monastery was dedicated to the divine mad man; a famous saint of Bhutan and his temple is visited mostly by childless couples.
Now, it's among the major Bhutan tourist place. After lunch at Thimphu, our driver takes us to the Paro where we visit Simtokha Dzong, Bhutan's oldest building which is now a Buddhist university.
Overnight in Paro
Day 11: Day hike to Taktsang Monastery
Our plan for the day is to hike to the famous Bhutan tourist place called Tiger's Next- 2/3 hours of uphill walk. You can also take horses for an additional cost. The Taktsang monastery literally clings at a giant granite cliff at an altitude of 800 meters. Locals believe that Padmasambhava flew here on flying tigress for medication in the 7th century. Later, in the 17 century, this masterpiece was created as Bhutan's main pilgrimage. Back to Paro, we visit the local market and wander around.
Overnight in Paro
Also Read:- Dhaulagiri circuit Trek In Nepal
Day 12: Transfer to airport for departure
Today's the final day of your Bhutan Cultural tour. As per your flight time, the driver will pick you up from the hotel and drive you to the airport. You can fly to your upcoming destination safely.
useful info
Best Time For Bhutan Cultural Tours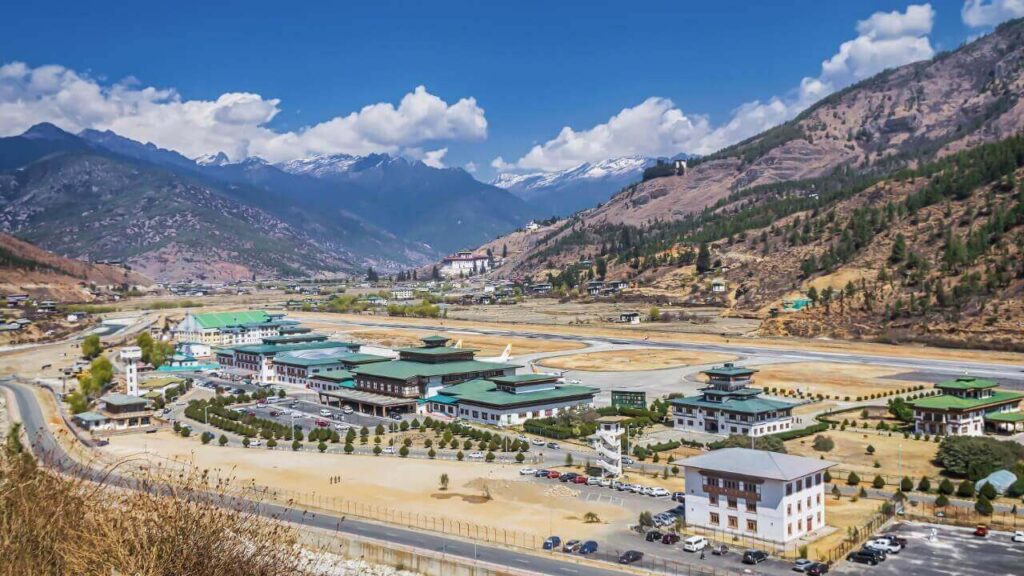 To be honest, the Bhutan tour is possible throughout the year. Since each of the seasons has its own perks, there is nothing that could be claimed as the best season for the Bhutan Cultural tour. However, the different seasons have distinct weather, changing temperatures, popular festive events, and different views. You can pick the one that suits you best.
There are two high seasons for the Bhutan tour; the first one is spring (March to May) with colorful rhododendrons blooms. Since the temperature is mild, and the weather is stable, many people prefer spring tours. Further, Bhutan cultural tour from mid-September to November is also equally pleasing. The mountains are clear and there's the annual Thimphu Festival.
In Phobjikha Valley, October is the time when the black-necked cranes come to Bhutan and there are also festivals in the Gangtey Gompa. You need to pre-book your Bhutan Trek packages for the peak season. Another relatively popular season is winter when the temperature is low and places in the upper region are covered in snow. However, it's time for winter festivals in places such as Dochula Pass, Punakha, and Bumthang.
Also, the agency offers great discounts and deals; the Himalayan master definitely suggests a winter tour. Lastly, we have summer when Bhutan gets some sporadic rainfall, mostly in afternoons. Otherwise, it is a warm time for Echo's literary festival and Haa's summer festival. In summer, you can avoid treks at lower altitudes and enjoy the heritage tour, rafting, and festivals in summer.
Also Read:- Annapurna Base Camp Trek In Nepal
FAQs
Why Should You Visit Bhutan?
We have talked a lot about the cultural richness of Bhutan. But there are other reasons to visit Bhutan such as
Rich Flora and fauna (For eg 300 medicinal plants; 46 species of rhododendron; wild-life such as Himalayan Black Bear, Bengal Tiger, Langurs, etc)
Pleasant climate and weather conditions (mild subtropical climate throughout the year)
Bhutan is a food utopia
Spiritual and peaceful insight into Bhutanese life
Luxurious holiday (great rooms, private car, drivers, and awesome hospitality)
Can you travel to Bhutan Independent/ Solo?
Is Bhutan Expensive To Visit?
How can I get Bhutan to travel Visa?
Is Bhutan safe for traveling?
Do Bhutanese Speak English?
UNSURE WHERE TO GO? WE CAN HELP
Based on your preferences, location, timeframe, and budget, our team can design your dream trek based on our extensive knowledge and experience of the Himalayas. Get in touch with us for detailed information and assistance planning your dream trek. With our 97% success rate on trekking and climbing trips in 2022 and 2023 spring season, we will answer any questions you may have and guide you for an unforgettable experience.