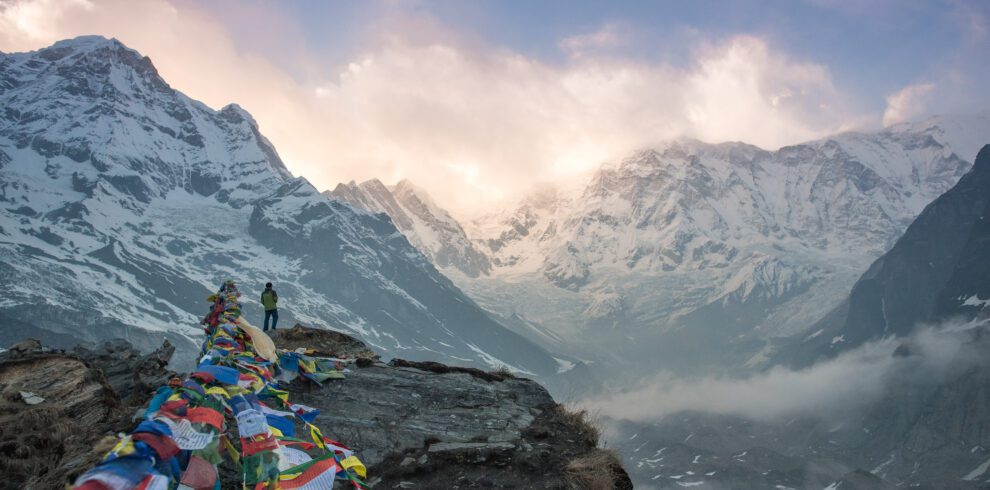 Dhaulagiri Circuit Trek
Nothing could be compared with the adrenalin rush while strolling in the remote mountain landscape. Trekking to the great Himalaya range within the world's tallest peak is the elite form of adventure. And Nepal, a mountain country, has many such appealing trekking routes. Dhaulagiri Circuit Trek is amongst the latest opened virgin land, offering the most adventurous and remote experience. And camping right before the mountains takes your thrill to a whole new level.
So, if you want an escape from the chaos of the city and have been looking for a life-changing journey, Mount Dhaulagiri awaits you. Pack your bag right now. Dhaulagiri is the 7th tallest mountain, laying just 34kms west of Annapurna. Skyrocketing at 8,167m, a round trek to Dhaulagiri's peak is not a piece of cake.
Along with Dhaulagiri and Annapurna, one shall witness dozens of other peaks, including Tukuche, Dhaulagiri range, Junction Peak, Churens, PuthaHiunchuli, and Hiunchuli Patan. The frozen glaciers and the pristine waterfalls are to talk about. The Dhaulagiri Circuit Trek route takes you to the Dhaulagiri base camp and returns you to Kathmandu on the 19th day.
Dhaulagiri Circuit Trek Highlights
Conquer one of Nepal's most challenging trekking trails; the best kept secrets of the mountain
Two wonderful nights in Dhaulagiri base camp and Italian base camp
Cross French Pass (5340 m) and Dhampus Pass (6,060 m)
Join Annapurna Circuit trek at Yak Kharka and visit Muktinath temple, an important pilgrim site of Nepal
Exciting mountain flight from Jomsom to Pokhara
Visit Pokhara and Kathmandu, Nepal's two most beautiful cities
Witness some of the world's tallest peaks from a great proximity
Great insight into Nepalese rich biodiversity (flora/ fauna) and culture
What's So Exciting About Dhaulagiri Circuit Trek?
The most exciting Dhaulagiri Circuit Trek begins from the mountains and drives to Beni, 295kms west of Kathmandu. Here, we trek Dharapani via Babiyachaur and get to the village of Muri. The subtropical forest in this section of the walk home rear wild animals such as Arna, Langur, red panda, snow leopard, deer, Bengal tiger, and many Himalayan birds. Watching these beauties entertain in nature's playground is already mesmerizing.
After three days, you will be trekking at ChoribanKhola Camp, Italian Base Camp, and Dhaulagiri Base Camp. The true essence can be gained with the victory over the high pass. French Pass at 5340 m is the highest point of the trek. There's also Dhampus Peak at 6,060 m, offering an unbelievable panorama. One can witness a rarely inhabited valley within the alpine pastures and high-Himalayas.
These valleys home the Tamang, Magar, and Rai people with their craziest lifestyle (adopted to live in the mountains). Their lives and culture still reflect the 16th century. We join Jomsom via Yak Kharka (Annapurna Circuit trek route) on the next part of the trip. Then, we fly to Pokhara and get back to Kathmandu. And all these exciting places can be visited at an affordable rate. The Dhaulagiri Circuit trek cost is very reasonable.
ITINERAY
Day 01: Arrival at kathmandu
A guide picks you up at the airport (or bus terminal) and takes you to the hotel in a private car. A short 30-min ride brings you to Thamel, where we spend the rest of our day shopping and sightseeing. In the evening, we need to gather for a briefing session of Dhaulagiri Circuit Trek. Also, it's time for some Yum welcome dinner.
Altitude: 1400m
Day 02: Sightseeing and trek preparation with team Himalayan masters
After breakfast, you can see a car waiting at your hotel gate. Just hop inside the car, and it's time for some great views. Initially, we drove to Swayambhunath (the so-called monkey temple). Our other destinations are Bouddhanath, Pashupatinath, and Kathmandu Durbar Square. In the evening, we are back to Thamel for some shopping. The guide helps you buy/ rent every gear essential for the trek. And then, the night is all yours.
Day 03: Drive to Beni via Pokhara
Early in the morning, we accommodate a bus taking us to Beni. On Prithivi highway, along the bank of Trishuli River, it's a scenic drive Kathmandu to Pokhara. In the next few hours, we will be standing in the small town of Beni. Some also choose to fly to Pokhara (25-mins flight) and then drive to Beni. We start our Dhaulagiri Circuit Trek tomorrow.
Altitude: 830 meters
Walking / Driving : 9/10 hrs
Day 04: Walk to Babiyachaur
Altitude: 970 meters 
Now, we move north of Beni, following MyagdiKhola. Our first stop shall be at BeniMangalghat and then walk to Singa. Lastly, we stop at Tatopani (natural hot water) before crossing a suspension bridge and entering Simalchour. Then, another hour of walk brings us to a beautiful tea house in Babiyachaur.
Walking / Driving : 5 to 6 hours 
Day 05: Walk to Dharapani
Altitude: 1560 meters
From Babiyachaur, we first walk to the open valley and then climb to the village of Shahashradhara. Then, we cross a bridge over DukKhola and then stroll to the Ratorunga. Slowly, we climb the stairs leading us to Dharapani. Today's walk might be demanding for many of us.
Walking / Driving : 6 hours
Day 06: Walk to Muri
Altitude: 1720 meters
We leave Dharapani after a relaxing breakfast. Then, we quickly get to Phedi, and then stop at Sibang. You might stop to see the villagers working on the farm or just walk to Mattim. Now, walking in the ridge soon brings you to another village of Phalai and finally to Muri. The locals are very hospitable, and you shall have a great stay.
Walking / Driving : 5 hrs.
Day 07: Walk to Boghara
Altitude: 2080 meters 
We plan to walk further north, crossing MyagdiKhola until we reach Naura village. As we keep on gaining altitude, the landscape keeps on changing. Now, we first walk down to a small before climbing along with the terraced fields. Here, Mt. Ghustung at 6465 mt greets us with a pleasing smile. Further walking via a thick forest, we get to Boghara for the night.
Overnight in Boghara
Walking / Driving : 5 to 6 hours
Day 08: Walk to Dobhan
Altitude: 2520m
As the settlement gets thinner, we enter into a rather thick and remote forest of Pine. In the morning, we walk to Jyardan and then enter Lipshe. Now, we keep on trekking via the open valley to LapcheKharka. After some rest, we enter Dobang. This might be the day when we start to set the camp.
Walking / Driving : 5 to 6 hours
Day 09: Walk to ChoribanKhola Camp
Altitude: 3445 meters 
Today, we leave Dobang and head towards Chartare for lunch. This is a very challenging day- we gain about 1000 meters of height in a single day. So, look out for the symptoms of altitude sickness in the way. Also, we get to see our very first glimpse of Dhaulagiri before getting into ChoribanKhola Camp.
Walking / Driving : 5 hours
Day 10: Trek to Italian Base Camp
Altitude: 3600 meters 
The 10th day of our Dhaulagiri Circuit Trek Itinerary is even more exciting. After ChoribanKhola, you are close to the mountains like never before. We will also start to witness the glacier and the Tukche Peak smiling at us. Dhaulagiri I looks magnificent as we crawl into Italian Base Camp. Getting here, we look for a perfect place to set the camps.
Overnight in Italian Base Camp
Walking / Driving : 7 hours 
Day 11: Acclimatization Day
Italian Base Camp is a great place to stop for a rest day. Instead of rushing to Dhaulagiri, we let our lungs acclimatize with the lower level of oxygen. Let the sore legs heal while you enjoy a great view, yum food, and camp firing. Take some beautiful pictures and prepare yourself for the upcoming adventure.
Day 12: Trek to Glacier Camp
Altitude: 4220 meters 
Today's hike to 4220 meters takes your trekking experience to a new level. Walking on the narrow gorge, we carefully trace our way to Glacier camp. Look for the falling stones and listen to your guide. As per our Dhaulagiri Circuit Trek map, today's the most tricky part of the trip.
Overnight in Glacier Camp
Walking / Driving : 6 hours
Day 13: Trek to Dhaulagiri Base Camp
Altitude: 4748 meters
Yes, this is what we have all been waiting for. We leave Glacier camp in the early morning and set our journey along the narrow ridge. The seven hours of walking in such rough terrain won't be easy, but it's also an exhilarating experience. Here, we can witness Dhaulagiri I at 8167 meters and other ranges, including Dhaulagiri II, III, and V; all of the above 7000 meters. Dhaulagiri Base Camp is a perfect place to set the camp.
Overnight in Dhaulagiri Base Camp
Walking / Driving : 7 hours
Day 14: Acclimatization Day
Another great day for rest, right at the foothill of majestic Dhaulagiri. What could be better than a sunrise in the mountain; that is too visible from your tent? It's the most beautiful view in the world. We enjoy our rest day with some dance and music, calling it a rest day.
Day 15: Walk to Hidden valley via French Pass
Altitude: 5200 meters
This is a big day before us. We set a rough walk to the French pass at 5360 meters in the morning. This is the second-highest point of our trek. Although it's challenging, the view of over a dozen peaks from the top will definitely be breathtaking. After some rest, we walk into the Hidden Valley. This valley lies between Tukche and Thapa Peak. We unpack at 5200m in sea level and call the day off.
Overnight camp in Hidden valley
Walking / Driving : 6 to 7 hours
Day 16: Trek Yak Kharka via Dhampus Pass
Altitude: 3700 meters 
And the Dhaulagiri Circuit Trek keeps getting more exciting. Our plan for the day is to climb the Dhampus pass (Thapa peak), which is at 6,012m. We walk to the top of Thapa Pass, opening up more views of the mountains. The final part of the day is a relaxing walk to the Yak Kharka. This is where we join the classic Annapurna Circuit trek route. You will already see the landscape changing at 3700m above sea level.
Overnight camp in Yak Kharka
Walking / Driving : 6 to 7 hours 
Day 17: Trek to Jomsom
Altitude: 2700 meters
So, are you excited about the last day of your walk? We enjoy a warm breakfast in the tea house at Yak Kharka and then continue walking on the Annapurna circuit trail. Firstly, we enter the Mustang valley with a unique landscape. The colossal sand cliff and orange vegetation of Mustang is something you are gonna love.
Walking / Driving : 4 -5 hrs
useful info
Accomodations And Food At Dhaulagiri Circuit Trek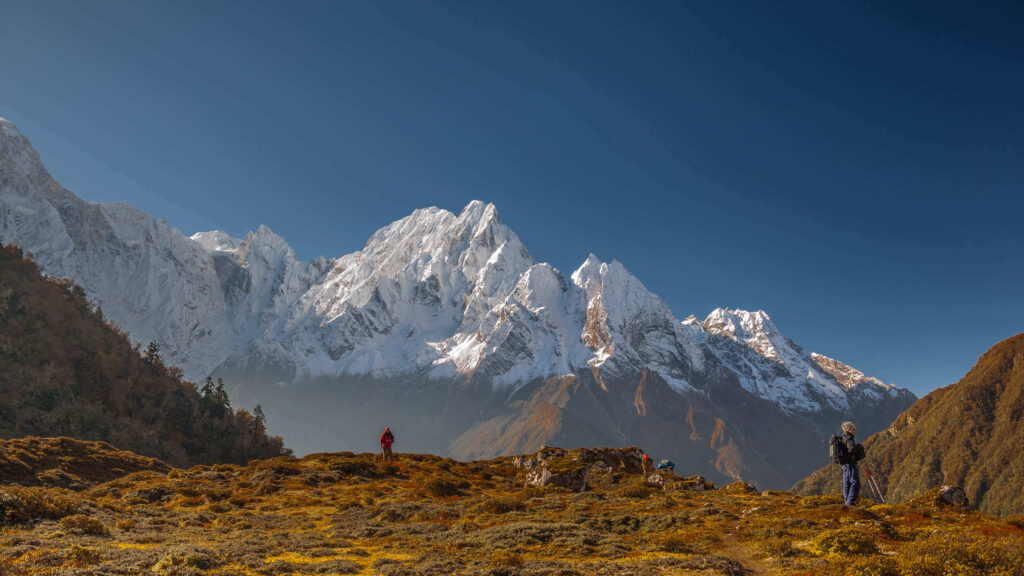 Dhaulagiri Circuit Trek is among the best camping trek in Nepal. The accommodation is a luxurious 3-star hotel in the cities, comfortable tea houses in the lower altitude, and camping in the mountains. Together, it's a very wholesome experience. Similarly, the food of your choice is served in the hotel/ tea house. However, the cook picks your food in the camps. Learn about the detail in other articles here.
Dhaulagiri Circuit Trek Difficulty And Fitness
Experts mark Dhaulagiri Circuit Trek as "hard" and perfect for anyone with good fitness and some previous high-altitude trekking experience. If you are a newbie trekker, we recommend that you prepare your body with some cardio-vascular exercises a few months prior to the trek.
UNSURE WHERE TO GO? WE CAN HELP
Based on your preferences, location, timeframe, and budget, our team can design your dream trek based on our extensive knowledge and experience of the Himalayas. Get in touch with us for detailed information and assistance planning your dream trek. With our 97% success rate on trekking and climbing trips in 2022 and 2023 spring season, we will answer any questions you may have and guide you for an unforgettable experience.