How To Get From Kathmandu To Pokhara? (Quick Guide)
Pokhara, a paradise-like destination for travel freaks lies west of Kathmandu.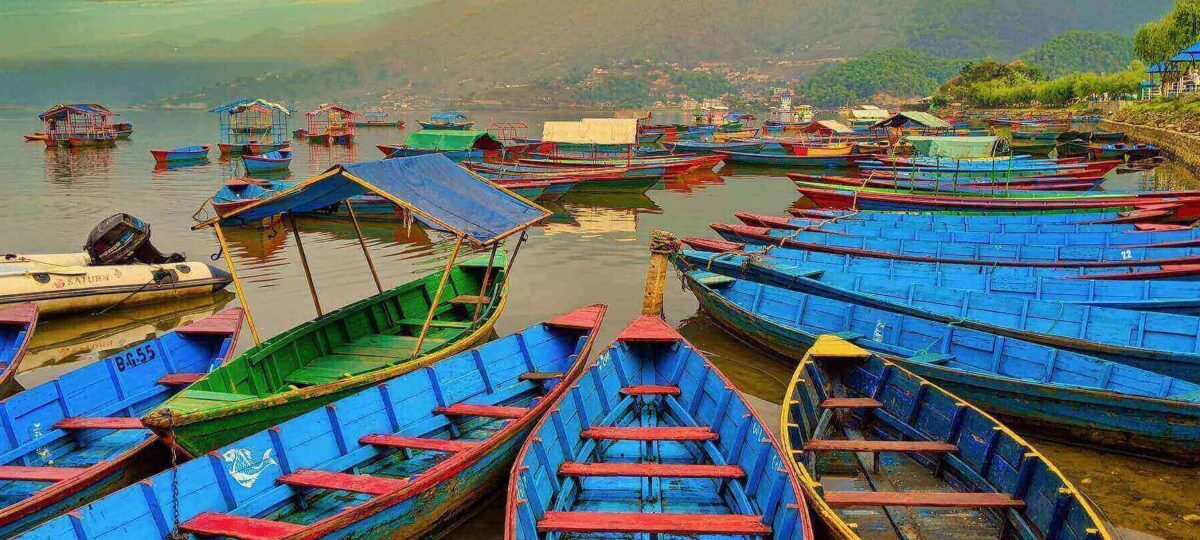 Pokhara, a paradise-like destination for travel freaks lies west of Kathmandu. The awesome panorama of Annapurna, Macchhapuchre, and Dhaulagiri range right from the streets of Pokhara, and the pristine beauty of Himalayan lakes like Phewa and Begnas make Pokhara a "must-visit" place of Nepal.
Despite being quite far from Kathmandu, it's the second busiest and most vibrant city of Nepal. Located within the Kaski district, the city of Pokhara is about 200kms away from the capital.
Thousands of international and national tourists travel from Kathmandu to Pokhara each day. Even then, the new travelers feel it's daunting to find how they can get to Pokhara. That's why we came up with this article that explains all the possible routes and transportation to get from Kathmandu to Pokhara.
Kathmandu To Pokhara Distance
Pokhara almost lies at the center of the map of Nepal. It's about 204kms (126 miles) west of Kathmandu. Another close-by city is Chitwan which lies 92kms away from Pokhara.
Flight From Kathmandu To Pokhara
Despite being quite close to Kathmandu, the poor quality of road and winding terrain makes driving to Pokhara long than you expect. That's why many tourists prefer an easier escape with a 20-mins flight to the Pokhara airport. Ktm to Pokhara flight can be taken from the domestic terminal of Tribhuwan International Airport at Kathmandu.
Kathmandu To Pokhara Flight Online Booking:
Almost 10 flights from different private airlines of Nepal fly from the capital to Pokhara each day. You can book the flights from 7 am to almost 3 in the evening. The most common airlines flying regularly to Pokhara are Buddha Air, Simrik Airlines, and Yeti Airlines.
You can visit the official website of these airlines and confirm your Kathmandu to Pokhara flight online booking. Once the booking has been made, get the e-copy of the confirmation and the ticket will be provided to you at the checkpoint of the airport.
If that's not possible, you can directly get inside the Kathmandu airport and get your Pokhara flight ticket from the counter. There is a counter of more than half a dozen airlines that sell instant tickets.
Kathmandu To Pokhara Flight Cost:
The one-way price of the Pokhara flight from Kathmandu ranges from $70 to $125 for foreigners. For Indians, the flight cost from Kathmandu to Pokhara will be below NRS 5000 and for Nepalese, it is around Rs 3000. These prices vary from your time of booking, festivals, weather, season, and many other factors.
Pokhara flight Buddha air price has nowadays dropped to $68 to encourage post-Covid-19 tourism. Last-minute booking or getting a ticket directly from the counter might come out to be expensive.
Note: There is some third-party website that will also allow you to book the Kathmandu to Pokhara flight time. However, for the cheapest flight to Pokhara from Kathmandu, we recommend directly visiting the website of the airlines in Nepal. However, the third-party website allows you to compare the Kathmandu to Pokhara flight fare and pick the best deal.
Kathmandu To Pokhara From Helicopter
Want something more luxurious and fun than a casual flight from Pokhara from Kathmandu? Then, you have the option of flying in a chartered helicopter. This is the quickest and most luxurious way you get to Pokhara from Kathmandu. Also, there are no chances of delay/ cancellation and gives you the thrill of a mountain flight.
A cozy helicopter flight with your loved ones accompanied by the stunning view of snowy mountains, and verdant hills is definitely breathtaking. Kathmandu to Pokhara flight time in Helicopter is about 20 mins. Himalayan masters arrange your charter flight for 5 people (weight limit 500kgs) in a short request.
The Helicopter charter to Pokhara costs about the US $2500 for a one-way flight (almost US $500 per person). If you are a solo traveler or group of fewer than 3 people, you can find other groups to share the Helicopter cost so that the price can be lower. Although luxurious, many tourists don't go for this option as the Pokhara helicopter charter is quite expensive.
Kathmandu To Pokhara By Road
The 204kms of a winding road on the hillside takes you to Pokhara. The only roadway connecting Kathmandu and Pokhara is the notorious Prithvi Highway. Driving from Kathmandu to Pokhara takes somewhere between 6 to 8 hours, and it's undeniably a very scenic journey. Although slow, the drive that follows the Trishuli River will be rejuvenating.
The major stop along the highway are Maleku, Muglin, Dumre, and Damauli. In summary, Kathmandu to Pokhara road condition is quite good and the drive to Pokhara shall be fun. There are many options for transportation to Pokhara.
Kathmandu To Pokhara By Bus
Few dozens of Public buses leave to Pokhara from Kalanki, Kathmandu each day. The bus is available from early morning to late evening (for the night ride). This is the cheapest form of transportation and costs you about $5 to $7. If you want Pokhara deluxe bus, the price can go up to $8. A single bus has almost 40 plus seats.
The biggest problem among tourists is finding these Public buses. You can get a bus to Pokhara from Kathmandu at the Gongabu Bus Park or Kalanki daily. You can take a taxi or public bus from Thamel to Gongabu/ Kalanki and then get on the bus at any time of the day. Although cheap, a public bus to Pokhara isn't the most comfortable option for the ride.
Here's what to expect from the bus to Pokhara:
The seats are small and often dirty.
The buses are mostly crowded-carrying people beyond their capacity.
The spaces between the seats are very less and you won't find enough leg-space
You would travel with the sound of a loud music
All aisles are literally filled with dirty luggage
The buses stop at local restaurants whose food and bathroom might be disappointing
Well, it's not all bad news. A public bus means melodious local music and a chance to witness the Nepalese lifestyle (maybe make a few new friends as well).
So, we suggest that you travel on a tourist bus which is way more comfortable and clean.
Recommended Reading: – How To Get Kathmandu To Bardiya National Park
Kathmandu To Pokhara By Hiace
Hiace is just like the smaller public bus that accommodates 12-15 people at a time. Hiace has larger leg space and a smoother ride than the big public bus. They feel cozy and clean with a fewer number of passengers. However, other issues of a private bus remain the same while you are traveling to Pokhara in a Hiace.
Kathmandu to Pokhara Hiace counter is available in Kalanki. There are a few Pokhara Hiace counters outside the Gongabu Buspark and Koteshower as well. The cost of Hiace to Pokhara is $6 to $7.
Kathmandu To Pokhara Tourist Bus
Traveling to Pokhara in a tourist bus is not only comfortable but also a safer option. These Pokhara luxury buses only cost a few more dollars more than a local bus with a much better facility. Here's why we recommend a tourist bus from Kathmandu to Pokhara.
Flexible and comfortable seats
Enough space for the legs
Provide bottled water on the bus
Stop more frequently for views and rest
Food at better restaurants and restrooms
traveling in an air-conditioned bus
Onboard Wi-Fi and charging plugs in each seat
How to book Kathmandu to Pokhara tourist bus?
There are a lot of ways you can book the Kathmandu to Pokhara tourist bus.
Firstly, you fill Himalayan Masters booking form here, and we arrange a tourist bus of your choice.
There are many websites like Nepalvehiclerental, Nepalvehiclebooking, Yatranepal, Greenline, etc. where you can book bus tickets to Pokhara online.
You can directly go to Kalanki or Koteshowor and find the Pokhara tourist bus counter to get your tickets
You can also travel without tickets if you get to Kalanki and catch a bus there
Cost Of Tourist Bus From Kathmandu To Pokhara
Tickets for the Pokhara tourist bus now cost more than $10. However, there may be a slight increase or decrease in the price depending on what kind of tourist bus.
VVIP/GREENLINE: This is the most expensive and yet the most luxurious way to travel to Pokhara. Greenline has air-conditioned buses with onboard Wi-Fi, a charging plug, and a free buffet lunch and bottled water. The cost for Greenline Bus is US $25 (NPR 2,800). While other similar bus cost about $10, Greenline charge higher for their brand value and trust. It's up to you if you feel like paying such a price.
Super-deluxe: As Nepal has been improving its service for tourists, you can now find a super deluxe bus with first-class service. They offer the highest level of luxury with very comfortable reclining seats (limited passenger). Most importantly, they have an in-bus washroom, minibar, and separate room for smoking. The cost of a Super-deluxe bus is about $15 (without any food and drinks). However, the price can vary accordingly to the service provider.
VIP/TOURIST BUS: The other Pokhara tourist bus offer VIP service. The Wi-Fi and AC are often not working but you will have the plugs. The seats are as comfortable as the Greenline buses and they stop at a decent place for food and rest. It's a good deal for the money i.e. $10.
Kathmandu to Pokhara bus time
Unlike Public buses, the number of tourist buses leaving Pokhara from Kathmandu is limited. Most of these tourist buses leave Valley from 7 to 9 am. It's hard to find a tourist bus after 11 am. So we suggest that you book the tickets beforehand and catch the bus in the morning.
Kathmandu to Pokhara night tourist bus
Almost all Kathmandu-Pokhara tourist buses depart early in the morning. Driving for 8 to 9 hours just to get to Pokhara adds one extra day to your Nepal stays. If that's not possible, you can travel to Pokhara at night. Few public and tourist buses offer night rides to Pokhara. There's a Jagadamba Travel tourist bus that leaves from Balaju every 8 pm. This will be a quiet comfortable night bus to Pokhara where you can sleep in peace and wake up at Pokhara the next morning.
Traveling By a Private Car
Even when you travel in the most luxurious tourist bus, you will be sharing the space with unknown groups. If you want a solo ride or have a group of large people, you can book a private car to Pokhara. The private cars of the model such as Swift Desire, Skoda Rapid, Ford Classic, Fiat Linea, etc. are available in Nepal. You can get the private car right from the Thamel. Or, you can ask your travel agency i.e. Himalayan masters or hotel manager to help you with booking.
Private cars usually accommodate 4 passengers and a driver. One can pay $115 to $130 for a car. An air-conditioned car or an SUV can cost up to $150. The rate for private cars is not fixed and your bargaining skills come in handy. Riding private is obviously safe and comfortable. If you can pay the cost, then it's better than a flight to Pokhara.
Private Jeep: A private car can only accommodate 4 people at a time. If you have a group of large numbers i.e. 8-9 people, you can book a Jeeps. The jeep is very comfortable while driving in the off-roads and hilly winding roads. Booking a jeep in Nepal costs $250 USD, one-way.
Sharing that rate among 8-9 people still becomes higher than traveling in a tourist bus. However, the comfort and safety are worth it. You can stop at any place you like to rest and decide where you wanna eat. Also, one gets to add a new destination to visit between Kathmandu and Pokhara.
Places For Stopover between Kathmandu and Pokhara
A long ride from Kathmandu towards Pokhara can sometimes be boring. But, you could easily spice up things by adding one or more of these places as your destination. Especially while traveling in a private vehicle, making these shortstops is interesting.
Manakamana Temple: Halfway between Kathmandu and Pokhara, there lies an important temple of the Hindu goddess Bhagwati. The sacred temple of Manakamana can be visited after an 8-mins cable car ride from Kurintar. Located at the verdant hills over the Trishuli River on the side of Prithivi highway, this visit shall add less than one hour to your Pokhara drive.
Gorkha: The historic town of Gorkha connects Prithivi Highway to a place called Abukhaireni. Gorkha is the ancestral home of Prithivi Narayan Shah. There are many historic temples, museums, and places to visit in Gorkha. Also, you get to view the Manaslu and Himalchuli range on a clear day.
Bandipur: This stunning hilltop lies a few km away from Dumre. The Newari town of Bandipur is about a 25-mins ride from the hilltop and the ride above the winding hills is itself very interesting. Along with typical Newari homes, you can visit the local museum, temple, library, and silkworm factory. This visit adds about two hours to your Pokhara tour.
Trishuli rafting: Take your Pokhara ride to a new level with an adventurous twist of Trishuli rafting. You can stop your vehicle at the Charaudi River and dive into the Trishuli River. You will be rafting for 2 to 3 hours to Kuringhat and enjoy every Upset, S-bend, Surprise, and Ladies' delight. White water river rafting is the true form of wilderness in Nepal and you shouldn't miss it.
Hope this article covered everything you needed to know. You can contact Himalayan masters for all treks and travel tickets to Nepal and we provide the best service at the most reasonable price.
Frequently Asked Questions
1. At what time will we reach Pokhara in a tourist bus?
The bus drops you at Pokhara Tourist Bus Park on Rastra Bank chowk at around 3:00 pm in the morning. Since the tourist bus drive quite slow, the journey turns out to be longer. If you are driving in a private vehicle and leave Kathmandu before 7 am, you will reach Pokhara before 2 pm.
2. Where in Pokhara will the bus/ Hiace drop?
The public bus/ hiace to Pokhara drops you at Prithivi Chowk. From Prithivi Chowk, you can take a taxi or public bus to the lakeside. However, the tourist buses drop you at Rastra bank Chowk which is about 15mins walking distance from Lakeside.
3. Is the drive to Pokhara safe?
Yes, driving to Pokhara is very safe. Our drivers are experienced in dealing with winding hilly roads. Tourist buses drive slowly and safely. Hiace might be a bit risky due to their high speed, otherwise, you shall be fine.