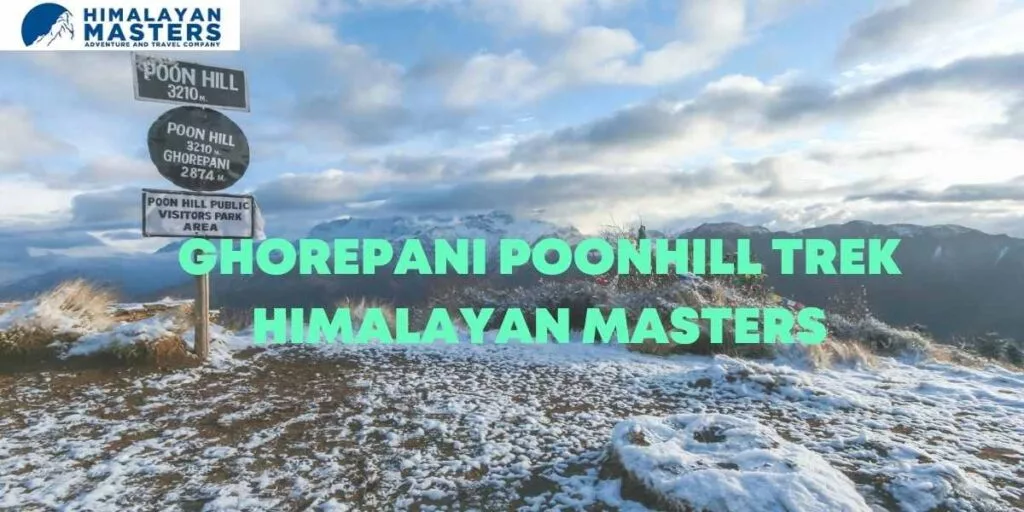 TRIP DURATION

6 Days
MAX. ALTITUDE

3210
TRIP GRADE

Easy
LODGING

Tea house
BEST SEASON

March April May
MEALS

Breakfast lunch dinner
PER DAY WALK

5 to 6 hours
Ghorepani Poon hill Trek
The Ghorepani Poon Hill trek is one of the easiest treks in the Annapurna region of Nepal. It offers a great opportunity for a Himalayan trek even for novice hikers. Poon Hill is also one of the best viewpoints in the world. Especially for sunrise over the Annapurna ranges.
Since it is one of the shortest treks, thousands of trekkers, including Nepalese, prefer to trek Poon Hill. They trek it for its beautiful sights, easy affordability, and the warm hospitality they receive in the teahouse.
This trek can be done in 4 to 5 days. It begins from Nayapool, which is five hour's drive from Pokhara. This trek ends in Nayapool, the same place where it began. It not only makes the trek easy but also prevents you from worrying about lengthy maps. Four to five hours of hiking each day are enough.
You can also take a glimpse of different mountains. Like Annapurna South, Annapurna First, Dhaulagiri, Nilgiri, Machhapuchhre, and Dampus from Poon Hill. The two of them (Dhaulagiri and Annapurna First) are above 8000 meters.
Book your Ghorepani Poon Hill trek by sending us an email at Info@himalayan-masters.com.
Top Highlights Of Ghorepani Poon Hill Trek:
The artistic village of Ghandruk
Panoramic views of sunrise and sunset on the Annapurna and Dhaulagiri ranges.
stunning rhododendron forest along the trekking trail.
Visit the church in Ulleri and the Gurung Museum in Ghandurk.
The amazing hospitality of the local
A popular short trek in the Annapurna Himalayan Range
What Is The Best View Of Ghorepani Poon Hill Trek?
The Ghorepani Poon Hill trek is popular for its sunrise view. Along with the golden panoramic views of mountains. Annapurna, Lamjung Himal, Gangapurna, Machhapuchhare, and Manaslu, shine in the morning. These mountains are visible right from Pokhara to Poonhill. Poon Hill's sunrise trek is definitely worth it.
How Much Does The Poon Hill Trek Cost?
Do not even worry about the Ghorepani poon hill trek cost. This Poon Hill Trek is among Nepal's most affordable treks. Since this trip is quite short and the tea houses are also competitive, you will be trekking at a very low cost. Depending on how much luxury you wish and the group size, the Ghorepani poon hill trek costs between $300 to $700.
If you have a larger group to share the cost of a guide/porter and also travel with the minimum facility, the Poonhill trek price is about $350. The Ghandruk to Poon Hill trek is a day longer and only adds less than $50 to your overall trip cost.
Here's the breakdown of prices for the trip. 
Accommodation ($4 to $8/day)
Three meals per day + tea/coffee breaks ($30 to $40/ day)
Guide ($20-$25/ day)
Porter ($15 to $20/ day)
Taxi to and from Pokhara to Nayapul for the start and end of the trek ($50 to $70/ trip for a private ride, $10-$20/ trip for group sharing)
ACAP Permits + TIMs registration ($ 40- $50 one-time cost)
Although the room cost is low, don't be surprised if you are asked for extra dollars (from $1 to $3) for Wi-Fi, hot showers, and charging.
Trekking independently (without a guide and porter) will lower the Ghorepani Poon Hill trek price, but it will obviously be very hectic. Instead, you can trek the Poonhill trek cheap package at Himalayan Masters and travel at a very affordable cost. In conclusion, the per-day cost of the Poonhill Ghorepani trek should be $ 60 to $70 for a person, and the permit/transportation cost should be added.
know more about the poon hill trek cost.
How Difficult Is Ghorepani Poon Hill Trek?
You will be touched to see Bhurungdi Khola (river) flowing through cool mountain valleys and soothing farming villages. You might be stopped at the Birethanti checkpoint to have your TIMS card checked just after crossing the suspension bridge. A portion of the trail on this day is really adventurous for you. Just after crossing the suspension bridge over the Tikhedhunga Khola (river), the trail heads up a steep stone stairway having exactly 3767 steps!
After completing those steps, you will reach the top of the hill, from where the panoramic views of Mount Annapurna South (7219 m) and Hiunchuli (6441 m) will make you forget your tiredness from climbing the steep ascent. Besides stunning mountain views, the scenic area of blooming rhododendron forest is really appealing on the rest of the trail. You will be spending the night in one of the best teahouses in Ulleri.
To know more about the Poon Hill Trek difficulty
Accommodation and Food Ghorepani Poon Hill Trek
Accommodation in the Ghorepani Poon hill trek is quite comfortable. It's among the best teahouse trekking in Nepal. You will be staying in the tea houses made by the local people. Unlike other trekking trails in Nepal, the hotels on the Ghorepani trek trail are very luxurious. Most of these tea houses are newly built and better than the ones in the city.
In the tea house trekking in Nepal, you can also have food of your choice in the hotel. There will be a restaurant where they serve very good quality local food. Also, there will be national and international cuisine like Indian, Chinese, and continental. For breakfast, there shall be pancakes, muesli, oats, paratha, Tibetan bread, omelette, mashed potato, and all.
Best Season for Ghorepani Poon Hill Trek
Well, there's not season that can be called the best time for the Poonhill trek; each season has its own perk. While many travellers prefer autumn treks with clear views of mountains and a festive mood, it's also the busiest and most expensive time for the trek. Spring with the colourful blooms of different hues of rhododendron and warm weather is our recommended time. Similarly, if you would love a pleasing walk in the snow, winter is a great time for the trek.
ITINERAY
Day 1: Arrival at kathmandu
The alluring flight into Kathmandu valley with the beautiful views of the Himalayas and terraced valley drops you at Tribhuvan International Airport (TIA) where one of the Himalayan master's representatives greets you and takes you to the hotel. Your arrival time in Kathmandu determines how much time you will get to explore Kathmandu.
If you arrive in the morning or in the early afternoon, you will have the opportunity to visit some popular sites, including Kathmandu Durbar Square or Swaymbhunath Temple—popularly known as the Monkey Temple. Besides, remember to have enough preparation for your trek, including gear check, meeting with the company personnel and guide. After all, take enough rest to gain fortitude for the upcoming adventure.
Kathmandu Highlights:
The capital city of Nepal
The Kathmandu valley includes three more cities ( Lalitpur, and Bhaktapur).
Seven UNESCO World Heritage Sites include The Boudanath, the world's biggest Buddhist stupa.
Options for Travel From Kathmandu To Pokhara
Option 1: Airway (25 minutes flight)
If you have limited time and get languor while having a long journey by bus, this option is amazing for you. Taking a short flight you can shorten your trip by one day.
Option 2: Roadway (5 to 6 hours drive)
If you have enough time and are fond of travelling on a luxurious tourist bus, capturing the greenery through the windowpane could be the best option for you. You get the opportunity to begin your trek in the fresh morning.
Meal : Breakfast Lunch Dinner
Accomodation : Tea house
Walking / Driving : 5 to 6 hours
Day 2: Day 2: Fly to Pokhara drive to Nayapool and Trek to Ulleri
If you start the trek right from Nayapul, a steep climb to Ulleri can be a bit challenging. Beyond that, the route to Poon Hill is quite easy and can be achieved by any new trekker. Having good physical fitness and practising regular exercise before the Poonhill trek is obviously helpful.
Beginning point: Nayapool (1000 m)
The final destination of the day will be Ulleri (2000 m).
Time: 4-5 hrs.
Total Ascent: 1092 m
Total Descent: 125 m
Overnight: Teahouse in Ulleri
Attractions of the Day :
beautiful scenery.
stunning mountain views.
3767 stony stairway steps.
Delicious Lunch at Hille Village.
Day 3: Trek to Ghorepani
After having breakfast at around 7 a.m., you will be starting your trek at 8. This day is more special for you as most of the trail goes through the jungle and the beautiful waterfalls. It is also the short hike day that we recommend you do the relaxed trek, standing and staring at every wonderful station.
Furthermore, if you are lucky enough to catch your trip in the spring season, you will be amazed by the breathtaking views of blooming rhododendron along the trail. The diverse landscape, stunning views of snow-capped mountains, and the sudden encounters with wild birds and animals really turn your tiring trip into a pleasant one.
You will be enjoying lunch at Nangethanti. However, some trekkers prefer to reach Ghorepani before taking lunch, wishing to spend the whole afternoon in the Ghorepani surroundings. There are two Ghorepani villages, the lower and the upper. Most check posts are in the lower Ghorepani. The two villages are just within 10 minutes' walking distance.
Beginning Point: Ulleri(2000 m)
The final destination of the day: is Ghorepani (2870m).
Distance: 8 km
Total ascent: 837 m
Total descent: 90 m
Time: 4 hours
Lunch: Nangethanti (2430 m)
overnight: Fishtail Guest house (Ghorepani)
Meal : Breakfast, Lunch , Dinner
Accomodation : Guest House
Walking / Driving : 4 to 5 hours
Day 4: Hike up to poon hill and Trek to Tadapani
You are going to the highest elevation of your Ghorepani Poon hill trek. The Poon hill (3210 m) is an amusing peak, especially popular for sunrise and sunset views and stunning Himalayan views. If the sky is clear, you can see thousands of twinkling stars, giving the impression of paradise. The trail is steep and uphill. It takes around 45 minutes to reach the top.
If you are trekking to Poon Hill in the peak season, don't worry about getting lost as the trail is filled with hundreds of trekkers. The peak is extremely cold, probably snowing. Wear enough clothes to keep you warm. Carrying water is a must; you get thirsty while climbing up. A headlamp is essential as it might be dark on the trail while climbing up to the peak.
A camera, gloves, beanie, hiking pole, and some money are enough things to carry. Do not carry unnecessary things, making the trek more exhausting. Safely lock your stuff in the teahouse room. You can buy the hot drink on the top for nearly three times the price of the one down in the village. You will spend around 1 hour and 30 minutes on the top.
The descent might be faster than the ascent, but the trail might be slippery because of the snow. The hiking poles are best to use if you have them. Some of the visitors also trek to Poon Hill elevation in the afternoon. If the weather is clear, the views in the afternoon are even more stunning. In fact, in the afternoon the trail is not so crowded and probably there is no need to ask for an entrance fee as well.
Detailed information about the Ghorepani Poon hill trek:
Early in the morning, you will have to wake up early to catch the sunrise view from the Poon hill peak.
The steep ascent and descent are probably slippery due to snowfall up to Poon hill.
Beginning Point: Ghorepani
Finish: Ghorepani
Time: 1.45 hrs to 2 hrs.
Type of trail: Steep uphill/steep downhill
Distance: 3 km
Poonhill Entry fee: NPR. 100/-
Accent: 387m
Descent: 387m
Things To Take To The Summit:
Headlamp
Water
 Camera
 Gloves
Phone
Money (entrance fee: NPR. 100 and for buying tea/coffee)
 Hiking Poles (optional)
Same Day Trek to Tadapani
After returning from the Poon Hill short trek, enjoy your fantastic breakfast at the teahouse. And then the trek to Tadapani begins, in which you require to walk for nearly 4 hours. The trail goes through the patches of local villages, giving you the chance to stop for lunch, rest, or buy/refill your water bottle.
Most part of this Poon hill route is downhill probably slippery with snow (only in winter). There is one significant 200 m steep uphill just before Tadapani which is also the last ascend of the day. Most trekkers stay overnight at Tadapani. A lot of teahouses are there offering good accommodation.
Beginning Point: Ghorepani
Final Destination of the Day: Tadapani
Distance: 10 km
Time: 4;30 hrs.
Accent: 683 m
Descent: 1394 m
Meal : Breakfast, Lunch, Dinner
Accomodation : Guest house
Walking / Driving : 5 to 6 hours
Day 4: Trek to Ghandruk and drive to Pokhara
After taking the final Himalayan breakfast in Tadapani, the trek to Ghandruk starts through the forest of rhododendron, sal, and oak trees along the side of the Kim rung Khola (river). Moreover, the trail between Tadapani and Ghandruk is easier than that of Ghorepani to Tadapani as it passes through the beautiful forest only downhill and consists of about 6 kilometres.
The variety of unique birds, many species of flowers, and amazing views of Mount Annapurna South, Hiunchuli, and Fishtail make the trip really pleasant and beautiful. Also, there are many shops and teahouses along the way for snacks, resting, and buying water.
The trail continues to Bhaisi Kharka (buffalo pasture) and finally reaches Ghandruk, one of the biggest Gurung villages. The Ghorepani Poon hill trek is less crowded than others. We recommend you visit the Gurung cultural museum.
where you gain a lot of information about the lifestyle of Gurung people either before or after your lunch. After the Ghorepani Poon hill trek, having some relaxation, we further start another short (30-minute) walk up to Kimche, where a jeep picks you up for Pokhara.
Meal : Breakfast, Lunch, Dinner
Accomodation : Hotel
Walking / Driving : 2 hours hike and 3 hours Drive
Day 5: Drive to Kathmandu
We have already said, about the options you can choose to travel from Kathmandu to Pokhara or vice versa. If you plan to take a flight, you will have more time to explore Pokhara and Kathmandu. Just grab the opportunity of sightseeing from one of the coffee shops before you catch a flight.
And in Kathmandu, after you check in the hotel, you can enjoy the rest of the afternoon and evening exploring Kathmandu's streets on foot, on a bicycle, or taking a taxi, probably buying souvenirs in Thamel. Furthermore, if you plan to take a bus, you will be travelling for 5 to 6 hours, probably reaching your Kathmandu hotel in the evening.
Walking / Driving : 6 hours drive
include / exclude
Trip Cost Includes
Airport pick-up & drop-off service in a private vehicle
3-star accommodation in Kathmandu with breakfast
Best available clean and comfortable Tea house accommodation during the trek
All meals (breakfast, lunch and dinner) with tea/coffee during the trek
Staff insurance and necessary ground transport for support staff
Guide for 9 days
Trekking permits – Annapurna conservation permit and TIMS Card.
All Local and Government taxes, administrative charges
Trip Cost Excludes
Extra night accommodation in Kathmandu in case of early arrival or late departure
Lunch and dinner in Kathmandu and Pokhara
Nepal Visa fees.
Travel and medical insurance
International flights
Excess baggage fee
Personal expenses (phone call, internet, laundry, bar bills, snacks, battery recharge, bottled or boiled water, souvenirs, hot showers, extra porter etc.)
Personal trekking gear and equipment
Tips for guide, porter and driver (tipping is expected)
FAQs
Why Trek to Ghorepani Poon hill with the Himalayan masters?
Ghorepani Poon hill trek is among Nepal's most popular trekking destinations. And trekking with Himalayan masters, you get to make your experience even more exciting. Here's why you should be trekking with Himalayan masters for the Poonhill-Ghorepani trek.
.A well-designed Itinerary to fully savour the beauty of over a dozen peaks in the mountain region of Nepal
Every cost for the 8-day Ghorepani Poon hill Itinerary has been included in the package
Trekking with an experienced guide and porter with utmost comfort and guidance
Stay in the best available tea houses and hotels throughout the trek
Focus on the comfort, safety, and luxury of our guest
How far is Ghorepani- Poon hill from Kathmandu?
How long is the Poon hill Ghorepani trek?
Do I need a permit for the Ghorepani Poon hill trek?
How cold is it at Ghorepani Poon hill?
Where is Ghorepani Poon hill?
Can you trek to Ghorepani Poonhill without a guide?
When is the best time for the Ghorepani-Poon hill trek?
How Hard Is Poon hill?
How do I get from Kathmandu to Poon Hill?
Can you trek to Poon Hill on your own?
UNSURE WHERE TO GO? WE CAN HELP
Based on your preferences, location, timeframe, and budget, our team can design your dream trek based on our extensive knowledge and experience of the Himalayas. Get in touch with us for detailed information and assistance planning your dream trek. With our 97% success rate on trekking and climbing trips in 2022 and 2023 spring season, we will answer any questions you may have and guide you for an unforgettable experience.