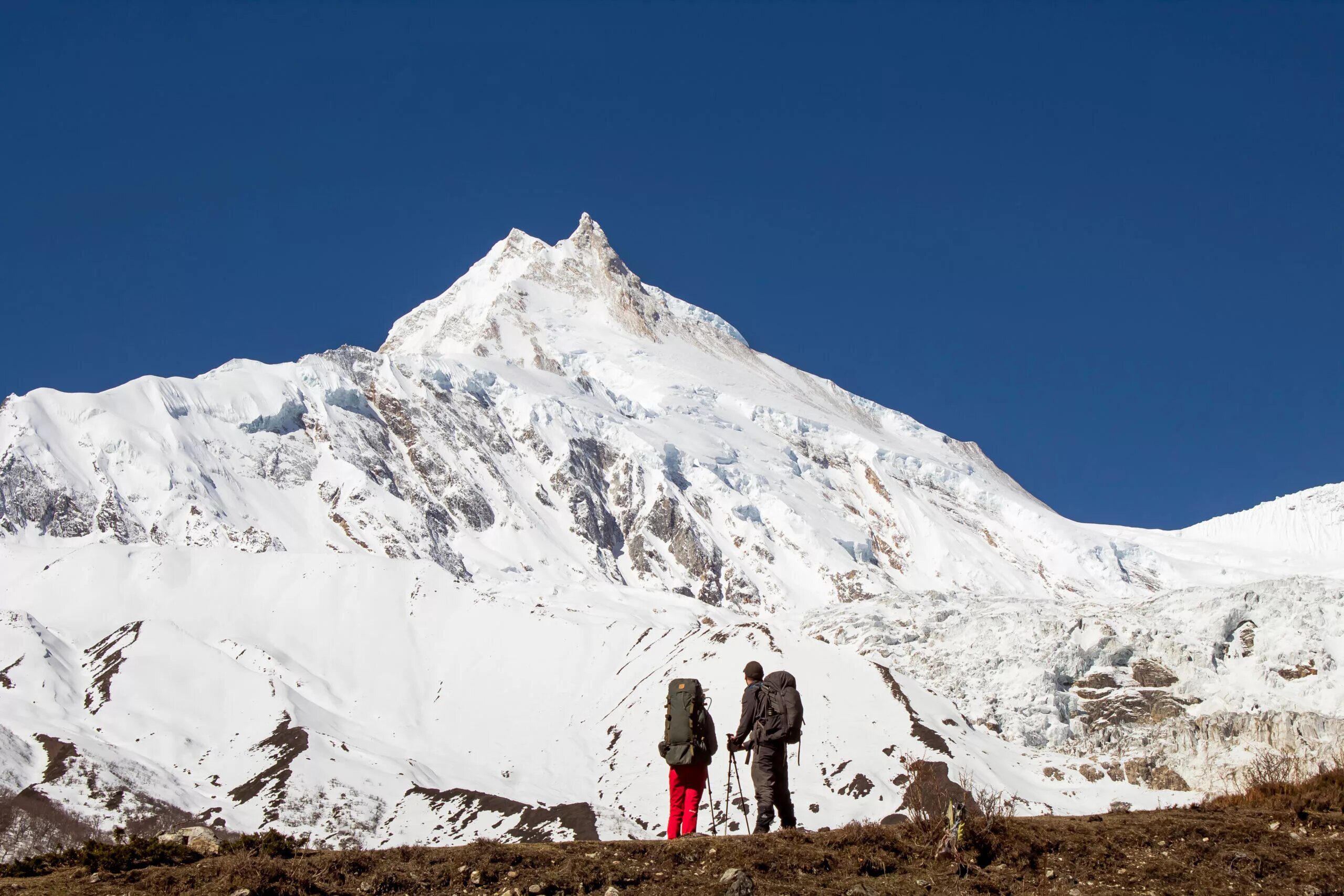 TRIP DURATION

14 Days
MAX. ALTITUDE

5160m
TRIP GRADE

Moderate
LODGING

Tea house
BEST SEASON

Springs and autumn
MEALS

Breakfast lunch dinner
COMMUNICATION

Local sim card
PER DAY WALK

5 to 6 hours
Manaslu Circuit Trek
The Manaslu Circuit Trek is one of the classic and off-the-beaten trails of Nepal. It passes through the border between Nepal and Tibet. This route has been popular since its emergence in 1992. The trail is among the best treks in Nepal that take you around the world's 8th highest mountain, Mt. Manaslu, a mountain peak at an elevation of 8163 meters.
Manaslu Circuit Trek Highlights
less crowded, long-distance trail located at Mansiri Himal.
A wonderful scenic drive from Kathmandu to Arughat/Sotikhola.
Panoramic views of Manaslu, Annapurna II, and Lamjung Himal.
Pass through Budigandaki gorge.
Chance of encountering strange flora and fauna including snow leopard
Explore the amazing local cultures.
What's Beautiful About The Manaslu Circuit Trek?
The Manaslu Circuit Trekking Trail offers the wonderful experience of stunning mountain views, picturesque landscapes, and beautiful waterfalls. The trail passes through the forest of rhododendron, pine, birch, and wonderful meadows, making you feel that you are in the must-visit country in the world. The terraced farmland, several suspension bridges, and the chirping of birds add extra charm to the trek.
Although the Manaslu circuit trek was opened nearly three decades ago, it does not become crowded even during the peak season. Thus, it is the best alternative for trekkers who prefer less crowded routes. Everest Base Camp (EBC) or Annapurna Base Camp (ABC) treks are significantly more crowded than Manaslu Circuit treks.
After spending a night in one of the best hotels in Kathmandu, you will need to catch the early morning drive to Arughat or Sotikhola. The drive along the Prithivi Highway up to the Trisuli Bridge in Malekhu is a scenic experience.  The scenery from Malekhu to Dhadingbesi is more astonishing. A few minute breaks in Dhadingbesi is a good opportunity to explore the district headquarters of Dhading and buy some essential items, including dry foods, fruits, and toiletries.
Either the same or a different vehicle will take you from Dhadingbesi to Arughat through the beautiful villages. The road has recently been blacktopped up to Taribesi. It takes less than an hour to reach the Taribesi Bridge over the Aakhu River. The gravelled road then moves ahead through the beautiful plain, Salyantaar, and finally to the Arughat bazaar.
ITINERAY
Day 01: Drive from Kathmandu to Soti Khola (710m)
Overnight/Accommodation: Soti Khola/Teahouse Highest Altitude: 710 m
Time: 6 to 8 hrs. Distance: 140 km
After you have breakfast at your hotel, our private car will receive you and take you to the bus station at Balaju Bus Park. About a four-hour drive while enjoying the scenic views along the Trisuli River takes you to Dhading Besi, the district headquarters. Around two to three hours drive from Dhading Besi will be an amazing experience for you as you will cherish the wonderful views of the mountains on the way.
Upon arriving at Aarughat, you will find yourself exploring one of the beautiful towns of the district from where you require one more hour's drive to reach the first day's destination, Soti Khola.
Meal : Breakfast Lunch Dinner
Accomodation : Tea house
Walking / Driving : 5 to 6 hours
Day 02: Trek from Soti Khola to Machha Khola (900 m)
Time: 5 to 6 hrs. Distance: 15 km
Overnight/Accommodation: Machhakhola/Teahouse Highest altitude: 900 m
Today is the second day of your trip but the first day of your trek. After having breakfast with the scenic views of the mountains at the teahouse, you will begin your trek at around 7 in the morning. The trail mostly goes through the sal woodlands and some terraced farmland. The rivers and rivulets, waterfalls, and long suspension bridges are the wonderful assets of the trail.
Panoramic views of Budhi Gandaki valley from the high suspension bridges offer you an amazing experience. After about 6 hours of walking, you will reach Machha Khola, one of the most beautiful villages on your trip and the spot for an overnight stay for your second day.
Meal : Breakfast Lunch Dinner
Accomodation : Tea house
Walking / Driving : 5 to 6 hours trekking
Day 03: Trek from Machha Khola to Jagat (1340 m)
Time: 8 hrs. Distance: 16 km
Overnight/Accommodation: Jagat/Teahouse Highest altitude: 1340 m
The trek for the third day is quite special as the trail follows the Budhi Gandaki Gorge along the bank of the Budhi Gandaki River. As you enter the forest, you will find many langurs and monkeys chattering at you from the top of the tree.
After you pass through the jungles, you will reach the village of Khorlabesi and then Tatopani, where you can take a hot shower in the natural spring and relax for a while. A long suspension bridge over the Budhi Gandaki River is there to connect Dovan.
A few trekkers also stay overnight at Dovan, but we prefer going further to Thulo Dhunga and finally to the cultural village of Jagat at the height of 1340 meters, where we shall stay overnight. On today's trip, you will experience the Himalayan Buddhist culture, probably for the first time.
Meal : Breakfast Lunch Dinner
Accomodation : tea house
Walking / Driving : 5 to 6 hours trekking
Day 04: Trek from Jagat to Deng (Dyang) (1860 m)
Time: 7 hrs. Distance: 19 km
Overnight/Accommodation: Deng/Teahouse Highest altitude: 1860 m
The trek for today is a little challenging as you need to climb over a rocky ridge and cover a comparatively longer distance of about 19 kilometres. As you begin to ascend over the rocky hills, you will be astonished by the views of Sringi Himal (7187 m). The trail moves forward through the terraced farmland filled with maize, potatoes, and millet and offers you a stunning scene.
The antique sculptors on the giant rocks, made by the continuous current of water in the river, add extra charm to the trail. As you pass through the bamboo forest, you will reach the final destination of the day, Deng. It is a small, beautiful village that most trekkers choose for their overnight stay.
There will be another excitement awaiting you while you start walking from Jagat. It's because you will be entering one of the most beautiful conservation areas in Nepal, the Manaslu Conservation Area (1998).
Meal : Breakfast Lunch Dinner
Accomodation : tea house
Walking / Driving : 5 to 6 hours trekking
Day 05: Trek from Deng to Namrung (2660 m)
Time: 6 hrs. Distance: 13 km
Overnight/Accommodation: Namrung/Teahouse Highest altitude: 2660 m
Enjoy a delicious breakfast at your teahouse and begin your trip to Namrung. The trail for today passes through the colourful woodlands, rhododendron, and oak trees. On the way, you rest at Ghap, a beautiful village where some trekkers stay overnight.
After you cross a suspension bridge, you will climb up to Rana and then to Bihi Phedi. The monkeys roaming in the villages, usually on the trails and on the roofs of the houses, searching for food, give you a unique experience. A small section of this day's trail is a little dangerous as it is in a landslide zone.
The trekkers are bound to follow the guide's instructions carefully while walking in this section. The uneven trail with lots of zigzag paths leads you to the beautiful village of Namrung at 2660 meters, with well-facilitated teahouses and restaurants. You will be staying overnight at one of the nice teahouses in Namrung.
Meal : Breakfast Lunch Dinner
Accomodation : tea house
Walking / Driving : 5 to 6 hours trekking
Day 06: Trek from Namrung to Sama Gaun (3220 m)
Time: 7 hrs. Distance: 15 km
Overnight/Accommodation: Sama Gaun/Teahouse Highest altitude: 3220 m
The sixth day of your trek helps you explore a lot of Tibetan culture; Mani Walls, scenic views of terraced fields, and the forests; rhododendron, and oak. You will be amazed to see almost all the locals in traditional Tibetan dress and a lot of Mani Walls carved on the huge rocks along the trail. After passing through the woodlands, you will reach the village of Lihi and then Sho.
The uneven trail on the rocky hills gradually leads you to the village of Lho, from where you will have breathtaking views of Manaslu (8163 m) and Manaslu North (7157 m). Many trekkers prefer to have overnight stays at Lho, but we normally trek further up to Sama Gaun at an elevation of 3520 meters above sea level.
As you gain altitude, you must be aware of your body's condition. Before you move forward from Lho, be sure you have no symptoms of altitude sickness. You will be staying overnight in one of the best teahouses at the heart of Namrung.
Meal : Breakfast, lunch and Dinner
Accomodation : Tea house
Walking / Driving : 5 to 6 hours trekking
Day 07: Acclimatization Day at Sama Gaun (3220 m)
It is a rest day to let your body acclimatize to a higher altitude. You have several options to spend the acclimatization day. If you are exhausted, simply stay at the hotel, enjoy the variety of local foods and stroll around for a few hours. However, many trekkers wish to make it a busy day by adding an additional trek for the day. You can have a short hike up to the Manaslu Base Camp (4400 m) or extend it by visiting Pungen Monastery.
This is an amazing experience to explore the village of Buddhist culture around Sama Gaun. Hike to MCB, then Birendra Lake, and then climb the ridge to Pungent Gompa which is situated in the south of Sama Gaun. It nearly takes two and half hours to reach the Gompa from Sama Gaun. It is a wonderful spot for the stunning views of the glaciers. After enjoying a few hours at the monastery and the Birendra Lake (Glacier Lake),  return to the same teahouse at Sama Gaun overnight.
Meal : Breakfast Lunch Dinner
Accomodation : Tea house
Walking / Driving : 5 to 6 hours trekking
Day 08: Trek from Sama Gaun to Samdo (3860 m)
Time: 4 hrs. Distance: 9 km
Overnight/Accommodation: Samdo/Teahouse Highest altitude: 3860 m
This is one of the shortest trek days on your itinerary. Although you have a short distance to travel, you are supposed to walk slowly, ensuring good posture for your body. If you walk fast, you might suffer from altitude sickness. Along the trail today, you will hardly see forests or trees. You will feel astonished to find yourself somewhere in the large extended pasture, probably full of yaks.
Some typical kinds of birds, probably the Danphe (the national bird of Nepal), are the additional charm in the region. You will certainly encounter many traders with Chinese and Tibetan goods along the path. After passing through the valley, you will be excited by the picturesque villages of the locals. As you cross the wooden bridge over the Budhi Gandaki River, you start ascending with wonderful mountain views.
Meal : Breakfast Lunch Dinner
Accomodation : Tea house
Walking / Driving : 6 hours trekking
Day 09: Rest Day at Samdo (3860 m) (Acclimatization Hike to Tibet Border)
You must let your body adjust to the new environment as you are gaining more altitude. As we said earlier, you will have two options to spend the rest of the day. Take a whole day's rest, drinking hot soup and reading your favourite story or doing an acclimatization hike. If you prefer the second option, hiking to the Tibet border can be a good idea for you, from where you can capture the panoramic views of Nepal and Tibet. Return to the same teahouse at Samdo overnight. 
Meal : Breakfast Lunch Dinner
Accomodation : Tea house
Walking / Driving : 5 to 6 hours trekking
Day 10: Trek from Samdo to Dharamasala (4480 m)
Time: 6 hrs. Distance: 12 km
Overnight/Accommodation: Dharamsala/Teahouse Highest altitude: 4550 m
Have a warm breakfast and get prepared for the short trek of the day. Make sure you have carried enough food, drink, and an extra blanket for the night. As you are going to stay overnight at Dharamsala, you probably won't find any cosy lodges or restaurants. After you cross the wooden bridge over the Budhi Gandaki River, start walking upward.
On the way, you will find a lot of old Mani walls and prayer flags. As you cross two streams, you will see the beautiful Larkya Glacier. Keep trekking around the valley of Salha Khola and eventually climb up to reach the Stone Guest House at an elevation of 4550 meters. The Stone Guest House is not a guest house but simply a stone house used for a shelter.
It has a capacity of only around 50 individuals. It is open only for particular seasons. The overnight stay might not be as cosy as you find in lower villages, but you will be amazed at the spectacular mountain views, glistening glaciers, and panoramic landscape.
Meal : Breakfast, lunch and Dinner
Accomodation : Tea house
Walking / Driving : 5 to 6 hours trekking
Day 11: Trek from Dharamasala to Bhimtang (3750 m) via Larke Pass (5160 m)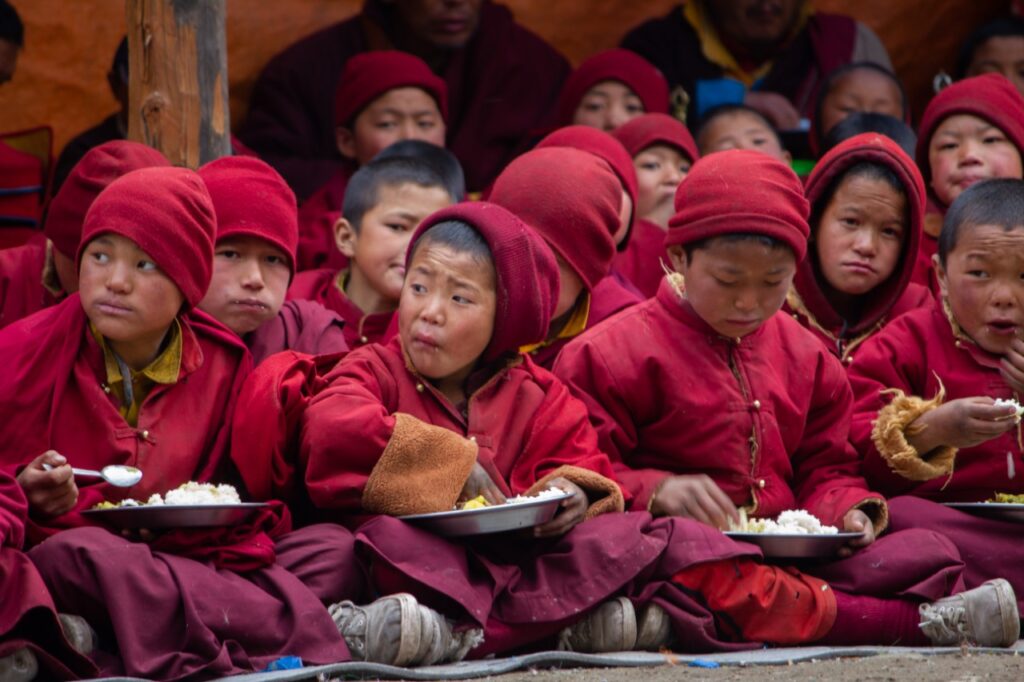 Time: 9 hrs. Distance: 25 km
Overnight/Accommodation: Bhimtang/Teahouse Highest altitude: 5160 m
Today is one of the challenging days of your trip. It is challenging not because you need to hike on a dangerous trail, but because it is quite long. You need to walk for about nine hours to cover nearly 25 kilometres, though the trail is comparatively easier. You will mostly need to climb over the rocky hills today. After passing four frozen lakes, you need to begin the tiring ascent to reach the highest point of the Manaslu Circuit Trek, Larkya La pass, at an elevation of 5160 meters.
The spectacular views of Himlung Himal (7126 m), Cheo Himal (6820 m), Gyaji Kung (7030 m), Kang Guru (6981 m), and Annapurna II (7937 m) can be seen from the well-known viewpoint of Larkya La. From there on, the trail is primarily downward until you reach Bhimtang, where you will spend the night.
And, from here, your roaming around Manaslu Conservation Area is going to end.
Meal : Breakfast, lunch and Dinner
Accomodation : Tea house
Walking / Driving : 8 hours trekking
Day 12: Trek from Bhimtang to Gho (2550 m).
Time: 4 hrs. Distance: 10 km
Overnight/Accommodation: Gho/Teahouse Highest altitude: 2550 m
Today is quite a relaxing day as you do not need to walk as long a distance as you did the previous day. Have a relaxing breakfast and begin the journey at about 8 in the morning. The trail in the beginning, however, is quite rough with frequent landslides. You must be very careful and need to walk quickly to avoid tripping. As you pass this landslide zone, you will enter a beautiful forest filled with rhododendron and pine.
If it is the rhododendron-blooming season, you will feel like you are in heaven. The colourful rhododendron makes the extended forest similar to paradise. The trail then descends to the Dudh Khola (Milk River). You continue to trek through vat farmland until you reach the village of Gho. You will be spending the night in one of the fine lodges in Goa.
Also Read: Detailed Manaslu region guide
Meal : Breakfast, lunch and dinner
Accomodation : Tea house
Walking / Driving : 5 to 6 hours trekking
Day 13: Trek from Gho to Dharapani and drive to Beshisahar.
Time: 3 hrs. Distance: 6 km
Overnight/Accommodation: Dharapani/Teahouse Highest altitude: 1910 m
Today is the last trekking day of your itinerary. You have plenty of time to relax and enjoy the trail. You need to cover only about six kilometres to reach Dharapani. The trail goes through the agricultural fields and pastures. A few sections of the trail pass through pine and rhododendron forests and finally lead you to Dharapani, where you will explore the surrounding areas and stay overnight.
Meal : Breakfast, Lunch and Dinner
Accomodation : Guest house
Walking / Driving : 2 hours trekking and 3 hours drive
Day 14: Drive from Beshisahar to Kathmandu.
This is the day to say goodbye to the Himalayas. Utilize your last few minutes to share your experiences in the Himalayas with any locals. The last day of your trip begins with about a 5-hour drive in a local jeep from Dharapani to Beshisahar and then another 6-hour bus drive to Kathmandu.
It is mandatory to rush a little in the morning to catch at least the last bus to Kathmandu from Beshisahar. In case you could not get the bus to Kathmandu, you probably need to wait till the next day. Upon arriving in Kathmandu, you will be invited to the last farewell dinner party in a fine restaurant. You will probably be provided with some Nepali cultural dances and special performances.
Meal : Breakfast and lunch
Accomodation : Hotel in kathmandu
Walking / Driving : 7 hours drive
include / exclude
Trip Cost Includes
Airport Pick up and Drop off service by private car
Best available clean and comfortable Tea house accommodation during the trek
All meals (breakfast, lunch and dinner) with tea/coffee during the trek
Kathmandu to Sotikhola by bus
Dharapani to Besi Sahar by public sharing jeep
Besi Sahar to Kathmandu by bus
Guide for 13 days
Trekking permits – Annapurna conservation permit and TIMS Card.
Manaslu conservation area permit.
Manaslu restricted area permit.
All Local and Government taxes, administrative charges
Trip Cost Excludes
Extra night accommodation in Kathmandu in case of early arrival or late departure
Lunch and dinner in Kathmandu
Nepal Visa fee
Travel and medical insurance
International flights
Excess baggage fee
Personal expenses (phone calls, internet, laundry, bar bills, snacks, battery recharge, bottled or boiled water, souvenirs, hot showers, extra porter etc.)
Personal trekking gear and equipment
Tips for guide  and driver (tipping is expected)
useful info
Weather at Manaslu 
Weather plays a vital role in determining the ease and comfort of your trek. It's important to learn about the temperature and climatic conditions before you plan the tour. Although the weather in the mountains is relatively unpredictable, we can say that Manaslu experiences four distinct weather variations every year. 
March, April, and May mark the spring season in Nepal. March begins with a temperature of -6 degrees celsius at night but rises to 6-12 degrees in the late afternoon. At the end of May, the mountains are quite warm, even during the night. Autumn is a time of celebration and fun. After the post-monsoon, the weather is quite stable and dry. Days are pretty warm, with temperatures ranging from 10 to 15 degrees in the Manaslu region. These are the best seasons for Manaslu Treks in Nepal.
Summer in the South Asian region marks a prominent monsoon. The rain starts to pour in the second week of June and lasts for almost a month. As December approaches, the temperature falls to -8 degrees Celsius in the high mountains. But the snowfall begins after mid-January and lasts until mid-December. At this time, the night temperature is almost -10 to -6 degrees. Even if the temperature reaches zero.
Best season for Manaslu circuit Trek
Thankfully, the Manaslu trek is open for hiking at any time of the year. Sadly, the winter trek is challenging as the tea houses in the upper sections of the hike are closed. However, if you don't want to miss the best mountain views covered in a thick white blanket, you can arrange the tour even in the winter.
Also, monsoon is considered low season due to its slippery path and leaches. But since it's the best time to visit for keen botanists, you can head for the trek with the proper preparation.
The best season for the Manaslu trek is from March to May when the temperature is bearable, and the rhododendron blooming is seen everywhere. Or, you might trek in another peak season, i.e., October to December, when the sky is clear, the trail is busy, and the locals are vibrant. After completing the farming in the monsoon, a time comes for a big celebration such as the Dashain and Tihar festivals. As the trails are very busy, you might have to pre-book the lodges.
Accommodation in Manaslu Trek
On the trek, we will stay in the tea houses that the local families own. The lodge has a central dining area with a big stove for heating the room. The room alongside mostly has two or three beds. They provide you with mattresses, a small blanket, and pillows. You might need to use sleeping bags for the night. They offer a hot shower on additional request, but the infamous "drop" toilets might be your most significant difficulty. Thankfully, a handful of newly constructed tea houses have a flush system.
Know more about accommodation in the Manaslu circuit trek 
Food for Manaslu trekking 
Regarding the food in Manaslu, you can have any meal of your choice while you stay in Kathmandu. We only provide you with breakfast (along with a welcome/farewell dinner) so that you can have the freedom of choice to eat whatever and wherever you want.
Know more about food in Manaslu trek
During the trek, all three meals of the day are included. For breakfast, you can have a pancake, bread, dairy, juice, etc. The tea houses also have muesli and oats as options. The popular Dal Bhat with additional supply is the best choice for lunch and dinner. However, you can also pick from noodles, momo, rolls, roti, and some curry. In the lower altitudes, some continental options like pizza and burgers are also available. Do try local foods such as thukpa and butter tea. 
Transportation 
Regarding the accommodation, we will mostly be travelling in a private tourist vehicle. The vehicle size differs as per the group. Airport pick-up and drop-off will also be done in a private car. This particular tour does not have the option of a flight. So, most of the travelling is done by road.
Culture and festivals of the Manaslu region
Manaslu area is probably the most culturally diverse section of Nepal. In the lower chamber, we can witness village settlements with Chettri, Brahmin, and Newar people, whose lives are guided by Hindu values. Then, as we shift to the upper section, we witness the Tibeto-Burmans and Mongoloids, who mainly belong to the Rai, Magar, Gurung, and Tamang castes. 
Beautiful monasteries, mani walls, rotating wheels, and player flags are part of their culture. In places like Mu gumba, Gumba lungdung, and Rachen gumba, you can see many nuns, especially younger ones, practising the ancient art of meditation and medicine. 
People also celebrate different festivals that bind them in a commonplace. Lhosar and Bouddha Jayanti is celebrated with much joy. Do explore the unique clothing of Manaslu and be a part of their festivals. You will have enough time to interact with the people and learn about their local culture. 
Permits of Manaslu trek article here.
Reviews
I recently completed a 22-day hike in at Tsum Valley and the Manasalu circuit and it was all possible due to Sandip and the amazing team at Himalayan masters! Our wonderful guide Dipak and three lovely porters constantly went above and beyond to ensure our every need was met! They created the trip of a lifetime for myself and 5 other group members and I can't wait to get back to Nepal to be able to do it all again with the great, supportive team!

Ashlee Finch Australia
My second time back with Himalayan Masters and they exceeded my expectations yet again. Manaslu and Tsum valley trek organised by Sandip was a great itinerary and Dipak was an amazing guide that truly went above and beyond the duties of a trekking guide. He supported our group through all our ups and downs and we certainly couldn't have done it without his help. The 3 porters, Syren, Pawan, and Pitumber also went above their duties to help cook, serve us fresh fruit every day and keep spirits high! I would recommend Himalayan Masters to anyone who is interested in trekking in Nepal. Miss it already

Hannah KadiAustralia
FAQs
Why trek to Manaslu with Himalayan masters?
Being a remote restricted trekking area, the Manaslu trek comes with many unexpected physical and legal issues. That's why you need the experts at Himalayan masters for the following advantages:
We provide you with an experienced guide who is very useful to cope with every difficulty in the Manaslu trekking route
Our itinerary has been designed by experts in order to keep you safe and avoid hectic walks- it's easily achievable.
We offer the cheapest Manaslu trek packages, the best offers among Nepalese travel agency
We accommodate you in the best available hotels throughout the trekking route
Our travel packages cover all necessary costs for the tour (other than one mentioned in our policy) without any hidden charge
We always prioritize the health, safety, and comfort of our travelers; the team will help you during any emergency case.
And the list can go on…
How difficult is Manaslu Trek?
How long is the Manaslu Circuit trek?
How much does it cost to trek to Manaslu Circuit?
How far is Manaslu from Kathmandu?
How do I get from Kathmandu to Manaslu?
When is the best time to trek to Manaslu?
Can you trek to Manaslu without a guide?
Where is Manaslu?
Do I need a permit for the Manaslu trek?
How cold is it Manaslu?
UNSURE WHERE TO GO? WE CAN HELP
Our team has extensive knowldege and experience of the Himalayas and can design your tream trek based on your preference, location, time frame and budget. For detailed information and help in planning your dream trek get in touch with us. We will answer any questions you have and guide you for an unforgettable experience