How Much Does Poon Hill Trek Cost?
Hello everyone! This is a long article that covers almost everything you should know about the Ghorepani Poon Hill trek by a local trekking guide who has been to this trail more than 25 times. This is the most updated article about Poon Hill trekking costs you will ever find online, so enjoy reading.
The cost of the full package for Poon Hill Trek is USD 450 to 500 with Himalayan Masters. The Ghorepani Poon hill trek cost includes a guide for the Poon Hill trek, Kathmandu to Pokhara by bus, two-night hotels in Pokhara, and all local transportation by private car, permits, and food.
The Ghorepani Poon Hill trek requires two basic permits. Trekkers' Information Management System (TIMS) and Annapurna Conservation Area Permit (ACAP). The Poon Hill trek cost differs with places and accommodations.
TIMS:
Group trekker through any company NPR.1000/- per person
Free Individual Trekker NPR.2000/- per person
SAARC member countries:
Group trekker through any company NPR.300/- per person
Free Individual Trekker NPR.2000/- per person
Free Individual Trekker NPR.600/- per person
ACAP:
People out of SAARC NPR. 3000/- per person
The SAARC nationals NPR. 200/- per person
The costs of both permits vary depending on which country you belong to and what kind of trip you have planned. The individual other than the SAARC nationals trekking through any company have to pay NPR. 1000/- for TIMS card and NPR. 3000/- for ACAP whereas the same individual willing to trek alone (independently) will have to pay NPR. 1000/- more for TIMS card.
People from the SAARC member countries are charged much less than non-SAARC nationals. An individual from a SAARC member country trekking through the company has to pay NPR 300 for a TIMS card and 200/-for ACAP, whereas an independent trekker has to pay NPR 600/-for a TIMS card.
Guide And Porters Cost For Poon Hill Trek
Guide cost: USD 25 to USD 30
Potter cost: USD 22 to USD 27
As one of the easier trails, the Poon hill trek can also be done independently without hiring a guide and/or porter. However, having a guide helps you gain more information as they are professionals in that field. The porter carries the load for you. If you don't need to bother about carrying all your goods, you can fully enjoy nature along the trail, communicate with the locals, and get to know their unique and amazing lifestyle.
The standard weight a porter carries is about 20 kilograms. Generally, the cost for the guide and the porter is $25 to $30 and $22 to $27 per day, respectively. It includes their salary, food and accommodation for the whole trip and the single trip insurance policy. Thus, a little expense on a guide and porter makes your trip far better.
Hotel Cost In Pokhara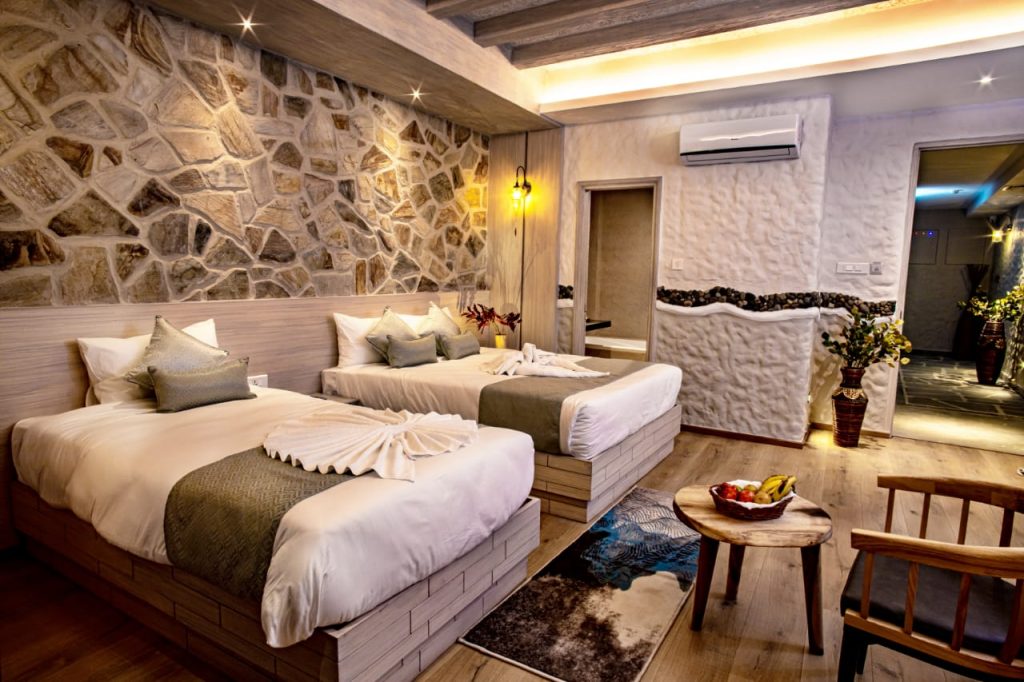 Five Star:

 

160 USD to 200 USD per night (Cost for BB)
Three Star:

 

70 USD to 140 USD per night
Tourist Standard:

 

30 USD to 50 USD
Hostel:

 

4 USD to 6 USD per bed/night
Most Himalayan trips begin from Pokhara making this city an important tourist hub. This city consists of a variety of hotels offering the best accommodations to its visitors. The trekkers and visitors can choose any hotel on the basis of their interests and the budget they are ready to spend.
Five Star Hotels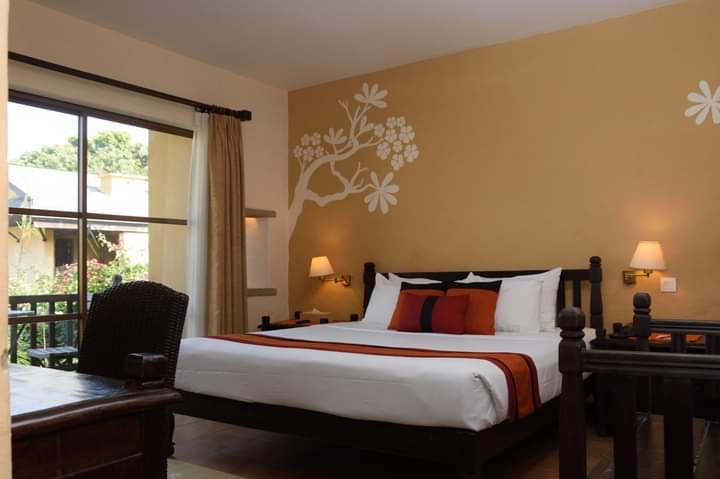 The Five-star hotels in Pokhara are equivalent to the Western standard fancy hotels with excellent restaurants providing luxurious accommodations to their guests along with all the facilities they require. Pokhara Grand, Temple Tree Resort, Rupakot Resort, and Fishtail Lodge are the best five-star hotels in Pokhara. They normally cost USD 160 to 200 per night including breakfast.
Three To Four Star Hotels
The second-class hotels providing excellent accommodations to visitors in Pokhara charge 70 USD to 140 USD per night. Popular hotels in this category include Pokhara Batika, Kuti Resort and Spa, Tuki Resort and Spa, and Barpipal Resort.
Tourist Standard Hotels
The majority of tourists prefer the accommodations in Tourist Standard hotels that normally cost 30 USD to 50 USD per night. Trekkers Inn, City Inn, Hotel Lakeside, and Hotel Peninsula are famous tourist standard hotels in Pokhara.
Hostels cost in Pokhara
Some of the visitors just wish to spend the night at a low cost in Pokhara. The hostel beds suit them at a low price. A single bunk bed costs 4 to 6 USD. Pokhara Youth Hostel, Zostel Pokhara, and Puskar Backpackers Inn are the best options for this category.
We just wrote one article about must-visit places in Pokhara and things to do in Pokhara. Hopefully, this article will help you. If you are planning to travel to Pokhara,
The Transportation Cost For Poon Hill Trek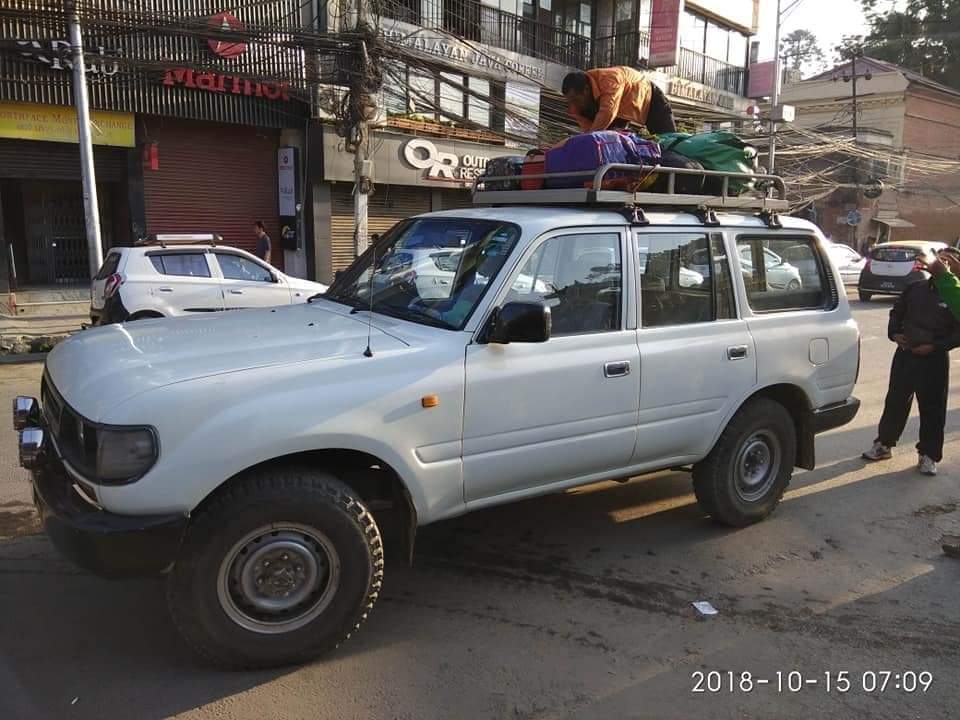 Kathmandu To Pokhara
• Flight: USD 115
• Charted flight: USD 1900
• Local bus: USD 7
• Tourist Bus: USD 10
• Luxury Tourist Bus: USD 30
• Private Car: USD 110
• Jeep: USD 150 (six persons)
There are various options to travel from Kathmandu to Pokhara or vice versa. Depending on the budget, time, weather, and/or your interest, you can choose the air or the roadways. You have two choices for flights: the regular flight and the charted flight. The regular flight cost around $115, whereas the chartered flight cost nearly seventeen times as much as a regular flight.
Although taking a flight is more expensive than travelling on a roadway, it is a great idea to save time as it takes only 25 minutes to reach Pokhara from Kathmandu. If you have enough time and interest to explore the natural scenery on the way, you can choose one of the roadway options. The local bus costs the cheapest fare at $8 to $10, whereas the luxury tourist bus costs $ 30. The normal tourist bus is another option that charges around $ 10.
Similarly, you can also choose a private car, if you are ready to pay $ 110. You still have the fifth option of taking a jeep, paying around $ 150 for six people. It takes 4 to 6 hours to reach Pokhara, enjoying the greenery along the Trisuli River. The local bus takes a comparatively longer time as it stops frequently to collect and leave the passengers on the way.
Kathmandu To Pokhara Travel Cost
•
Local Bus: USD 3
• AC Luxury Car: USD 30
• Taxi: USD 25
• Jeep: USD 60 (six persons)
The nearly 41-kilometre distance from Pokhara to Nayapool is the final drive before you begin your trek. There are four options to travel this distance. The local bus costs $3, but it might be slower than other options. If you want to hire an AC luxury car, you need to pay nearly $30, whereas the taxi costs you $25. You can also choose a jeep, paying $60 for six individuals.
Ulleri to Pokhara
• Private Jeep: USD 150
Ghandurk to Pokhara
• Private Jeep: USD 17
Some of the trekkers on this trail wish to conclude their trek at Ulleri or at Ghandruk. The trekkers mostly use these transportation routes while returning to Pokhara. The local buses, taxis, and cars are not common here. The private jeep has to be hired, paying $150 for Ulleri to Pokhara and $170 for Ghandruk to Pokhara. Although it is not common, some of the visitors, especially the Nepalese, take vehicles from Pokhara to Ulleri or Ghandruk, where they begin their trek and end it mostly at Nayapool.
Some Expectations From The Guide In Poon Hill Trek From Our Company Himalayan Masters
Guides are those professionals for whom Nepal Government provides a license after completing proper training in the respective field. So, there are many advantages of planning a trip with a guide. Guides are the local expert having knowledge not only about the Himalayas but also about the local cultures, lifestyles, language, and many flora and fauna.
They do have complete information about the trail and the mountains because of their frequent visit. They are well educated with high command of the English language which is essential for satisfying the clients. They are individuals with high interpersonal skills having good relationships with the locals and the teahouse owners so we never have any issue finding the best accommodation along the trail.
Travelling with a guide is more secure than in the Manaslu circuit trek and Kanchenjunga trek. You can not go on this trail without a guide. However, almost all the trekking trails in Nepal are friendly and welcoming. The professional guides have sound knowledge of first aid and they take excellent care of the clients. They are familiar with Western culture because of their deep study and frequent contact with Western clients. Although most Himalayan trekking guides are males, they are fully aware of the issues facing females. So, even the female clients fully enjoy their trip without any discomfort.
Accommodation Cost Of Poon Hill Trek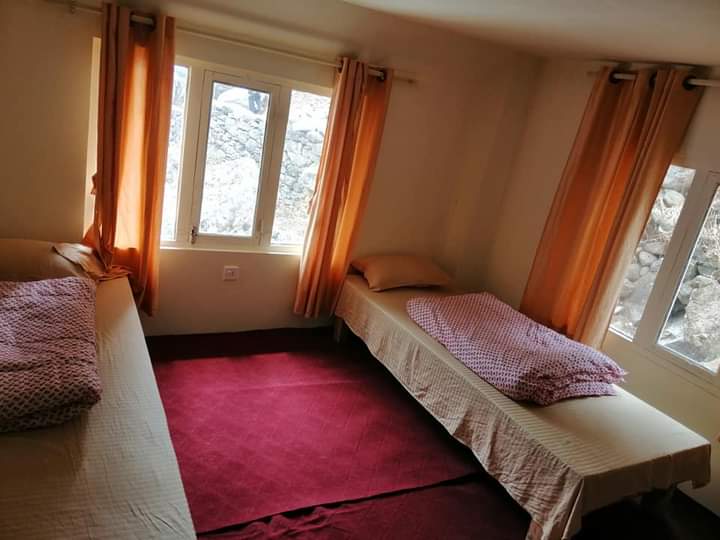 Single Room with Attached Bathroom: 4 USD
Double Room with attached Bathroom: 6 USD
Single Room with sharing Bathroom: 3 USD
Double Room with sharing Bathroom: 4 USD
The rooms in the teahouses are charged 3 to 5 USD per night. Most rooms contain two single beds with a clean bed sheet, pillows, and a blanket in each. If you think the single blanket is not enough to keep yourself warm, feel free to ask extra one. It is quite cheap, but you are highly expected to eat in the same teahouse. If you prefer to eat in a different place or decide not to eat, you might have to pay comparatively more.
The teahouses are made of stone and wood, with cozy rooms inside to relax. Mostly, the rooms should be shared with two people. A few of them have attached bathrooms, but most will have to share bathrooms and toilets. Some of the teahouses have good facilities with western-style flush toilets, but most of them do not have them. Better yet, you carry toilet paper.
Related Article: Know more about Kanchenjunga Trek cost
Food Cost On The Ghorepani Poon hill Trek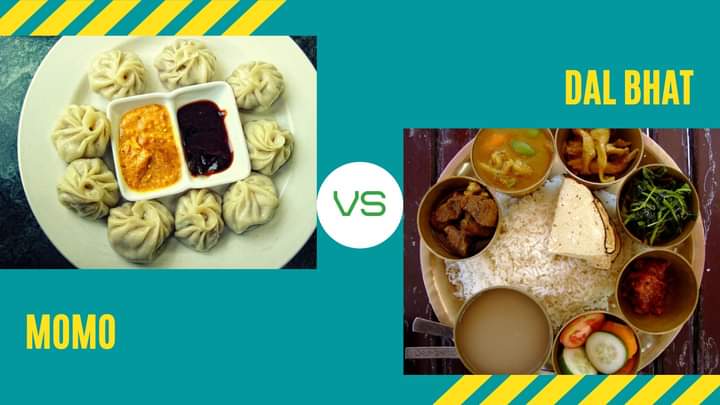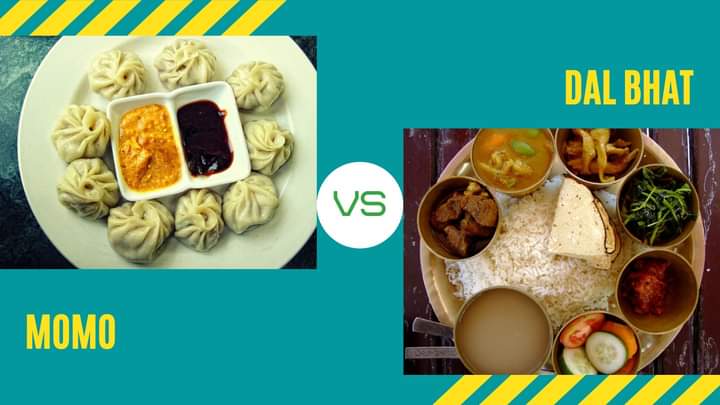 Set Breakfast: NPR. 550/-
One Main Course Meal: 5 to 7 USD
Tea houses are the main accommodations on the Poon hill trek. They offer a variety of foods with enough nutrition for the Himalayan trek. Many other varieties like Nepali, Indian, Chinese, continental, and many others are made available in the teahouses. Generally, almost all the teahouses on the trail offer similar kinds of food. The typical Nepali food, dalbhat, is common everywhere.
Dal Bhat, the set of rice, lentil or bean soup, vegetable curry, and pickles, is considered to be the most nutritious food in Nepal. Besides Dalbhat, different foods are offered for breakfast, lunch, and dinner. The main course of a meal cost 5 to 7 USD, whereas the set breakfast cost about 5 USD.
Related Article: Poon Hill Trek Itinerary
Cost Of Drinks In The Poon Hill Trek
Bottled water: USD 1 to 2 per litre
Any hot drink like tea or hot chocolate: USD 1 to 3 per cup
Beer: USD 6 per a single can
As you are trekking in the Himalayas, one of the most important things you need to be aware of in your health is to maintain the hydration level of your body. Drinking plenty of water is essential for keeping your gear up. There are a number of options to manage safe drinking water during your trek.
Carrying a reusable bottle is the best option for filling every morning at the teahouse free of cost. Bottled water is available along the trail which generally costs $ 1 to $ 2. Any type of hot drink costs 1 to 3 USD per cup whereas beer cost nearly 6 USD for a single can.
Note: The foods and drinks cost slightly higher in higher elevations than in the lower regions with road access. The price during peak season is also comparatively higher than the ones in low trekking season.
Miscellaneous Costs
Besides formal costs, there are still some other areas you may have to bear during any Himalayan trek. The followings are a short description that requires the additional cost of the Ghorepani Poon hill trek.
1. Travel Insurance
This document is a basic requirement for making any trip, especially adventurous ones. It covers the emergency rescue and evacuation services during the trip. Although the Ghorepani Poon hill trek is one of the less risky treks, you have to travel on rough terrain for 4-6 hours daily. Thus, it is required to ensure safety precautions for unpredictable circumstances.
2. Hot shower
Since the most common accommodations for the Poon hill trek is the teahouses, they hardly have the provision of taking a hot shower. However, some of them have managed this facility with little additional charge. They normally cost 2 to 3 USD for a single hot shower.
3. Tips
Tips are not obligatory however, most clients want to thank their service providers like the guide, the porter, and others for a small amount of money just as a sign of appreciation and satisfaction they gain during the trip.
4.
Internet
The major cities like Kathmandu, Pokhara, and some lower regions of the trail offer you free wifi service. But most regions in higher elevations, like Ulleri and Ghorepani, do have very limited internet service. So, they normally charge 1 to 1.5 USD for internet connection, hourly or so on.
5.
Gadgets Charge
Do not be surprised to hear an additional charge for charging your phone! It is common in most of your trekking trails, especially in remote areas. You will have to pay 1 to 1.5 USD for charging your electronic gadget for an hour or two. The amount varies in different places in the poon hill trek cost.
6.
Souvenirs
This small country is rich in souvenirs. Most of our clients mention in their reviews that despite being small in size, Nepal offers something for everyone. You can pick up anything for your family, friends, or yourself as a memento of the Himalayas, either in Pokhara or in Kathmandu. The price depends on the items you choose or the place you buy them.
Conclusion
The Ghorepani Poon hill trek is a comparatively easier and more affordable trek in the Himalayas of Nepal. like the Langtang valley trek. The total cost of this trek depends on the itinerary you follow. The 7- and/8-day trip obviously costs much more than the 3/4-day one. It is not surprising to find a little difference in the cost of different companies.
But the price projected by the local agency is far less practical than the ones of International travel agencies. Thus, we would like to suggest that visitors around the world cherish the life-changing Himalayan experience from the Poon hill trek at an affordable cost from Himalayan masters adventure and travel company.
UNSURE WHERE TO GO? WE CAN HELP
Based on your preferences, location, timeframe, and budget, our team can design your dream trek based on our extensive knowledge and experience of the Himalayas. Get in touch with us for detailed information and assistance planning your dream trek. With our 97% success rate on trekking and climbing trips in 2022 and 2023 spring season, we will answer any questions you may have and guide you for an unforgettable experience.