A Quick Guide To Everest Accommodation- Mount Everest Hotel
Trekking in the high Himalayas of Nepal has so many unbelievable perks and excitement. That being said, it's also a scary journey to the isolated remote villages. Planning your trip right can make a huge difference in the experience during the Everest base camp trek. And one of the most important parts of your trip is planning the Everest base camp trek accommodation. So let's learn about Mount Everest Hotels.
Everest base camp trek is Nepal's most popular trekking route that welcomes almost half a million tourists each year. This means that each stop during this 12- days Everest base camp trek has the finest hotels and accommodation. In fact, the Everest region is the most developed trekking path in Nepal with the best Everest guest houses and resorts.
Up to Namche, this hike is a perfect luxury trekking, a rear case in Nepal. However, once you keep moving to higher altitudes i.e. Tengboche, Lobuche, and Gorakshep, the accommodation starts to become basic. And since the number is limited, one needs to be smart.
Here's everything you need to know about Everest base camp accommodation I..e Mount Everest Hotels.
Types Of Accommodation
1. Mount Everest Hotels/ Lodges Accommodation
The Everest trek route is now brimming with luxurious hotels that suit all budgets. Up to Namche, there are these great hotels that give the perfect urban vibes. The bathroom is private with a hot shower. There are free plugs and Wi-Fi in the room and the bed is quite comfortable. Even the food in Everest is great in in-hotel restaurants. You wouldn't find such a hotel/ guest house beyond Namche.
Although comfortable, the hotel in Everest is a bit expensive. So, the backpacker looking for the cheaper option opts for the tea house accommodation.
2. Tea house housing
Like all other trekking routes of Nepal, the Everest base camp trip also makes the best Teahouse trekking trail. Tea houses are simple hotels made by the local villagers for trekkers to rest. This was made with the intention to make the local economy groomed. The owner makes you feel at home in their small cozy room. The tea house also has a central heating restaurant where you can stay for socializing and food.
The room has a twin bed with a simple mattress or just foam instead. Further, there's the pillow and blanket. Thankfully, they have a western-style toilet. But the bathroom is on sharing basis in the tea house. Nowadays, there are solar or electric heated showers in the bathroom. Although basic, the accommodation is comfortable and affordable.
3. Camping Accommodation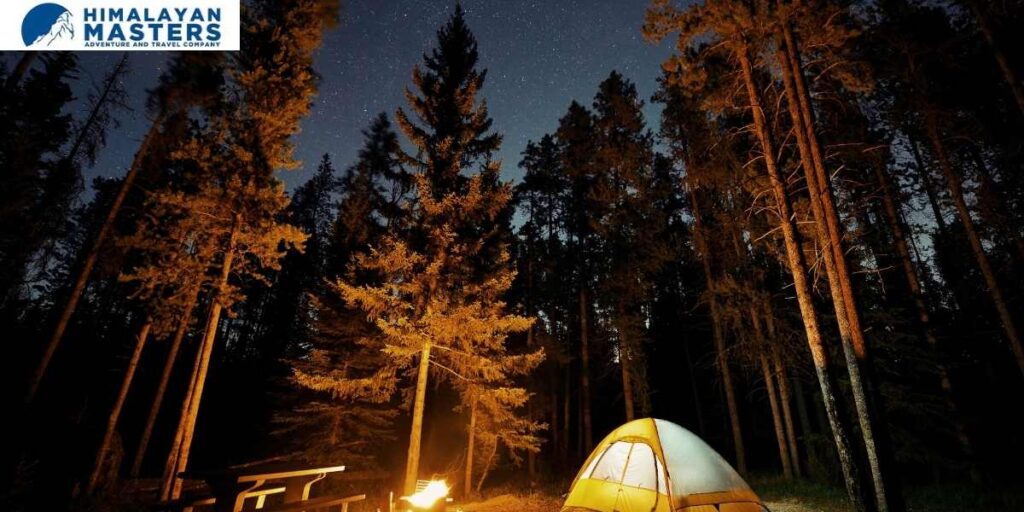 Camping in the mountain landscape makes the highest form of adventure. While you are staying at the small camps for the night, the beauty of the Himalayas can be felt like never before. We Himalayan masters can organize a great camping trek with the expert team of guide, porters, and cook.
There will be a staff for cooking everything you need and setting the camp. Or you can even eat at the tea houses and live in the camps. However, since the Everest base camp trek is already very crowded with a lot of tourists, the camping trek is not very popular.
If you love the idea of a camping trek, you can aim for the rather remote region of Dhaulagiri, Dolpo, and Kanchenjunga. The expedition team heading to the base for climbing Mt. Everest still prefers a camping trek to Everest. Although it comes will a lot of new challenges.
Note: Camping trek to Everest base camp is the most expensive one while tea house trekking is very budget-friendly.
Hotels In Everest Base Camp Trek Route
1. Hotels In Lukla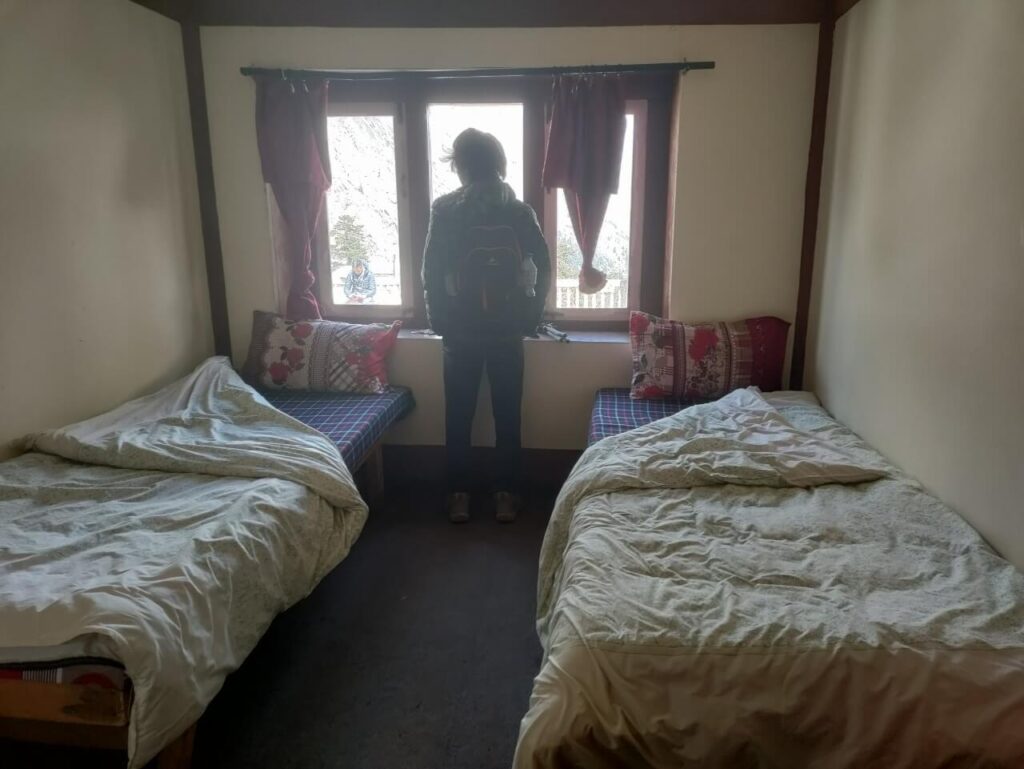 Lukla, the entry point of the Khumbu region is the first settlement once the trek starts. There is plenty of great accommodation in Lukla that is better than the star hotels. Although we don't stay in Lukla at the start of our trek, we stay here while we return (the last stop of the Everest base camp trek).
Lukla is a great place for luxury Everest base camp trek accommodation and celebration. The room in Lukla is better than the tea lodges of the trail. The hotels with lawns, balcony rooms, and patio dining are available. A private bath, free Wi-Fi, and in-room plugs are the luxury you get at Lukla.
2. Hotels In Phakding
This small town of Phakding is our first stop for the night. Phakding hotels are made on the riverbank, overlooking a great view. There is an impressive number of budget and luxury hotels. Solo trekkers to Everest can walk without pre-booking the hotels in Phakding and still find decent accommodation. The facility is similar to that of Lukla, one of the best Mount Everest Hotels.
3. Hotels In Namche Bazaar
Namche Bazaar, the largest town on Everest has the best kind of restaurant. We stay at Namche for three nights and the abundance of hotels is impressive. There are about 50 hotels from basic tea houses to star hotels. The price range is also highly varying and you shall get every comfort. Along with a luxury Everest Guest house, Namche also has a great bar, pub, bakery, and restaurants.
4. Hotels In Tengboche
The true trekking vibes start once you get to Tengboche with a handful of Everest Guest House at the top. These tea houses in Tengboche are very basic and yet comfortable. The cost of a tea house is low but the food starts to become expensive. Tengboche also has some small cafés.
Note: Since the all-region above Tengboche has a limited number of tea houses, you should book these hotels in Everest at advance. In Autumn (October/ November) and Spring (April/ March), the rooms are over-occupied. However, the details of these hotels are not available online and it's wise to let your travel agency i.e. Himalayan masters do all the bookings for you.
5. Hotels In Dingboche
Dingboche is another big stop after Tengboche where we stop for acclimatization reasons. Dingboche has good Everest Guest house with very basic accommodation. There's a room with a twin bed, a common bathroom, and Wi-Fi. In the peak season, they are over-occupied with the tourist.
6. Hotel In Lobuche
Lobuche is not a village, but all hotels. You can find plenty of accommodation here, but all hotels have basic accommodation. If you want to experience the camping trek, you can even stay in a tent hotel. The camping spot lies southwest of Lobuche. The tea houses here are notoriously primitive (can be called stone huts that have shared bunk dormitories). There is Wi-Fi (quite slow) and a hot shower at the addition of a few dollars at Everest Guest House in Lobuche.
7. Hotel In Gorak Shep
Gorak Shep, a frozen lakebed of sand is the final stop before Everest base camp. This sandbed has about five lodges/ tea houses. These lodges are always crowded and trekkers might have to share a room with another teammate. If you don't pre-book the stay in peak season, one might have to sleep in the dining room.
Accommodation in Gorak Shep might be the worst in the entire trial. The rooms are very cold at night and the toilet might be frozen. However, the dining room is very warm and a great place to hang out. Thankfully, the food is great and you get to enjoy a warm dinner in the Everest base camp trek accommodation.
How Much Does Mount Everest Hotel Cost?
The cost of a EBC hotel trail depends on the altitude and season. Even then, the cost of an Everest base camp hotel is very affordable. The price of tea house accommodation, which is quite basic is $3 to $5 per night. This cost is only for the bed and you need to pay the additional cost for food, hot shower, Wi-Fi, and electricity.
In the peak season, the cost of hotels up to Namche can be $10 to $20 (hot shower, Wi-Fi, and electricity included). Tea house accommodation is cheaper than that of Namche. The cost of the room is very less as the tea houses get most of their earnings from the food.
It's a rule that one must eat dinner and breakfast in the Everest base camp hotel they stay. Otherwise, they add a charge for the room and that might cost up to $20. A tourism committee has managed the accommodation, and the price for food and bed is similar in all hotels.
The price is set as per the standard of the Everest trek committee, and the price only increases as you move to a higher altitude.
Note: These are just the average cost of Everest base camp trek hotel. Price can drop up to half in the peak season.
Facility To Expect From Hotel/Tea House In Everest
Rooms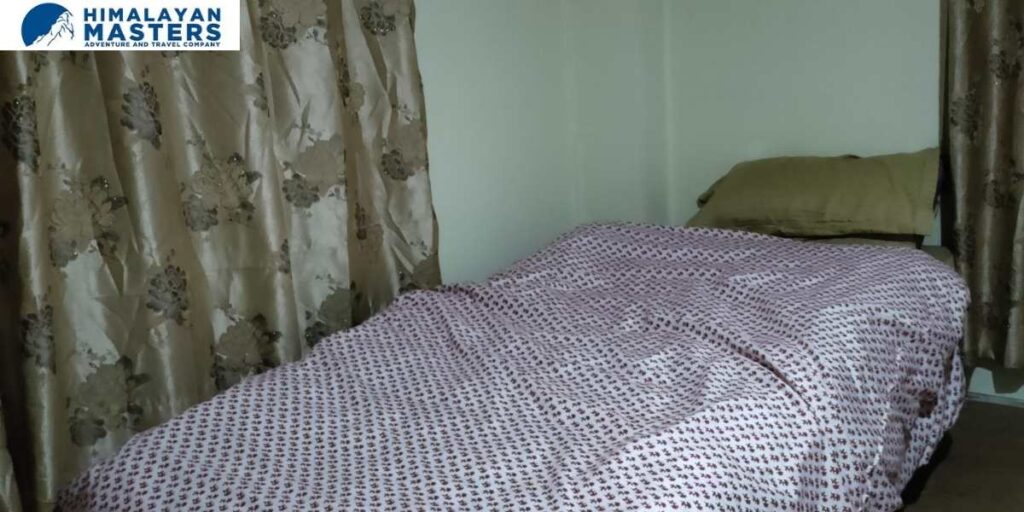 The room is available in the twin type of accommodation. They are two single beds and the room will be shared by two trekkers of your group. The beds have a pillow, blanket, and sheets. However, you will need to carry your sleeping bag. You might also want to carry your bed sheet in case the one given to you is dirty.
If you are lucky, the rooms might have basic furniture i.e. a small table or a chair to keep your bags. There might be some coat hooks.
Read Everest Base Camp Trek difficulty
Toilets
The bathroom is available on sharing basis and is often placed outside the hotel area. It might also not be very hygienic. Bathrooms are the worst compromise one has to make during the Everest base camp trek. Everest base camp has a western-style toilet almost throughout the trail. Up to Namche, almost all hotels have a private bathroom in the hot shower.
Beyond Tengboche, the private bathroom is a myth and everyone uses the same bathroom. However, in Gorakshep, the bathroom is usually squat type. We suggest that you carry all of your essential toilet belongings- handwash, tissues, dryer, and anything you will need. Everest base camp trek accommodation in higher altitudes might not have them.
Wi-Fi/ internet In Everest base camp
It's almost unbelievable that you find the Internet even at the highest altitude of Everest base camp. Even the last spot i.e. Gorakshep has Wi-Fi for the tourist. However, the Wi-Fi isn't free above Namche. You must pay $2 to $3 per night for Wi-Fi that has decent speed.
However, the speed of Wi-Fi is not reliable- you might be able to make a few calls but not load high-quality videos. It's okay for daily photo updates in your feed but you might not be able to do other work. We don't suggest carrying your laptop and working during the EBC trek.
Telephone In Everest Base Camp
Everest base camp trek trail is connected to a telephone throughout the trail. You can use NCell/ NTC sim card to make calls to the crew and connect with your folks back home. Using mobile data in the trial is also a good choice, also affordable. You can get one hour of unlimited internet for NRP 20 and NRP 25 for 3G internet in the Everest base camp route.
Ncell SIM works better during the Everest base camp trek route. You can issue these SIM cards in Kathmandu for $1 and Namche for $2 to $3. Independent trekkers can issue the SIM card with their passports. Otherwise, you can just ask your guide at Himalayan masters to get you a SIM card.
Read Permit for Everest Base Camp Trek
Electricity In Everest Base Camp
Both tea houses and hotels up to Namche have rooms with charging plugs and it's mostly free. Once you reach Tengboche, there are rarely any rooms that have charging plugs. In that case, you can charge your electronic device in the reception and that might cost a few dollars. We recommend carrying extra pair of batteries, a power bank, and if possible a solar charger.
Hotels In Kathmandu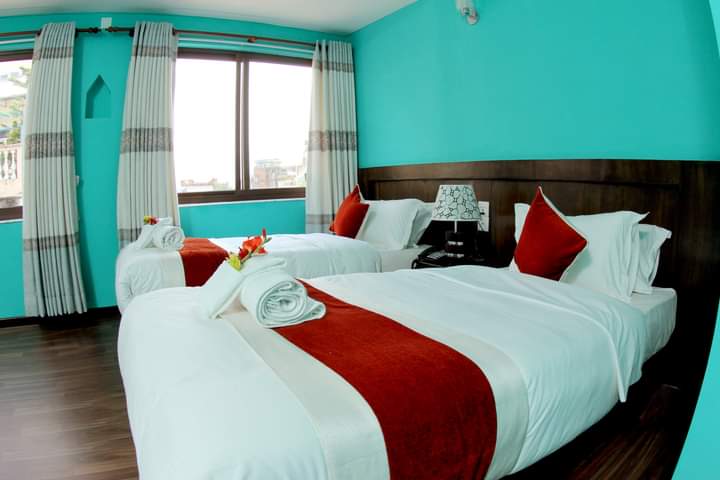 Kathmandu is going to be your stop for a couple of nights before and after the Everest base camp trek. This capital of Nepal has some of the finest hotels in the country with luxurious facilities. Thamel, the center for touristic activities has cheap beds in five-star hotels with huge price variations.
You can find a bed in dorm rooms for as cheap as $5 while a deluxe room in a star hotel can cost up to $500. An average clean room with a private bathroom and furniture in Kathmandu cost about $20/ night. The choice is yours.
You can book your hotels in Kathmandu online by reading the reviews and seeing their photos. Or, you can even ask the guide for recommendations.
Foods In Everest base camp trek
Foods in the Everest base camp trek trail are the best part of the trek. The tea house serves very deliciously fresh breakfast, lunch, and dinner. Here's the detailed article about food in the Everest base camp.
Recommended Reading: Food Guide For Everest Base Camp Trek
Frequently Asked Questions
1. Is a Hot shower available on the Everest base camp route?
A gas geyser or electric heater can be available for hot showers throughout the trail of Everest base camp. However, only hotels up to Namche provide it for free. Beyond that, you must pay a couple of extra dollars for hot showers in Everest base camp trek accommodation.
2. Is the cost of hotels covered in the Everest trek package?
Yes, the cost of rooms for is Everest trek route is covered in the Himalayan master's package. We book the basic tea houses throughout the route for our guests and rooms are available on sharing basis. If you want a single room, you might have to add a few dollars to your Everest base camp trek route. Solo travelers have a room with single Everest base camp trek accommodation and they don't have to share a room with unknown people.
Read Everest Base Camp Trek Difficulty
3. How to book hotels for the Everest base camp trek?
Some hotels in Namche and hotels in Lukla are available on the internet. You can get their number and even make the booking before you come to Nepal. However, in places like Tengboche, Dingboche, Lobuche, and Gorakshep, it's hard to pre-book your stay. Here's a different way to do it
· Find a reliable travel agency in Nepal like Himalayan masters and let them do all the booking Everest base camp hotel
·  Hire a licensed guide to Everest base camp and ask him/ her to book the rooms for you
·  Solo and Independent trekkers can book hotels in Lukla online for the first night and then ask the hotel owner for the contact number of other lodges on the Everest route. This way, you don't have to suffer looking for numbers. However, make sure you book all Everest base camp trek accommodation a few days before you reach the destination.
4. Are the tea houses in Everest clean?
The tea houses are the extended house of the owner themselves and they keep it quite clean. However, it's not possible to wash all bed sheets after each stay like in cities. The bed sheet might not be as clean as you want. Similarly, the bathroom might sometimes be dirty.
5. How to pick the best accommodation for the Everest trek route?
Up to Namche, you can look at the photos of the hotel in Everest online before making the booking. There might even be some reviews and ratings for them. Beyond Tengboche, there are only a handful of hotels and almost all of them are similar. Asking someone who has been to Everest base camp before you is a good idea. You can even have your guide/ porter suggest you a good hotel on Mount Everest.
6. Can I sleep at Everest base camp?
The last stop before we visit Everest base camp and get back in Gorakshep. There's no hotel/ tea house right at the base camp. Rather, it's a camping zone for climbers waiting for the Mount Everest expedition. If you wish to sleep right at the Everest base camp, you must mail us about that in advance and the arrangements will be made by Himalayan masters.
7. Are the tea house in Everest always open?
Yes, the Everest base camp trek accommodation is open throughout the year. However, it might be closed in winter i.e. January and February in the snow. Ask your guide to contact the tea house above Tengboche to make sure that they are open.
Conclusion
In short, the Everest base camp trek offers great accommodation options, both luxurious and basic. However, trekking in the peak season needs planning and pre-booking. Book the best places before you fly to Lukla and enjoy a wonderful stay. You can always trust the Himalayan master to offer you the best facility even in remote lands. Book your trip with us and you don't have to worry about Everest base camp trek accommodation.
UNSURE WHERE TO GO? WE CAN HELP
Based on your preferences, location, timeframe, and budget, our team can design your dream trek based on our extensive knowledge and experience of the Himalayas. Get in touch with us for detailed information and assistance planning your dream trek. With our 97% success rate on trekking and climbing trips in 2022 and 2023 spring season, we will answer any questions you may have and guide you for an unforgettable experience.