Everest Base Camp Trek Permit Cost for 2023
A lot of people plan to embark on the majestic Everest base camp at least once in their life. Thousands of tourists actually make it to the base of the world's tallest mountain. This once-in-a-lifetime journey to the mountains is obviously mesmerizing. However, the trek to Nepal's remote Himalayas also needs a lot of preparation. And one such major preparation that trekkers need to make is getting the Everest base camp trek permit. And one short answer for the Everest Base Camp trek permit is USD 50.
Visa to Nepal
To date, TIA is the only international airport in Nepal. Once you land at the airport, you can issue the tourist visa to Nepal "On arrival". Such visas can also be received at all entry and exit points around Nepal. Please fill out the arrival card once you get to the airport and then fill out the tourist visa form which is available on our official website. You can fill it up to 15 days prior to the trip or upon arrival.
You can get these visas prior to the trek from the embassy itself. If you have got a visa from your home country, you need to complete the trek within six months. The cost for a Nepalese Visa is:
15 Days – 30 USD
30 Days – 50 USD
90 Days – 125 USD
We suggest taking a 30 days visa even if your trip is 12-13 days. You might have to stay in Kathmandu for a few days before or after the trek. Visa is issued by the immigration department.
Permits for Everest base camp trek
Two permits for the EBC trek are compulsory for the trekkers.
1. Khumbu Pasang Lhamu Rural Municipality Entrance Permit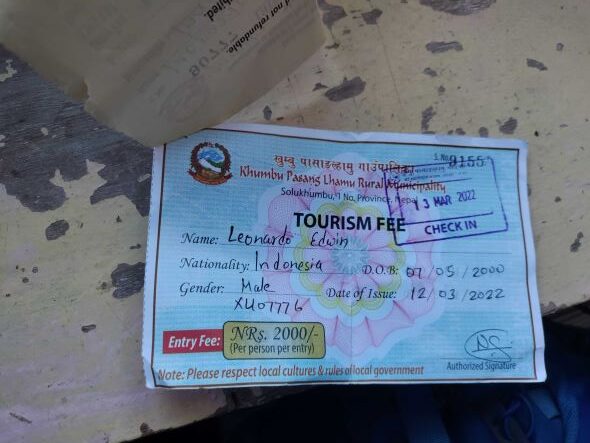 This is the replacement of the TIMS card after October 2018. Back then, the central government transferred authority to look over the Everest trek to the local government, thus starting to supply the new permit. This Everest base camp permit is issued in the form of tax by the visitors.
After you issue this permit, the local government will be responsible for your safety. If you are lost or suffer from any natural calamities, you will be rescued by the government. This permit can be received in Lukla, starting point of the Everest VIew trek.
Everest base camp Permit Cost: NPR 2,000 for foreigners and SAARC citizens
Issue Location: Lukla
2. Sagarmatha National Park permit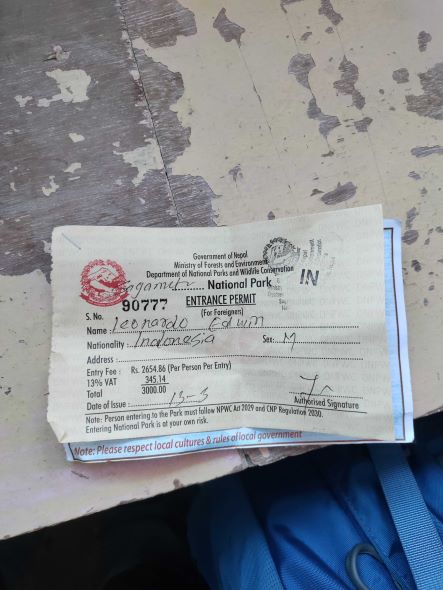 This is one of Nepal's finest National Park, listed as a world heritage site for many decades. Established in 1976, Sagarmatha National Park conserves rare plants and animals. There is an abundance of red pandas, snow leopards, Himalayan black bears, and musk deers in the area. It's also a great site for a spot the beauty of blood pheasant and Himalayan Monal.
The money you pay for this permit goes for the conservation of wildlife in this area. Also, the government keeps track of tourist movement within the National park so that no animal is hurt.
Everest base camp trek Permit cost
For foreigners: NPR 3000 per person
For SAARC country: NPR 1,500
Nepalese: Rs 100
Discount: Only for children below 10 yrs
Issue location: Kathmandu or Monjo
Wanna know about food and accommodation on Everest? Read our article here.
3. Gaurishankar Conservation Area Permit
Flying from Kathmandu to Lukla directly takes you to the Khumbu region. However, if you are planning to trek to Everest base camp from Jiri and skip the flight from Lukla, you shall need two other permits. The Gaurishankar Conservation Area Permit shall be issued from Kathmandu and is a part of the Everest base camp permit.
Permit Everest Price
For foreigners: NPR 3000 per person
For SAARC country: NPR 1,000
Nepalese: Rs 100
Discount: Only for children below 10 yrs
Issue location: Kathmandu or entry gate
Everest base camp permit document
The Everest base camp permit will only be granted to the tourist who fulfills the needed requirements. There is a well-managed procedure that has to be fulfilled.
Once you get to the office, you will be given a form to fill up your personal detail. Along with the form, you need to submit the following document. The officers might even ask you a few questions about the trip. The needed documents for the Everest base camp permit are:
Passport original with at-least six months validity remaining
Two passport photos
Nepal entry Visa (not needed for Indians)
Cash (Nepalese rupees) for permit fees
Proof of Travel insurance (recommend only)
Where to get Everest Base Camp Permits?
The biggest question is how and where you can issue these permits.
For trekkers with travel package: If you are taking a well-managed Everest base camp trek package by Himalayan masters, we make all the arrangements for the permit. Once you arrive in Nepal, you can submit the documents listed above to us and we will get you the permit. Staff from our team will fill out the form on your behalf and transfer you the amount. The permit Everest price will be included in your Everest base camp trek cost.
Trekkers with guide: If you have not booked a travel package, however, hired a guide for Everest base, it's easier to get the permit. Most of the time, the guide will themselves bring you the permit after you have provided them with all the documents. Or, they will take you to the office where you can issue the permit.
Independent trekkers: If you don't have a guide and porter, you need to issue these Everest base camp permits yourself. This means you need to go to Nepal tourist broad over Kathmandu and fill out the form. Nepal tourism broad lies in Pradasani Marga, Ratnapark. You can get a cab or public bus to the Nepal tourism board at the outskirt of Thamel.
However, no one likes to have an extra detour. You can simply get the permit from the check post. For example, you can get the local area permit once you land at Lukla and issue Sagarmatha National Park Permit at the entry gate in Monjo. Since the cost is the same in all places, it's the same thing.
Everest Permit need for Mountaineering
Climbing beyond Everest base camp needs a special permit to climb Everest and other nearby peaks. Mountaineers need to pay big Royalty to the Government for climbing Everest in different seasons. These climbing Everest permits can only be issued from the Ministry of culture in Kathmandu and cost the following.
Spring Season – USD 11,000/person
Autumn Season- USD 5,500/person
Winter /Summer- USD 2,750/person.
Additionally, there will be a certain deposit for Garbage Management i.e. USD 4000. This amount can be refunded after you submit evidence and receive the confirmation from the Liaison Officer, The Ministry will refund the deposited amount.
FAQ
When to issue the Everest base camp permit?
The permit to climb Everest you issued does not have a validity date. This means you can issue an Everest base camp permit as soon as you arrive in Nepal, anytime before your trek. You can also issue the permit once you start the journey i.e. at Lukla. If your Everest tour got canceled or postponed due to some issue, the same permit is valid for future use.
 Do Everest base camp helicopter tours also need these permits?
Yes, visitors planning to land at Everest base camp via Heli tour
also need a permit. Usually, the tour manager i.e. the company who books your Everest tour will issue these permits to climb Everest. However, you can also get the permit once you get to Lukla.
Do we still need a TIMS card for Everest?
No, after 2018, the government of Nepal has canceled the TIMS card for the Everest region. For a few years, all trekking regions of Nepal were under the central government's tourist board. After being divided into 7 states, the power has now been decentralized. Thus, the TIMS card that was earlier issued by the central government is now replaced by a local area permit. However, both TIMS and Local area Everest permit cost is the same.
Some websites are still writing that you shall need a TIMS card for the Everest base camp trek. This might be because they haven't updated their information yet.
Do Indians need to Issue the Everest base camp permit?
Yes, all non-Nepalese need to issue both permits. All Indians and people of SAARC country need to issue a permit before they enter the Everest region. However, the price of Everest base camp permits for Indians is lower than that for foreigners. Mount Everest permit cost is only Rs 1500 for Indians.
Should I carry the permit with me all the time?
Yes, foreigners are required to carry these permits throughout the trek. There are a few check posts along the Everest base camp trek trail where the Nepalese staff check the permit. You might be asked to show the permit in any other place along the route. So make sure that you keep your Mt. Everest permit in your handbag all the time.
What will happen if I lost the permit?
If you lose your permit on the trail, you can re-issue it at the checkpoint on the trek route. However, the offers might charge you you few additional dollars to issue the new Everest permit cost.
Final say,
Our Himalayan master's team helps you get all the permits for the Everest base camp trek. All you need to do is book our form here and enjoy the rest of the tour.
Happy holiday!!
if you think, our proffesional team and trekking guide suitable for your needs please feel free to

 

contact us

 

at (info@himalayan-masters.com)
UNSURE WHERE TO GO? WE CAN HELP
Based on your preferences, location, timeframe, and budget, our team can design your dream trek based on our extensive knowledge and experience of the Himalayas. Get in touch with us for detailed information and assistance planning your dream trek. With our 97% success rate on trekking and climbing trips in 2022 and 2023 spring season, we will answer any questions you may have and guide you for an unforgettable experience.