How Much Does Everest Base Camp Trek Cost?
Since the 1960s, the Everest Base Camp trek, a walk to the foothills of the world's tallest mountain, has become a premier journey. It's a dream destination for hikers and adventure freaks. Indeed, this one-in-a-lifetime journey offers the most magnificent views of the entire Himalayan Range. All these natural and cultural wonders of the Himalayan land can be explored in a very affordable range. With Himalayan Masters, the Everest base camp trek would only cost US$1495 per person, including permit expenses, food, flight tickets, guide, and porter. Since Nepal's a paradise for backpackers, you can find all these Everest base camp treks cost very affordable.
This article breaks down all of your Everest base camp trek cost details so that you can plan your trip comfortably.
Everest Base Camp Trek Permit Cost
Along with Nepal's visa, you shall need two other permits during the Everest base camp trek.
$30 – 15-day multiple-entry visas
$50 – 30-day multiple entry visa
$125 – 90-day multiple entry visa
One month's Visa is enough for the Everest base camp trekkers if they aren't planning for a longer stay. Next, you will need a Sagarmatha National Park entry permit that can either be issued in Kathmandu or at Lukla. The price of a Sagarmatha National Park entry permit for foreigners is about $30+ 13% Govt. Tax and that for a citizen of SAARC country are Rs 600.
The other permit is called Khumbu Pasang Lhamu Rural Municipality Entrance Permit. The cost of this permit is NPR 2000 ($20).
In total: Along with Visa, the cost for permits for the Everest base camp trek is about $90 for foreigners. All this money goes to the government to keep track of trekkers in the Everest region and ensure their safety.
There's no such cost for Nepalese tourists.
Note: No Visa is needed for Indian and Nepalese visa is free for people of SAARC nations and Chinese during the first entry. Everest base camp trek costs by agencies in Nepal mostly exclude the visa cost since this payment is done at the airport before exit.
Related Article: Permits for Everest base camp trek 
Cost Of Guide And Porter For Everest Base Camp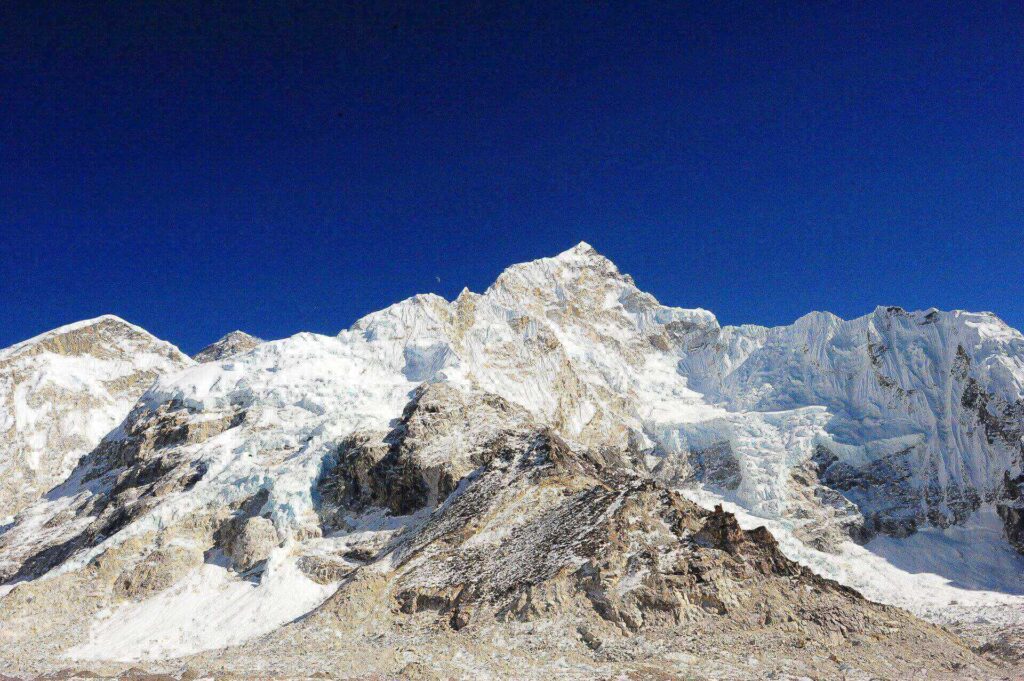 This is the most significant portion of the Everest base camp trek cost.
| | | |
| --- | --- | --- |
| Staff | Per day cost | Total cost for 12 days, |
| Porter | $20 to $25 | $180-$240 |
| Guide | $30 to $40 | $300-$360 |
| Guide cum porter | $30 to $35 | $360-$420 |
Tips For Saving Cost In A Guide
Getting a guide and porter from Lukla will save the cost for one day.
Hiring an English-speaking porter who can also help you as a guide comes out to be cheaper, but there are only a few such porters and it's almost impossible to contact them as new trekkers.
Travelling in a group helps you save a lot for a guide and porter. An experienced person can effectively guide a group of 6 to 8 people, and a porter can carry the load of two people. Hiring both a guide and a porter as a solo traveller is quite expensive.
Himalayan masters have licensed guides and porters who come along with the Everest base camp trek package. We also provide a guide and porter for Independent travellers.
Cost For Accommodations
The cost of accommodation is just a small part of the Everest base camp trek cost. The tea house makes most of their income for food on Everest and thus keeps the price of a hotel on Everest very less. However, accommodation cost on Everest also depends on how much luxury you wanna experience.
In Kathmandu: Kathmandu has hotels ranging from dormitory rooms with $5/ bed to star hotels that cost above $500/ night. The average 3-star hotel rooms with basic amenities and private bath cost between $10 to $30 in Thamel.
Up to Namche: The hotels up to Namche are quite versatile. You can stay in luxurious hotels with a private bath and hot shower that might cost up to $20. However, there are basic tea houses that cost $4 to $5 on average. In this section, the Everest base camp trek cost of the hotel depends upon your choice and you can also use some bargaining skills.
Above Namche: Beyond Namche, you wouldn't have much choice for the hotel i.e. almost all kinds of accommodation are similar. For each stop in Tengboche, Dingboche, Lobuche, and Gorakshep, there are only 4 to 5 hotels. Also, the price of food and rooms in these hotels are the same (set by the local trekking committee). The rooms in this region only have two beds, a mattress, and a blanket. Don't expect a private bath and other luxuries. In this section, the cost of a hotel on Everest is $6 to $8.
Related article: Know more about Everest Trek accommodation.
Cost For Food At Everest Base Camp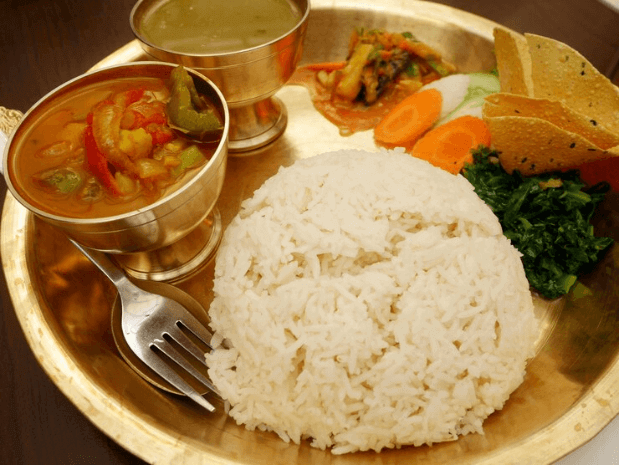 In Kathmandu: Kathmandu has a quite affordable range of restaurants. The cost of food in Kathmandu is very low and you might be shocked that you can get good quality food for less than one dollar. You can get breakfast, lunch, and dinner for $2 to $4 in average restaurants. You can also get authentic international cuisine in the big restaurants which are quite expensive. It's your choice.
Up to Namche: In the Everest region, the cost of food is quite high. In fact, food covers the largest portion of Everest base camp trek cost. That's because almost every food is carried with a flight to Lukla via the porter.
Breakfast average cost: $5 to $7
Lunch and Dinner Average cost: $6 to $8
Tea: $1 to $2 / cup
 Hot Water: $1 to $2 / bottle
Above Namche: The higher you move, the cost keeps on getting higher. Once you reach Lobuche, the price goes up by a few dollars, further increasing your Everest base camp trip cost.
Breakfast average cost: $7 to $9
Lunch and Dinner Average cost: $8 to $10
Tea: $2 to $3 / cup
 Hot Water: $1 to $3 / bottle
Some Tips For Saving On Food And Accommodation
Try bargaining for room price and eat only at the tea houses or hotel you stay at. If you eat your dinner outside the tea house you stay in, they will add $10 to $15 for your room cost.
You can have Dal Bhat which is served as a buffet. So, if you are a foodie, this carb-rich food helps you save many dollars in food.
Try avoiding more than one food and order fulfilling dish as fry rice, Indian food, and Nepali food. Also, go for the vegetarian option which is way cheaper and fresh.
Try carrying sterilizing tablets and water bottles to avoid buying mineral water. You can save $50 by sterilizing the drinking water instead of using bottled water.
In total, the per-day cost for food is $20 to $35 depending on your choice. The Everest base camp trip cost for food is the same for Nepalese and Indian.
Related article: Know more about food in Everest Trek.
Insurance For Everest Base Camp Trek
Everest base camp altitude of 5364 meters comes with a lot of risk of altitude sickness. Trekking in unknown remote land for almost 2 weeks isn't easy work and things might go seriously wrong. Although any trekkers travelling with Himalayan masters haven't gotten altitude sickness yet, we cannot ignore to chances.
That's why getting high-altitude travel insurance before your trip is compulsory, it also helps you save a lot of Everest base camp trek costs in an emergency. In an emergency, the team arranges an instant evacuation by helicopter tour which can cost above $3000.
There might be other cases of illness, theft, robbery, and cancellation due to unstable weather. Getting travel insurance from your home country is recommended by Himalayan masters and can cost from $50 to $200.
Cost Of Travelling
From hotel to the airport: Depending on your location, getting to the airport in a Taxi/ cab cost $5 to $15. From Thamel, a taxi takes about $6 to $9 as per your negotiation skills. The public bus takes only 20 to 30 NRP but you might not find it easy to get this public bus in Nepal.
Kathmandu to Lukla flight cost: The cost of the Kathmandu to Lukla flight is $360 to $380 per person. A flight ticket makes up almost one-fifth of your Everest base camp trek cost.
| | |
| --- | --- |
| Regular Airlines Fare: | US$ 180.00 per person |
| Cost for Indians | NRS. 14700.00 Per Person |
| Cost for Nepali: | NRS. 5500.00 Per Person |
| Cost for staff flight | NRS. 10,000 per person |
More than 2 dozens of flights are available from domestic airlines of Nepal like Tara Airlines, Sita Airlines, and Summit Airlines.
Tips To Save Money For The Flight To Lukla
Book your flight as early in advance as possible to save a few dollars in the total cost to climb to Everest base camp. The cost for flights in peak season i.e. October/ November and April/March is high. Booking cost in the winter and summer season is quite low.
Go to Lukla overland: If you want to skip the flight to Lukla, you can also go for a road drive. However, this will add about 3 to 5 days to your trip so the cost to climb to Everest base camp comes out to be the same in the end.
The public bus from Salleri to Kathmandu takes about $10 to $11 per person. Or you can take a Jeep which is more comfortable than a public bus and cost $17. Although public buses are quite cheap, the seats are small and dirty, there's no place for a bag, and has very less leg space. If you are a group of large people, you can hire a jeep on your own and travel more comfortably.
Flight by helicopter: You can fly from Kathmandu to Lukla or directly from Kathmandu to Everest base camp in a helicopter. Chartering a helicopter to Lukla cost about $2500 and the Everest base camp helicopter tour price is about $4000. Since you can share it with a group of 5 people, the cost of a helicopter to Everest base camp comes out to be quite affordable. In fact, it might be cheaper than a luxury Everest base camp trek cost.
Cost Of Trekking Equipment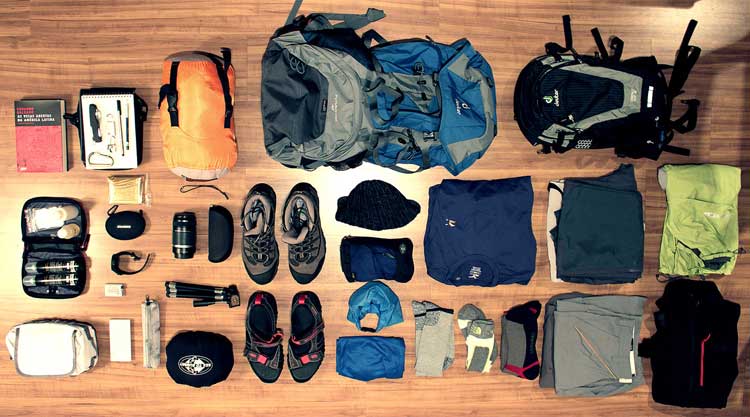 This is actually the preparatory cost of the Everest base camp trek. Before you start your Everest trek, there is basic trekking equipment that has to be brought. The essential gear includes:
Sleeping bag
Trekking boots
Trekking pants
Trekking poles
Trek bag and a small handbag
Windproof down jacket
Some food like chocolate/ energy drinks
Comfortable t-shirts
If you have to buy all these items right before the trek, it comes out to be expensive. Depending upon the country and brand, the cost of buying trekking gears can vary from $500 to $2000. A more affordable way to get these trekking gears is to rent them from Kathmandu.
In Thamel, you can rent a sleeping bag, trek boots, Poles, bags, and jackets for $2 to $3 per day per item. Your guide provided by Himalayan help you rent or even buy these trekking gears at a cheaper price in Thamel.
Other Costs
Cost of Wi-Fi: Right from Lukla, you start paying for Wi-Fi. Although the speed of Wi-Fi is slow, it's very expensive. Below Namche, the internet in the Everest base camp trek can cost up to $5 and beyond that, it can cost even higher.
You can also buy a card named Everest Link which allows you to use data for a cheaper rate. You can also use NCELL data for the 3G network. The unlimited data for one hour in NCELL cost NRP 22.
Cost of a hot shower: You need to pay separately for the hot shower. In the upper region, they might just give you a bucket of warm water. A hot shower in Everest cost about $5. Since the heating system in Everest is rear, the cost of the shower is high.
Charging: These small cost keeps on adding a lot to your Everest base camp trek cost. Above Namche, you need to pay a few dollars to charge your phone/ battery. The rate can vary between $3 to $4 per hour.
Factors That Affect The Price Of Everest Base Camp Trek
Price According To Season
Peak month – September/ October and November in autumn
March/ April/ May in spring 
The cost of the room, food, and flight on Everest is high during the peak season. Basically, the price is the same as on the menu and no discount is offered, making your Everest base camp trek cost the highest.
Off-season: January/ December in winter
June/ July/ August in Monsoon 
In the off-season, the tea house owner provides you with some discount on room and food costs. You can also get a discount on the flight and the Everest base camp trek package becomes quite less. You can get a 15 to 20% discount in the off-season, but the off-season trek comes with a lot of challenges and you can decide if it's worth it.
Your Overall Itinerary For Everest Base Camp Trek
The real cost of the Everest base camp trek depends on your route and Itinerary. Here are different Everest base camp trek costs based on Itinerary.
Classic Everest base camp trek (including flight to Lukla) is about 12 days long and cost about $1500.
There's a short Everest base camp trek of about 9 days for experienced trekkers/ climbers and that costs about $1200.
If you want to observe Everest at a close distance and don't have time for the base camp trek, there's 5 to 7 days

 

Everest View trek

 

that cost less than $1000.
An extended and adventurous version of the Everest trek i.e.

 

Gokyo Valley trek

 

adds 4 to 5 days to your Itinerary and costs about $2000.
An even more challenging

 

Everest Three Pass trek

 

taking you over Renjo La Pass, Chola Pass, and Kongma La Pass is about 3 weeks long and costs about $2500.
Camping trek to Everest is the most expensive among the ones listed here. You can send us an Inquiry mail to Himalayan masters to get a customized rate for the Everest camping trek.
In short, each day added to your Itinerary will increase your cost in Everest from $80 to $100 (including porter, guide, food, and accommodation cost). That's how you can plan your route as per your budget.
Your Group Size
The highest Everest base camp trek cost is applied when you are travelling Solo. That's mostly due to the higher cost of the guide and porter. Travelling in a group of two or more turns out to be cheaper. Even the travel packages from Himalayan masters are cheaper when you book in groups.
Luxury Everest Base Camp Trek
In the last few decades, the Everest base camp has developed to be a very luxurious trekking route. Together with the basic tea house accommodation that cost $4 on the Everest route, there are other kinds of luxury accommodation that cost up to $100 per night. These accommodations include rooms with a private bathroom with free Wi-Fi, charging plugs, single accommodation, and more.
Similarly, the classic Evetest base camp luxury lodge trek package also has a lot of restrictions on food and other amenities. You will end up paying a lot of cash for other luxuries that aren't included in the classic package. Thus, we recommend that our trekkers opt for the Himalayan master's Luxury Everest base camp package. Although the luxury Everest base camp trek cost is quite high, it's worth the price.
Luxury Everest base camp trek cost: $3000/ person 
Cost Of Everest Base Camp Trek
Cost of an Everest trek Package with an International Agency: USD 2500 to $5000/ per person
Many tourists books their Everest trip from their home country itself with an international agency. Most of these international agencies are offering very appealing rates. And since they have good customer reviews and ratings, trekkers to Everest end up trusting them blindly. We cannot deny that the services of the International agency are quite safe and reliable.
However, they end up charging a lot of money for the extravagant package, increasing your Everest base camp cost. The International luxury operators can cost you USD $2500 to $5000/ per person for the Everest base camp trek. Sadly, many of these operators haven't even been to Everest once, and don't know the condition of Everest.
So, there's no proof that this price gives you better service. They might miss addressing the small problems that you actually face once the trek commences. So, we genuinely suggest that you go for the local trek agency of Nepal for the most reasonable Everest base camp cost.
Booking with Third-Party: US$1300 to US$ 1900/per person
This is actually the worst choice. Some international budget tour operators claim to offer you a good price deal. However, they are just third-party websites that have ties to the Nepalese agency. So, they just end up handing you to the destination management company (DMC) and get a profit margin of 10 to 30%.
Although their package comes at an appealing rate, they use the cheapest resources and offer limited services. There are many hidden Everest base camp costs like transportation, drinks, permits, etc. which end up adding a lot to your total expenses.
Local Everest Base Camp trek agency: $1500 to $2000/ person
Local travel agencies of Nepal are delivering excellent services at a very affordable price. They have a good connection with the airlines and hotel lines in Everest, thus being able to deliver good service at a very affordable price. The tour packages offered by the local travel agency start from Kathmandu and end in Kathmandu.
There are more than a thousand local tour operators in Nepal. The confusion of which one to pick is a big issue. Make sure you choose a registered travel agency and read their reviews and ratings before looking for Everest base camp costs.
Cheap Everest Base Camp Package: $700 to $1200
Don't be shocked if you find some local travel agency offering you an Everest base camp hike cost of less than $700. Yes, that does sound appealing but let's use some logic here. The flight ticket to Lukla cost $360 for two way flight and this is the fee set by the domestic airlines of Nepal.
Now, there's the cost of food, hotels, a guide, and a porter for 12 days. The cost of the guide and porter is also fixed and they cost $25 and $15/day respectively. So, this means, you won't even get a guide, a porter, and not even proper accommodation.
Anyone claiming to give you the entire Everest base camp trek package for less than $1500 will make you pay for a lot of additional expenses once the trek begins. Later on, you will end up paying even more than $2000 and still get the worst accommodation.
Which Is The Best Everest Base Camp Package To Pick?
Himalayan master is Nepal's most trusted travel agency with more than a decade of experience in trekking in the Everest region. Our clients have loved our service offered at a very reasonable Everest base camp hike cost.
Here, Why you shouldn't choose any other low-budget Everest trek package and trust Himalayan masters with your utmost adventure to Nepal.
Accommodation
Himalayan master's package includes the best accommodation that is available on the trek route. We book the hotels way before your trek dates, thus ensuring the best hotels.
However, the low- cost of the Everest base camp trek comes with cheap and dirty accommodation. In the peak season, they might make you sleep in the restaurant.
Food Restriction
Although the cheap packages for the Everest base camp trek claim to include food, they might not include all 3 meals. Also, there might be a restriction on what you can order. Some packages only give you tea and bread for breakfast and Dal Bhat for lunch/ dinner. You cannot order anything else.
With the package offered by the Himalayan master, all foods on the trek are free. You can get anything from the menu as per your will and the cost will be covered. There are no restrictions on the food. Such comfort is worth the higher Everest base camp hike cost.
Comfort And Privacy
The cheaper package to Everest arranges the tour in a bigger group. They accommodate you with unknown people, keeping many people in one room. You might have to share a small single bed with two people. Similarly, one guide and porter have to deal with many people in a group, making it hard for the management.
With the Himalayan Masters, we only travel in small groups. A porter only carries the load of two people and a guide only looks over 5 to 6 people. You will only be sharing the room with two people (single accommodation is also available) and no unknown people will be included in a group. Your safety will be taken care of. Our hike to Everest base camp cost is reasonable for so many reasons.
Guide's Knowledge
The guide for the Everest base camp should have good knowledge and experience. The low-budget operators might not even offer you a guide or hire a cheap freelancer's guide with no training, license, or experience. In the tour, when things go wrong, or during an emergency they turn out to be useless.
Our guides at the Himalayan masters have been working in the Everest region for many years. We mostly hire Sherpa guides who are well-adapted to the mountains. They can keep you safe from altitude sickness, engage in an emergency evacuation, and help you understand the local culture properly.
Your Safety With Us
The cheap tour operators aren't aware of Everest's safety protocol. Their Itinerary is made to keep the trek shorter and accommodate you in a cheaper place. They don't have a backup for air evacuation and provision of flight postpone. There might be cases of animal attack and sickness.
Our team carries a first aid kit, and safety equipment, and has a helicopter ready for emergency cases. We provide both female and male guides as per the request. We focus on the safety of solo travellers, building contact with them every day.
Responsible Trekking
Since the Cheap hike to Everest base camp packages is offered by the company with zero knowledge of responsible trekking. They pay low wages to the guide and porter, exploiting the right of the porter. Many of these agencies use young boys below 18 years as porters and guides. We pay utmost attention to our staff. The experienced porters are only allowed to carry the weight to a certain limit as per their capacity. Children are not used as a porter.
Let's break down the cost of the Independent Everest Base Camp Trek Cost?
Foods: $25*12= $300
Accommodation: $6*12= $72
Flights: $180 x 2 = $360 USD (two ways domestic flight)
Permits: Visa+ National Park+ Local area permit= $90 USD
The cost of hiring a guide and a porter is $25+$20 = $45*12 = $540.
Wi-Fi/ Shower/ Water= $10*12= $120
Tips, donations, and miscellaneous = $100
Total expenses = $1582
As you can see, even independent trekkers spend over $1500 while travelling solo (with a guide and porter). That's why we are claiming that the Himalayan Masters' Everest base camp trek package is actually very affordable.
Frequently Asked Questions
 1. What Is the cost before the trek?
Before you head for Lukla, the trekkers often stay in Kathmandu for a few days. Depending upon the travel package, the cost of staying might or might not be covered. For a basic comfortable room and food, staying in Kathmandu cost $20 to $40 per day. A luxury hike to Everest base camp cost can go above $100 per day.
2. What is the cost of Everest link Wi-Fi cards?
The cost of Wi-Fi is not included in the trek package to Everest. This means you need to pay $5 to $8 per day to get the internet. A better option is to get an Everest Link Wi-Fi card that cost NPR 600 (600 MB Wi-Fi card) and NPR 2000 (10 GB Wi-Fi card). Getting an NCELL Sim card for $1 and using the mobile data is also a good option.
However, we suggest that you focus less on the internet and charging during EBC. This will not only keep you closer to nature but also lowers the cost of going to Everest base camp.
3. What Is the Everest Base Camp Trek cost for Nepalese?
The cost of an Everest base camp trek for Nepalese is about NRP 40,000 to NRP 50,000 including the flight to Lukla. The discount is offered on the food and the rooms are also impressive. Since Nepalese often travel with a guide and porter, the Everest base camp trek cost for Nepalese is quite low.
4. What should a good travel package include?
Before you book your trek package, look for at least the following things:
Flight cost
Food during the trek (all 3 meals)
Accommodation in Kathmandu and Everest
Guide/ porter cost and their cost
Permit cost
5. What additional expenses can I expect which is not covered in the trek package?
The cost that is usually not included in the package is
Cost of water: $50 or more if you didn't carry your sterilizing table
Tips: About $100 or more for a guide, porter, and restaurants
Donation: In temple and Gompa as per your wish
Wi-Fi/ Hot-water/ Charging: About $15 per day
Nepal Visa cost
Excess package charge in the airport
Flight delay cost
Emergency treatment and evacuation
Personal expenses like shopping, snacks, hot (Tea/ Coffee) and cold drinks, etc.
All these can cost from $500 to $1500 depending on your needs.
Hope we have managed to cover everything you need to know about Everest base camp costs. Let us know how we can help you plan this trip. You can mail us for general inquiry or even book our Everest base camp trek package.
UNSURE WHERE TO GO? WE CAN HELP
Based on your preferences, location, timeframe, and budget, our team can design your dream trek based on our extensive knowledge and experience of the Himalayas. Get in touch with us for detailed information and assistance planning your dream trek. With our 97% success rate on trekking and climbing trips in 2022 and 2023 spring season, we will answer any questions you may have and guide you for an unforgettable experience.