Everest Base Camp Trek Difficulty (Quick Update 2023)
The most difficult routes in the world lead to the most beautiful destination. And this stands absolutely true for the brave soul dreaming of a trek to the Everest Base Camp. Tourists often ask us "Is Everest base camp difficulty that high?". And the answer is "NO". We have seen tourists underestimating Everest's difficulty and then returning back within a few days of the trek.
We have also seen tourists thinking it's impossible and fearing the journey even before it starts. And trust us, both these extremes aren't true. Trekking in the rough mountain terrain of the Himalayas is obviously challenging, however, it's neither impossible nor deadly.
So, if you have ever dreamed of standing before the world's tallest mountain and screaming "I love my life" out of your soul, read this article to the end and you shall know how to make your dream come true. Everest base camp difficulty level is "Moderate". It's a non-technical, high-altitude trek for non-climbers.
How Long Is The Everest Base Camp Trek?
Everest base camp trek is not something you plan about for a day and get started immediately. People plan it for months, even years, preparing themselves financially and physically. The Everest base camp trek time from Kathmandu is about 10 to 15 days. Depending on your speed and health, it might take a shorter or longer time.
Experienced climbers go for a short Everest base camp trek which is usually 9 to 10 days. However, we don't recommend such a short Everest trek for newbies and less experienced trekkers. For people with average fitness and slow speed, Himalayan masters have designed 12 days Everest base camp trek Itinerary with 2 rest days in the mountains.
You can add a few more days if you wish to stay longer and experience the local culture. The longer you stay, the more your hike to Everest base camp difficulty will lower. This explanation is only valid when you fly from Kathmandu to Lukla and then start the trek. There's another less preferred route that completely skips the flight and you shall be trekking for the entire time.
For that, you should first drive to Jiri (about 8 hrs ride from Kathmandu) and then trek from the village called Bhandara. On this route, you will be staying in villages such as Sete, Jun Beshi, Nunthala, Bhuspa, and Surkhe before finally joining the Everest base camp route at Phakding. Clearly, this route adds six more days to your Everest base camp route.
How Hard Is It To Trek Everest Base Camp?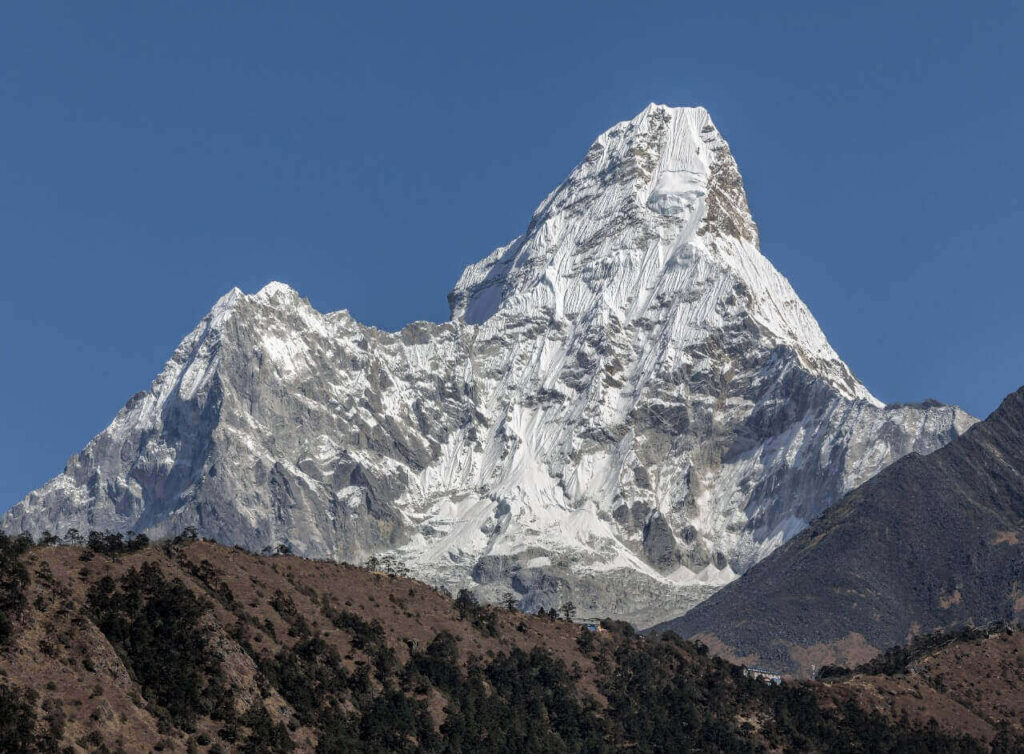 If you decide to walk back via the same route, it's 4 to 5 more days. So, trekking to the Everest base camp from Jiri takes about 22 to 23 days. Even from Namche, there are many different routes for trekking to the Everest base camp. Some travellers prefer the off-beaten route of the Gokyo Lake Trek and the Everest three-pass trek before getting to the Everest base camp.
Adding these new destinations makes your trip 20 to 25 days long. Although the trek alone is 12 days long, your Nepal journey will be a bit longer. Firstly, you must fly from your home country to Nepal and then let your body recover from jet lag.
Give yourself 2-3 days for trek preparation, packing, and shopping. Also, a day or two to explore the beautiful city of Kathmandu is worth it. Adding all that, you can estimate the Everest base camp trek duration to be about 20 days long and arrange your time accordingly.
Tips
Don't rush. Since Everest base camp is once in a lifetime kinda journey, make sure you savour everything Mother Nature has to offer. If possible, take a month's leave and visit different places in Nepal. Stay for a couple of days in Namche, Tengboche, and even Gorakshep. Hike other hills, interact with the locals and stay as long as you can. Even when you plan a month-long journey, each day of your Everest base camp trek will be interesting.
Everest Base Camp Trek Distance
The classic EBC route has the Everest base camp trek distance of about 130km for the round trip to and from Lukla. 130kms in the mountain terrain is long, but since the Itinerary is about 15 days long, it will be about 15kms walks per day. Considering that an average human will be walking at a speed of 5km/hour, it's not a big deal.
Distance-wise, Everest base camp difficulty is low. If the road was paved and levelled, walking 15 km in a day would have been a piece of cake. However, hiking upwards and downwards in the sub-tropical forest for 15 km does make you tired.
Tips Before Everest Base Camp Trek
Start the trek quite early in the morning. Morning is filled with great energy and the weather is also calm. Also, it will give you a long time for the trek, so you don't have to rush in the evening. We recommend waking before 6 am every day and starting the hike at least at 8 am. The earlier you start, the better. In the daytime, the sun makes it hard to walk.
Next, walking slowly is the key. The Everest base camp trek Itinerary by Himalayan masters has about 5-6 hours of walking each day. However, you have an entire day to reach your destination. And even If you didn't reach the place that has been recommended, you can find hotels on Everest throughout the route. So, don't push yourself too hard. Breathe the fresh air, rest whenever you want, and walk slowly.
Altitude
The tourist just doesn't realize how dangerous altitude can be. Everest base camp altitude lies at 5264meters above sea level. Similarly, we hike up to Kalapatthar which is itself a very important peak that lies at 5,500 meters in height. Here is the list of different places on the Everest base camp trek and their altitude.
Kathmandu – 1300 m / 4265 ft
Lukla- 2,860 m/ 9,334ft
Phakding – 2652 m / 8700 ft
Namche Bazaar – 3440 m / 11286 ft
Tengboche – 3870 m / 12696 ft
Dingboche – 4360 m / 14304 ft – 5 to 6 hrs
Lobuche – 4940m / 16207 ft
Gorakshep – 5368m / 17611 ft
Everest base camp- 5,364m/ 17,598 ft
Kalapatthar height- 5,644.5 m/ 18,519 ft
Pheriche – 5545m / 18192 ft
As you can see, we will be walking beyond 4,000 meters on most days and that's when you start to feel the effect of the weather; a real Everest base camp difficulty. At this height, the level of oxygen in the air falls to almost half, and the air pressure is also low. This can lead to the development of altitude sickness on Everest which includes symptoms such as:
Headache
Feeling sick
Dizziness
Tiredness
Loss of appetite
Shortness of breath
Fainting
In extreme cases, there might be symptoms of loss of coordination, hallucinations, tightness in the chest, cough, and the skin starting to get blue. Although this does sound scary, it's a rear case and you will be safe while travelling with the expert guides at Himalayan Masters.
Tips To Overcome From Altitude Sickness:
Do not cover more than 1000 meters in a single day
Stop for rest after every 300 to 500 meters you climb during the trek
Walk slowly and stop for rest whenever needed
Include acclimatization day in your Itinerary (Namche and Dingboche are great places for acclimatization as per the Himalayan master's Everest base camp trek Itinerary)
Keep yourself hydrated with 3-4 litres of water (have lukewarm water if possible)
Avoid smoking and all kinds of alcoholic drink that makes you dehydrated
Eat high-calorie food during the trek and keep your Immunity power boosted
But these are only the prevention method.
What Should You Do When You Actually Catch Altitude Sickness On Everest?
Once you start feeling sick, stop the trek immediately and do not climb any further. If needed, you can walk down to the lower altitude and rest there for a few days.
Give bottled oxygen if needed in emergency cases
Carry medicines such as acetazolamide to treat high-altitude sickness. You can have ibuprofen and paracetamol if you experience most kinds of headaches and promethazine can be used for nausea
Even after all this preparation, if things does outside of control, the team arranges a helicopter rescue for you.
Weather And Climate During Everest Base Camp Trek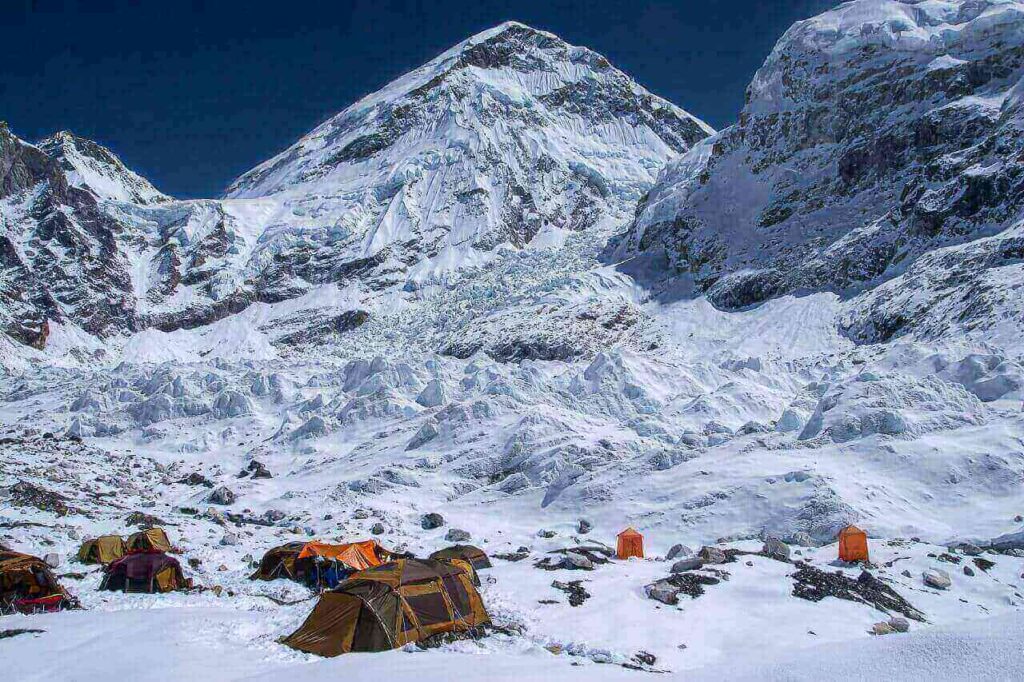 Another big bar of Everest base camp difficulty is its weather and climate. Without a doubt, the Himalayas of Nepal are freezing cold throughout the year. Everest base camp is covered in snow almost year-round. However, the entire Khumbu area is mostly warm and stable during Autumn and Spring.
Winter on Everest is very cold and the region beyond Dingboche is always covered in a thick layer of snow. With the daytime temperature of about -5 to -3 degrees Celsius and the night temperature dropping to -15 degrees Celsius, it's the hardest month for the trek.
The summer trek in June and July is also a bit challenging. The monsoon arriving from the Bay of Bengal makes the trail slippery. While the daytime is warm and you can trek with little clothes on, the leeches and mosquitos along the trail can increase Everest base camp difficulty.
Autumn and Spring have Everest base camp temperatures of 5 to 15 degrees Celsius and the night is also above freezing point. The chances of snowfall and rainfall are also very low, making it the easiest time for the Everest base camp trek.
Tips To Avoid From Bad Weather
As far as possible, aim for Autumn and Spring trek only
While trekking in winter, carry trek boots that help to walk in the snow and also crampons. Do not travel Solo without a guide in winter and a sleeping bag is compulsory. You must be guided by an expert for the winter trek.
While trekking in summer, keep your Itinerary very flexible and travel only on non-rainy days. Also, make sure you have mosquito and leach repellents
Pack enough warm clothes, slippers, and waterproof bag cover/ trousers in all seasons.
Remoteness
If you have been living in luxury all your life, you cannot start to imagine how remote these mountain landscapes can be. During the trek, you will obviously miss your warm bed, flushing washroom, and cell reception. These 12 days will be quite sweaty, dirty, and stinky. Remoteness is the major Everest base camp difficulty.
The Himalayas of Nepal has a very difficult landscape, making it impossible to build physical infrastructure. There's no roadway getting to the Everest region. The nearest airport is Lukla Airport and everything beyond that is carried in a mule or by a porter. This means, getting even the basic facility is a blessing.
Thankfully, the Everest base camp trek is Nepal's most popular and busiest trail for almost a century. So, everything needed for the comfortable stay of the tourist has been available. Even then, coping with such remoteness can be tough.
Accommodation: Basic tea house accommodation is available on the Everest base camp route. Hotels in Namche are quite luxurious, otherwise, you will be staying in a small local guest house. Read about the details in our article here.
Food: Thankfully, food is not something you need to worry about during this trek. All national and international cuisine is available for the trekkers. Read the full article here.
Shopping: The last shops you find during the Everest base camp trek is in Lukla and Namche. Even at these places, there are no branded clothes and personal items you can buy. Beyond that, you will not be able to buy any personal items. So, everything needed for 12 day Everest base camp trek should be carried from Kathmandu itself. The last ATM is available in Namche only.
Other: Thankfully, electricity, hot shower, and Wi-Fi in the Everest base camp trek is easily available and it's not a big deal now.
Which Route Is Best For Everest Base Camp?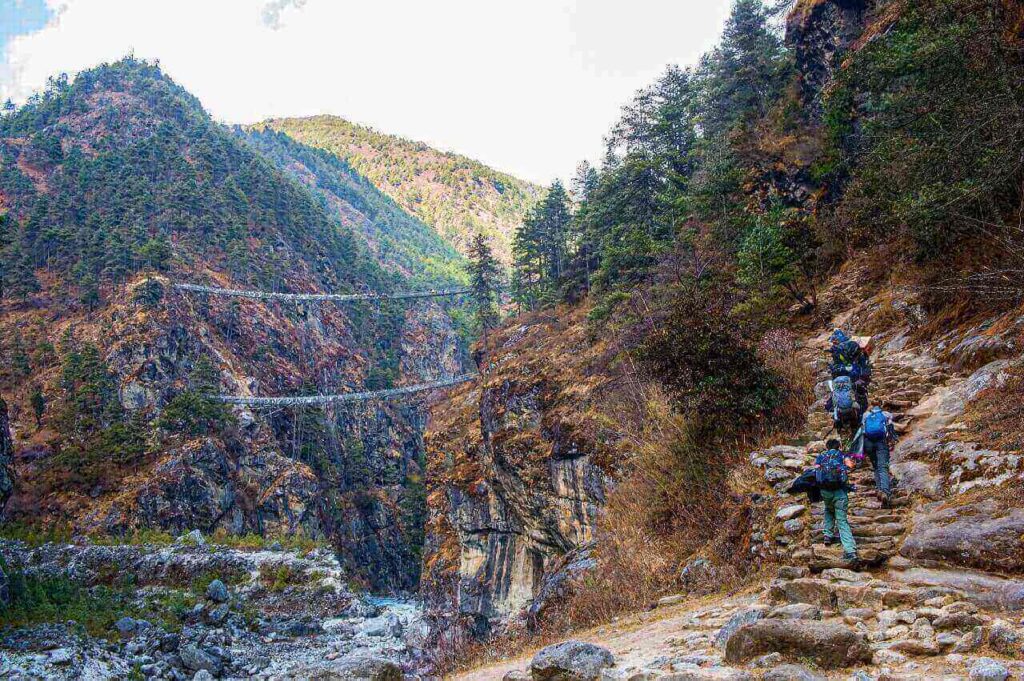 Your Everest route determines the Everest base camp difficulty one faces during the trek. The 12 days classic Everest base camp route via Lukla, Namche, Lobuche, and Gorakshep is the easiest one. Another route via Bandara to Phakding to Everest base camp (skipping the Lukla flight) is long and difficult. Similarly, the Gokyo Valley trek and Everest three-pass trek are highly channelling.
Tips:
If you are a newbie, go from the classic Everest base camp route as mentioned here in the Everest base camp map. Another route is recommended only for experienced trekkers and climbers.
Do not travel on a new route, Solo. There's the risk of theft, robbery, and wild-animal attacks. A solo trek to Everest is only recommended from the standard EBC route.
Weight Of Your Bag
Since the Everest region is mostly remote, there are many things you need to carry for your 12 days Everest Base Camp trek. The bag is mostly filled with clothes including a sleeping bag. Some even prefer to carry their own sleeping mat. Then your personal care items, some food, water, and gadgets make it quite heavy. The trekking bag usually gets about 15kg. Walking with such a weighty bag is not easy as the trail is quite uneven; a big issue of Everest base camp difficulty.
Tips
So make sure that your bag is packed wisely to lower Mount Everest's difficulty. Carry everything you need but be picky. Since there's no shop beyond Lukla, you must be very careful. We suggest that you consult your guide to Lukla before buying things for your Everest Base Camp trek. The detailed article about things to pack for the Everest Base Camps trek is here.
Next, it's always wise to hire a personal porter. For people asking, "How difficult is Everest base camp", our best tip is to go with a proper team and it's not that difficult. The porters in Nepal are available at minimum rates and help you carry all your bag packs. A porter carries the bag of two people (about 15kgs), really helping you cope with Mount Everest's difficulty.
Financial Difficulties During Everest Trek
Nepal's among the cheapest country in the world for travelling- a major hub for backpackers. Even then, Everest base camp trek costs can be quite high. Although the trip cost of the Everest base camp trek is about $1000 to $2000 (quite affordable), the plane ticket to Nepal makes the journey quite expensive.
The cost of food, hotel, guide, porter, permit and shopping for Everest base camp all add to make it quite expensive. You must have all this cash before the trip- might be a big Mount Everest difficulty for students and bag packers. Thankfully, Himalayan Masters are offering the cheapest Everest base camp trek package that includes everything you need during this journey.
Ways To Overcome Everest Base Camp Trek Difficulty
Training Before EBC Trek
Before you book your trek, make sure you spend some time in the gym to focus on strength training for your legs. Running and cardio are also great to prepare your body. However, we recommend squats that utilize your quads.
If you plan to carry your backpack, we also recommend some exercises for the shoulder. For altitude sickness prevention, aerobic exercises such as jogging, sprinting and swimming are very useful. These exercises help your body circulate oxygen and lower Mount Everest's difficulty.
Learning Before EBC Trek
This is a life-saving tip for independent trekkers. If you think you can travel without a guide and Everest trek package, you must learn some Nepali words before the trip.
"Namaste"= Nepali greetings, 
"Yeha room xa?"= do you have rooms here?
"Kati paisa para"= how much does it cost?
"Malai madat Taiyo"= I need help, etc. 
Learn more of these words from Google before the trip
Also, do some research about the local routes, culture, hotels, and food. Since you must book your hotel in advance in the peak season, there's a lot of research you have to do. Learning more about the place means lower Everest base camp trek difficulty.
Packing List For Everest Base Camp Trek
Firstly, you must pack light and yet have every essential you need. The remote villages of Everest don't have shops for your personal essentials. Next, you should be prepared for all kinds of weather at a higher altitude. Other than being comfortable, your clothes should be waterproof/ windproof. You should be warm and dressed in layers. You can read our other article to get the full packing list. Or, consult with your guide for final shopping once you arrive in Nepal.
About Insurance
Even after all this preparation and doing everything by the rules, you might have to face some unexpected consequences. And that's when your travel insurance will be useful. For eg, you might lose your bag on the way, or have to cancel the trip due to bad weather. Worst, you might get extremely sick and need helicopter rescue. That's why it's compulsory to have travel insurance covering high-altitude trek costs before booking our Everest trek.
Travel With A Guide And Travel Package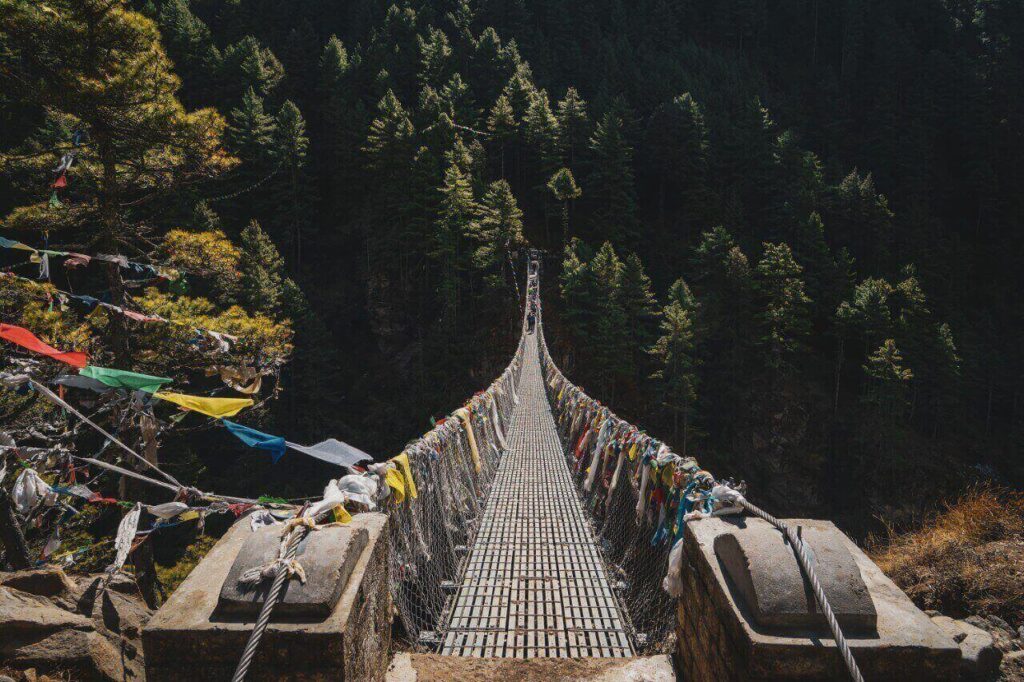 Although experienced trekkers prefer to travel independently, we always recommend taking the Everest base camp trek package for your tours to Nepal. Since the Himalayan master's package comes with an experienced guide, porters, the best hotels, good food, and permits, the trek becomes very easy.
Once you book the package, you can enjoy the tour without any tension. Having a guide means lowering Everest base camp trek difficulty to a great extent. Independent trekkers have to go through a lot of research and pre-preparation.
Even then, there might be some unexpected problems in the remote Himalayas. So, it's always better to travel with a trekking package to Everest or at least hire a guide. The cost of a guide to Everest is not even that high and the comfort brought by the guide is worth it.
Frequently Asked Questions
1. How Difficult Is It To Climb Mount Everest?
Considering that Everest is the world's tallest mountain, it's obviously very technical and hard. Climbing Mount Everest needs years of training and awesome mountain climbing skills. So, if you as "How hard is it the climb Everest", the answer shall be, very hard. However, the trek to the Everest base camp is non-technical and a great way to feel the beauty of Everest from a close distance.
2. How popular is the Everest base camp trek?
It's impossible to believe that almost 45,000 trekkers successfully hike to the Everest base camp and back each year. Sagarmatha national park recorded over 45,000 foreigners per year in 2018 and that's a considerable number. Not all of these trekkers are professional mountain climbers nor they are experienced hikers.
In over a decade of service, Himalayan masters have helped people of all ages, shapes, and sizes successfully make it to the top of Everest and back. Everest base camp difficulty obviously pushes you to your limits, however, it's an achievable goal for anyone.
3. What are other challenges that I might face along the way?
Firstly, you might imagine standing at Everest base camp alone. However, in peak season, it's quite crowded and noisy with people from all around the world. So, that's something you should consider. Next, the flight to Lukla might get cancelled due to bad weather and you might have to wait for days.
While trekking Solo, those thick forests, unknown landscapes, and huge mountains might be very scary. So we always recommend travelling with a guide. The accommodation is not exactly luxurious and the food might sometimes taste bad.
Conclusion,
Great determination, the right guidance from experts, and a bit of preparation are all you need to tick Everest base camp off of your bucket list. If you follow these tips properly, it's not that difficult.
Hope our simple tricks and tips about Everest base camp difficulty here turn around to be helpful for your trek. Anything else you want to know? Make sure you fill out our booking form here or leave a comment below.
Recommended Reading: Guide On Everest Base Camp Helicopter Tour
UNSURE WHERE TO GO? WE CAN HELP
Based on your preferences, location, timeframe, and budget, our team can design your dream trek based on our extensive knowledge and experience of the Himalayas. Get in touch with us for detailed information and assistance planning your dream trek. With our 97% success rate on trekking and climbing trips in 2022 and 2023 spring season, we will answer any questions you may have and guide you for an unforgettable experience.