What kind of food available in Everest Trek?
Did you know that Everest is among the world's most popular trekking routes? Thousands of trekkers aim for this adventurous journey to the mountains. The solitude walk to the Himalayas ranges of Nepal is obviously peaceful. However, the Everest base camp trek is not just about the mountains. It's mostly about the yummy Nepalese cuisine, unique culture, diverse wildlife, and many other wonders. This article writes about the kind of available foods on Everest base camp trek. Read to last for Everest Food and beverages.
Since Everest base camp is about 12 days of walk on a completely isolated land of the Khumbu region, you must be prepared for all kinds of situations. And since good food means a good mood, knowing what you should eat during this trek can be helpful.
Also, bad food during the trek makes you sick and hampers your overall experience. Your choice of food keeps you energized throughout the day. So, make sure you read this article to the end and find everything you need to know about Food in Everest base camp.
Breakfast During Everest Base Camp Trek
Breakfast is not actually very important for Nepalese. They mostly have a cup of tea for breakfast and quickly have lunch. However, there's a good choice of breakfast for the tourist along the trail. For breakfast Everest Base Camp food, we recommend a large intake of warm fluid. Tea and coffee are served to the guest along with other solid food.
Oatmeal: Oatmeals served with milk and fruit are a very good option.
Bread: Also, you can get bread/ toast that is given with Jam, Honey, and Butter.
Chapatti: You can also have Chapatti Roti which goes quite well in omelets.
Pancakes: Chocolate/ Plain and many other types of Pancake are served with vegetable curry and fresh juice.
Omelet: Boiled, fried, and scrambled eggs are served in the guest house.
Paratha: This Everest Indian Food is absolute yum.
Potato: Boiled, mashed, and fried potato.
What you will get in lunch in Everest Base Camp Trek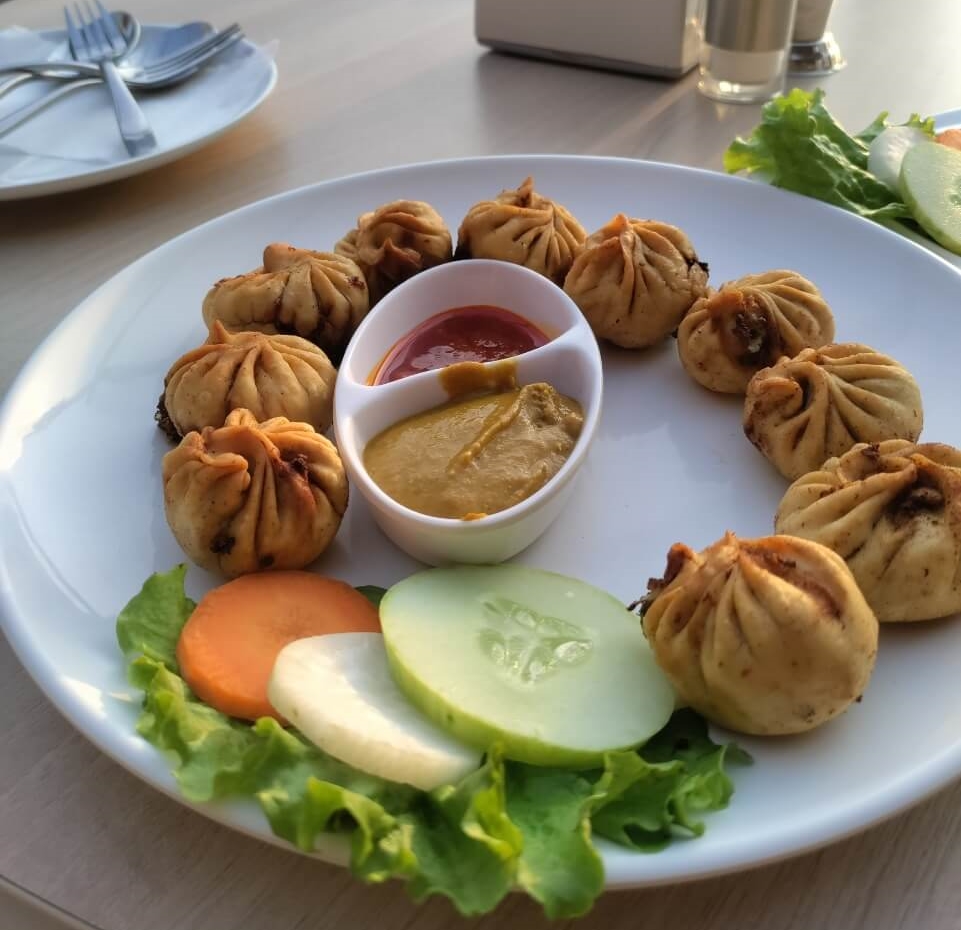 Lunch is the carb-rich food that keeps you energized all day for the walk. Whole grain is recommended during the trek and lunch is served between 12 noon to 1:00 pm at the hotel at Everest along the way. Here's the list of lunch Food in Everest base camp.
Rice Meals: Along with veg and non-veg Nepalese Dal Bhat, there's an option for rice with curry and different kinds of fry rice.
Noodles: Fried and soup noodles are available.
Momo (Dumplings): Nepalese Everest mo: mo is a very popular local food and comes in different flavors i.e. Steam, Veg, Cheese, Potato, etc.
Pasta and Macaroni:

 

All kinds of plain and flavored pasta and macaroni are a good option for dinner.
Pizza:

 

Chicken/ Mushroom/ Mix.
Sandwiches:

 

Cheese/egg/ tomato/ tuna sandwich.
Spaghetti:

 

There are many other options on the menu, but these are the most popular ones.
Burger:

 

Everest burger is also a good choice for the trek.
Read Everest Base Camp Trek Cost.
Dinner During Everest Base Camp Trekking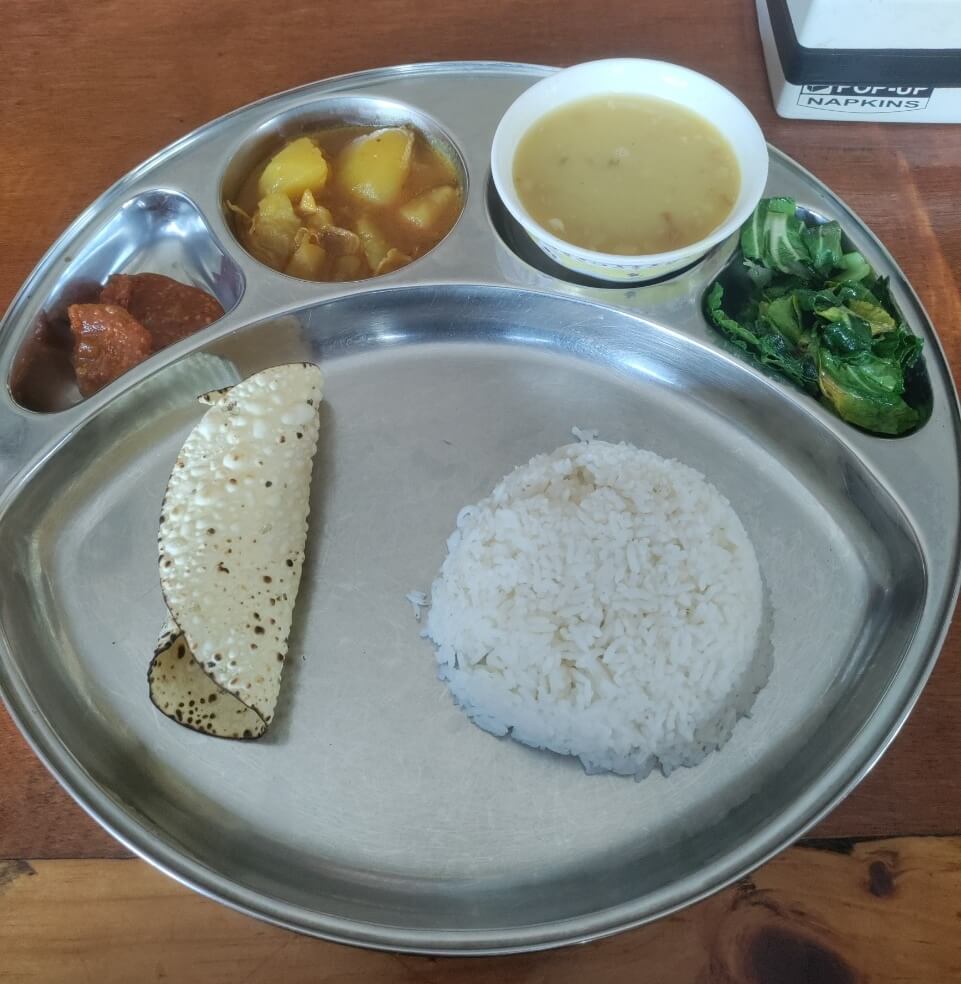 The Mount Everest restaurant during the Everest base camp trekking is served at your tea house between 7:30 pm to 8:00 pm. Dinner is provided as per the menu available in the lodge and includes similar items as in Menu.
Dessert: Note that different kind of desserts like Apple pudding, rice pudding, chocolates, and ice cream is available during the trek.
Best Food and beverages in Everest Trek
Without the slightest doubt, the traditional Nepalese Dal, Bhat, Tarkari is the Best Food in Everest base camp. The plate has a combination of boiled rice and lentil soup. Then, there are different mixed vegetables and spicy tomatoes. You might also get curd or papad with this buffet set.
Local Food on Everest Base Camp Trek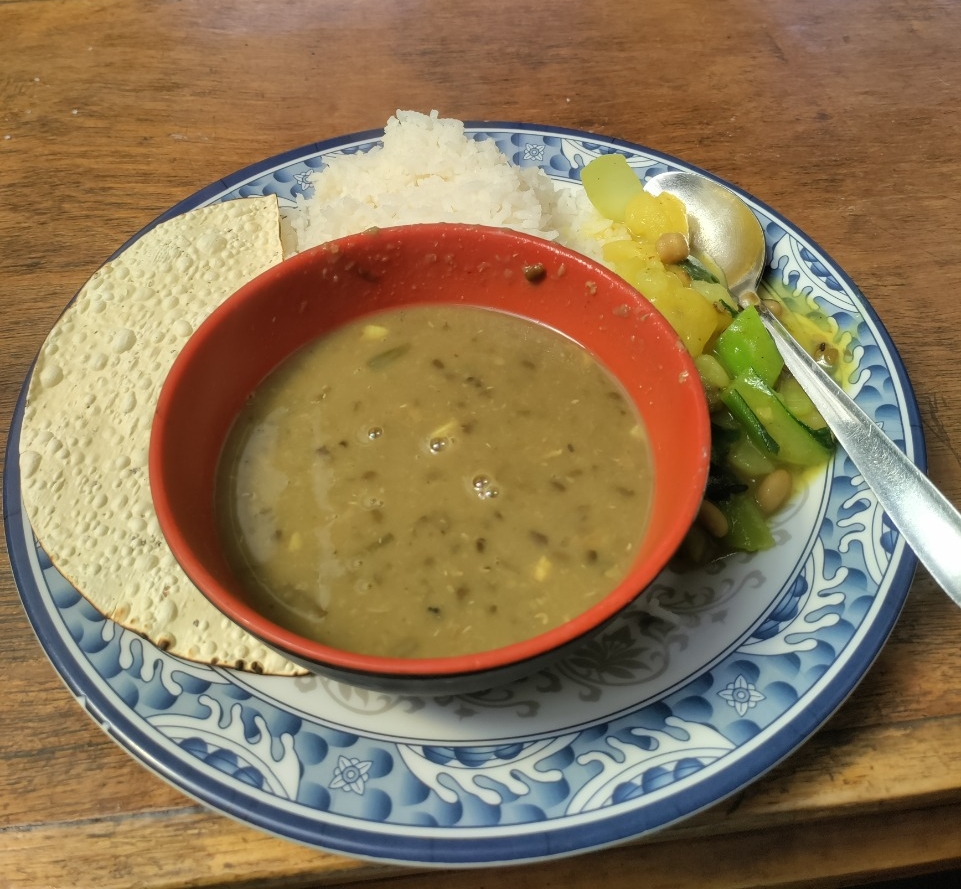 As we have mentioned, there's a great option for international cuisine on for food on Everest Base Camp Trek. However, we suggest that you should try the local food of Everest that isn't found in any other places in the world. Tsampa, Riki Kur (potato pancakes), and Tibetan Bread for breakfast are fulfilling.
Veg Shakpa (Sherpa Stew), Veg Thukpa (noodle soup), Tmomo, and Rildhuk (soup with potato lumps) are great for lunch and dinner. However, these local products are not available on the menu. You can make a special request to the chef and many even learn to make some Food in Everest base camp.
Related article : Permit For Everest Trek
Water In Everest Base Camp Trekking
Keeping yourself hydrated during the Everest base camp trek is very important and one must drink 3 to 4 liters of water each day. Bottled water is easily available throughout the trekking trail in Mount Everest restaurant and you shouldn't be worrying about the water. However, buying 4 bottles of water per person (each bottle cost $2 to $3) adds a big sum to your Everest base camp trek cost.
Thus, we recommend that you carry your own water bottle and refill it at hotels with natural taps. Although the water from the Natural taps of the forest looks quite clean, it makes you sick quickly. Thus, you must purify the water before direct consumption.
Purification: Many purification tablets are available at a very cheap rate. For regular trekkers, we recommend buying Steripen Ultra which treats 1 liter of water in 90 seconds to make it completely germ-free. Other techniques such as Lifestraw and Water-to-go are also used by some travelers.
Vegan Diet Everest Base Camp Trek Food
Rest assured, a vegan will survive well during the Everest base camp trek. There are only a few vegan restaurants in Kathmandu, Lukla, and Namche Bazaar. Beyond that, there might be no vegan restaurant on Mount Everest. However, the tea house themselves serve a special diet for the vegan. You can request to replace regular animal products with a plant-based diet and they will make the changes.
Even the menu has Chapati, Oat porridge, and fried, or mashed potato for breakfast. For lunch and dinner, there's Nepalese Dal Bhat. Other good options for nutrition are soups, fried rice, veg noodles, potatoes, momos, pasta with tomato sauce, etc. Also, there are Tsampa, Tibetan Bread, Shakpa, Thukpa, etc. Everest Indian Food has a lot of vegan options.
Useful Tips: Veg are suggested to bring snacks from their home country as they might not find the proper choice. Also, make sure that you inform the staff that you are vegan and request not to add any animal-based products. Himalayan master's guide will assist you with this hassle.
Bringing Your Own Food and beverages in Everest Trek
Theoretically, there's no need at all. Since Everest base camp is a very developed trekking trail, the tea house has almost everything you need. You can buy snacks, drinks, chocolate, etc on the trail itself. However, the cost of Food in Everest base camp is very expensive at a higher altitude.
The price of almost all food products is 2-4 times higher than that of Kathmandu. Right from Lukla, the price starts to go up. So, it's wise of you to pack non-perishable snacks from your home country or Lukla. If you prefer the product of a specific brand, get them from your home (even Kathmandu doesn't have brands of all kinds).
Moreover, if you are living on some kind of restricted diet or facing any kind of health issues, you can bring your own food. Or you can specially ask the Mount Everest restaurant owner what you need to eat. They might even allow you to cook your meal for some additional charges. If you are able to communicate well, it's not very hard to convince the chef. Nepalese are known for their rich hospitality.
Chocolate bars
Canned Juice
Energy drinks
Instant oats
Instant Coffee
Noodles
Cookies
Chips and other snacks
Drinks beverages In Everest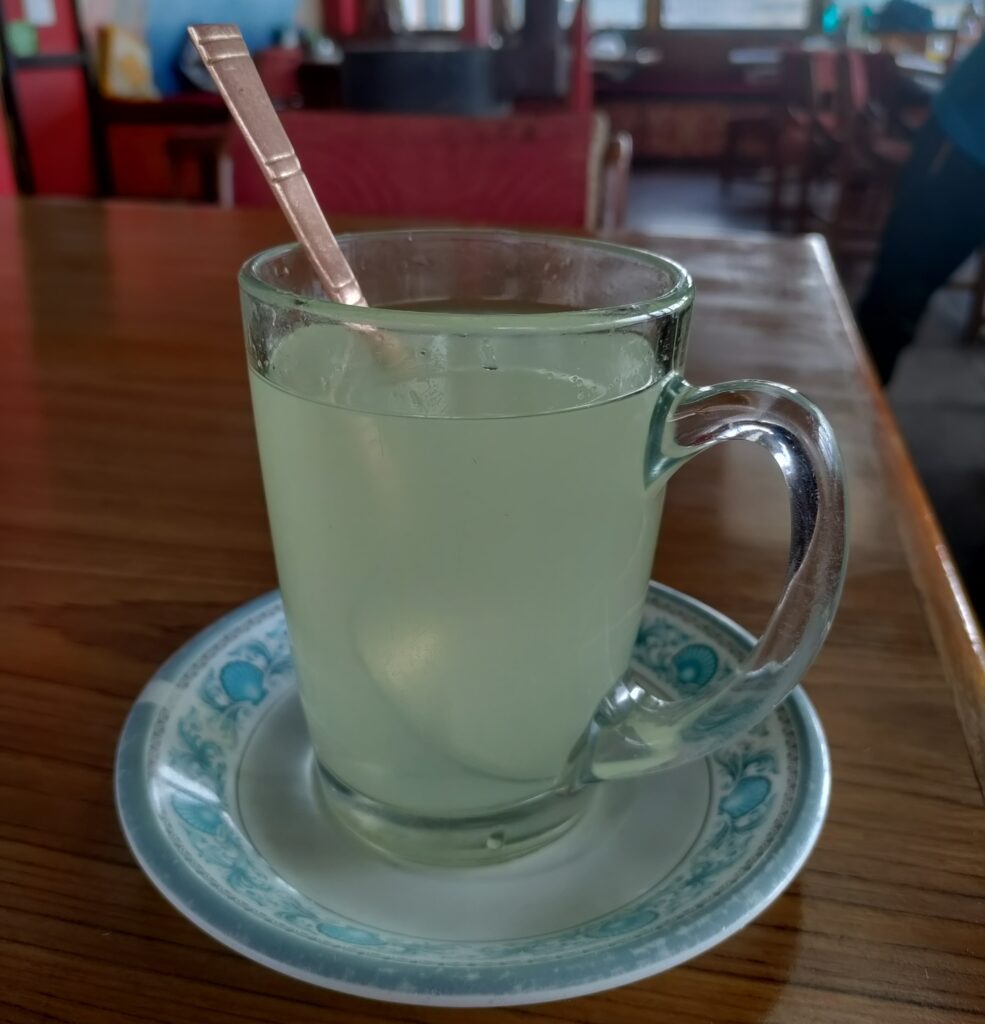 Obviously, there's tea and coffee served in all tea houses on Everest and hotels along the way. Up to Dingboche, there's a coffee machine that makes Cappuccino, Americano, and Cafe Latte. Beyond that, you will get simple milk coffee in Mt Everest restaurant.
Hot drinks like hot lemon, garlic honey, hot juice, and hot chocolate are highly recommended during the Everest base camp luxury trek. These drinks keep you warm and energetic. In the daytime, you can have cold drinks and cold coffee.
Alcoholic beverages in Everest are not recommended. However, once you complete the trek, you can celebrate the victory. In Namche Bazaar and Lukla, there are many bars and pubs for the celebration. Even after that, you can have drinks in the tea houses. You can get Beer, Rum. Vodka, and Whiskey.
Moreover, while you are trekking in Khumbu, we recommend you have the local Chaang with a sweet rice beer. You can also try local raksi. These local drinks are extremely cheap and strong, but not very healthy. The choice is yours.
Food For Altitude Sickness
As Food in Everest base camp determines your health during the trek, choosing the right kinds of food helps you overcome the risk of altitude sickness. This means you should have food that is high in carbs and fluid in one of the Mt Everest restaurants. Here's what your diet should focus on
Food that is rich in carbohydrates uses less oxygen for metabolism and also reduces fatigue. This is why people have energy bars, sports drinks, dry fruits, and nuts. Everest Indian Food with low fat is also good at carbs.
Liquid food: As people quickly get dehydrated at higher altitudes, you must have 4l of liquid each day. Along with water, soup, juice, and tea is also a good choice.
Garlic soup: It has salt and warm water for acclimatization.
Beetroot/ Nitrate rich food: These foods have been shown to help with acclimatization and are an important Mount Everest cuisine
Food To Avoid
Alcohol: Obviously, alcohol is the biggest reason for dehydration, thus the food with the highest risk of altitude sickness
Caffeine: Too much caffeine isn't doing any good to your body
Meat: Better not to have meat above Namche even though there are a lot of meat options in Mount Everest cuisine
How Much Does It Cost To Budget For Everest Base Camp?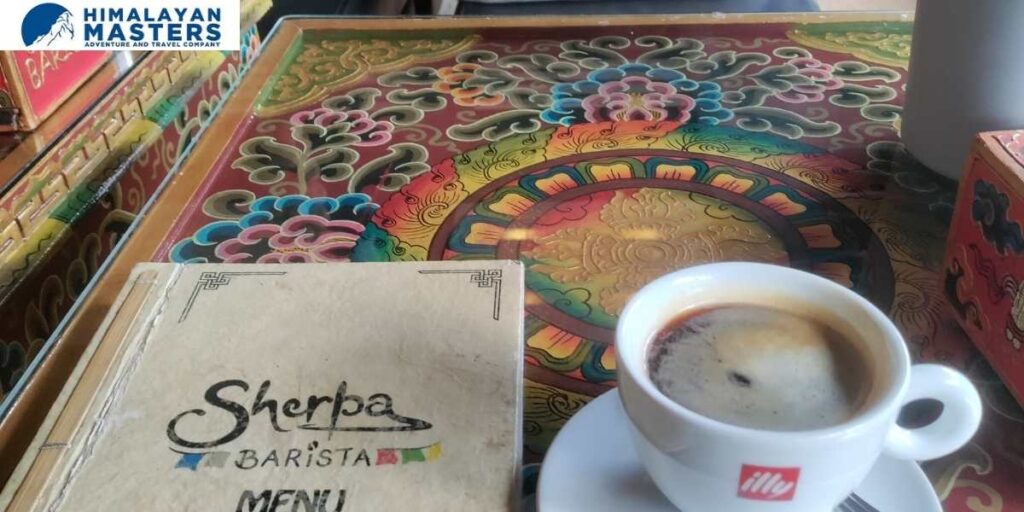 Food actually covers a large portion of independent trekkers' Everest base camp trek cost. However, since all three meals of the day are covered in the Everest trek package by Himalayan masters, you are on the safe side. The food cost in Lukla is already 2-3 times higher than that of Kathmandu. And as your start gaining altitudes, the cost keeps on increasing.
The cost of breakfast ranges from $5 to $9. Tea and coffee cost between $1.5 to $3 per cup. Similarly, lunch and dinner come somewhere between $6 to $9. Dessert is about $7 and that soup is about $4. A bottle of can beer (650ml) cost about $8 and Vodka (quarter) cost about $7.
Yes, we get that the cost of food is quite high, but since every item has to be transported from Kathmandu, the price is reasonable. The Food in the Everest base camp is usually taken to Lukla on a flight and carried to the respective location by the mule or the porter. At the same altitude, the menu is similar in all hotels on Everest routes as the standard price has been set by the trekking committee.
Summing it all up, the cost of Everest base camp food cost ranges from $30 to $50 per day depending on how you eat. This is higher than other trekking regions like Annapurna and Langtang trek, and Manaslu circuit trek. If you opt for the less popular trekking routes in Nepal, the cost will be a bit low.  Here's the menu of different places along the Everest base camp trek, and if you want to explore Everest in one day Everest base camp helicopter tour is the best option and if you do Everest heli tour you can try breakfast and lunch in the Everest View hotel.
Know more about the Manaslu Trek cost
Food At Various Places along the Everest Base Camp Trek
Food In Kathmandu
Kathmandu is the starting and ending point of our Everest base camp and gokyo lake trek.  or Three Passes Trek are many luxurious five-star hotels in Thamel and also many budget hotels that serve awesome food. The food cost in Kathmandu is usually not included in the trek package and you can have anything you wish, whenever you want.
The cost of food in a budget restaurant in Kathmandu is very cheap i.e. about $3 to $5 for the full course meal. Also, there is an unlimited option for Nepalese and international cuisine depending on where you eat.
Food in Lukla
Lukla is your very first stop during the Everest base camp trek. Lukla has great hotels and the guest house has the finest serving of Nepalese and Western cuisine. The food is flown by Lukla air and the food here is quite cheap as compared to base camp. Lukla has some great Mount Everest restaurants.
Know more about food in the Kanchenjunga trek 
Food in Phakding
Your first's night stop during the trek is Phakding. The village also has luxury hotels and a very good option for food.
Food in Namche Bazzar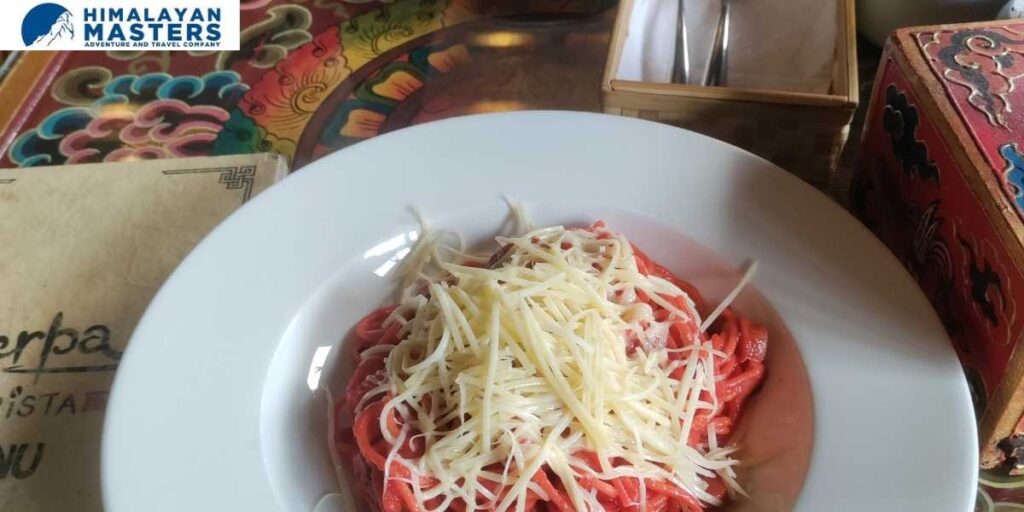 Namche Bazaar is the largest settlement in the area where you stay for two nights (one for acclimatization). Namche has luxury hotels and unbelievable restaurants, pubs, bars, cafes, and a bakery. You are never out of quality food and drinks in Namche. It's also a great place to try Yak cheese and local wine.
Food in Tengboche
From Tengboche, the tea house starts to become quite basic and the price of food starts to increase. Also, the option for international cuisine on the Everest Food and beverages menu shrinks greatly.
Food in Dingboche
Dingboche is also a big settlement where Himalayan master trekkers stop for acclimatization. Here, you can get some food facilities that include "dal Bhat". There are other great options on the menu but the price is high.
Food in Lobuche
The tea houses in Lobuche prepare some great food but most of the items are carried from the lower region and might not be well-refrigerated.
Food in Gorakshep
Gorakshep, the final human settlement before Everest base camp has only a handful of basic accommodation. Since it's also the highest point, the option for food is quite basic. Although there's some international cuisine on the menu, we suggest going for Nepalese food i.e. Dal Bhat. A heating kitchen and warm food on such a remote mountain is already a blessing, don't expect more.
Everest Base Camp Food Cost For Nepalese
$8 for Dal Bhat and $9 for hashed brown potato is a very high cost for Nepalese. However, the cost for foreigners and Nepalese is the same and it can sometimes be unaffordable. You can try bargaining with the tea house owner for some discount and also ask them to wave off your room charges. With good negotiating skills, you can get some impressive discounts. However, be prepared to pay above Npr 2,000 per day for food only.
Related article: Everest Base camp trek cost
Frequently Asked Questions
1. Is meat available along the trek?
Yes, various meat items are available throughout the trek. For all food available, from pizza to soup, there's an option for the meat item. However, since chickens or goats are not raised at such height, all meat items are brought from the lower altitude and this might take a couple of days. Also, it might not be refrigerated properly thus, not a very good option on Everest Food and beverages.
2. Is the food served fresh?
Up to Namche, the Food in Everest base camp are usually fresh. In the lower region, people grow vegetables and cereals on their farms, thus serving very fresh food. However, once you move to a higher altitude, the arid landscape doesn't allow farmers to grow the vegetable. So, they carry everything including potatoes, cereals, and vegetables. This makes all food served at a higher altitude of Everest base camp a few days old. However, that's not a very long time and the food usually remains fresh.
3. At what time is the meal served?
Breakfast is often served between 7 to 9 am. Since it's advised to start the trek early in the morning, breakfast is served quite early. We enjoy lunch while we are on the trek between 11 to 1 pm. The time depends on when you reach the destination. The dinner is mostly between 7 to 8 pm in the evening.
4. Can I learn to cook some Nepalese cuisine during the trek?
Well, no restaurant specializes to teach you to make this food. However, you can join the chef in the kitchen and watch him/ her cook Nepalese food. As long as you can communicate well, learning to make Nepalese cuisine is not a big deal.
5. Is the compulsory to eat where you stay on the Everest base camp trek?
Yes, as per the trekker's policy, you must eat Everest Food and beverages where you decide to stay. If you skip dinner and breakfast at the tea house, they will charge you around USD 15-20 for the room. It's the same room that would have cost $5 if you have the food inside the hotel. You can have lunch anywhere between the trails.
6. How prepares the food in the tea house?
The local cook or tea house owner themselves prepare the food. Beyond Namche, there will not be any trained chef in the Kitchen. The local chef is experienced in making delicious Nepalese cuisine but the taste of international food might not be as expected.
Conclusions
The food in Everest Base Camp Trek adds fun to your pleasing journey. The yummy Nepalese food prepared from different Himalayan herbs will leave you quite impressed and you will definitely miss this food in the future. Just make sure that you try every new food on the menu, and in this trail you can enjoy your food with everest view.
Want Himalayan masters to plan your Everest base camp trek or? Fill out our booking form here and we will be more than happy to receive you.
UNSURE WHERE TO GO? WE CAN HELP
Based on your preferences, location, timeframe, and budget, our team can design your dream trek based on our extensive knowledge and experience of the Himalayas. Get in touch with us for detailed information and assistance planning your dream trek. With our 97% success rate on trekking and climbing trips in 2022 and 2023 spring season, we will answer any questions you may have and guide you for an unforgettable experience.