TRIP DURATION

1 Days
MAX. ALTITUDE

5555 meters
TRIP GRADE

Easy
BEST SEASON

12 months a year
MEALS

Brekfas
COMMUNICATION

Local sim card
Everest Base Camp Helicopter Tour
Mount Everest at 8848 meters is the world's highest point. Nothing in the world gets higher than that. Now imagine flying above the mountain and landing right at the base camp of Everest.
You can imagine being surrounded by mountains in all directions and standing under the lap of the World's tallest mountain. Sounds magical, doesn't it?
This Everest base camp helicopter tour must be the most exciting journey that anyone can ever endeavour. It would take you to the Everest region in less than an hour from Kathmandu. You will be landing at not one but many stunning viewpoints along with Everest.
Whether it be the magnificent panorama from Kala Patthar or the luxurious breakfast at Everest View Hotel, no stone is left unturned. Everest from 5,455 meters above sea level is the world's best view. For anyone wondering, how to reach Everest Base Camp without having to set a painful trek of almost two weeks, the Everest Base Camp helicopter tour is a big blessing.
Everest Base Camp Helicopter Tour Highlights
Unbelievable views of the Himalayan range and many other peaks during the adventurous mountain flight.
Visiting the classic Sherpa villages and learning about their lifestyle while landing at Lukla and Periche
Landing at Kala Patthar, the best viewpoint for Mount Everest and other peaks around Khumbu,
Dramatic flights above the glacier, river falls, and ice-falls
An aerial view of the stunning subtropical highlands and alpine grassland of Nepal.
A warm breakfast at Everest View Hotel with a panorama of the mountain
Optional stops at Namche Bazaar, an old trading town in; Tengboche ( visit to monasteries); and Phakding
How Does Everest Base Camp Heli Tour Operate?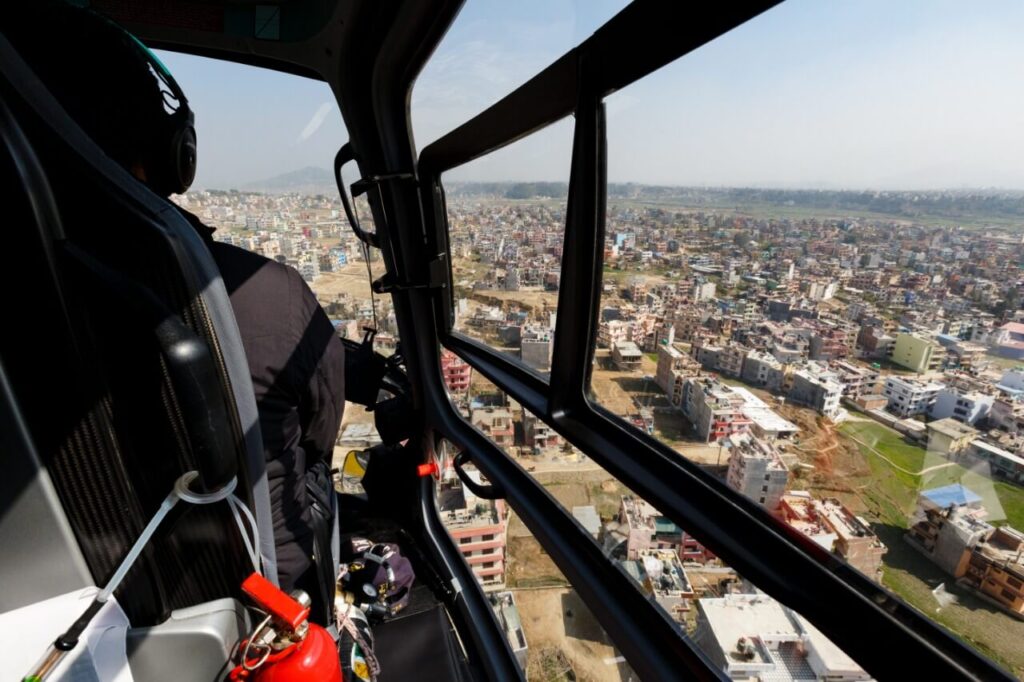 This awesome helicopter tour to the Mount Everest base camp commences early in the morning from Kathmandu. Our Himalayan master's team staff will pick you up right at the hotel gate and drop you at the airport in a private vehicle. Then, there will be some paperwork that needs to be completed under the guidance of our team. After that, we fly towards Lukla.
In less than 30 minutes, you will be stopped at Lukla airport. While the plane refuels and re-arranges its crew, you can visit the nearby places in Lukla. Then, the plane flies over villages such as Phakding, Namche, Tengboche, and Gorakshep. Since this is the route used by the trekkers, you can see the entire Everest Base Camp route from the comfort of your hotel room.
As per your group number, we might have to land at Pheriche to adjust the team size. Soon, you will be flying over to the Everest Base Camp. Everest Base Camp is the hub of mountaineers and trek enthusiasts from all around the world. However, since the view from Everest Base Camp is very steep (unclear) we do not land here.
Instead, we land at a close-by viewpoint which is called Kala Patthar. After amazing photos at Kala Patthar, we fly for 10-12 mins and land at the helipad of Hotel Everest View. After breakfast here, we again get back to the helicopter and fly for another 30mins towards Kathmandu (Sometimes landing at Lukla for refuelling).
Landing in Kathmandu, a team member drives you back to the hotel in a luxury car. Then, you can get to your upcoming destination.
Trip Facts Of Everest Base Camp Helicopter Tour
Ground time: 20 min (Lukla); 10 min (Kala Patthar); 30 mins to 1 hour (Hotel Everest View)-1:30 hours in total
Tour starting point: Tribhuwan International Airport, Kathmandu or any other point in the Everest region upon special request.
Tour ending point: Tribhuwan International Airport, Kathmandu or any other point in the Everest region upon special request.
Breakpoints: Lukla airport, Kala Patthar, Hotel Everest View
Highest altitude: 5550 meters (Kala Patthar)
Lowest altitude: 1400 meters (Kathmandu Airport).
Tour grade: Luxury Heli tour of Nepal
Group size: 1 to 5 passengers per helicopter.
Weight limit: 500 kg (up to Lukla) and 240 kg above that
Where Can You Start The Everest Base Camp Helicopter Tour?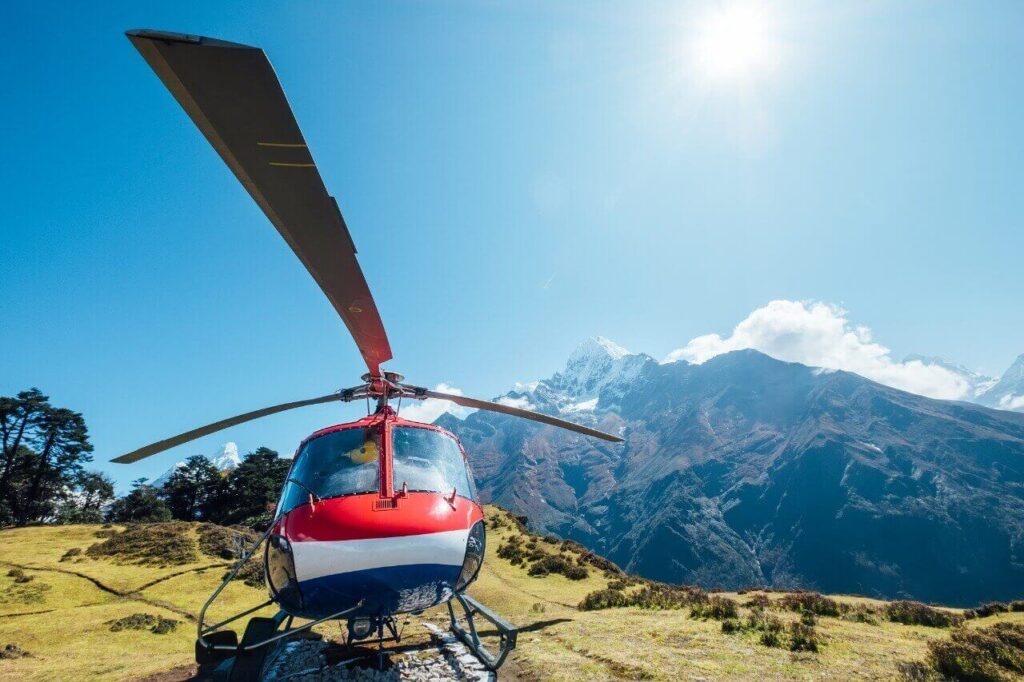 Everest Base Camp Helicopter Tour from Kathmandu:
This is the easiest and most popular option for the tour. The Everest Base Camp helicopter tour from Kathmandu takes you to the east on the beautiful lush hills of Nagarkot. Then you fly beyond the Jiri village with the amazing views of Ganesh Himal, Langtang range, and Gaurishankar before you.
Finally, we fly beyond the Highlands of Solukhumbu and land at Lukla. After flying above Everest, we land at Kala Patthar and Everest View hotel before getting back to Kathmandu. And since we also drive you back to your hotels, there's literally nothing to worry about.
Everest Base Camp Helicopter tour from Lukla:
This is a perfect tour if you are looking for a cheaper package and also seeking a calm stay in mountains. You can first fly to Lukla in a domestic plane and then spend some moments here before flying to Everest Base Camp. Lukla to Everest Base Camp Helicopter price is also very low due to the shorter distance.
Helicopter flights to and from Gokyo- Ri:
The beauty of Everest Base Camp is already familiar to the world. However, do you know about Gokyo Valley- an unrated Sherpa village hidden in the mountains that has an even better view? The five pristine Lakes of the Gokyo are absolutely breathtaking. Gokyo-Ri is one of the highest viewpoints of dozens of peaks in the mountain region.
So, if you looking for some raw adventure, we insist that you fly to Gokyo-Ri. The flight to Gokyo-Ri moves further North from the Everest Base Camp to Gokyo Valley and then to the hill nearby. After a round trip to Mount Everest by Helicopter, we get back to Lukla and then Kathmandu. The overall trip will almost be 5 hours long.
Helicopter flight to and from Namche:
Most trekkers find it delightful to trek to the magnificent Namche. However, the trek then starts to feel difficult and some people also catch altitude sickness. In such a case, we can fly you back to Kathmandu. However, the best offer from Himalayan Masters is to pick you up from Namche and then fly to the Everest base camp, Kala Patthar, and Everest view hotel before getting to Kathmandu.
Helicopter flight from Gorakshep (Everest Base Camp):
Sometimes, the trekkers to EBC want to return directly to Kathmandu on a tourist bus. In that case, we provide quick pick-up from Gorakshep to Kathmandu. If you will, we fly you to Kala Patthar for the Everest Panorama view and then fly you back to Kathmandu. This journey is about 151 km and takes about 90 minutes.
Helicopter flights from Dingboche:
If needed, we also lunch private helicopter flights to Everest from Dingboche. Dingboche to Lukla is about a 15-20 mins flight. If we fly directly to Dingboche, this will be about 144 km of flight and takes almost 65 minutes.
Helicopter flight from Tengboche:
Tengboche is often the endpoint of the Everest View trek or other short treks in the Everest region. If you wish to fly from Tengboche to Everest Base Camp, we will make the arrangements within minutes. As per your request, you can either fly to Lukla or Kathmandu as well.
ITINERAY
Day 01: Helicopter Tour Itinerary
6: 00 am: Pick up from the hotel
A driver will be waiting to pick you up at your hotel gate in the early morning. The pick-up service is available from any place around Kathmandu valley.
6:30 am: Get to the airport
In the morning, the streets of Kathmandu see very little traffic. From Thamel, we reach the domestic terminal of the airport in less than 25 minutes. Driving from Bhaktapur and Lalitpur might take a little longer. Our Everest Base Camp helicopter tour begins here.
6: 30 to 7:00 am: Paper works and arrangements
After getting to the airport, the guide will help us with the paper works in the airport. Then, we are taken to the take-off zone. The pilot will help us get in the helicopter safely and it's time for the Mount Everest Helicopter flight.
7: 00 am to 7:30 am: Take-off and fly to Lukla
We raise above the beautiful town of Kathmandu and fly towards the lush hills of Nagarkot. Further, we get to see the beautiful Jiri village before us. After a couple of minutes, you will be flying in the Solukhumbu, close to Everest. In less than 30 minutes, our flight lands at the Lukla airport helipad. It's a thrilling adventure to land right before the mountains.
7: 30 to 8:00 am: Re-fueling at Lukla
While the plane adds more fuel, we explore the market of Lukla and also capture some beautiful views of the mountains that appear before us. It's our chance to interact with the locals and observe the Sherpa lifestyle. Then, we start our Lukla to Everest Base Camp helicopter flight.
8:00 am to 8:30 am: Flying at Kala Patthar
From Lukla, we fly to Everest base camp via Namche. Below, you can see the popular routes of Everest and many trekkers along the way. The change in landscape is clearly visible and we fly right to the base camp. After a full circle in the base camp, the helicopter lands in Kala Patthar.
8: 30am to 8:45 am: Landing at Kala Patthar
While the helicopter lands at Kala Patthar, we enjoy the most spectacular mountain views. It's also the best place for video and photography.
8: 45am to 9:00 am: Fly to Everest View hotel
Tracing our way back, we fly above the Namche village and land our helicopter at the Everest View hotel.
9: 00 am to 9: 30am: Breakfast at Everest View hotel
Here, you can order any local, Chinese, Indian, or international breakfast of your choice and enjoy a delicious meal. The mountains appear far and small but are still spectacular.
9: 30 am to 10:00 am: Fly to Lukla
With the view of the alpine forest and rivers below us, we quickly fly to the Lukla airport.
10 am to 10:20 am: Re-fueling at Lukla
The plane again needs to stop for a few hours.
10: 20 am to 10: 50am: Fly to Kathmandu
On the same route, we fly to back the domestic terminal of the Tribhuwan International airport.
10:50 am to 11: 20 am: Transfer to the hotel
After landing at the airport, we wave farewell to the pilot and then hop into our car. The driver drops you back at the hotel in less than half an hour. Although the trip ends in a few hours, the memories of the journey will be with you forever.
useful info
Landing Points Of Everest Base Camp Helicopter Tour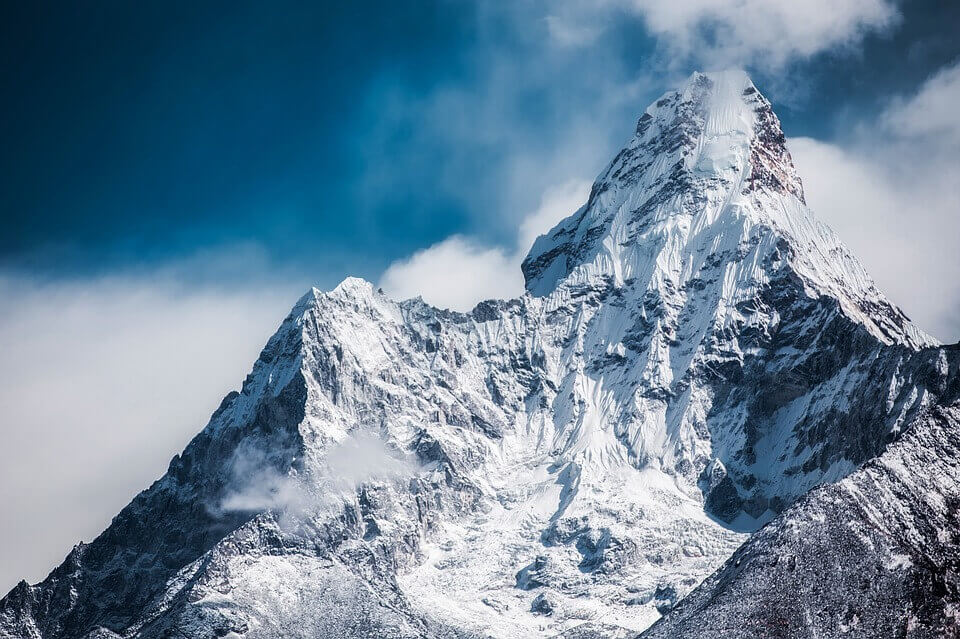 Firstly, you should know that the Everest Helicopter trip is not just about flying above the mountains. We actually land at many important places along the Khumbu region and give you infinite opportunities to feel the beauty of the mountains and take awesome photos. So, let's study some major destinations for landing during the Everest Base Camp Heli tour.
Lukla – First Landing
As we fly from the Kathmandu airport, we reach Lukla airport within 30 minutes. Located at 2680 meters, this Tenzing Hillary Airport is one of the most dangerously located air paths. However, the helicopter landing at Lukla is completely safe and thrilling. The plane stopped at Lukla for almost 20 minutes for refuelling.
Such a short stop at Lukla gives you an opportunity to control any hazardous misfortune in the vertical height. Also, you will have a chance to witness the major town of Khumbu and visit the Sherpa settlement during this Everest Helicopter tour.
Pheriche- Second Landing At Pheriche
Our next landing is done at Pheriche which is 4371 meters above sea level. If you are flying beyond Lukla with more than 3 passengers, we re-adjust the number at Pheriche. This is the time to re-adjust the weight and cool the engine while you visit the typical Sherpa village. The mountains appear far and clear from the viewpoint of Pheriche.
Note: After Pheriche, the plane will not have more than 3 people/ helicopter (weight limit of 240kgs)
Kala Patthar – Third Landing
After about 15mins of flights from Pheriche, we reach Kala Patthar. Kala Patthar in Nepali translates to "Black Rock" and remains the most beautiful viewpoint of Everest. Kala Patthar is itself a small peak that offers the most magical views of the glorious Everest, Nuptse, Cho Oyo, and many other nearby peaks. It's the best photogenic panorama of the snow-capped skyscraping mountains that mankind will ever witness.
Hotel Everest View – Fourth Landing
The best one is left for the last. From Kala Patthar we fly for about 20mins to Namche and then straight up to the Everest View hotel. This hotel at 3800 meters is regarded as the first luxurious hotel at the highest altitude in the world. Our Everest helicopter tour with landing stops at Everest View hotel for about 35 minutes.
Here, we get to enjoy the view of Mount Everest while sipping a warm cup of coffee. It's time to capture some beautiful photos and videos while also having a great breakfast. The comfort of such remote mountain terrain is itself a blessing. Make sure you enjoy most of it. After landing in the Everest Base Camp, we then fly back to Kathmandu and drive to the hotel.
Also Read:- Annapurna Base Camp Helicopter Tour
Types Of Everest Base Camp Helicopter Tour
Before you plan for this life-changing adventure, you should know that there are two options for this Everest helicopter tour with landing.
Group Joining
We suggest this option for a group of people of less than 3. If you are a solo traveller or travelling only with your partner, we will manage to join you in a new group. Since EBC Heli flights from Kathmandu are very frequent, we can easily fly you with another group. We make sure that there are five people on the plane, and the helicopter rental rate is paid equally by all members.
This is the cheapest and most affordable type of Everest helicopter tour with landing. However, you might not be comfortable joining a new group of unknowns. That's why we (Himalayan masters) have amazing deals for private EBC Heli tours.
Private Everest Base Camp Helicopter Tour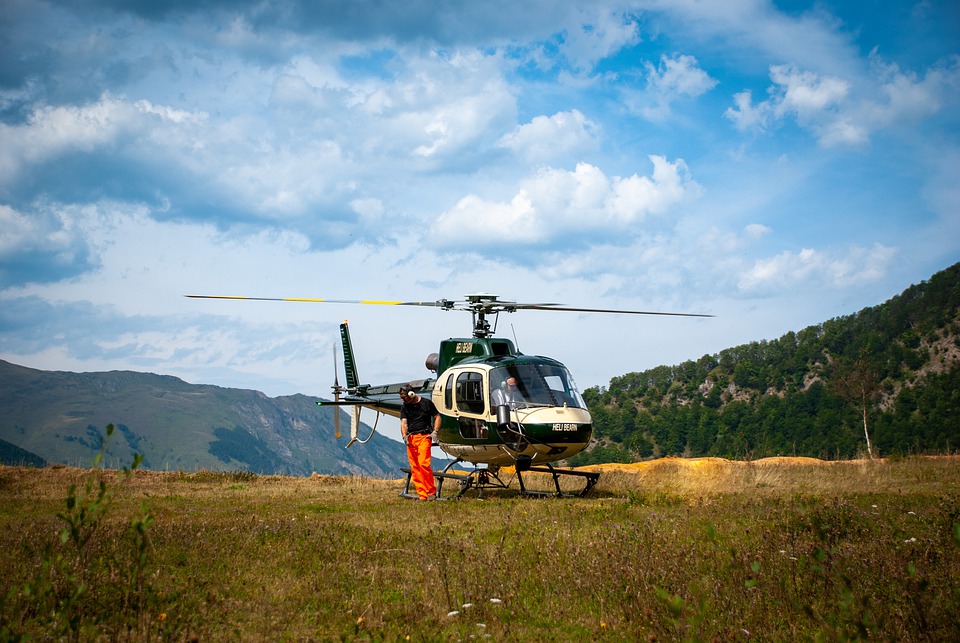 Private Everest base camp helicopter tour is the best tour to Mount Everest. This deluxe private helicopter tour gives you an unforgettable memory of a lifetime and exciting adventures in the Nepalese Himalayas. A private helicopter ride to Everest converts the dream of nature lovers into reality with the best panoramic views of the towering mountains and Everest Himalayan ranges.
Book the private deluxe helicopter tour to Everest in advance for 2022, 2023, and upcoming years. With the reasonable cost and customizable itinerary, you will be able to step foot in Everest highlands (Kala Patthar) with your own friends and family.
Note: Our detailed itinerary for the Everest helicopter tour with landing includes 10 to 15 minutes of ground time at Kala Patthar. As this is a private tour and we are fully flexible for customization, you can increase the time for enjoyment as per your wish. You can also land in other viewpoints and monasteries as per your will.
Why Everest Private Helicopter Tour?
For the larger group of friends and family, we have a special Everest base camp package. While the entire Helicopter to Everest Base Camp is a luxurious journey, this private tour takes the luxury to a whole new level. You can travel only with your circle and people you are comfortable with.
The private Helicopter to Everest Base Camp is appropriate when you have a specific purpose like spending quality time with your loved ones or celebrating special days such as a marriage anniversary and birthday. Or if you want to make a great impression and propose to your loved ones, what could be a better place than the top of the world?
We even arrange cakes and champagne at 5644.50 meters to make your special day even more special. We even have great offers for couples on Valentine's Day, Christmas, and New Year. Or, maybe you are just looking for some surprise gifts for your friends and family. It's a great plan.
The other reasons for a private Helicopter to Everest Base Camp are: 
Fly anytime you wish throughout the year
Stop at other viewpoints you want to witness
Lengthen the landing time and give a new twist to your short flight
A relaxing hassle-free journey
For a healthy, spacious, and safe tour with the assigned pilots
Enjoying the great views from the front and window seats
Also Read: Langtang Valley Trek In Nepal
Helicopter Flight During A Short Stay/ Transit
This tour from Helicopter to Everest is a short and rewarding replacement for the prodigious Everest Base Camp trek which takes about two weeks. It's ideal for anyone who will be staying in Nepal for a really short time. This helicopter tour in Nepal is ideal for travellers who have been in transit in Kathmandu.
Especially for the people who are travelling travel to Tibet or Bhutan stay in Nepal for a day. Or for anyone coming to South Asia for a meeting and conference, this Everest Base camp helicopter tour is a game-changer.
Why Pick Himalayan Master's Everest Helicopter Tour?
Nepal has many Nepal tour agencies operated throughout the country. Among them, only a handful has been able to stand exceptional for their excellent service and dedication. Not every travel agency you book will be able to arrange a safe and reliable flight. So make sure that you have your Mount Everest Heli tour package booked from a travel agency like Himalayan masters that have been registered by the Nepal government. Our experienced team has been delivering exceptional service for more than a decade and has been trusted by many travellers all around the world.
Here's why you should book our Himalayan master's Helicopter to Everest Base Camp.
Highly experienced pilot-you will be flying in safe hands.
A very friendly and knowledgeable guide who will continuously inform you about the Everest Base Camp history, culture, and landscape.
A new helicopter with powerful engines
Helicopter equipment with an oxygen cylinder and first aid for emergency situations
quick and easy booking procedure.
Fixed departure dates and private flights taken throughout the year
Individualized and customized Itinerary as per your need
Flexible cancellation and postpone policy
Very reasonable Everest Base Camp helicopter tour price
Everest Base Camp Helicopter Tour Cost
Various prices for Everest Base Camp helicopter tours have been set for different tour types and categories. We have listed the price detail list here.
| | |
| --- | --- |
| Sharing/ Group Joining | Price |
| 1 person in the group | USD 1000 / per person |
| 2 people in the group | USD 1000/ per person |
| 3 people in the group | USD 1000/ per person |
| 4 people in the group | USD 900/ per person |
| 5 people in the group | USD 850/ per person |
Private Helicopter hiring cost for Everest
| | |
| --- | --- |
| Number of passengers in the helicopter | |
| 1 to 2 pax  (family/friends) | USD 3600 per Helicopter (Single shuttle) |
| 3 pax  (family/friends) | USD 3600 per Helicopter (Single shuttle) |
| 4 pax  (family/friends) | USD 3910 per Helicopter (Double shuttle) |
| 5 pax  (family/friends) | USD 4250 per Helicopter (Double shuttle) |
Every extra shuttle flight would cost $500 (if the maximum weight limit is exceeded).
How To Book An Everest Helicopter Tour?
Booking your helicopter to Everest Base Camp with Himalayan Masters is very safe and easy. People of all ages and nations can book our Everest Heli trip within minutes and move a step closer to making the best memory of their lives. So, let's learn how the booking is done.
You need to fill out our booking form here or send us an email.
Fill in all the information included in the form along with the total number of passengers and their names.
Mention the amount listed in the table above as per your tour type and passenger number (or you can mention the amount we discussed on the phone).
Make a payment and save the transaction details for future use. Then, you can follow up with us for more information.
If there is any confusion during the process, you can drop an email here. Or, you can contact us on Viber, Whatsapp, or WeChat at +977 9823636377 (24Hrs available). The Himalayan master's team is also available on Facebook.
Note: Read our privacy policy before you make the payment. 
Also, we appreciate it if you mail us your information prior to the booking so that we can send you special offers and discounts. If you send us the mail, we will also be able to manage the specialized Itinerary for the Mount Everest Helicopter Tour.
Rules For Cancellation And Postpone For Everest Helicopter Tour
Pre-booking can be done up to 15 days before arrival with the payment of 50% of the total helicopter cost. The remaining payment can be made after your arrival in Nepal.
Late booking can be made up to 12 hours before arrival with the payment of 100% of the total EBC helicopter cost.
Cancellation before 15 days of the trip can be subjected to a full refund. Cancellation after that is not refundable.
You can make free postpone up to 15-days prior to the trip. Postpone between 15 to 3 days before arrival is charged $100. Postpone cannot be made 72 hours before the Annapurna Base Camp helicopter flight. In that case, the tour will be cancelled without any refund of the Annapurna Helicopter tour cost.
Tour transfer of one or more group members can be done for free up to 3 days before the trip. Any transfer after that will be chargeable to a $100 fee.
Note: If the flight cannot be held due to natural disasters, bad weather, or any pandemic, we will postpone your flight to the nearest possible date without any charge. You can also cancel the trip if such news is confirmed 15-days prior to the trip. If the EBC flight has to be cancelled by the internal problem of Himalayan masters, we will refund or postpone your Mount Everest Helicopter tour as per your interest.
Things To Carry During Everest Base Camp Helicopter Tour
There is nothing much you need to carry during this short Mt. Everest helicopter tour. Since we mostly fly on a sunny morning, you will only need one down jacket, comfortable clothes, a bottle of water, and maybe some toiletries. Remember sunglasses, sunscreen, and other personal items. The extra camera and the mobile battery can be packed and carried as per your will. However, the most important things to carry are your passport, visa to Nepal, and proof of insurance.
Helicopter Model
Almost all helicopters used in Nepal for mountain flights are of the model B3. These double-engine helicopters are very strong to fly in the higher mountain region. Its Ariel 2D engine is known to carry passengers swiftly to a higher altitude. These helicopters have seats for 5 people and a weight limit of 2250kgs. With Himalayan masters, you can fly with full confidence.
Weather And Temperature
At 5000+m above sea level, the weather of Everest Three Passes is very unpredictable. However, we can differentiate the four climates of Everest based on temperature and precipitation. Information on weather in the mountains helps you plan a safe Mount Everest Helicopter Tour. So let's get started.
Autumn
Autumn in Nepal begins in September and ends in November. These are the warmest and calmest months for the trekkers. The temperature of Renjo La in September morning is about 10 °C, and that of Gokyo is about 6°C. September has about 13 rainfall days, and you should plan your trip accordingly.
Winter
Right after the blissful autumn, the harsh winter makes its way into the mountains. Climate during the Everest Three Passes Trek is the biggest challenge for winter trekkers. The temperature drops to -5°C during the nights in January. The mountains glitter with snow, and the overall scene looks amusing.
Summer 
Summer in Nepal, especially in eastern Nepal, is the time for rainfall. The pre-monsoon begins in late May with about ten days of rainfall. The climate of Gokyo marks precipitation of 227 mm in the month of July only. August is relatively dry with some post-monsoon rain. The average daytime temperature goes up to 15 °C, and the night temperature in Namche is about 6 °C. Most of the rainfall occurs in the evening, so you are safe.
Spring
This is another beautiful season for the trek with stable weather at Everest passes. The March Temperature at passes is about 3°C. However, as the spring becomes prominent, the surroundings become warm and the maximum temperature can go up to 10°C in May. The chances of rainfall in the Everest region are very less and one shouldn't worry about the precipitation. The wind speed is about 19km/ hr, which is not that big of a deal. The mountains are still covered with snow remaining from winter, but the sky is clear for the best views of the Mount Everest Helicopter Tour.
Himalayan masters have been loved and trusted for their amazing service and hospitality. We assure you that this Everest base camp helicopter tour is going to be the best adventure you endure. So, are you ready to set on this journey with us?  Contact us or You can send us an email or leave a mail here to know more about us.
FAQs
What is the highest altitude during EBC Helicopter Tour?
The flight starts from Kathmandu, located at an altitude of 1300m. Our first landing at Lukla will be at 2830M. The next high point is the Everest base camp at 5545 meters, but unfortunately, we do not land here. Thus, the highest point of this Mount Everest Helicopter tour can be claimed to be Kalapatthar which is at 5545m.
Is there any hidden cost during this flight?
Is Everest Helicopter tour safe?
Why can't we stay in Kalapatthar for long?
Is there an oxygen cylinder In the Helicopter?
What happens if you are a group of more than 5 people?
What happens if I can't fly due to bad weather?
Is there any limitation to booking the Everest Heli tour?
UNSURE WHERE TO GO? WE CAN HELP
Based on your preferences, location, timeframe, and budget, our team can design your dream trek based on our extensive knowledge and experience of the Himalayas. Get in touch with us for detailed information and assistance planning your dream trek. With our 97% success rate on trekking and climbing trips in 2022 and 2023 spring season, we will answer any questions you may have and guide you for an unforgettable experience.