Manaslu Circuit Trek is a newly emerging off-beaten trekking trail in Nepal. Situated in the central north of Nepal this trek circumference around Mount Manaslu, the World's 8th tallest mountain gives us a wonderful experience of Mountain trekking in Nepal. Despite being very exciting, the Manaslu circuit trek distance is also equally challenging and demanding.
This 14-day of walk in the Gorkha district of Nepal is about 180 km in total. Among 14 days, you will be walking only for twelve days while two days of the journey will be for the drive. This article is based on 14 days Manaslu Circuit trek Itinerary by Himalayan Masters.
Let's learn about Manaslu circuit distance in detail.
Manaslu Circuit trek route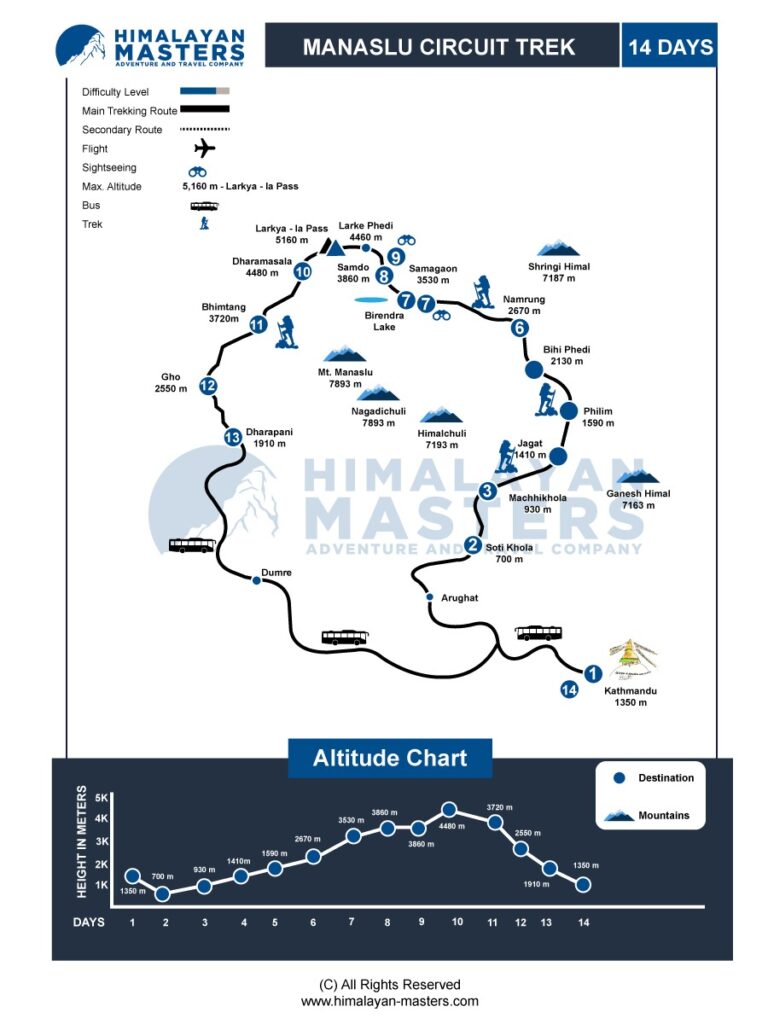 Full of exciting slopes and rocky edges, the Manaslu Circuit trek has a defined route to follow. From Kathmandu, a bus takes you to Soti Khola. This is where the trek to Machha Khola begins. Or, one might also get to Machha Khola in a jeep. From here, you move to the village of Jagat, Deng, and Namrung. A final push brings you to Samagaun where we visit the Manaslu Base Camp. Or, we might get to Gompa for some insight into Buddhist culture. Then, we walk down to Samdo to visit the Tibetan border. Then, it's all about walking down to Dharmasala. Here, we approach the most challenging part of the trek i.e. climbing to Larkya Pass before we reach Bhimtang. Walking down to Gho and Dharapani, we join the Annapurna Circuit Trek route. From Dharapani, we drive to Kathmandu.
This particular route has been used for the Manaslu circuit trek for more than two tickets. The journey takes you to the TSUM valley of Manaslu. A side trip to Manaslu adds 50 to 70 km to your classic Itinerary and makes your journey 21 days long.
Manaslu Circuit Trek Distance
1st day: Drive from Kathmandu to Soti Khola
First, we drive from Kathmandu to Pokhara and then head towards Arughat. Arughat Bazar (608m) is 138 km from Kathmandu. From here, we drive into Soti Khol which is only 13 km away. This total drive of 150kms is 7-9 hours long.
2nd day: Soti Khola to Machha Khola
As we start the trek, we walk for 14kms kilometres ( 9 miles) to Machha Khola. This walk for 6-7 hours from the ridge above the Budi Gandaki River is an exciting start to our trip.
3rd day: Machha Khola to Jagat
The distance from Machha Khola to Jagat is 22 kilometres with some very demanding uphill and downhill walks on the trail. It takes us 7 to 8 hours to get to Jagat as we also stop at Tatopani and ThadoBaryang.
4th day: Jagat to Deng
Now on, we trek into the Manaslu Conservation Area. After getting the permit at Jagat, we walk for 21 kilometres to Deng. With a stop at beautiful Ghatta Khola and Deng Khola, this is about 6 hours of walk.
5th day: Deng to Namrung
This is also another long day as we walk from Deng to Namrung which is about 19.4 kilometers of walk. It takes 5 to 6 hours for us to reach Namrung. The path involves steep climbing in the zigzag ridges.
6th day: Namrung to Lho
Now, the 6th day is rather calm and relaxing as we get to Lho in less than 4 hours from Namrung. It is about 11 kilometres of a walk along the Budhi Gandaki River and the sub-tropical forest.
Read about other Manaslu Trek Nepal.
7th day: Lho to Samagaon
It's an exciting day of walking from Samagaon to Lho which is about 18 km. If you want to extend your trip, you shall enjoy a calm walk to Shyala village. Here, we can see the Pungyen monastery and beautiful Chortens on the path to Samagaon.
8th day: Rest day at Samagaon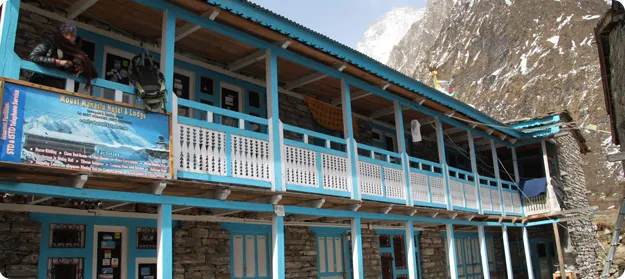 We might visit Manaslu Base camp which is a few km of walk from Samagaon. Or, we can visit it on the 9th day while walking to Samdo.
9th day: Samagaon to Samdo
On the 9th day of our Manaslu Circuit Trek, we walk for 17 kilometres to Samdo when we cross Manaslu Base Camp along the route. The walk over several suspension bridges and a forest of juniper is about 4 hours.
10th day: Samdo to Dharmasala
Today, we walk for 14kms from Samdo to Dharmasala. While some people also trek to Larkya Phedi, we stop at Dharmasala after about 4 hours of walking.
11th day: Dharmasala to Bimthang via Larkya Phedi
Today's the longest of our Manaslu Circuit trek distance. From Dharmasala, crossing Larkya Phedi and walking to Bimthang is about 24 kilometres. This entire journey is about 8 hours, and we reach Bimtang only at night.
12th day: Bimthang to Tilije
From Bimthang and Tilije, it is about 26 kilometres. Although the distance is long, the trail is mostly downhill and level, thus making it easy to walk. This is about 6 hour of walk to the famous Gurung village of Tilije.
 13th day: Tilije to Dharapani
It's a rather relaxing day as we walk about 8 kilometres from Dharapani to Tilije. This is about 3 hours of walk to the Annapurna Circuit trek starting point i.e. Dharapani. We can either stay at Dharapani or drive to Besisahar which takes about 5 hours on the bumpy hilly road.
14th-day: Dharapani to Kathmandu
Dharapani to Kathmandu is about 250kms the ride and takes about 10 hours. If we have already stayed at Besisahar the previous day, the ride to Kathmandu is only 186 kilometres i.e. 6 hours on the bank of the Trishuli river and terrace farms.
Tips to reduce the difficulty due to Manaslu Trek distance
The road network has started to go even beyond Soti Khola. So, If possible, you can drive for a long distance so that you have to climb less
The Himalayan Master's Manaslu Circuit trek Itinerary has been so designed that even when you walk slowly and rest along the way, you will reach the destination by evening. So, don't make your body rush and take your time to walk.
If you feel like covering the distance is impossible, you might change the Itinerary and stay in the tea houses that are available mid-way
Drive from Dharapani to Besishaar on the 13th day so that your final day will be more relaxed
Is Distance a Major Factor for Manaslu Circuit Trek Difficulty?
The trekkers often ask "How hard is the Manaslu Circuit trek?" The difficulty of the Manaslu trek has been a really big issue. However, you should know that this trek is moderately difficult.
Trekking 15 to 20 km each day for 6-7 hours isn't very pleasant, but as you walk slowly, savouring the beauty of nature fully; it becomes really relaxing. The most challenging part of the Manaslu trek is to cross Larkya Pass which stands at 5125 meters above sea level. This trek involves many uphill and downhill climbs including some walks on the steep and narrow ridges. Even then, with the right preparation, Manaslu Trek's difficulty is not a big issue.
Distance is obviously a big part of the Manaslu trek difficulty. However, they are many other things like altitude, weather, remoteness, accommodation of Manaslu, etc. that can make your trip hard. Distance becomes a big issue for the beginner trekker who isn't used to walking continuously for hours. And this is why the right preparation before the trip is necessary.
Conclusion
So that was all about the Manaslu trek distance we could cover. Do you want to know anything else about the Manaslu Circuit trek?
Then, drop a comment below or send an inquiry mail at himalayanmasters0@gmail.com