Tea house in the Manaslu Trek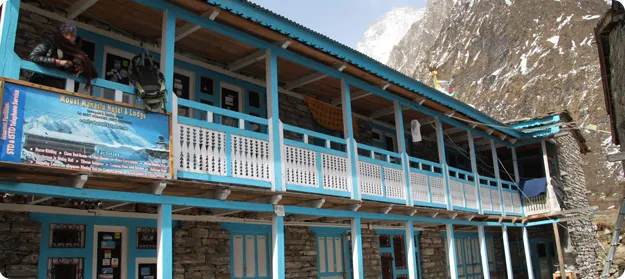 Trekking in the high Himalayan lands of Nepal means embracing the remoteness of the villages. You cannot plan to conquer the mountains and then demand to remain in the utmost luxury. The true beauty of this Manaslu Circuit trek lies within the unknown challenges faced along the way. And among many such challenges, you should know about Manaslu Trek accommodation.
Thankfully, the Manaslu circuit trek has recently been upgraded to a tea house trekking trail. This means you can now enjoy the rawness of mountains while comfortably staying in a guest house. Having a comfortable bed and warm food at such an altitude is already a blessing. And you should be glad to get such facilities in the difficult alpine landscape. This article is all about hotels in Manaslu and what you shall expect from them.
Another article for Food, Permit, and Cost of Manaslu trek is here.
What to expect from guest houses in Manaslu?
The small hotels along the Manaslu are run by the local people themselves. Earlier, the tea houses used to be tiny wooden houses with a room separated by wooden blocks. However, now there are pretty decent tea houses made with modern equipment. There's always a central dining hall that has a heating system and keeps the overall hotel warm. The food in Manaslu of your choice is served in this restaurant cum hotel. Trekkers get to eat while enjoying the fire.
Although small, the rooms are clean and comfortable. The rooms are provided on a sharing basis for two to three travellers (In special request, we can provide rooms with a solo facility). Here, you will be given a mattress, small blanket, pillow, and bed cover. The additional blanket is not available in peak season and we recommend everyone to bring their sleeping bags. There might be a tea table, chair, and mirror in some hotels in Manaslu, otherwise, the facility is pretty basic. Since the Nepal government marks Manaslu as a restricted region, make sure you have some trusted travel agencies in Nepal like Himalayan Masters. We help you get the best accommodation.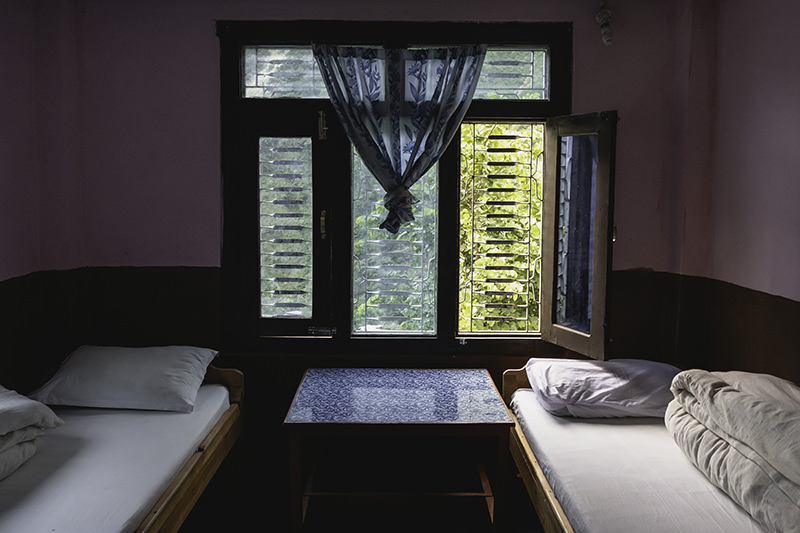 Bathroom: You cannot expect rooms with attached bathrooms during this Manaslu Circuit trek. Bathrooms in Hotel Manaslu are available on sharing basis. The newly build tea houses have western seats, otherwise, the bathroom is Indian Style. A hot water shower is available in almost all tea houses (except for Dharmasala) but costs an additional charge i.e $2 to $3.
Wi-Fi in Manaslu
Wi-Fi connection is available in all guest houses of Manaslu. Even while you are wandering in such remote land, you wouldn't be away from your family and loved ones. However, the speed of the internet in the Manaslu region is really slow and you cannot surf high-quality videos. Wi-Fi is only useful for some calls and texts. The cost of Wi-Fi also ranges from $1 to $3.
Electricity in Manaslu
Places at lower altitude like Soti Khola, Bhimthang, and Dharapani can have electricity plugs in the rooms. Otherwise, you need to charge your electric devices in the dining hall of Hotel Manaslu. The owner of the tea house in Manaslu or the person in reception will charge your phone. Even charging your device costs a few dollars- trekking in the Himalayas isn't cheap.
Note: The additional cost of the Manaslu trek for the hot shower, Wi-Fi, and electricity is often not covered by the Manaslu trek package. Do ask for these details with your travel agency in Nepal before making the bookings.
Manaslu Trek accommodation on the route
Hotels in Soti Khola: Soti Khola shall be your very first destination after driving away from Kathmandu. There are many guest houses in Soti Khola but the most popular ones are ABC guest house, Fulabari guest house, and Green Valley/ Tsum Valley Guest House.
Hotels in Maccha Khola: From Soti Khola, we move to Maccha Khola a small village in the Manaslu area. Here you can find four accommodations for Manaslu, namely Tsum Valley, Larkey, Everest, and Hilltop.
Hotels in Jagat: Jagat is a relatively big settlement in the area where tourists stop on the 4th night. Here, you can find a few guesthouses such as Jagat, Himalayan Tourist, Manaslu Santi, and Rubii Nala Guest House.
Hotels in Namrung: Namrung also has some impressive guest houses around Manaslu such as Namrung Thakali, Namrung Guesthouse, and Nubri Four season resort.
Hotels in Deng: After Jagat, you will be walking in the restricted area of Manaslu and you can find very limited guest houses in Manaslu. Nowadays, there are three guest houses in Deng i.e Windy Valley, New Manaslu, and Shangrila Cottage
Hotels in Lo: Only a few tourists stop at Lo before moving to Sama Gaun. The guest house of Lo is Majestic Manaslu, Tashi Dalek Guest House, Namaste Guest House, and Lama Guest House.
Read about other Manaslu Trek Nepal.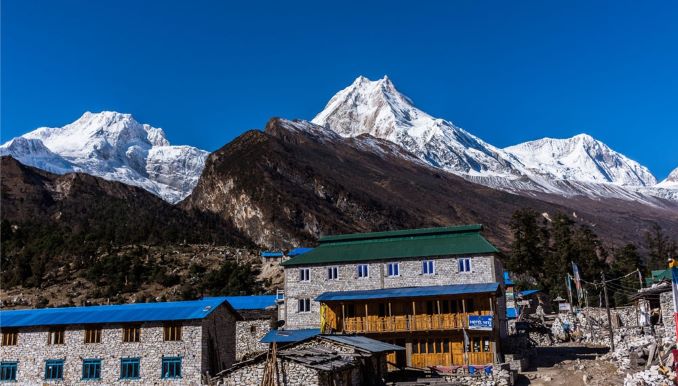 Hotels in Sama Gaun: This is one of the most important stops and a bigger settlement of the Manaslu. Sama Gaun has better facilities than Lo with more than half a dozen guest houses.
Hotel in Samdo: Samdo is a small village with three guest houses namely Yak Hotel, Tibetan Twin Hotel, and Jambala guest house. Even at Samdo, you can find Wi-Fi service.
Hotel in Dharmasala: Moving to the more remote lands of Manaslu i.e. towards the Larke Phedi, the Manaslu trek difficulty increases and you will only find a few guesthouses. You can either stop at Jambala or Larkey Guest House. At this altitude, you cannot expect Wi-Fi and a hot shower.
Hotel in Bimthang: Once you cross Larke La Pass, you start to find better tea houses with hot showers and Wi-Fi. In Bimthang, there are tea houses such as Mountain Ponker Cottage, Ganga Manaslu, Sushma Guest House, Apple Garden, and Himalayan Guest House
Hotel in Dharapani: Our final destination i.e. Dharapani has many great tea houses and you can find rooms that even have attached bathrooms.
Read about permits for the Manaslu trek here.
Manaslu Circuit trek cost for hotel
The Manaslu Trek accommodation charge is quite cheap i.e. $3-$5 at lower altitudes and $7-$8 at the higher altitude. While you are trekking in the off-season with a fewer number of tourists, you can find rooms for less than $5 even at the higher altitude. Sometimes, bargaining skills will also come in handy to lower your price for the Manaslu Circuit trek.
Although the cost of rooms seems to be cheap, you keep on paying an additional charge for a hot shower, Wi-Fi, and electricity. This leads to the increased Manaslu Circuit trek cost. Himalayan Masters offers the most reasonable price for the Manaslu trek. 
Manaslu Circuit Trek Camping Type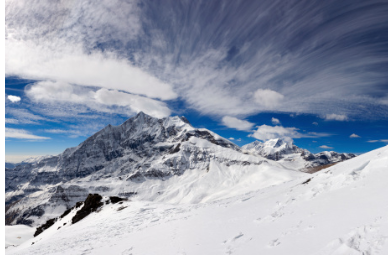 To be honest, the raw adventure to nature only reaches its peak when you are travelling while staying in the camps. You might have heard some people saying "five billion star hotel" for a camp and that's true in many senses. The perks of staying right on nature's lap do feel like nothing else.
During a camping trek, you will have a team that carries everything needed during the two weeks of the Manaslu Circuit trek. The guide will help you find an appropriate place to set up a camp and cook the food. The porters will help prepare warm food for breakfast and dinner. With a great team, the Manaslu Camping trek will be the most rejuvenating experience of a lifetime.
However, a camping trek is not all joy and adventure, there are many challenges one faces during a longer camping trek. The problems like shower, electricity, and Wi-Fi are the most severe ones. You will have to use an open space for the bathroom and don't have to private space to change. Also, the camping price of the Manaslu trek is higher than that of tea house trekking. That's why we recommend tea house trekking over camping treks in Nepal.
Accommodation in Kathmandu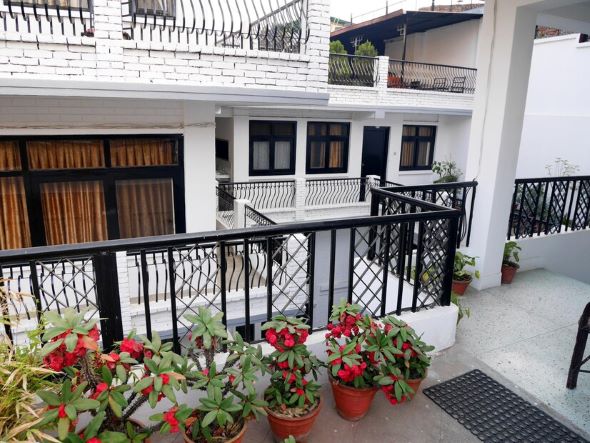 Kathmandu, Nepal's capital is literally a hub for luxury tourism. Here, you can find a big impressive range of hotels (from dorm rooms to 7-star hotels) with great facilities. As per the Manaslu Circuit tour package, you will be staying in a 3-star hotel with an attached bathroom and hot shower. The room will be provided on a sharing basis for two and the cost is covered by the agency. However, if you want to switch to a better facility, it can be don't within seconds.
FAQ
 

for Manaslu Circuit trek

Is a room heating system available?

No, the rooms during Manaslu Trek accommodation don't have heaters or AC. Even the blanket is not thick enough to stand the cold weather of Manaslu. That's why we recommend everyone carry a sleeping bag on the Manaslu Circuit trek.

However, the restaurant has a heating system. You can stay in the dining hall to warm up your body.

 Should I pre-book my hotel in Manaslu?

That totally depends on the season for the Manaslu trek. If you are travelling in summer (June, July, April) or winter (January and February), you don't need to book your Manaslu Trek accommodation. However, when you are travelling in autumn (September, October, and November) and spring (April, March, and May) we highly suggest pre-booking a guest house in Manaslu. Since there is a very limited number of the guest house (4-5 at each stop), they are over-occupied in the peak season. When you pre-book the guest house, you can pick the best option available.

 How can I make the bookings for hotels in Manaslu?

Making a booking on the trekking trail of Nepal is not an easy job for foreigners. These hotels don't have an online presence on the booking sites and are also not available on the map. You can seldom find the contact details (phone number/ email) of a few hotels on Google. The best way is to ask your local guide for the contact details of these hotels. That's why our government has made it compulsory to take a Manaslu trek package from a licensed agency like Himalayan Masters to prevent yourself from these hassles.

Can I get single Manaslu Trek accommodation during the trek?

The traveller often share rooms with their teammates. However, if you want a single accommodation for yourself, we will be able to arrange that for some added cost. When you ask for a room all by yourself, it will add a few extra dollars to the overall Manaslu Circuit trek cost.

Do hotels in Manaslu serve food?

Yes, the tea houses serve an excellent option for food during the trek. In fact, trekkers must eat in the hotels they stay at during the Manaslu Circuit trek. Here, read a complete article about food in Manaslu written by our experts.

Can people in the Manaslu hotels speak English?

Yes, some staffs at Manaslu hotels are quite familiar with English. However, you cannot expect everyone on the staff to be fluent. The people at the tea houses are extremely hospitable and help with everything you need. Further, Manaslu being a restricted region, you will always have a licensed guide to accompany you.

Final words,

So, aren't you excited about this trip to Manaslu? Well, if you are planning to travel to Nepal, you must be accompanied by a trusted travel agency like Himalayan Masters. We are more than excited to welcome you to Nepal.

See you!!

Also, if you have any questions, drop your queries below. Or contact us here for the booking.
UNSURE WHERE TO GO? WE CAN HELP
Based on your preferences, location, timeframe, and budget, our team can design your dream trek based on our extensive knowledge and experience of the Himalayas. Get in touch with us for detailed information and assistance planning your dream trek. With our 97% success rate on trekking and climbing trips in 2022 and 2023 spring season, we will answer any questions you may have and guide you for an unforgettable experience.