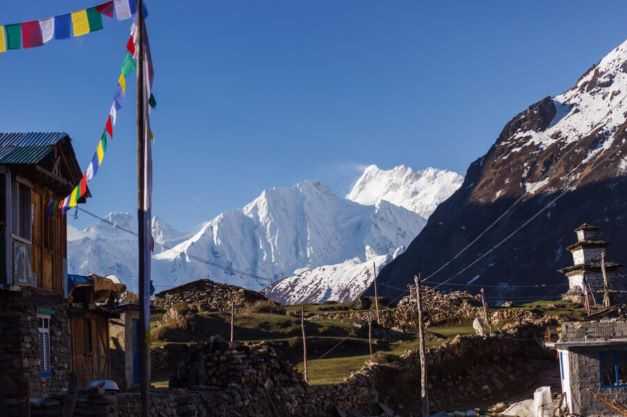 TRIP DURATION

21 Days
TRIP GRADE

Moderate
LODGING

Tea house and Monastery
BEST SEASON

Springs and autumn
MEALS

Breakfast lunch dinner
COMMUNICATION

Local sim card
PER DAY WALK

5 to 6 hours
Manaslu Tsum Valley Trek Itinerary
Manaslu And Tsum Trek Overview
Trekking in Nepal is an ode to most of the world's highest mountains. Compared to different classic treks in Nepal, the Manaslu Circuit trek has been noted as the best one. The walk circumnavigates the world's eight tallest mountains at 8,163 meters. Along with unparalleled Himalayan views from Larkya Pass (at 5,100 meters), this trek offers intimate encounters with the lives of Manaslu and their ancient culture. Manaslu and Tsum Valley trek is physically demanding but at the same life traditionally enriching and scenically uplifting.
The wonderful experience of wandering the off-beaten trail of the mountains is second to none. Passing the vast array of the mountain valley, you get to live within the river gorges and striking snowscapes. Wandering in subtropical forests, you often encounter the rear and unique animals that are not seen elsewhere. Along with the beauty of nature, the Tibetan Buddhism culture you witness during the trek will be life-changing. The remote yet happy lifestyle of people in Manaslu is a lesson to the whole world. This Manaslu Circuit and TSUM Valley trekking can be life-changing.
Being one of the closest treks from Kathmandu, we start Manaslu and TSUM Valley trek after 126 km of drive to Soti Khola. Then, we walk above the mighty Budi Gandaki region on steamy lowlands with stunning terrace farms. The views of the turquoise river and waterfalls are seen all around. In the classic Rachen Gompa and Mu Gompa, we learn to chant some Buddhist mantras and observe nuns' lives from a close distance. Looking for Himalayan thars and snow leopards, we climb at Lokpa. Here, the views of Himal Chuli and Ngadi Chuli greet us as we walk to the Ganesh Himal Base. The final and yet most challenging climb to Larkya La pass brings our Manaslu trek to an end. We will then be joining the Annapurna Circuit trail and getting back to Kathmandu.
If you want to leave the regular boring life and dive into the wilderness of the mountains, Nepal's calling you bruh!!
For detail on, Manaslu Trek Guide, read the articles here.
Manaslu Tsum Valley Trek Highlight
The relatively peaceful and well-connected trekking destination of Nepal bestows an undisturbed feel of nature.
Strolling in the wilderness and remoteness of Manaslu and yet sheltering in the new and comfortable local lodges.
Exploring the unknown land above Budi Gandaki that offers a long river gorge, cascading waterfalls, a thrilling suspension bridge, and an exciting view
Passing via the subtropical jungle that is home to some unique and rare Himalayan wildlife and flowers
A challenging hike on the premises of the mountains that takes us above 5000 meters at Larkya La
Unbelievable views of the mountains in the Annapurna, Dhaulagiri, and Manaslu regions like Ganesh, Cheo, Himal Chuli, and Himlung, and dozens of other
A distinct cultural experience in the higher Manaslu region, especially in the Tsum Valley, where Buddhism followers inhabit
ITINERAY
Day 01: Drive Kathmandu-Sotikhola- Maccha Khola (870meters, 8 hrs)
Today, we drive about 130 km away from Kathmandu towards the east. Driving along the beautiful Trishuli River, we reach Dhading Besi in a couple of hours. The further drive is accompanied by stunning views of green hills and Nepalese villages. In about seven hours, we will be crossing Arughat and heading to Maccha Khola via Soti Khola.
Meal : Breakfast Lunch Dinner
Accomodation : Tea house
Walking / Driving : 8 hours drive
Day 02: Trek to Jagat (1340 meters, 7 hrs)
Get ready for another exciting day in the mountains. We walk along the gorge of Kali Gandaki before heading up to the Khorlabesi. In a short while, we will reach Tatopani (a hot spring made by nature). Then, it's uphill to the ridge of Dobhan. We further get down to cross another exciting suspension bridge before climbing to Tharo Bharyang. On the way, you might spot some Langur monkeys in the forest. Thereafter, it's a short walk to Jagat.
Overnight in Jagat
Day 03: Trek to Lokpa (2240 meters, 6-7 hrs)
Getting into Manaslu's restricted region, we complete our paperwork. Then, we walk to Salleri before our path climbs us to Philim. From Ekle Bhatti, we start the ascent to the village of Lokpa. Here, we meet Syar River before we get to the very first village in Tsum. In the evening, we visit the Lokpa, the isolated valley of happiness. Local's believe that Padmashamva blessed this village centuries ago.
Overnight in Lokpa
Day 04: Trek to Chumling (2386 meters, 5 hrs)
We wake up with the mesmerizing Himalchuli and Baudha peak before us. We being the day by walking down to the forest before taking the steep ascent. The classic Tibetan-style local accommodation might delight you.
Overnight in Chumling
Day 05: Trek to Chekampar (3031 meters, 4-5 hrs)
This is a relatively easy day on the premises of the Himalayas. In the morning, we start the walk by crossing a suspension bridge. Now, another short walk to Tanju brings us to Gompa that oversees the best view of Ganesh and Baudha Peak. Now we walk for a couple of hours towards the Upper Tsum Valley. As the valley approaches, the magnificent slate views from Chhekampar's cliffs will welcome us.
Overnight in Chhekampar
Day 06: Trek to Nile (3361 meters, 7hr)
On the 9th day, we explore the beauty and culture and the Upper Tsum. On the vast flat land, we head to the north of the valley. Waking via Kaye, we soon get to Lama Gaon and Burji. Now, we visit Milarepa's Cave, the so-called Pigeon Cave, and Chi Phu before getting to the Nile shortly. The Rachen Nunnery has a little school that prepares little kids for their future.
Overnight in Nile
Day 07: Day tour to Mu Gumpa (3700 meters, 6 hrs)
This is our second day to explore the Tsum Valley. We start with two and a half house walk to Mu Gompa. Mu is an unusual settlement at a very high altitude. After some cultural insight into this Gompa, we get to an 856-year-old Nunnery at 4,000m. Here, the view of Ganesh Himal in the west is stunning. In the evening, we walk back to the Nile.
Overnight in Nile
Day 08: Trek to Rachen Gompa (3031 meters, 4-5 hrs)
After amazing days in the Upper Tsum Valley, now is the time to walk downwards. After breakfast, we begin the descent on Phurba and follow Siyar Khola. Soon, we reach the Rachen Gompa areas, an essential part of the visit.
Overnight in Rachen Gompa
Day 09: Trek to Gumpa Lungdang (3400 meters, 7 hrs)
Today, we walk on the south, getting closer to the mountain. In the morning, we retrace our path to Chumling. On a rather uphill trail, we reach Gumba Lungdang. We attain the night puja from 6.00-7.30pm and sleep in the Dharamshala. Get to bed early and be prepared for tomorrow's walk.
Overnight in Gumpa Lungdang
Day 10: Hike to Ganesh Himal Base Camp (4800 meters) and back (8-9 hrs)
This is the treks' most strenuous, adventurous, and exciting day. We wake up quite early to join a dusty path above the valley. After a couple of hours, we cross Laudang and enter into a wider Kharka. We continue our footsteps to Ganesh Himal Base Camp. At 4800m above sea level, between the highest mountain, you feel out of the world.
Overnight in Gumpa Lungdang
Day 11: Walk to Lokpa (2240 meters, 6-7 hrs)
Since we have already explored the mountain at its base, it's time to walk towards lower elevation. In the morning, we retrace the same path to Gho. Only then, we walk to the river of Shiar before getting to Dhumje. The course goes up in the pine forest before Gomba Lungdang. On the same day, we will be able to walk down to Lopka village.
Overnight in Lokpa
Day 12: Walk to Ghap (2,380 meters, 7 hrs)
In the morning, the trail descends to Budi Gandaki before we climb on the forested area. Shortly later, you get to the village of Deng. This traditional Gurung village lies just next to the Bamboo forest. Now, we climb to Bhiphedi, our last stop before rising to Ghap (2160m).
Overnight in Ghap
Day 13: Walk Lho (3,180 meters, 6 hrs)
After breakfast in the morning, we begin to walk in the thick forest, crossing multiple rivers on the way. In a short while, we get to Namrung village that takes us to the Nupri region. Descendants of Tibetan migrants mainly inhabit Nupri. We then walk beyond small Gombas before getting into the tiny Tibetan village of Lho.
Overnight in Lho
Day 14: Walk to Sama Gaon (3,530 meters, 5 hrs)
We wake up with the stunning Manaslu before our eyes. After breakfast, we start with a relatively easy trail that leads the village of Shyala. Passing along the farms of potatoes, we hike with Himalchuli and Manaslu ahead of us. After a few hours of uphill walk, two rows of houses welcomes us to Sama Gaon. This monastery of Sama Gaon holds a massive significance in the life of locals over the place. We can see that the Tibetan border is quite close to this village.
Overnight in Sama Gaon
Day 15: Rest in Sama Gaon
This is a fun and relaxing day after weeks of the walk. We encounter Yak and Dzopkyo herds on the way to Kargyu Chholing Monastery. This 500 years old monastery is an example of fine woodwork. We can see the eight temple buildings with an image of Guru Rinpoche. Beyond this, we can walk to Birendra Tal right next to Manaslu Glacier. After some beautiful mountain views from Base Camp, we walk to Pungyen Nunnery. Exploring some caves and rivers, we get to the lodge over Sama Gaon.
Overnight in Sama Gaon
Day 16: Walk to Larkya La Phedi (4,460 meters, 6 hours)
In the morning, we head to the village of Samdo. Walking down the edge, we cross Budi Gandaki one more time. Now, the uphill walk shows us the Larkya Glacier before we get to Salka Khola. After a couple of hours, we walk to the base of Larkya pass, also called Dharmasala. The views of Larkya Glacier and Manaslu still accompany us.
Overnight in Larkya La Phedi
Day 17: Walk to Bhimtang (3,720 meters, 7 hours) via Larka Pass
We begin today's walk to Larka pass very early in the morning. Firstly, the trail goes on the north of the Larke Glacier and rises to Larke Peak. Here, the Larke and Pawar Peak look mesmerizing with the glacier on the north. With dozens of more peaks seen from the top, we stop for a while before getting to the Kechakyu Glacier. From Dangboche Kharka a downhill path leads us to Bimthang, a summer grazing area.
Overnight in Bhimthang
Day 18: Walk to Gho (2,550 m, 5 hours)
It's a rather relaxing day in the mountain as we walk beyond the Bimthang on a stony glacier. With the last glimpse of Larke, Manaslu, and Nadi, we walk on the bank of the Dudh Khola. First, we get to Sangura Kharka and walk on a terraced field to the village of Gho. Here, you can witness true Gurung culture among the locals.
Overnight in Gho
Day 19: Walk to Dharapani (1,700m, 4 hours)
After breakfast, we cross the village of Tilje and head to the Marsyangdi Valley. On the west bank of Thonje, we cross the river on a long bridge. Now, joining the Annapurna trek route, we walked on a somewhat leveled path to Dharapani. Since we reach our hotel early, we stroll around the place to enjoy the evening.
Overnight in Dharapani
Meal : Breakfast, lunch and dinner
Accomodation : Tea house
Walking / Driving : 8 hours drive
Day 20: Drive to Kathmandu
Firstly, we drive to Besishar, Lamjung's headquarters, in quite a rough patch. After a short stop in this town, we being our drive to Kathmandu. A fun drive along the riverbank of Marsyangdi and Trishuli lasts about seven hours.
In the evening, the only activity planned is farewell dinner. We enjoy a final meal together and remember the days from the trek.
Overnight in Kathmandu
Meal : Breakfast and lunch
Walking / Driving : 10 hours drive
include / exclude
Trip Cost Includes
All ground transportation by comfortable private vehicle as per the itinerary
Best available clean and comfortable Tea house accommodation during the trek
Airport pick up & drop off service in a private vehicle
Welcome and Farewell dinners
All meals (breakfast, lunch, and dinner) with tea/coffee during the trek
Seasonal fruits during the trek
Domestic flight(Kathmandu-Lukla-Kathmandu)
Highly experienced, English-speaking, government-licensed, trained in first-aid Trek Leader (Guide)
Porter service to carry your main luggage during the trek.
Staff cost includes their food, accommodation, salary, flight, insurance, equipment, etc.
Trekking permits – Sagarmatha national park permit, Khumbu village development community fees.
-25-degree sleeping bag during the trip if needed.
a pulse oximeter to check your spo2 and bpm at the high elevation.
solar panel to charge the mobile and camera.
water bottle and purification tablets.
first aid kit box
Duffel bag for the trip.
All Local and Government taxes, administrative charges
Trip Cost Excludes
Tips for guides and porters
Nepal visa
Travel Insurance
Accommodation in the Kathmandu
Reviews
My second time back with Himalayan Masters and they exceeded my expectations yet again. Manaslu and Tsum valley trek organised by Sandip was a great itinerary and Dipak was an amazing guide that truly went above and beyond the duties of a trekking guide. He supported our group through all our ups and downs and we certainly couldn't have done it without his help. The 3 porters, Syren, Pawan, and Pitumber also went above their duties to help cook, serve us fresh fruit every day and keep spirits high! I would recommend Himalayan Masters to anyone who is interested in trekking in Nepal. Miss it already

Hannah KadiAustralia
FAQs
When is your next departure for TSUM valley?
This TSUM valley trek can be done throughout the year. We can book your TSUM trek whenever you wish to depart. Just let us know you're available.
Can we trek to TSUM without an agency?
What is Accommodation in Manaslu Tsum Valley Trek like?
What are the permit for Manaslu TUSM valley trek?
UNSURE WHERE TO GO? WE CAN HELP
Based on your preferences, location, timeframe, and budget, our team can design your dream trek based on our extensive knowledge and experience of the Himalayas. Get in touch with us for detailed information and assistance planning your dream trek. With our 97% success rate on trekking and climbing trips in 2022 and 2023 spring season, we will answer any questions you may have and guide you for an unforgettable experience.