The 13 Best Things To Do In Pokhara – 2022
Pokhara, the tourism capital of Nepal is the home for all adventurous touristic activities.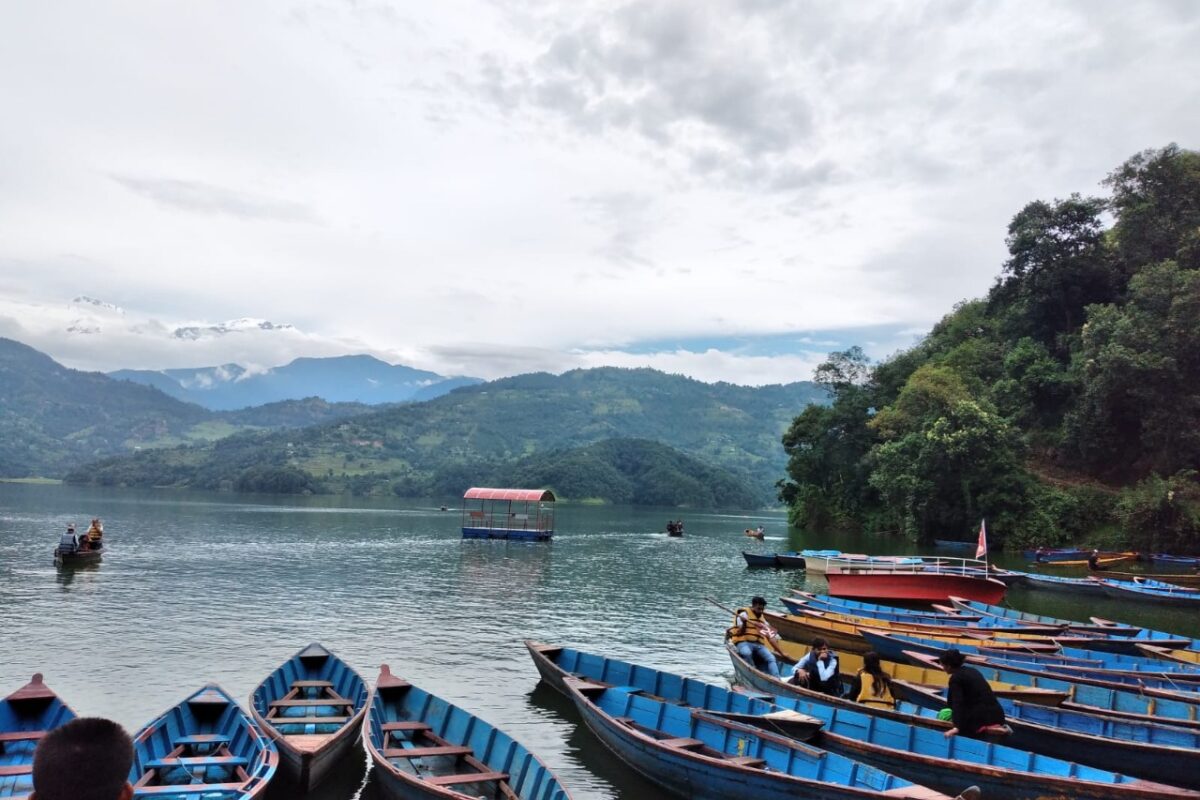 Pokhara, the tourism capital of Nepal is the home for all adventurous touristic activities. This small valley encased by the stunning Himalayas Mountains and hills is a naturally blessed city, having many things to do in Pokhara. With eight pristine freshwater lakes spread in different corners and many man-made architects and adventurous sports, Pokhara tour is a Shangri-la of travel freaks.
With the views of 8 out of 13 major Himalayan peaks, the experience at Pokhara city is literally out of the world. As tourism in Pokhara Nepal is booming, there are many new emerging destinations to visit and exciting things to do. Here are the best things to do in Pokhara.
1. Sight-Seeing Tour
Pokhara Valley has many rivers, lakes, forest, caves, waterfalls, and mountain view-point that makes it a great city for sightseeing. The man-made wonders like temples, statues, and stupas are also equally beautiful. You can read about all places to visit in Pokhara in our other article here.
2. Cable Car Ride In Pokhara
Recently, a new cable car destination has been installed in Pokhara. Pokhara cable car station is Nepal's fourth after Manakamana, Chandragiri, and Kalinchowk. This Annapurna cable car connects Phewa Lake i.e Lakeside area with Sarangkot.
The bottom station is at Seti Bagar and takes you to the hilltop of Sarangkot. The total distance of the Sarangkot Cable car in Pokhara tour is 2.3kms and the drive is about 10 minutes long. Now, it's among the best things to do in Pokhara.
Pokhara, Sarangkot, a beautiful hilltop at 1600 meters from sea level overlooks a very stunning view of the Manaslu, Machhapuchre, Annapurna, Dhaulagiri, and Himchuli. You can also see the stunning Phewa resting calmly. Once you get to Sarangkot, you can get back to Lakeside via paragliding, zip-lining, or in the cable car itself, the choice is yours.
How To Book A Cable Car In Pokhara?
You don't need to do the booking in advance. Just drive or walk to Seti Bagar i.e. button station of the cable on the lakeside and then buy your ticket. Booking the cable car from a third party might be a bit expensive. The cost of the cable car in Pokhara Sarangkot is NRP 700 for Nepalese and NRP 900 for foreigners.
3. Boating
Obviously, boating in Phewa is the most popular and also the most relaxing adventure in Pokhara. However, tourists don't know that they have many options for Phewa boating and other lake boating in Pokhara.
A short (about 5 minutes) ride to the Tal Barahi temple in the center of Phewa Lake
Take a boat to World peace pagoda and get back to the Lakeside in the same boat at Phewa Lake
Row the boat yourself for one hour or longer if you have the experience of boating in Phewa, Begnas, and Rupe lake (we recommend this kind of boating in Begnas lake)
Take an hourly boat with a driver in either of the three lakes
How To Book Boating In Pokhara?
There are multiple ticket counters around Lakeside where you can immediately hire and boat. Similar counters are also available at Begnas and Rupa for instant booking. There's no provision of online booking yet. The cost for boating in Phewa up to Tal Bahari is NRP 100 for foreigners (Rs 60 for Nepalese). The cost keeps on increasing from $ 5 to $20 depending upon the time and type of boat.
4. Cycling In Pokhara
Mountain biking around Lakeside is itself a very popular activity among tourists. Or, you can take a cycle to the winding roads of hills and ride to Sarangkot, Pumdikot, World Peace Pagoda, and other nearby destinations. Another recommended trail is getting from the Phewa lakes to the Begnas and Rupa Tal.
Cycling in Pokhara along the hills with the view of mountains before your eyes is obviously fun. If you have a license, you can even hire a scooter and bike at a very reasonable price from Lakeside. If you want to visit many places around the valley in a single day, this is recommended for Solo travelers and couples.
You can also hire a motorcycle for a couple of days a drive to Muktinath, Dhampus, Bandipur, Baglung, and other nearby places.
How To Hire A Cycle In Pokhara?
The best thing about lakeside is you can get anything here. The motorcycles can be instantly hired from many shops around the lakeside. You can even get bikes and scooters at these shops. One needs to submit the ID card or any identification car before taking the cycle, so make sure that you carry those documents.
The cost of hiring a cycle is about Rs 200/ hrs. If you hire for an entire day or longer hours, you can do some bargaining as well. Scottie and bike hiring for the day cost about NRP 1500 to NRP 2500.
5. Paragliding
Paragliding in Pokhara tour is a very popular adventure. Flying parallel to the mountains like the bird in the sky can be a dream come true for many. Paragliding is definitely the best thing to do in Pokhara. There are many flight points for Pokhara Paragliding but the most popular one is from Sarangkot. Sarangkot is the hilltop next to Phewa Lakeside (1.5hr walk or 30m ride).
The parachute flies from the hilltop right above the Phewa. With the majestic Himalaya range before you and the stunning Phewa below your feet, the photos and videos turn out to be amazing. The flight can be 30mins to 1 hour long, however, if you want to extend the time, you can make a special request to the travel agency.
How To Book Paragliding In Pokhara?
Paragliding in Pokhara can be booked through Himalayan masters. You can see numerous travel agency around lakeside Pokhara and Thamel Kathamandu that takes you for Paragliding in Pokhara. You can also contact directly to the flight operators for cheaper Pokhara Paragliding costs, however, identifying those operators is not easy.
After the Covid-19 pandemic, the cost of Paragliding in Pokhara has dropped by almost 50%, and it's a great time for the flight. Once booked, the travel agency themselves pick you up from the hotel and drive to Sarangkot in a private vehicle. After the landing, they shall take you back to the hotel. Photos and videos from the trip will also be taken from the travel company themselves.
Pokhara Paragliding cost for Nepalese: Rs 3500 to Rs 5000
Pokhara Paragliding cost for Foreigners: $50 to $80
6. Bungee jumping
Bungee is one of Nepal's very popular adventures. Three spots i.e. the last resort of Bhote Koshi, Hemja of Pokhara, and Kusma of Baglung are popular for bungee jumping. Among them, Hemja Bungee Jumping is the smallest and the easiest one.
Especially for the newbie who is trying this for the first time, Bungee in Pokhara can be very thrilling. However, for an experienced player, we recommend bungee in Kumsa, Baglung, and the highest in Nepal. It's the most exciting and the best thing to do in Pokhara.
How To Book Bungee In Pokhara?
Obviously, you can book the customized Pokhara Bungee tours from any travel agency within Nepal. Himalayan masters arrange your tickets, permits, transportation, and food during the Bungee in Nepal. Or, you can directly get to Hemja and book the jump from the operators themselves.
Bus to Hemja is available from Zero km which is about 10mins ride from Lakeside. The cost of Bungee in Pokhara is $60 to $80. The cost for a Bungee Pokhara package including Photography and videography is slightly high.
7. Sky Diving
Experience the utmost level of adventure by sky diving in Pokhara. Among many fun activities in Nepal, this might be the most thrilling one. Free falling before the majestic Himalayas of Nepal shall be the most magical moment of your life. Skydiving in Pokhara first takes you closer to the beautiful Annapurna and Machhapuchhre range at Pame Danda.
Dropping in the west of Phewa Lake from the height of 12,000ft/3,658m, you will be free falling for about 40 seconds. Only then, does the parachute open, calming you a bit. Our team of experienced and professional skydive crew will make sure that you are safe.
Also, the entire flight will be captured (both photos and videos), by our experience photographer who falls alongside you. It's the major highlight of beautiful Pokhara Nepal. If you can afford the cost, the best things to do in Pokhara is the must-try.
How to book Skydiving in Pokhara tour?
Himalayan masters arrange the safest and most affordable sky diving tour to Pokhara. Our skydiving in Pokhara Itinerary includes picking you up from the airport in Kathmandu, transport to Pokhara, and other exciting Pokhara Sightseeing destination before making 2/3 tandem or solo flight.
Or, there can be a shorter package with a single flight. You can book Skydiving in Pokhara by filling out the form here. Or you can book the trip with another travel agency in Pokhara after landing in Nepal. Skydiving in Pokhara costs about $1000 per flight. Since it includes the cost of Helicopter, fuel, safety guide, and food, the cost is a bit high.
Ultralight Flight In Pokhara
Looking for something adventurous and yet safe? Then the enthralling flight in an ultralight aircraft right above the beautiful Pokhara valley is the best option for you. Imagine flying above the lake and forest in a 2-seater aircraft. In just 15 minutes, you will be flying close to the mountain range of Nepal, getting in touch with the snow-capped peaks.
The Ultra-flight starts from the Pokhara airport, usually in the morning. The flight takes place before 7 am in the morning. Evening flights are only done on a clear day.
How to book Ultraflight in Pokhara?
Ultraflight like Pokhara ultra flight and fishtail ultra-flight can be booked from a travel agency like Himalayan masters. The flight can be short i.e. about 15 mins just above the lakes and the hills, 30 mins for getting near the Machhapuchhre Mountain, and 60 minutes to fly between the mountains.
You can also fly for 90 mins for the overall air treks in Pokhara Annapurna. The cost of Ultraflight in Pokhara ranges from NRP 7,500 to NRP 25,000 depending upon the time and type. Make sure that you book with a trustable travel agency so that you can fly with an experienced pilot on a well-maintained flight.
8. Ziplining
Did you know that Pokhara has the longest and the steepest zip line in Nepal? Although very thrilling, this 1.8kms of ziplining is a very safe adventure. Here, you get to enjoy a 600 meters vertical drop at the speed of 120kms/ hours. Definitely an exciting moment for adventure freaks.
Ziplining in Pokhara tour is available at Sarangkot which is about 30mins of a ride from the lakeside. The minimum weight for the flight is 34kgs and the maximum weight is 125kgs. The minimum age is 15 and the maximum age has no limits.
How to book zip lining in Pokhara?
You can drive to the Sarangkot, Pokhara, and book an instant ticket without any hassle. Or you can book the Pokhara zip lining at a travel agency on the lakeside who shall drive you to Sarangkot as well.
9. Helicopter Flights From Pokhara
Imagine flying above the world's tallest Himalaya range and seeing those tiny snowy peaks below your feet. Helicopter flight from Pokhara to Annapurna is very popular among tourists. This flight commences from the Pokhara airport and lands you at the Annapurna base camp in less than 30 minutes. On the same flight, you also get to fly close to the Machhapuchhre range.
Many other mountain flights can also operate from Pokhara. Upon special request, Himalayan masters' also arrange a direct flight from Pokhara to Everest base camp. Flight to Dhaulagiri, and Mardi can also be booked. A helicopter can fly up to 5 people at one time.
How to book helicopter flights from Pokhara?
Himalayan masters arrange all-mountain flights from Pokhara to different places. You can both charter the entire helicopter and join a group for the cheaper flight. You can get the details of the types and cost of a Helicopter flight to Annapurna from our detailed article here.
10. White Water River Rafting
The smooth perennial rivers of Nepal make the best rafting adventure in the world. Trishuli, Bhote Koshi, Seti, and Kali Gandaki are the most popular rivers for white water rafting in Nepal. Among them, Lower and Upper Seti rafting at Pokhara is a short and easy adventure. The jump into the flowing river from the cliff and the rapids of this Himalayan River make everything exciting. For beginner travelers, rafting in Seti is definitely the best thing to do.
How to book White Water River rafting in Pokhara?
Seti rafting starts from Hemja in Pokhara. For booking the rafts, you must contact a travel agency on the Pokhara tour. Himalayan masters themselves make the best arrangement for rafting in the Seti River. River rafting in Pokhara Seti Nadi costs about NRP 3000 for Nepalese, NRP 3500 for Indians, and NPR 5000 for foreigners.
11. Yoga In Pokhara
The yoga centers offer in-house stays and a longer course for the dedicated soul. Or you can just join the classes for a few hours and learn about spirituality. Our few recommendations for yoga classes in Pokhara are Atmashree yoga retreat, Sadhana yoga retreat, Tribikram yoga, Purna Yoga retreat, GN Reiki Meditation Center, and Mukti Yoga treat.
How to book a yoga retreat in Pokhara?
Since, this will be a very important experience for you, make sure that you pick the best one. Firstly, do some online research and read the reviews. Then, have a conversation with the owner about the types of packages they offer and then do the booking for yoga in Pokhara.
11. Spa/Massage In Pokhara Tour
A relaxing massage around the bank of Phewa Lake will definitely be exciting. Nepalese Ayurvedic oil massage is highly recommended for trekkers after the completion of the tour. There are many Spa and massage centers around the Lakeside area itself. However, make sure that you do your research i.e. read the review and look for photographs before you make the bookings. The cheap massage center might end up giving up very bad vibes. In that case, you can also ask for in-house services.
How To Book Spa In Pokhara?
You can search for the Pokhara Spa online (Facebook, Instagram, or google) and book an appointment. Or, you can directly walk into the Spa center and get your massage done. Some of the Pokhara spa centers we recommend are Jiva Spa, Dreams Spa, tranquility spa, and Middle path spa.
12. Movie Hunting In Pokhara
Wanna try something new during the Pokhara tour? Then you get the experience of watching a classic and newly released movie every day for the entire night In Pokhara Movie. With the big screen and the cozy seats along the Phewa Lake, you can enjoy the best movie and food.
And they don't even charge for the tickets. Get inside and buy some drinks/popcorn and get the movie rolling. However, make sure that you get to the place early and book your seat, the place might end up being crowded.
13. Trekking Activities In Pokhara
Pokhara is the center for trekking activities around Nepal. Many popular treks of Nepal such as Annapurna base camp trek, Ghorepani Poonhill trek, Ghandruk trek, Mardi Himal trek, etc commence from the Pokhara itself. The camping trek like Dhaulagiri trek and Manaslu trek also commences after the Pokhara tour. Other short treks in Pokhara valley are:
Dhampus village trek
Lwang Village trek
Ghandruk village trek
Begnaskot hiking
Siklesh trek
Panchase trek
Australian base camp trek
Royal trek
Sarangkot trek
Tatopani village trek
Sirubari Village tour
Naudanda day hike et
How to book treks in Pokhara?
You can book all treks from Pokhara via Himalayan masters. We are known to organize tours throughout the country, especially in the Annapurna region. Fill out our booking form here or contact us via email.
Homestay experience in Pokhara
Merging your short Pokhara tour with a wonderful homestay experience is a great tip. The villages around Pokhara city have been emerging as a very popular homestay destination. In the homestay, you get to live in locals' houses, eating the food they would regularly eat, and being a part of their life. You get to observe people's culture while living in their homes and working at their farms. Learn to make some Nepalese dishes, sing some songs, and learn some dance moves.
Here are some popular homestay in Pokhara,
Siklesh village
Tangting village
Machhapuchre village
Jhirjirke village
Ghachowk village
Kalika village
How to book a homestay in Pokhara?
Some of these homestays are available online, meaning you can book via a third-party website. The best way to make the booking is to look for their number on google and give them a call. Or, you can just drive to one of the villages and get the bookings.
Some Additional Activities
Food hunting in Pokhara
Fun games in Disneyland
Cultural tours during festivals
Attain street festivals in Pokhara new year
Volunteering in school, orphanage, and elderly house
Frequently Asked Questions
1. What is the best time for these activities on Pokhara tour?
Depends on which activity you are talking about. Yoga retreats, spa, boating, cycling, bungee, etc are fun throughout the ear. For rafting, paragliding, and helicopter flights, we do recommend Pokhara tour booking in October/ November or April/ May when the weather is clear and the views are great. However, Pokhara is busy and exciting throughout the year.
2. How long will it take to fully explore Pokhara?
Since Pokhara have tons of places to visit and exciting things to do, we recommend staying in Pokhara for a long time. If you are planning to engage in yoga retreats and treks, we suggest making your Pokhara journey about a month long. If you just plan on sightseeing and adventure activities, you can savior everything in less than 10 days. Staying on a long and relaxing vacation gives you time to understand the culture of this place.
3. Will the Himalayan masters arrange all these tours in Pokhara for me?
Yes, Himalayan masters have been established as a trustable travel agency in Kathmandu and Pokhara for a long time. You can book all the activities mentioned above with us. Our experienced team can also design a customized Pokhara tour itinerary including the activities you wish to endure. Just let us know what you want.
Yes, the article was a bit long for a single bite. But this is all you need to know before engaging in the tours to Pokhara. Which of these best things to do in Pokhara did you find interesting? Just let us know which one you would like to try during your visit to Nepal and the Himalayan masters shall make all the necessary arrangements. Or if you have any queries, just drop a comment below.