How Much Does It Cost For Annapurna Base Camp Trek?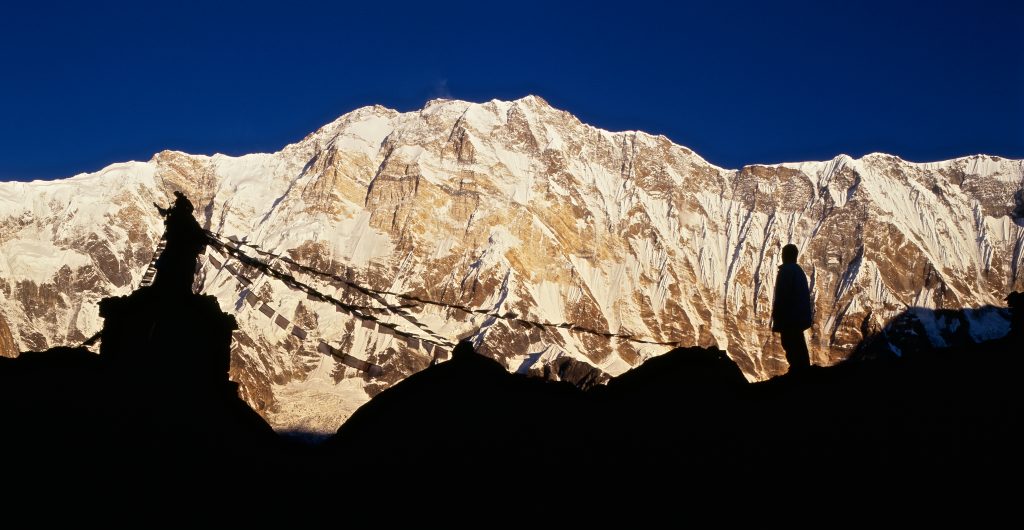 The important things that determine the overall cost of the trip are how you travel (airway/roadway), how long itinerary do you prefer to follow, what time/season of the year do you plan for, what standard accommodation do you choose and who do you deal your trip with. We have presented many options for you to choose from. Enjoy your trip by choosing the right options that suit your interest, budget, and overall purposes of your trip.
The Transportation Cost For Annapurna Base Camp Trek
1. International Airfare: The cost of an International flight depends on which country you are flying to Nepal from.
2. Kathmandu to Pokhara (Vice Versa)
Flight: USD 115
Charted flight: USD 1900
Local bus: USD 7
Tourist Bus: USD 10
Luxury Tourist Bus: USD 30
Private Car: USD 110
Jeep: USD 150 (six persons)
Once you land at the Tribhuvan International Airport (TIA), you majorly have two options to travel from Kathmandu to Pokhara from where your trip officially begins. Either you take 25 minutes normal flight paying about USD 115, chart a flight at USD 1900, or other roadway options. If you choose to travel via road, you will have five options. The luxury tourist bus cost about USD 30 whereas a normal tourist bus costs about USD 10.
A private car can be an excellent option for you paying about USD 110. Similarly, if you are in a group of a maximum of six persons, you can hire a jeep at USD 150. The cheapest way to travel from Kathmandu to Pokhara or vice versa is to take a local bus that just charges you about USD 7.
3. Pokhara to Kande
Private car (reserved): USD 20 (maximum 4 persons)
Taxi (reserved): USD 18 (maximum 4 persons)
Jeep (reserved): USD 25 to USD 30 (maximum 7 persons)
Local bus: USD 2 to 3 per person
Almost all the trekkers begin the Annapurna base camp trek from Kande and conclude at Ghandruk. So, you are required to take any means of transport at your convenience.
Annapurna Base camp trek can also be combined with other trekking routes like Poonhill trek, Mardi Himal trek, Annapurna Circuit trek, etc. so, sometimes the trek can also be begun from Nayapool, Phedi, or other stations. The transportation cost might get a little different depending on the length of distance or the vehicle you prefer to.
4. Jhinu danda (mainly Siwai or Madkhyu) to Pokhara
Jeep reserved: USD 120
Local bus: USD 6 per person
At the time to return Pokhara, you probably take a jeep or a local bus from Siwai or Madkhyu which is 1 hour to 1 hour 30 minutes away from Jhinu Danda. The jeep costs about USD 120 whereas a local bus costs you around USD 6 to reach Pokhara.
Note: The exact station to begin the trek and concluding will be negotiated wisely by Himalayan Masters' local experts when you show interest to make the Annapurna base camp trek. And the cost can also be estimated depending on the route you like to take and the means of transportation you prefer.
Permit Costs For Annapurna Base Camp Trek
The Annapurna base camp trek requires two basic permits. Trekkers Information Management System (TIMS) and Annapurna Conservation Area Permit (ACAP).
TIMS: Group trekker through any company NPR.1000/- per person
Free Individual Trekker NPR.2000/- per person
SAARC member countries: Group trekker through any company NPR.300/- per person
Free Individual Trekker NPR.600/- per person
ACAP: People out of SAARC NPR. 3000/- per person
The SAARC nationals NPR. 200/- per person
The costs of both permits vary depending on which country you belong to and what kind of trip you have planned. The individual other than the SAARC nationals trekking through any company has to pay NPR. 1000/- for TIMS card and NPR. 3000/- for ACAP whereas the same individual willing to trek alone (independently) will have to pay NPR. 1000/- more for TIMS card.
People from the SAARC member countries are charged much less than those of non-SAARC nationals. An individual of SAARC member country trekking through the company has to pay NPR. 300/- for TIMS card and 200/- for ACAP whereas the independent trekker has to pay NPR. 600/- for TIMS card.
Accommodation Cost In Annapurna Base Camp Trek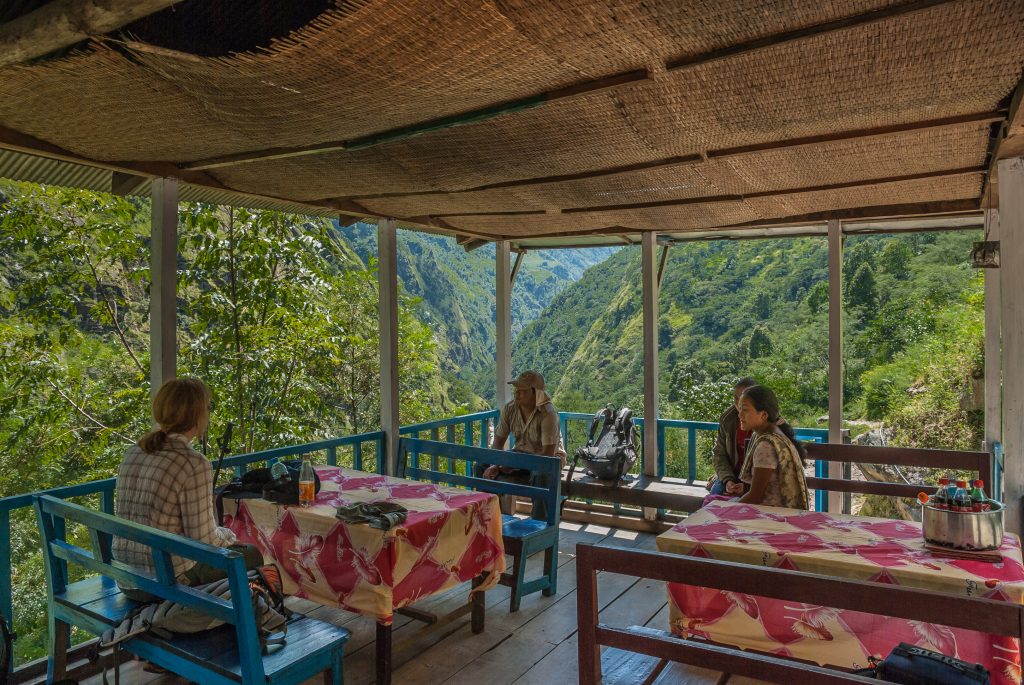 Annapurna base camp is also one of the teahouse treks as the main accommodation of this trail is in the teahouses with fundamental requirements. Some of the teahouses up to Chomrung offer you the attached bathrooms but do not expect it thereafter.
Normally the teahouse room costs 3 to 5 USD providing you with a cozy bed along with a pillow and a blanket. The accommodation at the base camp is slightly more expensive than down in the trail. The normal teahouse room in Annapurna base camp costs you about USD 7.
Be familiar with the system of the teahouses that you are highly expected to eat in the same teahouse where you have booked your bed. Also read: Manaslu Circuit Trek
Food Cost on the Annapurna Base Camp Trail
One Main Course Meal: 5 to 7 USD (only below Sinuwa)
One Main Course Meal: 8 to 10 USD (above Sinuwa)
Teahouses are the main accommodations in the Poonhill trek. They offer varieties of foods with enough nutrition required for the Himalayan trek. Nepali, Indian, Chinese, continental, and many other varieties are made available in the teahouses.
Generally, almost all the teahouses in the trail offer you similar kinds of food. Nepali typical food, Dalbhat is common everywhere. Dal Bhat; the set of rice, lentil or beans soup, vegetable curry, and pickle is considered to be the most nutritious food in Nepal. Besides Dalbhat, different foods are offered in breakfast, lunch, and dinner.
The cost of meals in the Annapurna base camp trail is a little high, especially from Sinuwa onwards. A single dish cost about 8 to 10 USD in the teahouses over Sinuwa. Most importantly, you won't be finding any meat items thereafter.
Cost Of Drinks In Annapurna Base Camp Trek
Bottled water: USD 1 to 2 per liter 
Any hot drink like Tea/hot chocolate: USD 1 to 3 per cup
Beer: USD 6 per a single can
As you are trekking in the Himalayas, one of the most important things you need to be aware of in your health is to maintain the hydration level of your body. Drinking plenty of water is essential for keeping your gear up.
There are a number of options to manage safe drinking water during your trek. Carrying a reusable bottle is the best option for filling every morning at the teahouse free of cost.
Bottled water is available along the trail that generally costs $ 1 to $ 2. Any type of hot drink cost 1 to 3 USD per cup whereas the beer cost nearly 6 USD for a single can.
Note: The foods and drinks cost slightly higher in higher elevations than in the lower regions with road access. The price during peak season is also comparatively higher than the ones in low trekking season.
Guide and Porter Cost in Annapurna Base Camp Trek
Guide cost: USD 25 to USD 30
Potter cost: USD 22 to USD 27
As one of the popular trails, the Annapurna base camp trek can also be done independently without hiring a guide and/or a porter. However, having a guide helps you gain more information as they are the professionals of that field.
The porter carries the load for you. If you don't need to bother about carrying all your goods, you can fully enjoy the nature along the trail, communicate with the locals, and get to know their unique and amazing lifestyle. The standard weight porter carries is about 20 kilograms.
Generally, the cost for the guide and the porter is $25 to $30 and $22 to $27 per day respectively. It includes their salary, food and accommodation for the whole trip and the single trip insurance.
Thus, a little expense on guide and porter make your trip far better.
Hotel Cost in Pokhara
Five Star: 160 USD to 200 USD per night (Cost for BB)
Three Star: 70 USD to 140 USD per night
Tourist Standard: 30 USD to 50 USD
Hostel: 4 USD to 6 USD per bed/night
Most Himalayan trips begin from Pokhara making this city the important tourist hub. This city consists varieties of hotels offering the best accommodations to its visitors. The trekkers and visitors can choose any hotels on the basis of their interests and the budget they are ready to spend.
Five Star Hotels
The Five-star hotels in Pokhara are equivalent to the western standard fancy hotels with the excellent restaurants providing luxurious accommodations to their guests along with all the facilities they require. Pokhara Grand, Temple Tree Resort, Rupakot Resort, and Fishtail Lodge are the best five-star hotels in Pokhara.
They normally cost USD 160 to 200 per night including the breakfast.
Three to Four Star Hotels
The second category hotels providing excellent accommodations to the visitors in Pokhara charge 70 USD to 140 USD per night. Pokhara Batika, Kuti Resort and Spa, Tuki Resort and Spa, and Barpipal Resort are popular hotels of this category.
Tourist Standard Hotels
The majority of tourists prefer the accommodations in Tourist Standard hotels that normally cost 30 USD to 50 USD per night. Trekkers Inn, City Inn, Hotel Lakeside, and Hotel Peninsula are famous tourist standard hotels in Pokhara.
Hostels
Some of the visitors just wish to spend the night at a low cost in Pokhara. The hostel beds suit them at a low price. A single bunk bed costs 4 to 6 USD. Pokhara Youth Hostel, Zostel Pokhara, and Puskar Backpackers Inn are the best options for this category.
Miscellaneous Costs
Besides formal costs, there are still some other areas you may have to bear during any Himalayan trek. The followings are the short description that requires the additional cost of the Annapurna base camp trek.
Travel

 

Insurance: This document is a basic requirement for making any trip especially the adventurous ones. It covers the emergency rescue and evacuation services during the trip. Although Annapurna base camp trek is one of the less risky treks, you have to travel on rough terrains for 4-6 hours daily. Thus it is required to ensure safety precaution for unpredictable circumstances.
Hot

 

shower:  Since most common accommodations in Annapurna region is the teahouses, they hardly have the provision of taking hot shower. However, some of them have managed this facility with little additional charge. They normally cost 2 to 3 USD for a single hot shower.
Tips: Tips is not obligatory however, most clients want to thank their service providers like the guide, the porter and others a small amount of money just as a sign of appreciation and satisfaction they gain during the trip.
Internet: The major cities like Kathmandu, Pokhara and some lower regions of the trail offer you free wifi services. But most regions in higher elevation have very limited internet service. So, they normally charge 1 to 1.5 USD for internet connection hourly or so on.
Gadgets

 

Charge: Do not surprise hearing additional charge for charging your phone! It is common in most of your trekking trails especially in remote areas. You will have to pay 1 to 1.5 USD for charging your electronic gadget for an hour or two. The amount varies in different places.
Souvenirs: This small country is rich in souvenirs. Most of our clients mention in their reviews that despite being small in size Nepal offers something to everyone. You can pick anything for your family, friends, or for yourself as the mementos of the Himalayas either in Pokhara or in Kathmandu. The price depends on the items you choose or the place you buy
UNSURE WHERE TO GO? WE CAN HELP
Based on your preferences, location, timeframe, and budget, our team can design your dream trek based on our extensive knowledge and experience of the Himalayas. Get in touch with us for detailed information and assistance planning your dream trek. With our 97% success rate on trekking and climbing trips in 2022 and 2023 spring season, we will answer any questions you may have and guide you for an unforgettable experience.