What Are The Required Permits For Manaslu Circuit Trek?
The Manaslu Circuit Trek is among Nepal's most underrated treks. And this journey is going to be a life-changing memory. However, trekking to the remote Himalayas of Nepal also comes with a lot of challenges. And one of such big challenges is getting your legal documents ready. Before coming to Nepal, you should know that trekking in different parts of Nepal requires different kinds of permits. manaslu trek permits are briefly described below.
So, along with your passport and visa, you need to issue an area-specific permit. These Nepal trek permits can include local area permit, restricted area permits, TIMS card, and National Park permit. This article is all about different Manaslu Circuit trek permits and where to issue them.
Manaslu Circuit Trek was opened for international trekkers in the year 1991 A.D. Even after that, the government of Nepal has listed Tsum Valley and other villages of the Manaslu region as a restricted region of Nepal. And when a region is listed as restricted, independent travellers cannot hike to Manaslu as solo trekkers.
They must book their trek with a local travel agency or be accompanied by a licensed guide. Also, you need a group of at least two people before getting these permits. So, this is the pre-information before diving into this article about Manaslu Permit cost.
Requirements Of Visa For Nepal Travel
Even before you get your Manaslu trek permits, the travellers need to issue a travel Visa to Nepal. A visa to Nepal can be issued at the international airport of Nepal upon arrival. Indians don't need to issue visas and the Nepal Visa cost is free for the citizens of SAARC country.
For people from other nations, the cost of a Visa is $30, $50, and $125 for 15, 30, and 90 days respectively. You can read our other article to learn everything about Visas to Nepal. Only after you get the Nepal travel visa, you shall apply for another Manaslu permit.
Manaslu Restricted Area Permit

As we mentioned earlier, Manaslu lies in a restricted area of Nepal. The permit should be issued to enter Jagat until you cross Sama Gaun. Beyond Sama Gaun, you shall need an Annapurna conservation area entry permit. The Manaslu permit cost for a restricted area from September to November is USD 100 per person.
That's the cost for the first seven days you spend between Jagat and Dharapani. If you stay any longer, the additional cost of USD 15 per person per day is applicable. For the off-season i.e. December to August the Manaslu permit cost is $25 lower than that of peak season. After seven days between Jagat and Dharapani, it's $10/day.
Where To Issue The Manaslu Permit?
The restricted area permit should be issued in Kathmandu before you leave for the trek. However, since all the paperwork will be handled by your agency, there's nothing much you need to worry about. For Manaslu and Annapurna conservation area permits, there are three permit counters.
We recommend getting your permits from Nepal Tourism Board, Kathmandu. There's also a Nepal Tourism Board in Damside, Pokhara. The last stop to get an Annapurna permit is Besisahar/ Lamjung but you have to travel an additional few hours to get this permit.
The office is open from Sunday to Saturday from 10 am to 5 pm and remains closed during the public holiday. The Manaslu trekking permit cost can be paid in US dollars as well. As said earlier, since your travel agency takes care of these permits, there's not much to worry about.
Manaslu Conservation Area Permit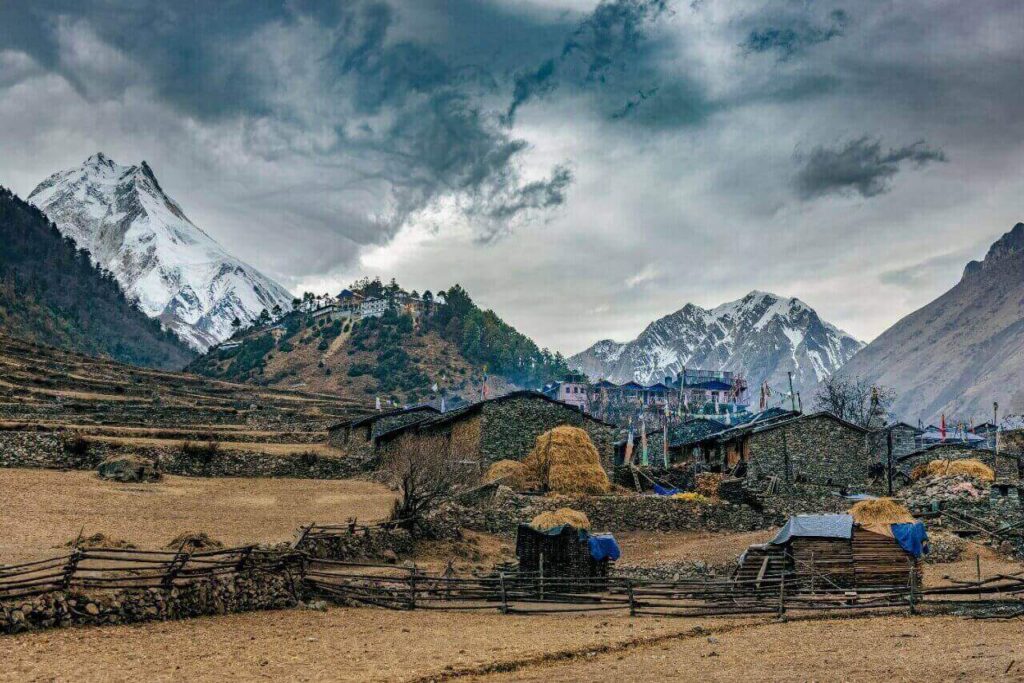 The biodiversity of the entire Manaslu lies inside the Manaslu conservation area. The conservation area starts at Philim and the Manaslu conservation area permit cost goes for the management of the wildlife in the area. The government also keeps track of travellers' activity and movement within the conversation area so that they remain safe in remote lands.
Manaslu Conservation Area permit cost USD 30/ per person
Cost for people of SAARC country: Rs 600
Cost for Nepalese people: Free
Note: The cost of the Conversation Area permit cost is similar throughout the year.
Annapurna Conservation Area Project (ACAP Permit)
Read about other Manaslu Trek Nepal.
 In the later part of our trek i.e. beyond Sama Gaun and Dharapani, we will be travelling in the Annapurna Conservation Area (ACAP). Although we will be staying inside the Annapurna conservation area only for a few days, this is a compulsory permit for travellers who cross the Dharapani check-post.
The cost of the Annapurna Conservation Area is similar to that of the Manaslu conservation area permit. Most trekkers to Manaslu plan to take their adventure a step further and walk into Tsum Valley. This beautiful valley in the highlands of Manaslu is a complete paradise of the alpine landscape.
The trail to Manaslu Circuit Trek and Tsum Valley Trek often separates beyond Philim and moves to the Chumling village. Your other stop shall be Chhekampar and finally the Upper Tsum Valley. If you plan to travel to TSum Valley, you need to issue another Tsum area permit which costs USD 40 per person for one week in the peak season and USD 7 per person per day after that. In the off-season, the TSum area permits cost discount of about $10 per person is given to the travellers.
Note: All Manaslu Circuit trek permit cost is covered by the Himalayan master's team and this is not something you should be worried about when you book our Manaslu trek packages. Check the costs here.
Documents needed For The Manaslu Circuit Trek Permit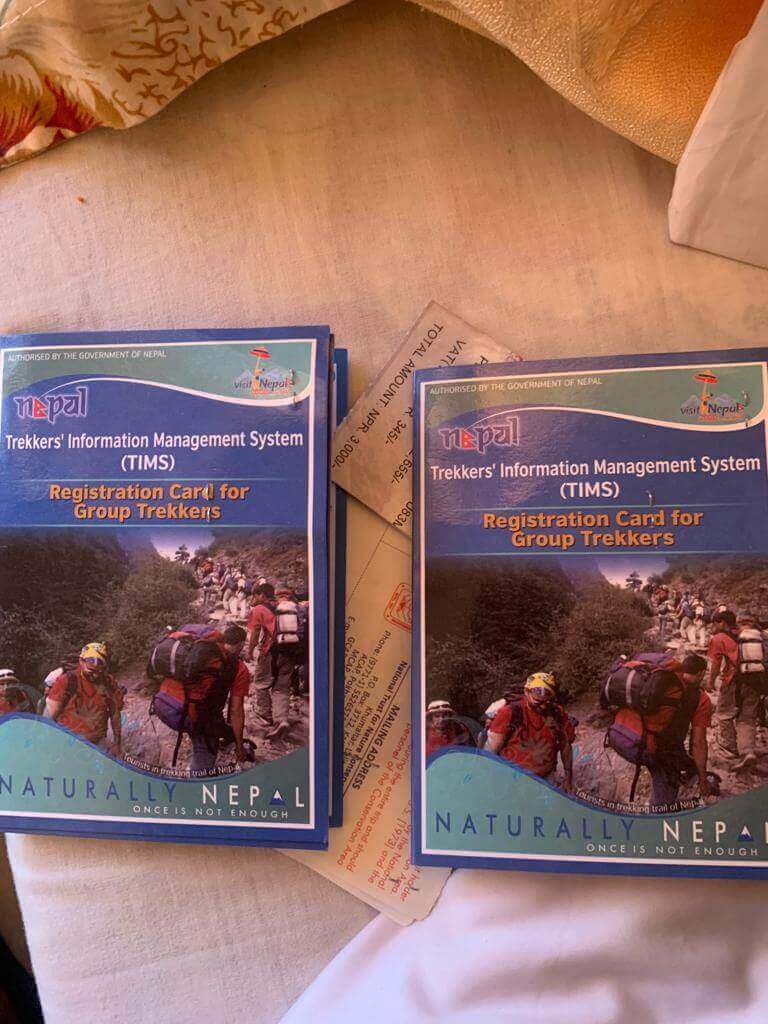 To get these permits you should submit the following documents to your travel agency
Photocopy of your passport with at least six months' validity
Four printed passport-sized photograph is required for the MCAP permit
Nepali visa with the arrival stamp
Travel Insurance papers that cover all emergency rescues at higher altitude
Photocopy of flight tickets with arrival and departure dates
Consent letter to Immigration Chief and trekking company
Frequently Asked Questions
What if we don't get the Manaslu permits from Kathmandu?
There are many police check posts along the way where you must show this Manaslu Circuit trek permits. If you forget to issue these permits or lose them on the way, the check post can issue the permit with a 100% fine, thus increasing your Manaslu trek cost. So, make sure you keep your permits in a safe place.
Do I need a TIMS card?
No, the TIMS card is now not needed in the Manaslu area. You will need a TIMS card only if you wish to trek beyond Dharapani and join the Annapurna Circuit trek. As per the Himalayan master's Manaslu trek Itinerary designed by the experts, there's no need for a TIMS card during the Circuit trek. If you have seen some blogs writing that you need a TIMS card for this; please kindly ignore such misinformation.
How long do we need to issue the Manaslu area permit?
Ideally, you submit the needed documents to your travel agency upon arrival in Nepal. Then, they shall get your permit ready within a few hours. If you have to apply for the Manaslu Circuit trek permit by yourself, it shall take about 2 hours. Sometimes, it might take a few hours.
Do children require Manaslu Trekking Permits?
Yes, all children below ten years of age need to issue all kinds of permits mentioned above. The permit cost is free for children below 10 yrs, but we really don't recommend taking such small children for a tough Manaslu climb.
Why does the Manaslu Permit cost so high?
Yes, we get that playing above $150 for a permit alone can sound like a lot. As the Manaslu region lies under the restricted trekking area of Nepal, it's among the expensive treks. Such rates have been assigned to control the huge influx of tourists to Manaslu. Manaslu is itself a very culturally diverse and unique land that has its century-old culture and tradition preserved in pure form.
The other intention is, the government wants to use the money to build the basic infrastructure for the tourists in the region. Manaslu is a very remote area hidden in the difficult mountain landscape. Each penny you spend here goes for the betterment of the people in the area. Thus it is worth it.
As you already know, you must first book your Manaslu Circuit trek package to issue the permits to Manaslu. Our expert team at Himalayan Masters promises you the best deal and excellent service. Let us know when you will be travelling and we are here to assist you.
See you soon.
UNSURE WHERE TO GO? WE CAN HELP
Based on your preferences, location, timeframe, and budget, our team can design your dream trek based on our extensive knowledge and experience of the Himalayas. Get in touch with us for detailed information and assistance planning your dream trek. With our 97% success rate on trekking and climbing trips in 2022 and 2023 spring season, we will answer any questions you may have and guide you for an unforgettable experience.