Hello everyone! This is a long article that covers almost everything you should know about Annapurna base camp trek food and guest houses by a local Trekking who has been to this trail more than 20th times. This is the most updated article you could ever find online, so enjoy reading it.
For any trip, foods and accommodation in the Annapurna trek are so important for making the trip successful. The foods you eat and the bed you sleep in at night are the determining factors for your stamina and energy needed for a triumphant victory over an adventurous Himalayan hike.  Being the 'Mother Trekking Trail' over the Annapurna region, the ABC Trek and Ghorepani poon hill trek attracts thousands of trekkers from around the world making crowds on its trail, especially during peak season.
Thus, significant improvements have been made in offering quality food and accommodation services to visitors.
Accommodations In Annapurna Base Camp Trek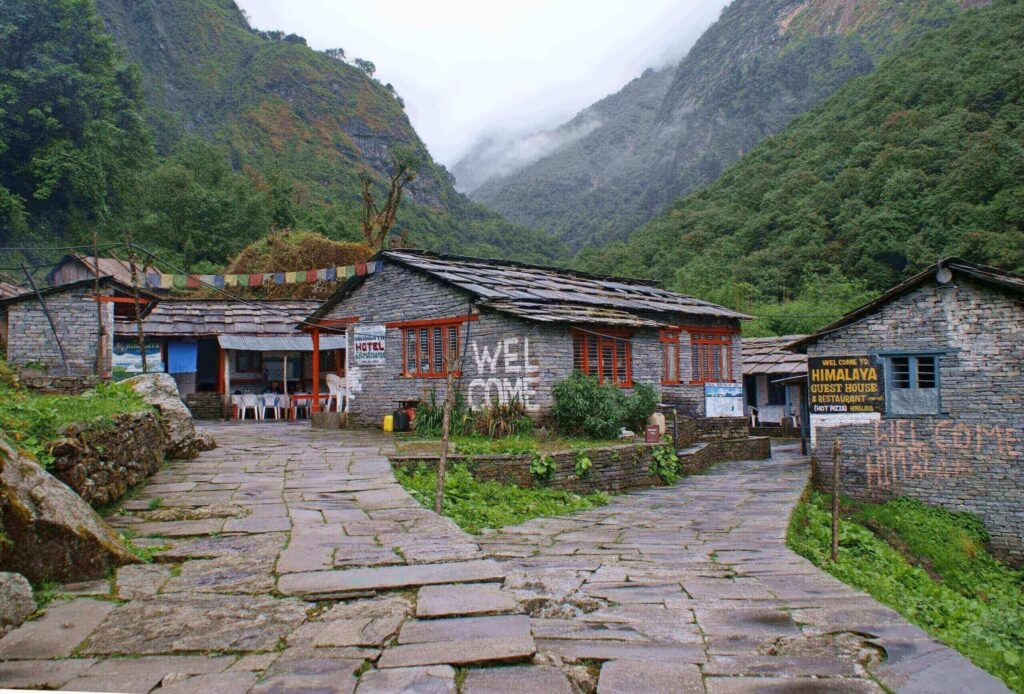 The accommodation in Kathmandu and Pokhara is far better than during your trek in the Himalayas. I mean to say, you do have many choices depending on your budget and the hotels' facilities in these major cities. But during the trek, almost all the teahouses offer nearly similar accommodations with very basic provisions. The most common accommodation along the Annapurna base camp trail is the teahouse.
In recent days, those teahouses are well equipped to provide the fundamental needs of the trekkers. The teahouses mostly made of stone and wood manage cozy rooms inside to relax. The rooms are generally twin sharing having two single beds in each room. About NPR 400 for every two persons per night is quite a cheap accommodation price. However, you are highly expected to eat in the same teahouse.
If you prefer to eat in a different place or decide not to eat, you might have to pay comparatively more. The meals are significantly more expensive as you hike to higher elevations. Most teahouse owners sustain themselves in the Himalayas by selling meals but not by selling the teahouse rooms.
Thus, all the visitors are expected to understand this fact and act accordingly. Do not expect Western-style flushing toilets and other facilities in the teahouses. Very few of them have such facilities. Himalayan Masters recommends carrying some wipers and toilet paper which can also be bought in the small shops along the trail.
We would like to ask you to bring a sleeping bag for you as the temperature might go down unexpectedly and the blanket you are given might not be enough to keep you warm. However, you have the right to ask extra blanket if you need it.
Tea house in Annapurna Base Camp Trek
Taking a hot water shower, using internet service, and even charging your electronic devices might charge you a little amount. Due to the unfavourable climate, you cannot expect regular electricity and solar power all the time. So, the teahouses cannot manage running hot water showers.
However, some of them manage hot water for you if you agree to pay a little extra. Feel great if you will be offered at least a bucket of hot water for taking a bath.
Related Article: Food and Accommodation during poon hill trek
Food and Water In Annapurna Base Camp trek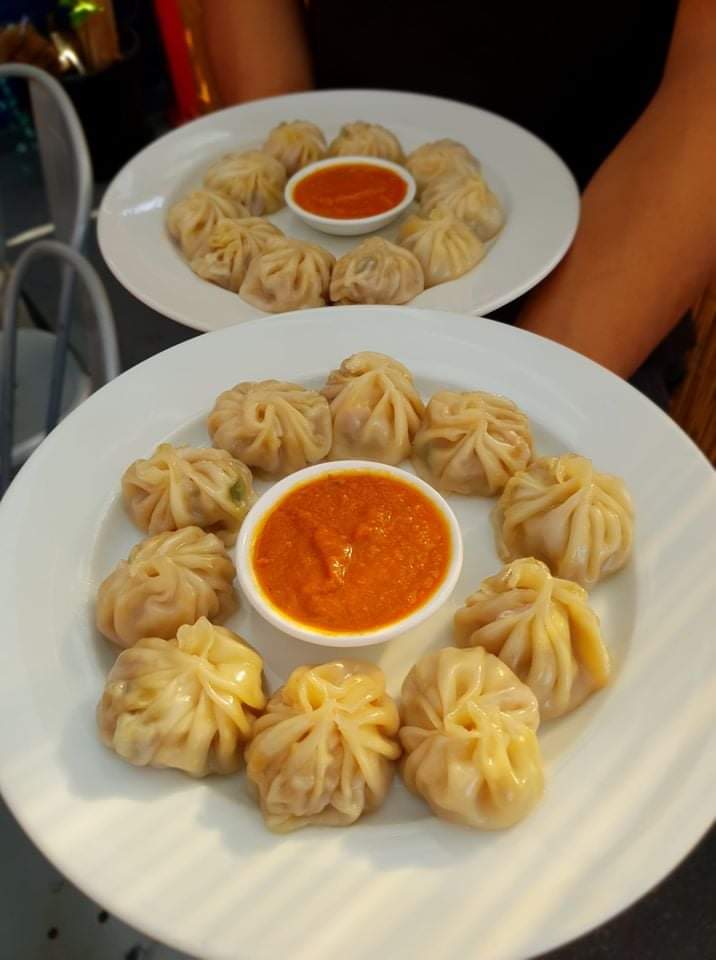 Most Himalayan trekking trails offer pretty similar kinds of menus to their clients. Principally, the foods and vegetables are local organic products giving the super energy required for your long day's trek. When you are trekking in the Himalayas, you are suggested to focus more on what your body requires rather than your likes.
The food you eat and the quality/quantity of water you drink during the trek determines the amount of stamina in your body which is essential for making your trip pleasing and remarkable. Besides the items available in the teahouses, you can also buy some snacks, bottled water, and some energy-giving chocolates along the trail.
We recommend you carry enough water from the teahouse or use water purifying tablets in the tap water that you find in the trail. The Bottled water costs much higher as you climb up to the higher elevation. Anyway, you require to drink plenty of fluids (3/4 lit.)
A day to maintain your body's hydration level and to avoid altitude sickness. BE AWARE! Do not drink water directly from the tap on the trail. Generally, almost all the teahouses in the trail offer you similar kinds of food. Nepali typical food, Dalbhat is common everywhere.
Dal Bhat; the set of rice, lentil or beans soup, vegetable curry, and pickle is considered to be the most nutritious food in Nepal. Besides Dalbhat, different foods are offered for breakfast, lunch, and dinner.
Breakfast during the ABC trek
Breakfast is the first meal that you consume breaking the long fasting period of the previous night. Since you are on the trekking trail and need to gain a lot of stamina to walk long hours, your first meal must be healthy and hygienic.
Generally, breakfast time for trekkers starts around 7 am so that you can begin your trek at 8 am. In case you have quite many people in the group, you have to order the breakfast the day before. DON'T WORRY! The Himalayan Master's Guide does all for you.
You will be offered tea or a cup of coffee along with your breakfast. The breakfast in Landruk, Chomrong, Himalaya, and Jhinudanda is really amazing as you can take it along with the stunning views of mountains and the beautiful landscape. Most importantly, the pizza in the Himalayas is amazingly popular.
Some of the teahouses in this trail offer you Americano, Cappuccino, and Coffee cake besides tea and coffee but they are comparatively more expensive than you expect.
The followings are the varieties of foods you will be provided for your breakfast. Make sure which food best helps you to make your day pleasing. Bread and Chapatti: Plain toast; plain toast with honey, jam or butter, French toast, Cheese toast, plain chapatti, Tibetan bread
2. Eggs: boiled/scrambled eggs, fried/plain omelette, cheese/vegetable omelette
3. Porridge: Tsampa porridge, Apple Porridge, honey porridge, oatmeal porridge, porridge with cinnamon and raisins, rice pudding, chocolate pudding, muesli with hot milk, cornflakes with hot milk
4. Soup: Mixed/veg./garlic/mushroom/tomato soup
Remember! Garlic soup is top-notch for altitude sickness!
5. Pancakes: plain pancake, apple pancake, chocolate pancake, pancake with honey, butter, or jam
 Lunch During the Annapurna base camp trek
Any Himalayan trek is the opportunity to discover varieties of Nepali cuisine giving enough stamina to trek 5/6 hours a day in the arduous landscape. Lunch is considered to be the main course of the meal in Nepal. So, all the teahouses prepare Dalbhat as the major item along with many other varieties. The large numbers of international trekkers too prefer to take dal baht for their lunch in recent days. The reasons behind it are the nutrients it provides and its price. Once you order a set of dalbhat, you can add as much as you desire without any extra charge.
The followings are the items most teahouses offer as lunch:
Rice:
Dal Bhat (veg./non veg.)
Thakali Khana Sets
Rice with chicken curry
Rice with veg. curry
Mixed fried rice
Egg fried rice
Noodles:
Veg. fried noodles
Egg fried noodles
Mixed fried noodles
Fried noodles with cheese
Spaghetti:
Spaghetti with cheese
Spaghetti with tuna or tomato sauce
Spaghetti with veg. sauce
Pasta:
Vegetable fried pasta
Mixed macaroni
Pasta with cheese
Pasta with egg
Pasta with tomato sauce
Fried pasta with cheese
Pizza:
Mixed pizza
Mushroom pizza
Chicken Pizza
Burger:
Mix burger
Veg. burger
Chicken burger
Hamburger
Hot dog
Dumpling:
Veg. dumpling
Buff dumpling
Chicken dumpling
Cheese dumpling
Potato dumpling
Paneer dumpling
Dinner During the Annapurna base camp trek
Dinner is pleasant food after a tiring task of the day. The teahouses in the trail offer similar kinds of menus for lunch and dinner. Most Nepalese prefer to dal baht for both lunch and dinner but the foreigners desire to choose other items. Besides breakfast, lunch, and dinner the teahouses make the availability of the following hot and cold drinks.
Related article: Annapurna base camp trek cost.