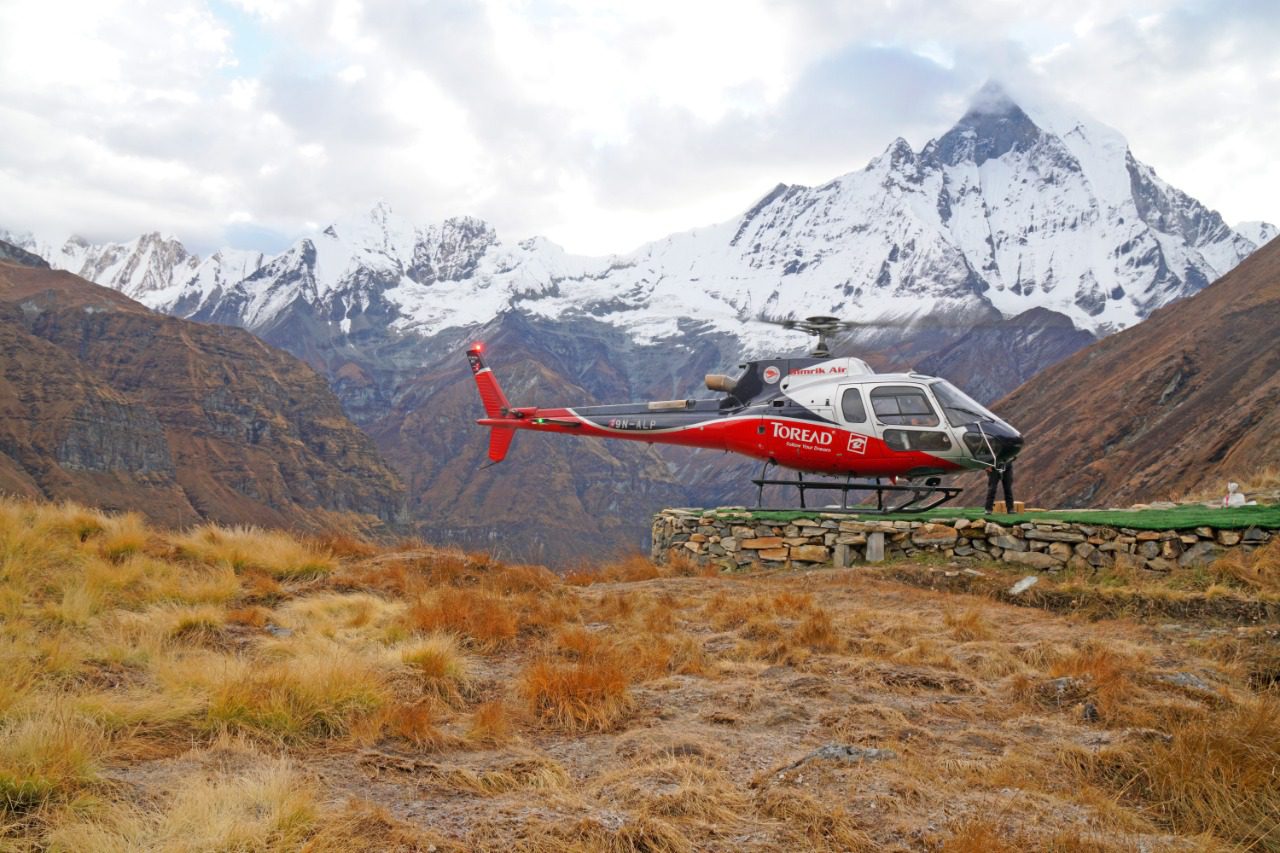 Annapurna Base Camp Helicopter Tour
Who might have not dreamed about being surrounded by snowy and glittery mountain peaks in all directions? Annapurna base camp helicopter tour is literally a dream come true – a paradise for travel enthusiasts and travel freaks. Flying above the high peaks of Nepal is an unbelievable experience and our team at Himalayan master is here to make it possible.
Annapurna Base Camp (or Annapurna Sanctuary) lies 40km west north of the beautiful Pokhara city. Pokhara is itself a blessing of mother nature- a city of lakes and magical lights. The serene environment at Fewa Lake is itself a rejuvenating experience. This Annapurna Base Camp trek also starts from the beautiful land of Pokhara and moves to the oval-shaped plateau of Annapurna massif.
We land right at the base of Annapurna Mountain and stop for beautiful photos and a warm breakfast. Sounds magical, doesn't it? But, that's not the end, we also fly above the Machhapuchhre (Fishtail) base camp. One of the major attractions of this trip is the Annapurna Conservation Area that protects all these giant peaks. Annapurna Conservation Area is spread over an area of 7,629sqm.
The biodiversity and beauty of these alpine landscapes are something that cannot remain unexplored. From the subtropical high heels, you get into the stunning alpine landscape within minutes. We can assure you that there is no better alternative to the Annapurna Base Camp tour for people who have short transit to Nepal or only a few days of holiday.
Highlights Of Annapurna Base Camp Helicopter Tour
Get in the base of the world's ten tallest (8,091 m) and most beautiful mountain in less than an hour
Scenic mountain flight with a most spectacular view of

 

Annapurna

 

and

 

Dhaulagiri

 

Himalaya range
Magical landing right at the base camp of Annapurna at 4,130 m above sea level.
Enjoy warm breakfast while being surrounded by snow and mountains in all directions
Most dramatic scenery of Nepalese verdant valley, classic villages, and hilly highlands
Exceptional views of glaciers, rivers, and sub-tropical forest along the way
Comfortable and safe flight with the experienced pilots and guides at Himalayan masters
A very well-arranged Itinerary with all necessary management.
How Does The Annapurna Base Camp Helicopter Tour Operate?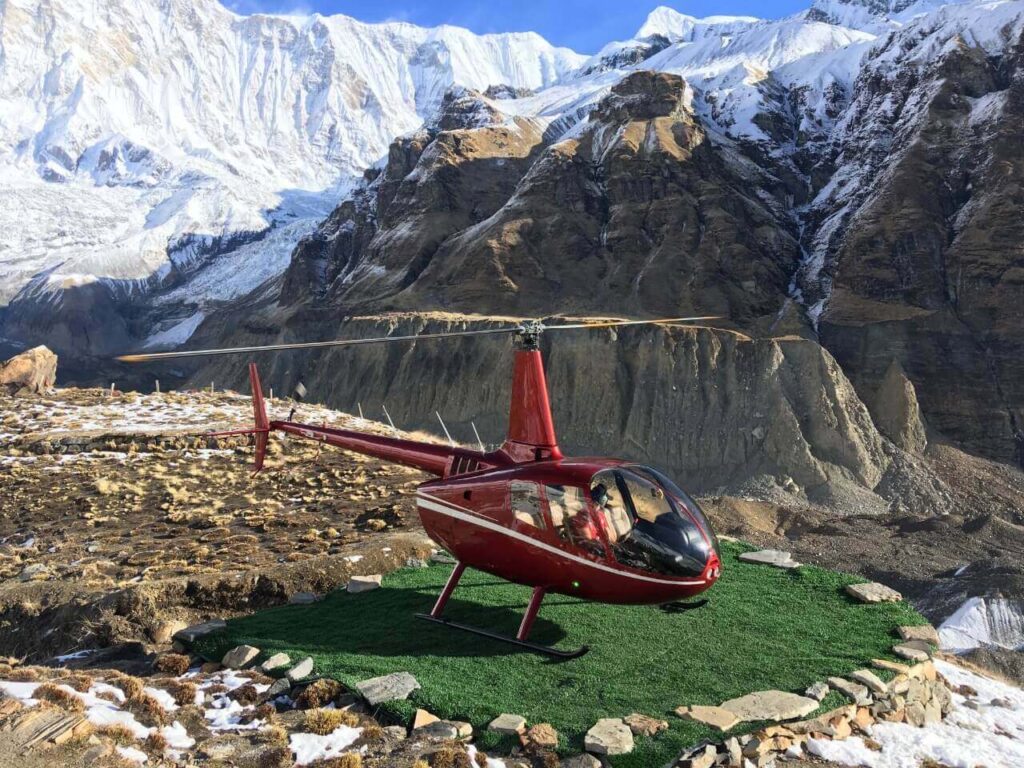 1. Starting point:
Annapurna Base Camp tour can operate in three ways. You can either start from Pokhara airport or fly directly to the Annapurna base camp from Kathmandu. Or, you can fly from Kathmandu to Pokhara and then fly to Annapurna Base Camp.
2. Flying from Kathmandu to Annapurna Base camp:
If you are in Kathmandu, the Annapurna Base Camp trip can directly start here. Such an offer is only available if you book the entire helicopter by yourself or your group. We start the trip from Kathmandu airport and land at Pokhara to refuel the helicopter. Since such an Annapurna Base camp helicopter from Kathmandu turns out to be expensive, almost all trips start from Pokhara.
3. Fly from Kathmandu to Pokhara to ABC:
Since the Annapurna base camp Heli trip from Pokhara is cheaper, you can first fly to Pokhara on a domestic flight and then join the Annapurna helicopter tour from Pokhara. More than 4/5 domestic flights are available from Kathmandu to Pokhara each day. If you have an additional day, we can also arrange a drive from Kathmandu to Pokhara and then start the tour from Pokhara.
4. Fly from Pokhara airport:
This is the most popular, easiest, and cheapest package for the Annapurna helicopter tour. We pick you up from the hotel and then drive to the Pokhara airport. Here, the helicopter will be waiting for your arrival.
5. Flight to Annapurna Base Camp
The helicopter tour from Pokhara to Annapurna Base Camp usually starts in the morning. After a thorough inspection of the helicopter, the flight goes above the lush hills of Pokhara. The helicopter will be flying at about 4,000 meters above sea level and land at Annapurna Base Camp in 25 to 30 minutes.
6. Landing in Annapurna Base Camp
Finally, the helicopter lands at Annapurna Base camp for about 30-mins. During this time, you can enjoy a warm breakfast with such a magnificent view before your eyes.
Also Read:- Itinerary Of Everest Base camp luxury trek
7. Ending point
After the stopover time passes, the helicopter moves towards the Machhapuchhre base camp. Then, flying above the Gurung village of Ghandruk and other remote villages, you land at Pokhara airport. The tour either ends here or takes you back to Kathmandu depending upon where you start the trip.
Annapurna Base Camp Helicopter Tour Facts
Tour duration: 2 to 3 hours
Ground time: 30 minutes at Annapurna Base Camp
Flight time: 50 minutes to 1 hour
Tour starting point: Pokhara
Tour ending point: Pokhara
Highest altitude: 4310 meters (Annapurna base camp altitude)
Lowest altitude: 800 meters (Pokhara airport)
Group size: 1-5 passengers per helicopter
Maximum body weight: 500 kgs
Quick booking: Via email (confirmation within a minute)
Contact person: Via Viber, Whatsapp, WeChat at +977 9823636377 (24Hrs available)
Why Choose The Annapurna Base Camp Helicopter Tour?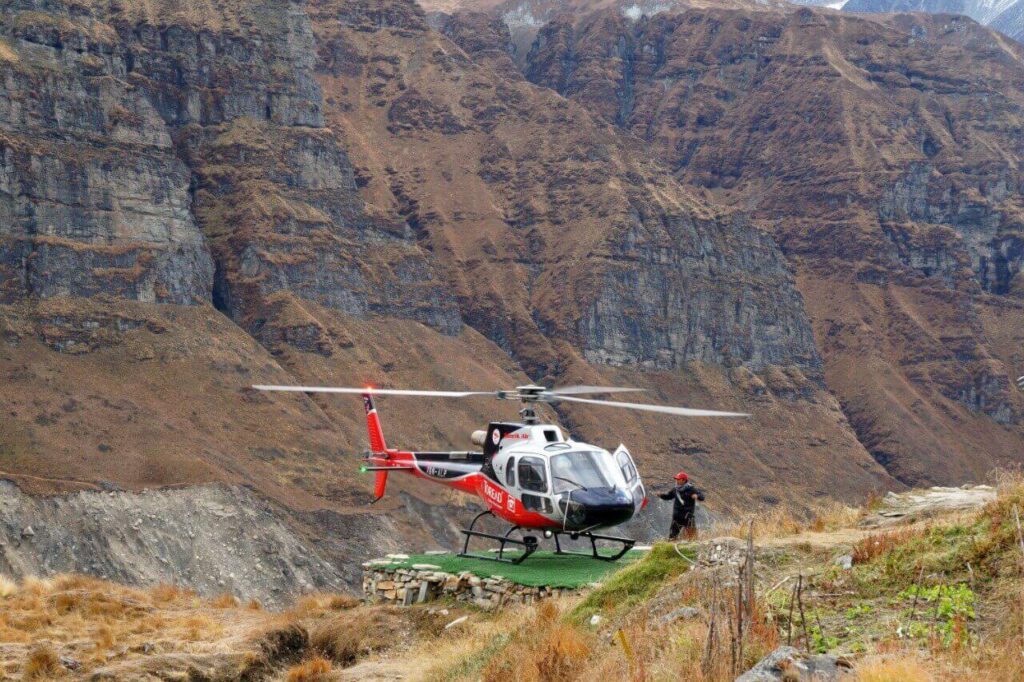 The Himalayas of Nepal is the purest and most exciting creation of Mother Nature. Being in the proximity of the Annapurna Himalayan range is a rejuvenating experience. Thousands of people set a very hard climb to the Annapurna base camp in search of this peace. But the Annapurna base camp trek is not always easy- it demands lots of dedication, preparation, training, and cost. However, such beauty is in access in less than an hour from Pokhara (one and half hours from Kathmandu).
You must choose the Annapurna Base Camp helicopter for the following reason:-
It's among the most affordable helicopter tour in Nepal
Cheaper than the Annapurna Base camp trek
Less than two hours of Journey from Kathmandu
A luxurious experience in the mountains of Nepal
Safe for Solo travelers
Needs no preparation and training- saves a lot of energy
No need to shop for trekking gear and special clothes
Appropriate for people of all ages, even children and old people
The best holiday alternative for people with physical and mental illness
Booking done by Himalayan Masters within minutes
Booking is done for both Solo and group travelers
Is It Possible To See Annapurna From The Annapurna Base Camp Helicopter Tour?
Yes, that's the whole purpose of this Annapurna Base Camp helicopter tour. During the flight, you can see the entire Annapurna range from different angles. At the base camp, you are literally surrounded by Annapurna massif in all directions. Annapurna and Dhaulagiri range are very clearly visible during this Annapurna Base camp helicopter tour. The entire area is surrounded by giant mountains of the Annapurna range that has six prominent peaks.
Other major peaks seen during this trip include:
Annapurna I (8,091m),
Annapurna III (7,555m),
Annapurna II (7,937m),
Annapurna IV (7,525m),
Gangapurna (7,455m)
Annapurna South (7,219m)
Khangsar Kang (7,485m),
Annapurna Fang (7,647m),
Tilicho Peak (7,135m),
Nilgiri Himal North (7,061m),
Machhapuchchhre (6,993m)
Hiunchuli (6,411m).
Types Of Annapurna Base Camp Helicopter Tours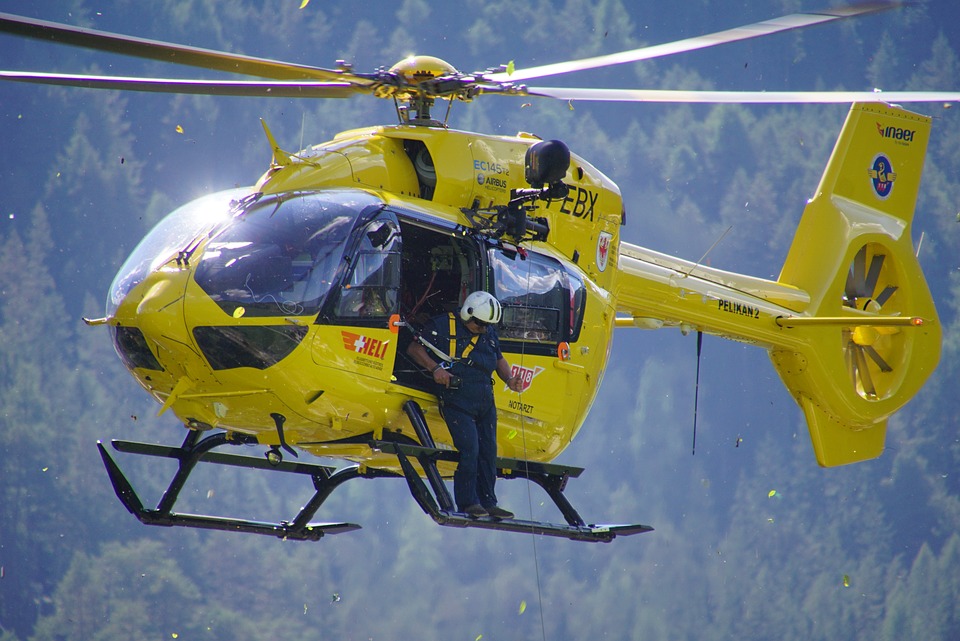 Group joining/ sharing flight:
The helicopter to Annapurna Base camp accommodates 5 people at a time. On a sharing basis, the cost is divided as per person. So, if your group has 1, 2, 3, or 4 people, we manage to join you with some other group. Since Annapurna Base Camp is a very busy helicopter route, getting you a group wouldn't be a big deal. The price of Annapurna helicopter tour group joining is very cheap- way lower than trekking. The larger group you have, the cheaper it gets.
Private flight:
The glory of a private tour to Annapurna already sounds magical. If you have a larger group or whole family, it's ideal that you get a Private Heli ride to Mt. Annapurna. Private flight with your friends and family is the experience of a world-class deluxe tour and unforgettable memory.
Private deluxe helicopters in Nepal can be booked throughout the year and have a customizable itinerary (you can even increase the landing time and fly to different places around Pokhara). Also, it's affordable. Private helicopter rental in Annapurna can actually be done for a different purpose.
It can be done as a proposal to your girlfriend or boyfriend, to celebrate a birthday/ anniversary or any other event, or as a surprise gift. Valentine's Day, New Year, and Christmas time also have special offers and discounts. Most importantly, Annapurna Base camp by helicopter is an excellent opportunity for photography and videography (both personal and professional videos). We will help you capture your video beautifully.
Annapurna Base Camp Helicopter Tour Cost
The sharing and private Everest Base Camp helicopter tours have different costs. The price depends on the type as well as the number of people traveling at a time. When there is a lower number of people on the flight, the per-person cost for ABC helicopter tours is slightly higher.
Here is the price range for group-sharing flights. 
| | |
| --- | --- |
| | |
| Number of people in your group | Annapurna Base camp helicopter Price from Pokhara |
| 1 to 2 people | USD …../ person |
| 3 to 4 people | USD …../ person |
| 5 to 10 people | USD …../ person |
The cost of an Annapurna base camp helicopter tour private flight depends on the number of people in the flight and also the time of landing.
| | |
| --- | --- |
| No. of pax in a private tour | Annapurna base camp private helicopter tour cost from Pokhara |
| 1 to 3 pax | USD… per helicopter (single shuttle) |
| 4 pax | USD…per helicopter (double shuttle) |
| 5 pax | USD…per helicopter (double shuttle) |
Since booking from Kathmandu is rare, we haven't mentioned the price here. If you are planning to fly directly from Kathmandu, send us an email here and we will send you the exact Annapurna Base Camp helicopter tour cost from Kathmandu.
Note: Landing for a longer time costs a few extra dollars and skipping the landing at Annapurna Base Camp lowers the cost.
Why With Us On The Annapurna Base Camp Helicopter Tour?
There are hundreds of helicopter tour operators in Nepal. And each of them claims to provide excellent service. And you must be wondering who you should trust. So, let us help you make the choice. Himalayan masters have been able to stand out among many treks and tour operators in Nepal.
That achievement is the result of our long-term commitment and excellence. Our dedication to serving the visitors with hospitality, honesty, and safety has always been appreciable. Here's why you should book your Annapurna Base camp helicopter tour with us.
Team of highly experienced and licensed pilots, guides, and drivers
Brand new, well-maintained, and luxurious helicopters
Highest priority for the comfort and safety of the visitors
Very reasonable helicopter flight rates with no hidden cost
Very quick and easy booking procedure ( within minutes)
Fixed departure dates
Solo booking can also be arranged in an appropriate time
Helicopter chartering/ group booking throughout the year
Instant online booking system (booking form, email, or message booking)
24-hrs client support and help via email, Facebook, WhatsApp, Instagram, WeChat, Skype, or Viber
Easy postpone, cancellation, and refund system
Booking Process Of Annapurna Base Camp Helicopter Tour
As we claimed, the tour helicopter tour booking procedure is very easy. 
Follow the link to our booking form Here
Fill in your detail manually
Mention the total numbers of passengers in a group
Mention your preferred date and time
Pay 50% of the price listed in this article or the price we confirmed after discussion with the team
Your booking will be confirmed
Before you pay for the booking, we suggest that you consult with our team and ask if there are any special deals or discounts. Who knows, you might just get lucky. You can communicate with us via email, or chat with us at Viber.
Cancellation policy: Once the booking is confirmed, you need 50% of the total cost as an advance. If you cancel the booking 15 days before the trip, the money is fully refunded. After that, we won't be able to make the refund. That's because the amount will already go for the arrangements of the trip. There is also a transfer policy where you can transfer the entire booking or booking of any team member to new members. Such a transfer can be made up to 3 days before the trip.
Postpone policy includes charge-less postpone up to 15-days prior to the trip. Postpone between 15 to 3 days before arrival is charged $100. Postpone cannot be made 72 hours before the Annapurna Base Camp helicopter flight. In that case, the tour will be canceled without any refund of the Annapurna Helicopter tour cost.
However, if the cancellation is due to unavoidable natural reasons, pandemics, or political reasons, we will postpone your Annapurna helicopter tour to the future without any additional charge. If the cancelation has to be done by the Himalayan master's team, we will fully refund the Annapurna Helicopter tour cost amount.
Note: Booking will be taken up to a week before your travel date. If you are booking with less than a 7 days gap, you have to pay the total Annapurna Base Camp helicopter tour cost in advance. 
Also Read:- Detailed Itinerary of Everest base camp trek
Annapurna Base Camp Helicopter Tour Model
Helicopters for mountain flights in Nepal are usually of two kinds. We use a helicopter of AS350b3e/ series manufactured in Europe. This is regarded as the most reliable plane for mountain flying. It has Fail-Safe Design and extremely comfortable Seating Arrangements. The helicopter can fly up to 7,000 m.
This model is also used for a reasonable Annapurna Helicopter tour cost. There is another helicopter series called MI seventeen that has been made in Russia. Its huge body can operate with 21 people (up to 309 tons of load) and fly up to 5200 meters. In a common situation, we don't use the MI seventeen type- it's only for the large group.
ITINERAY
Day 01: Flight
8:00 am: Arrival
As mentioned earlier, the incredible journey commences with the scenic view of Pokhara. We will pick you up at your hotel and drive you to the Pokhara airport. Here, a Chopper will be waiting for your arrival. The flight is quite spacious with a highly comfortable seat for five people.
There will be a captain and a co-pilot assisting you to settle down. Everyone gets a window seat, and the most dramatic landscapes unfold before you. A short briefing about the tour will be made, and you will be announced some safety measures to be followed during the helicopter ride to Annapurna Base Camp.
8:00 to 8:30 am: Flight to Annapurna Base Camp
The ABC base camp Helicopter tour takes off from the Pokhara airport right on time, sweeping you off above the clouds. As we head north, the soaring high hills appear below us. The stunning mountains are already visible within the clear blue. Rising above the magnificent Pokhara valley, we can see the lovely villages and terraced farms along the way.
The beauty of the Annapurna Conservation Area is itself very mesmerizing. Lastly, we get into the gorge of the Modi River and enter into the Himalayas. We flew a total of 45 k.m. of aerial distance from Pokhara before landing at the Annapurna Sanctuary.
8:30 to 9:00 am: Stop in Annapurna Base camp
Our pilot finds an appropriate place to land the Helicopter at Annapurna Base Camp and signals us to get out. Now, the mountains will literally surround you in all directions. But the best part is grabbing a warm cup of coffee in such a freezing landscape. We enjoy breakfast while viewing the marvelous Annapurna Himalaya.
You will have some more minutes for a photoshoot and refreshment. Although we would love to stay longer, it's time to hop back into the place. Staying longer at such altitude increases the chance of altitude sickness, and it can be deadly. Also, we need to be back as per the ABC base camp Helicopter Itinerary.
9:00 to 9:30 am: Flying back to Pokhara
Annapurna region, and it welcomes thousands of tourists each month.
The pilot briefs you about critical architecture before you start flying above the hills. We can see a vast sub-tropical forest area with Rhododendron, Pine, and Oak trees. Then, we can finally see the dense settlement of Pokhara. The landing of the Annapurna Base Camp Heli trek will be done in about half an hour.
Also Read :- Detailed Itinerary Of Langtang Valley Trek
9:30am to 10am: Departure
After the plane lands safely, it's time for farewell. You can either fly back from the airport. Or, we will drive to your hotel in the Lakeside. The ride will be about 30 minutes. In just 2 hours, you will be back in the hotel room and our Annapurna Base camp by helicopter tour ends here.
useful info
Things To Bring During The Annapurna Base Camp Helicopter Tour
Annapurna Helicopter tour usually operates in the mornings. Even on a sunny day, the temperature at the base camp will be at a freezing point. Thus, there are a couple of things you must carry during this helicopter journey.
Down jackets
Windproof trousers down jackets
Personal care items: Sunhat, scarf, sunglass, and sunscreen
A bottle of water (preferably warm water)
Maybe a few chocolate bars or energy drinks
Toiletries
Passport and its copy
Proof of travel insurance
Camera and mobile along with an extra battery backup – if needed)
Weather And Climate
The mountain region of Nepal experiences a bit different climate than usual- the weather is very unstable and unpredictable. The information about Annapurna climate and temperature will help you plan your helicopter ride to Annapurna Base Camp at the right time and avoid a lot of problems. So, let's learn about the weather in detail.
Autumn:
September to October is the busiest time for the Annapurna trekking region. Even at the base camp, you can see many tourists enjoying a great time. The sunshine is bright and it's a very warm month. The temperature of Annapurna in the morning is about 5 degrees Celsius and you can clearly see the views of the Himalayas. Due to the stable weather, the cases of flight delay and postponement are also rare.
Winter:
Winter in the Himalayas is actually harsh and it's not a great time for trekking in Annapurna Base Camp. However, it's a great month for the helicopter ride to Annapurna Base Camp. When we pick the right dates for winter flights, we get to witness the most spectacular views of the mountains. The thick layer of snow all around the place and magnificent views of frozen waterfalls make it a great time for the Annapurna Base Camp helicopter tour. All you need is a warm set of clothes.
Spring:
Once the winter is over, the temperature warms up (about 8 degrees Celsius) and the sky remains clear. The beautiful blooms of wildflowers in the area all around the forest are just magical. The mountains also look amazing and the helicopter flies at a scheduled time.
Summer:
June and July is the wettest month in Nepal. Although Annapurna Base Camp seldom receives rainfall, Pokhara is the wettest city of Nepal. On rainy days, we have to hold the flight for a few days. Although you might have to wait a few days for the flight, we re-book on a clear day when the mountains look magical. It's a warm time when Annapurna base camp temperature is about 12 degrees Celsius in the morning.
Best season
Annapurna Base Camp helicopter tour is equally magnificent throughout the year. In the morning, the views are always picture perfect. Winter views are just superb. The snow is very thick, and everything looks shiny. Autumn and spring have rather exciting views of the Himalayas, and the hills are covered in the colorful blooms of wildflowers. However, monsoon in the summer might block the sky, making it impossible to fly.
Safety Measures To Apply
Here, we have listed some information you should know before hopping into that Helicopter to Annapurna Base camp.
Although we minimize the chances of altitude sickness by stopping only for 30-mins, it's better to keep yourself hydrated. Carry a warm water bottle with you and keep drinking it on the plane.
Do not stay more than 30-mins in the base camp. Also, make sure that your captain is around. Do not go too far away from the chopper.
Do not get out of the plane until your pilot gives you clear instructions. Moving inside the plane is strictly prohibited.
Always wear a seatbelt and headset, do not move without the pilot's instruction.
Do not take your hand and head outside the chopper. Also, do not throw anything from the window seat during the abc helicopter tour.
FAQs
How safe is the Annapurna base camp helicopter tour?
This commercial helicopter flight tour to Annapurna base campuses is a very powerful helicopter. We won't fly in bad weather and in any cases of technical error. We check the plane thoroughly before each flight and never cross the weight limit. With the experienced team, the Annapurna base camp helicopter is 100% safe and highly recommended.
Is the team lead and pilot experienced?
What happens if we fly due to bad weather/ wind?
Do I have to pay any hidden charge?
What is the highest altitude of the Annapurna Base camp helicopter tour?
How long is the landing at Annapurna Base camp?
Is it possible to join a group with your company for the Annapurna helicopter tour?
How can I book a private trip or a family trip?
What is the weight limit of the Annapurna Base camp helicopter tour?
Is it possible to take more than 5 people at the same time?
UNSURE WHERE TO GO? WE CAN HELP
Based on your preferences, location, timeframe, and budget, our team can design your dream trek based on our extensive knowledge and experience of the Himalayas. Get in touch with us for detailed information and assistance planning your dream trek. With our 97% success rate on trekking and climbing trips in 2022 and 2023 spring season, we will answer any questions you may have and guide you for an unforgettable experience.