Hello everyone! This is a long article that covers almost everything you should know about kanchenjunga Circuit Trek by a local Trekking guide who has been to this trail more than 20th times . This is the most updated article you could ever find online about food during kanchenjunga trekking so enjoy reading.
As a foodie, I find trying new food and enjoying the new taste a very important aspect of traveling. Even before I start hitting off any trekking route, I often look for interesting food and Culture in that area. And if you are also a food hunter like me, this article on Kanchenjunga Trekking Food will come in handy.
Food is the most important part while you are on the trek. Since there are many chances of sickness at a high altitude, the kind of food you eat determines your health status. For example, during the Kanchenjunga Circuit Trek, having any kind of hard drinks i.e. the food that makes you dehydrated can be deadly. On the other hand, you should be eating high-calorie food that keeps you energized during the day. Also, there is a limited choice of food on the Kanchenjunga Circuit Trek route and not all of the foods on the menu will be fresh. So, it's important to pick what you should have and what you shouldn't so that you remain active and ready to walk.
What kind of food is avaliable in Kanchenjunga circuit trek?
Breakfast during kanchenjunga trek.
Worldwide, a big deal of attention is given to breakfast. However, for Nepalese breakfast just doesn't matter much. They consume a light breakfast and then a heavy lunch. Most of the time, breakfast is only a cup of tea. However, during this Kanchenjunga Circuit Trek, Himalayan Masters provide a full course breakfast for our trekkers. It includes foods such as:
Corn Flakes,
Porridge,
Pancakes,
Muesli, pancakes,
Varieties of eggs
various types of bread as Tibetan, buckwheat, chapatis, and etc.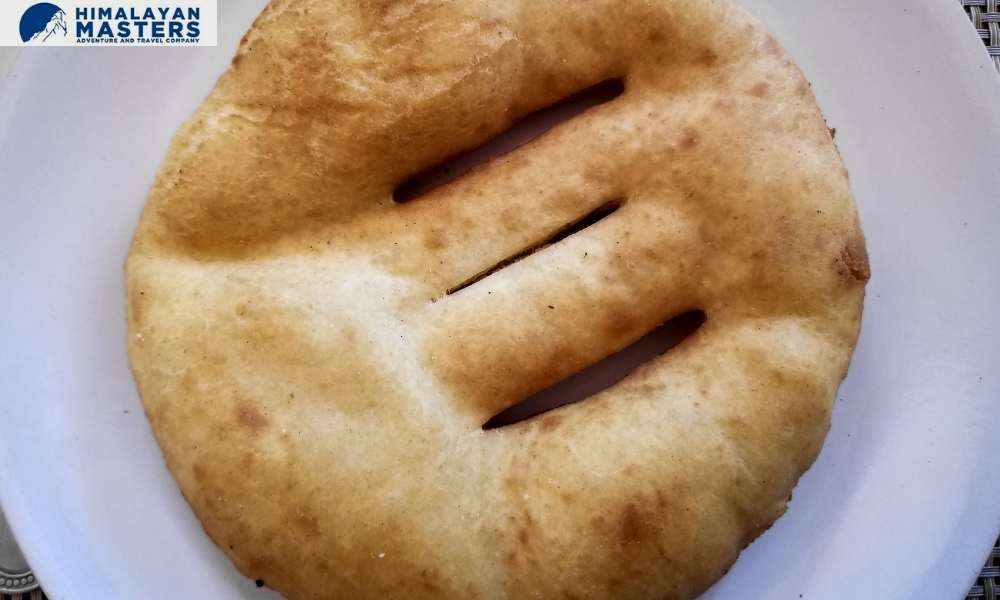 The breakfast is accompanied by a cup of coffee, tea, or honey. You can also have fruits or potatoes.
Note: It's common to order breakfast in the evening so that the hotel owner can prepare them early in the morning. The trek usually starts at 7 to 8 am.
Lunch and Dinner during kanchenjunga circuit trek
High priority is given to lunch as Nepalese consume the largest portion of Dal Bhat in the daytime. The lunch is served in the tea house along the trail, usually between 11 to 12 am. The dinner is served in the hotel at Kanchenjunga where you stop for the night. If you eat in any other places, you might have to extra charges for the room.
The most popular dish for lunch and dinner is Dal Bhat. This is the set of spicy Lentil soup, steamed rice, vegetable curry, and pickle. In the lower altitude, you can also find meat curry. Since you can get multiple refills of Dal Bhat, this is worth the money. The combination keeps you fulfilled and energized throughout the day. The taste and components keep on changing as your move to a higher altitude and you will never be bored of the same taste. If you are on diet, you can have something else for dinner as the Dal Bhat combination has quite a high calories.
The other options for the lunch are:
Soups,
Pasta,
Dumpling,
Pizzas,
 Spring rolls,
Sandwiches,
 Macaroni,
Spaghetti Noodles,
Pasta,
Thukpa, etc
Drinks during Kanchenjunga base camp trek
In Kanchenjunga Trek, you can have options for black tea, masala tea, and lemon ginger honey tea (milk and black). You will also get coffee and hot chocolate. The price for the drinks ranges from 200 to 450 per cup. The tea and coffee are available in different pot sizes.
Also, you can buy beer for about 800 to 1000 per bottle. Other hard drinks like vodka and rum are also available. However, we don't suggest any kind of alcoholic drink since that increases the chance of altitude sickness. The food option in this part is less than the Luxury Everest Base Camp Trek.
Local food of Kanchenjunga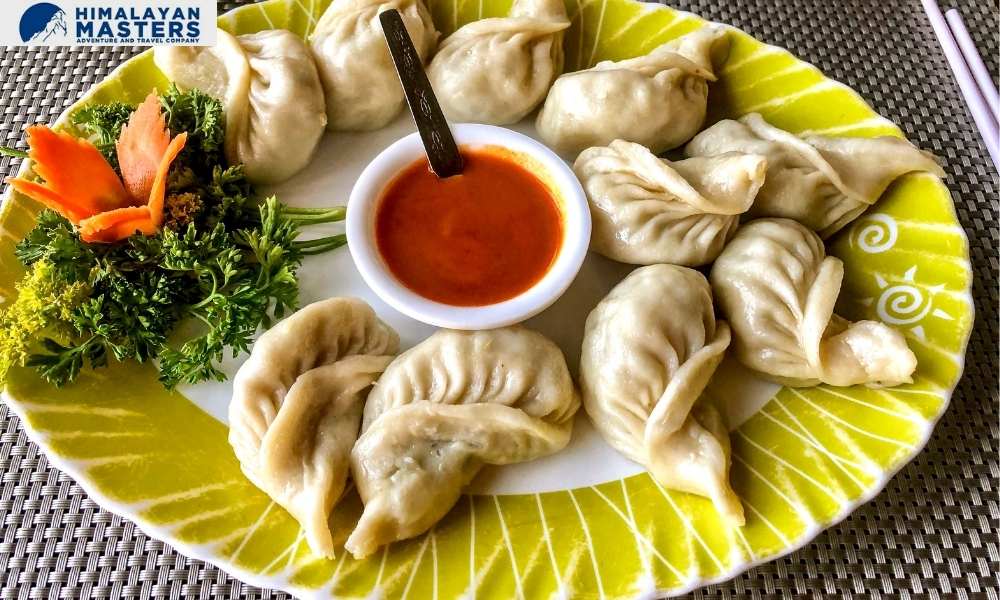 Rest assured, you will never be out of food options during the Kanchenjunga Trekking. However, we highly recommend trying these local foods of Kanchenjunga for at least one time in the journey. This food prepared from the local spices tastes great and is unique.
Sherpa Stew (also called Shakpa is a soupy noodle)
Thukpa,
Choila,
Dhindo and Gundruk
Khir,
Nepalese momo,
T momo or Tingmo,
Riki kur
Tibetain Chapati,
Tsampa,
Rilduk,
Butter tea and
Local rice drink,
Note: You might not see these food items on the menu but if you request the tea house owner to prepare them, they will be glad to get these ready for you. They might even teach you to make this food with locally available spices.
Kanchenjunga Trekking Food Cost
Kanchenjunga Circuit Trek food cost about $6 to $9. And breakfast costs $4 to $6. This sums to make about $25 dollars to $30 each and makes a large portion of Kanchenjunga trekking cost. All these costs will already to included in your Himalayan Masters Kanchenjunga trekking package. There's no restriction on what you can order while booking the package from Himalayan Masters. You can just look at the menu and order any item that you like.
Water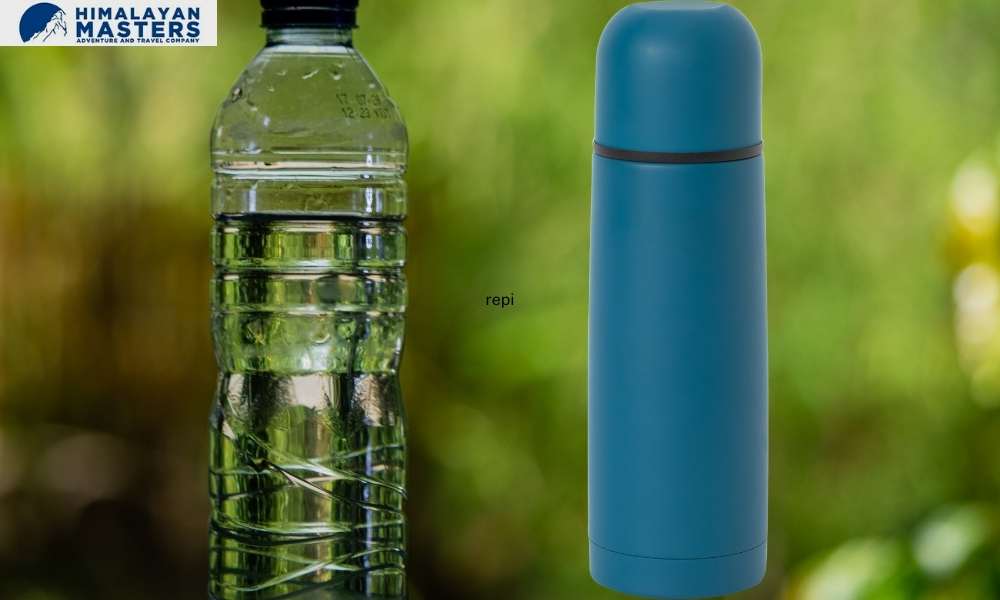 This is something we often ignore during the trek. However, at a higher altitude, buying a bottle of mineral water cost $1 to $3. Considering that you need 3 to 4 bottles of water each day, in the 21 days Kanchenjunga circuit trek, water adds a lot to your cost. The most reasonable solution for this is to get a water bottle of your own. Then you can fill it in the natural water taps and add filtering tablets. These filtering tablets are available in pharmacies and mini marts around Kathmandu for a few dollars.
Another great way is to get a Steripen Ultra that uses UV light to filter one bottle of water in less than 2 minutes and can filter up to 8000 treatments. It's a one-time investment of about 100 USD for many treks. You can find these self-filtering water bottles which are available on Amazon or in the trekking stores. Other options are Lifestraw, Grayl, and Water-To-Go.
Further, you can carry a Thormas to refill it with warm water so that you can prepare instant tea, coffee, or hot chocolate on the trek.
Useful tips/ Food hacks
Carrying your own snacks helps you save a lot of dollars
Make sure that you order fulfilling meals so that you only need to order one item from the menu
Although the menu has all kinds of national and international cuisine, the taste of foreign food might not be as per your expectation. So it's safe to order Nepalese and Indian cuisine
Don't keep all of your food in the trekking bag carried by the Porter. Since supporters might not be with you during the daytime, you need to carry an extra handbag where you shall keep the food for the day.
Food with higher water content and fruits are suggested during the trek. Garlic and honey drinks help you fight altitude sickness to a great extent.
Food to carry during the trek
If you are on a budget trip, then it's suggested to carry a few drinks and snacks for the trek. Since the cost of each food is 2 to 3 times higher in the remote land of Kanchenjunga, it's wise to carry these foods. However, if you don't follow the list you can always buy them in the hotels that you stay at. We suggest carrying these foods:
Instant tea, coffee
Hot chocolate
dry fruits
energy drinks
bottled juice
Cookies/ Biscuit
Noodles
Chocolate bars
Since three meals for the day will be included in the trekking package by Himalayan Masters, you will be quite full. There's no need to worry about being hungry.
Did you know that this is a restricted area and you need a special permit for Kanchenjunga trek?
Kanchenjunga Trekking Food during the camping trek
During the camping trek, you will have an additional team of cooks and porter. They carry all the essential food, cooking utensil, and camping equipment for the trek. The food will be prepared whenever you set the camp. The breakfast and dinner prepared by the cook are always served fresh and warm even during the Kanchenjunga camping trek. Lunch will be prepared fresh on the short walking days or carried on the longer days. Although the option for food during the camping trek in Nepal is limited; it will be quite a blessing to get warm food with such an absurd attitude. If you have a specific preference for food, you must inform the guide before you leave Kathmandu so that the food can be made accordingly.
Related article: Kanchenjunga trek diffculty
Final words,
This article was just a brief about food during the Kanchenjunga trek. Himalayan Masters have prepared a detailed guide about food, accommodation, permit, and weather of Kanchanjanga in a different article. If you are heading for the Kanchenjunga circuit trek anytime soon, please go through all of these articles and let us know if they were helpful. You can always mail us for general inquiries or book your trip through email at