TRIP DURATION

14 Days
MAX. ALTITUDE

3900
TRIP GRADE

Moderate
LODGING

Tea house
BEST SEASON

12 months a year
MEALS

Breakfast lunch dinner
COMMUNICATION

Local sim card
PER DAY WALK

5 to 6 hours
Upper Mustang Trek
The colorful land of Mustang is literally a paradise for a man-kind. Gracefully placed in the western-north section of the country, the Upper mustang trek is among the best treks of Nepal. This ancient forbidden kingdom's culture and history are hidden from the entire world. The wonders are yet to be discovered by the brave, adventurous soul. So, get ready to learn more about this natural and cultural wonderland.
Mustang lies beyond the Himalayas of Annapurna and Dhaulagiri. Mustang is suited between 206kms from Kathmandu, 422.5kms of road distance. This district has two regions- Lower and Upper Mustang. While the lower Mustang is very busy and vibrant, the Uppermost region of Mustang is still a restricted region; you need a special permit to visit Upper Mustang. Jomsom is the headquarter of Mustang.
With its immense beauty, the small town of Jomsom lures thousands of tourists every year. There are beautiful villages and valleys you visit during the trek to the Upper Mustang, each one of them equally mesmerizing and unique. Upper Mustang was the last king-ruled state of Nepal. People's lives revolved around Tibetan Buddhism, which is known as a Bon religion.
Upper Mustang Trek Routes
Tibet has influenced even their language. These followers of Buddhist sage Guru Rinpoche have built many beautiful monasteries and colorful rotating wheels in the entire region
The annual Tiji festival, Horse race, Loshar, and many other celebrations can also be observed at a close distance. The upper mustang trek has so many wonders to uncover. The upper Mustang tour actually commences when you get to Pokhara. You can drive or fly to Jomsom from Pokhara and then start the trek to Kagbeni.
From Chele, we continue to the villages such as Syangboche, Ghami, and Charang before getting to the Lo Manthang. Here, we will spend an additional day exploring the exceptional beauty of the Upper Mustang. Then, we walk down the Dhamkar and Syangbochen. The final trek day to Jomsom from Chhusang brings us back to Pokhara.
Obviously, we can take an additional day to witness many natural wonders of Pokhara valley before getting back to Kathmandu.
Highlights Of Upper Mustang Trek
Stroll in the semi-arid land beyond the mountains
Horse-riding to the walled city of Lo-Manthang
Witness the unbelievable beauty of colorful alpine vegetation- hues of orange, red, brown, and green
Enjoy the views of the majestic Annapurna and Dhaulagiri range from the opposite direction; a rear-view to the world
Exciting meetings with the Yak Caravan, pristine waterfalls, beautiful lakes, and many other natural wonders
Explore the route that the traditional trans-Himalayan traders once used
A once-in-a-lifetime opportunity to live the unique practices of the Tibetan Buddhist culture for the true knowledge of peace and salvation.
Best Season For Upper Mustang Trek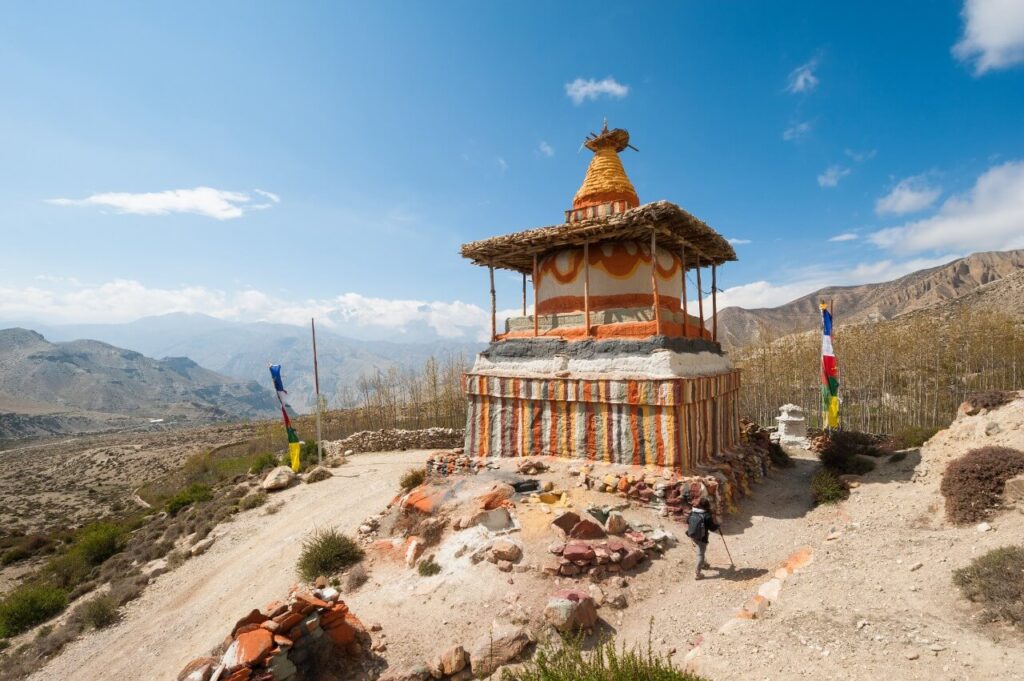 Four different seasons are experienced in Nepal- Autumn (Sept – Nov), Winter (Dec- Feb), Spring (April-May), and Summer/ monsoon (June- August). Among these months, autumn in Upper Mustang is the most crowded month. The views are very clear, and the weather is warm and beautiful. Similarly, spring is also a popular season for trekking in Nepal.
The colorful blooms of wildflowers and some fun festivals make it the best time for the Upper mustang trek. Interestingly, the Upper Mustang trek is one of those hiking trails in Nepal where you can trek in summer. While the rest of the country suffers from Monsoon rain, this semi-arid land with high cliffs rarely gets any rain.
Thus, if you plan your visit in summer, this is the destination you should pick. However, we don't suggest a winter trek; Upper Mustang trek difficulty increases in winter. The temperature of Mustang winter drops below 0 degrees even in the daytime, and it's literally freezing. Also, the snowfall covers most of the trekking area, and it's hard to walk during the Upper mustang trek.
Recommended Reading:- Annapurna Base Camp Trek
What Is Upper Mustang Famous For?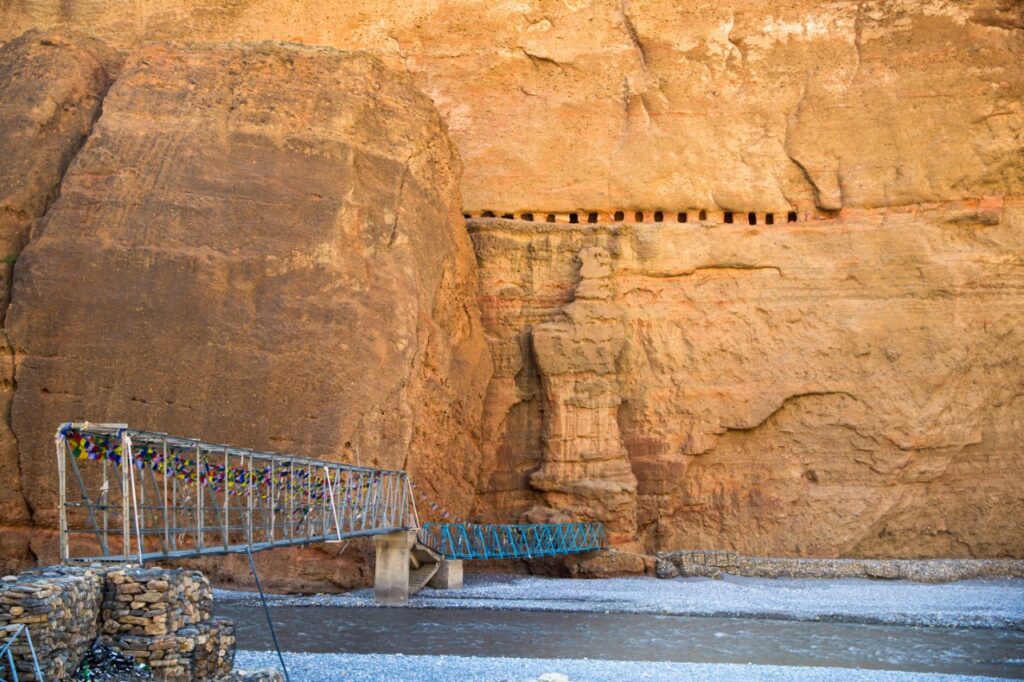 Upper Mustang is a paradise for adventure seekers/explorers, and there are few genuine reasons for it. Firstly, Lo Manthang, the center of the Upper Mustang, and its exciting history captivate many tourists. This mountain valley is surrounded by walls on all sides and still has a king (although not legally).
The lifestyle, culture, and practices between these walls are hidden from the world, and only a few get to witness it from a close distance. Slightly far from Lo Manthang, you can witness Gyakar and Ghar Gompa, more than 1200 years old. Trek to Upper Mustang is also famous for Tiji and horse racing festival. Prayer Chants and dances in colorful dresses are the charms of Tiji.
This festival is celebrated around May as per the Tibetan calendar. Another highlight is obviously Muktinath temple, a pilgrim site for Nepalese Hindus and Buddhists. People of two different religions keep Muktinath at the superiority of their faith. Earlier, believers used to walk for over a month to reach this temple of Muktinath and ask the god for salvation and peace.
Beautifully seated along the colorful high cliffs, the Muktinath visit is a rejuvenating experience. Other attractions are fascinating forts and monasteries of Kagbeni, hidden caves in the upper Mustang, unique myths inside the four walls of Manthang, and many more.
Also Read:- Everest Base Camp Luxury Trek
ITINERAY
Day 01: Drive / Fly to Pokhara
You can either drive to Pokhara along the Prithivi highway or fly to the domestic airport of Nepal. The 8 hours of drive in a tourist bus/ private car along the Trishuli river bank and lush hills is also going to be fantastic. Or, you can fly above the lush green hills and witness the mountain vistas parallel to your eyes from the window seat of your plane.
If you fly to Pokhara, we will have some extra time for boating in Phewa and visiting nearby places. In the evening, you get to enjoy the nightlife of Lakeside.
Note: You can also book our Upper Mustang trek from Pokhara itself. We can pick you up from any other nearby cities of Nepal.
Overnight in Pokhara
Day 02: Drive/ Fly to Jomsom and trek to Kagbeni
From the Pokhara airport, we fly to Jomsom in the morning. This half an hour of mountain flight close to the Annapurna range is a beautiful experience. You can also drive to Jomsom from Pokhara off-road, but that's a very long journey. Once we get to Jomsom, we get our bags ready and then trek to Kagbeni.
Walking along the Kali-Gandaki river in a neatly built road of Mustang is thrilling. Kagbeni has a fortress that was established in the later 16th century. Close by; there is a place called Drakmar where Guru Rimpoche is said to slew an ogress named Balmo. We visit a suspension bridge, monasteries, and many other places of Kagbeni before getting back.
Overnight in Kagbeni
Day 03: Trek to Chele
In the early morning light, we wake up with Nilgiri before us. Heading north along the Kali Gandaki River, we first enter the Chhusang Valley. After some walk, we will be standing before the red and whitewashed houses of Tangbe. After lunch, we then reach the village of Chele. Perched high in the majestic cliffs, we can find some decent accommodation here.
Overnight in Chele.
Day 04: Trek to Syangboche
Once we leave Chele, our plan during the Upper mustang trek is to climb into the Samar village. From Samar, we walk downwards for almost 30minutes before we start the climb to the Syangboche. The overall journey is not that long, but since we will be walking above 3800m, you need to walk slow and let your body rest.
Overnight in Syangboche
Day 05: Trek to Ghami
In the morning, we plan to climb towards the steep Yamada La. From the top, the views of the range, including Annapurna, Dhaulagiri, and Nilgiri, are absolutely stunning. Then, we do even a stricter climb to Nyu La Pass. Only then, we walk to Ghami for a few hours. The deserted land of Ghami has newly built houses and lodges.
Overnight in Ghami
Day 06: Trek to Charang
The 8th day of our Upper Mustang trek starts with a downward walk to the colorful valley. The different colors of prayer flags look like the beauty of the rainbow before the Tangmarchu River. Then, we plan to climb above the plateau and cross the Mani Wall. After a few hours, we will be staying in the Charang village.
Overnight in Charang village
Day 07: Trek to Lo-Manthang
Today's path on our trek to Upper Mustang is mostly uphill. We first climb to Lo-Gekar, one of the oldest Buddhist monasteries globally (even older than Tibet's Samye Gompa). We take our time to visit this classic monastery before we take a horse ride to Lo-Manthang. Getting in the ancient walled city of Lo-Manthang, its immense beauty will lose you. We will only wander around the guest house in the evening and leave the rest of the journey tomorrow.
Overnight in Lo-Manthang
Day 08: Exploration of Lo-Manthang
Lo-Manthang is a core of Buddhist culture and tradition in Nepal. Here are four unique temples- Chopramg Gompa, known as "New Gompa"; Jampa Lhakhang, known as "God House" (made in the early 15th century); Chodey Gompa; and Thubchen Gompa (made in the late 15th century).
Among many wonders of Lo-Manthang, we visit the Namgyal Gompa which is situated at peak top. Then, we visit the Tingkhar northwest. This is a tiny village with about 40 small houses. We also explore the king's palace and call the day off with a delicious local dinner.
Day 09: Trek to Dhamkar
We initially ascend to 4070m and then climb to the Chogo La Pass, the most demanding section of our trip. Chogo top at 4320m is also the highest viewpoint of our trek. Then, the journey is all about the downhill walk to the Charang River. Walking to the Lo-Gekar, we hike via the monastery of Ghar Gompa. The absolute path then moves down to the Drakmar.
Overnight in Drakmar
Day 10: Trek down to Syangbochen
We plan to walk further downwards from the stone walls and potato fields of Drakmar. In a few hours, we will reach Ghami and then to Jaite. For the daytime, we walk down to Chhung-Kah and continue walking to Tama Gaon. Lastly, our plan for the day is to walk downwards to Syangbochen.
Overnight in Syangbochen
Day 11: Trek to Chhusang
Leaving Syangbochen, we walk via the river to Chhusang. Or, we can also walk via the Samar village to visit the Ranchung Caves (if we haven't visited this cave before). Although this route via Samar makes our trip a bit longer, it's worth it.
Overnight in Chhusang
Day 12: Trek to Muktinath and drive to Jomsom
Leaving Chhusang Village in the early morning, we plan to walk above the valley of Muktinath. For that, we need to cross the river that is known for the fossil stones called Shaligrams (black holy stones). We get to Muktinath in the evening with the awesome Annapurna, Dhaulagiri, and Tukuche before us. Our Upper Mustang trek ends here. Visiting this famous temple on the hilltop, we drive down to Jomsom.
Overnight in Jomsom
Day 13: Fly to Pokhara and rest
The flight from Jomsom to Pokhara is usually arranged in the morning. We will be in Pokhara before lunch if the weather supports our plan. Then, we shall have enough time to explore the nearby places, including Phewa lake, Tal Barahi, Devi's falls, and caves. Or you can just rest in your room, enjoying hot showers and a spa. In the evening, join the nightlight of Pokhara.
Overnight in Pokhara
Day 14: Drive back to Kathmandu
Now, the trip comes to an end while we drive to Katmandu in a tourist bus. Or, we have the option to fly to Kathmandu and visit some more temples and monasteries around Kathmandu valley- the choice is yours. Either way, we all gather for a farewell dinner in the evening and share our memories from the trip.
include / exclude
Trip Cost Includes
The Cost includes

International and domestic airport pickup and drop-off by comfortable private car
Kathmandu to Pokhara to Kathmandu by tourist bus
Pokhara to Jomsom to pokhara bu bus
Guide for 14 days
Breakfast, lunch and dinner with tea and coffee during the 12 days of trekking
11 nights of tea house accommodation in the Kathamndu
Upper Mustang restricted area permits
Annapurna Conservation Area permits
Guide insurance, transportation food and accommodation
All government taxes and company service charges
Complementary services from Himalayan Masters

Use a 25-degree sleeping bag during the trip if needed.
20 sleeping bags during the trek if needed
Trekking poles during the trekking if needed
Use a pulse oximeter to check your spo2 and bpm at high elevations.
Water bottles and purification tablets by Himalayan Masters
first-aid kit box.
seasonal fruits for dessert.
The Himalayan Masters brand duffle bag for the trip
Himalayan Masters Brand Trekking T-Shirt and Cap.
Emergency: One bottle of oxygen carried by the guide
Trip Cost Excludes
International flight ticket
lunch and dinner in the city
Proter for the trek
Tips for Guides
travel insurance
accommodation in Kathmandu
International flight ticket
lunch and dinner in the city
Proter for the trek
Tips for Guides
travel insurance
accommodation in Kathmandu
FAQs
How long in the Upper Mustang trek?
The Upper Mustang trek can be two weeks to three weeks long. As per the Itinerary designed by the experts of Himalayan masters, this trek is 14 days long. The Upper Mustang trek distance is about 125kms, and this distance is covered in 11 days. We will be walking about 10kms each day, 5/6 hours.
How hard is the Upper Mustang trek?
Is there Wi-Fi/ Internet in Mustang trek?
What kind of accommodation is available in the Upper Mustang trek?
What are the major places to visit in Mustang?
What is the food I must try During the Upper Mustang trek?
What about the Upper Mustang trek permit?
UNSURE WHERE TO GO? WE CAN HELP
Based on your preferences, location, timeframe, and budget, our team can design your dream trek based on our extensive knowledge and experience of the Himalayas. Get in touch with us for detailed information and assistance planning your dream trek. With our 97% success rate on trekking and climbing trips in 2022 and 2023 spring season, we will answer any questions you may have and guide you for an unforgettable experience.