Food And Accommodations In Langtang Valley Trek
Langtang Himal trek can indeed be called an underrated trekking destination in Nepal. Along with the awe-inspiring views of the mountains, the melody of cascading waterfalls, and the thrills of experiencing typical Nepalese culture make it an exemplar destination. Just to add more, it's also a well-infrastructured route- a perfect fit for the comfortable and yet remote experience of the mountains and villages of Nepal
And, Did you know that the Langtang trek cost is also absolutely low, making it a very affordable experience? 
While, we can keep on rattling about how fantastic the Langtang Valley trek is, this article is mainly about the foods in Langtang and accommodation during the tour. And, we shall also be discussing the telephone, Wi-Fi, and internet in Langtang. So let's dive right in, shall we?
Food In Langtang
Warm/ healthy food and a comfortable hotel in Langtang are essential for making your tour safe and fun. And if you are foody, the Langtang Valley Trek is a perfect opportunity to savor the traditional food of Nepal made with special spices. The menu is set by the local trekking committee and is identical for all places from Syabrusi to Kyanging Gompa. Let's view some options for food in Langtang and then we shall learn about the accommodation.
Read for Langtang Trek Cost.
1. Breakfast In Langtang Trek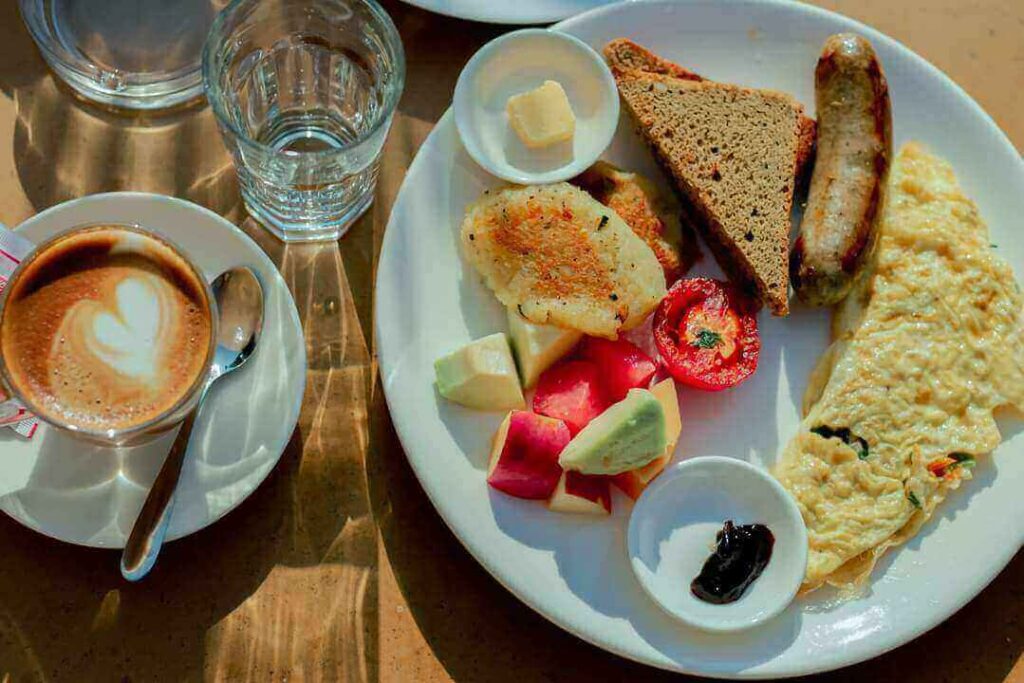 Well, breakfast is the day's most important meal, and you gotta have it complete. The tea houses serve breakfast between 7 to 10 am so that you can start the Lantang trek early. It's easier to order your breakfast after having your dinner in the tea house at Langtang. Anyways, you can order foods such as Tibetan bread (you must try this at least once) and bread/ Chapati with jam/ honey. A wide range of hot soup, pancakes, porridge, muesli, and omelets is also available for breakfast.
2. Lunch In Langtang Trek
As we leave the hotel after breakfast, we will be having our lunch on the way. A guide for the Langtang trek takes you to an appropriate restaurant before 1 pm. We recommend that you have carbohydrate-rich Nepalese Dal Bhat for lunch. This combination of boiled rice, lentil soup, mixed vegetable curry, and pickle with an unlimited supply keeps you fueled all day. Nepalese literally consume this same combination of food twice every day and yet never get bored. So, obviously, it's delicious.
The other options include fried rice, pasta, pizza, and Spaghetti. Although these are some great options, the taste of international cuisine in the Langtang trek might not precisely meet your expectations. In that case, momo and noodles items are always there for your rescue.
3. Dinner In Langtang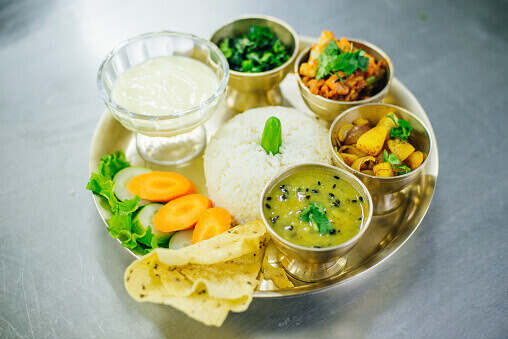 It's often mandatory that you have your dinner in the hotel you spend your night. The options for dinner are similar to the ones mentioned in the lunch. And we shouldn't forget about desserts like apple pie, rice pudding, chocolate pudding, apple filter, and more.
4. Drinks In Langtang
The options for liquid are also damn impressive. You will indeed have tea and coffee with some Ginger Honey Lemon. Also, there are good options for alcohol, including Local Wine, Beer, and Rum. However, you should know that hard drinks at such an altitude make you dehydrated and prone to altitude sickness. So, it's really wise to avoid them.
Local Food of Langtang
Besides the food mentioned in the menu, there are some other local foods of Nepal that you should definitely try. You can either request your tea house owner to prepare these items for you or enjoy these regional cuisines in some restaurants. Obviously, you should have Thakali Khana and Momo. Dhindo and Gundruk, Sel roti, Yak cheese, and Nepalese curd are equally yum. On a cold day, Tibetan Noddle soup (Thukpa) and butter tea are also a must-have. Samayabaji and Yomari are great options to try while in Kathmandu.
Water In Langtang Trek
A bottle of water in Langtang costs $1 to $2. Having bottled water in the trek is not just expensive; it's also harmful to the environment. So, our best suggestion is that you carry a reusable bottle and refill it in the hotel or local tap. Then, you can use a purifying tablet. These distinctive tablets are absolutely cheaper. You might also take a small thermos to carry warm water/ tea. Ensure that you drink a lot of water and keep yourself hydrated throughout the trek.
Langtang Trek Cost For Food
Now, Nepal's one of the cheapest countries for backpackers. However, don't be surprised if you find the cost of food in Langtang a bit high. That's because every grain you eat in the mountains has either been carried by mules or a helicopter. So that adds a lot of cost in transportation. Only some local vegetables and potatoes can be farmed in such a harsh mountain climate.
Breakfast costs about $4 to $8, and dinner can cost about $6 to $10- it depends on what and how much you eat. Desserts cost about $3 to $4. Tea and Coffee cost about a dollar, and a beer bottle cost about $7.
Is the Food Healthy?
Yes, you shouldn't worry about that. The tea houses prepare fresh food with local organic products. However, in places such as Langtang village and beyond, the meat products might be expired. Since there is no electricity beyond that, the meat might not exactly be safe. So it's wise to go with vegetarian food at a higher altitude. Otherwise, you can have the food of your choice.
Related content:- Food and Accommodations In Poonhill Trek
Well, that's all about food in Langtang. Let's learn more about accommodation there.
Hotel In Langtang
Langtang trekking routes don't precisely have hotels. That doesn't mean you will be staying in the tents for over a week. The Langtang trekking routes have tea houses, which are tiny guest houses run by the region's locals. Earlier, the tea houses used to be tiny wooden houses with a room separated by wooden blocks. However, now there are pretty decent tea houses made with modern equipment. The hotels in Langtang build after the 2015 earthquake are actually very impressive.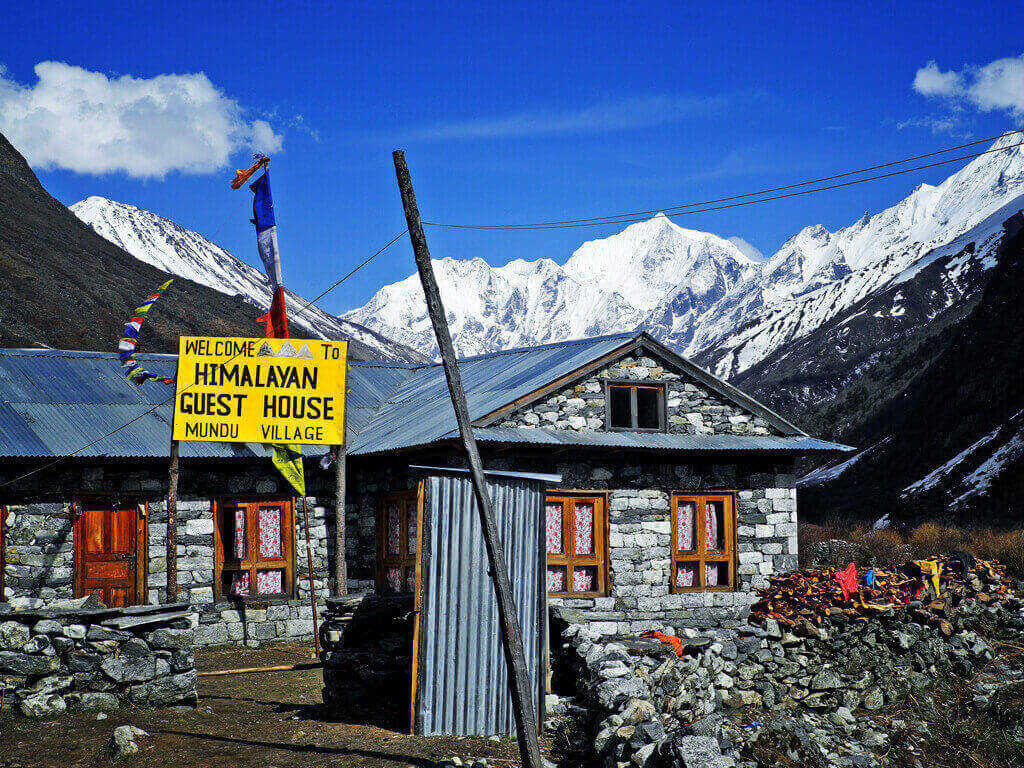 So how is a tea house stay like? There will be small houses with cozy rooms and a central dining hall. That dining hall is often heated with fire, and you can enjoy the warmth while cherishing dinner. The room has 2 to 3 small beds with clean mattresses, a pillow, and a blanket. In the off-season, you might get an extra blanket, but it's always safe to have a sleeping bag. If you are lucky, there might be a small tea table and a mirror. And that's it. The services up to Lama Hotel are quite good, but accommodation in Kyanging Gompa is quite basic. The cost of the room is about $5. Same goes for Langtang Gosaikunda Trek.
Bathroom at hotels in Langtang: In the lower altitude, i.e., below Langtang village, you might find some rooms with attached bathrooms. But that's very rare, and you shouldn't keep your hopes high. Lol. The bathroom is available on sharing basis and has a western toilet (only in new hotels, otherwise you might have to use an Indian style bathroom). If you have never been to the classic village, the bathroom might not exactly meet your expectations—just a heads up.
Hot water is available for some additional charge. Most hotels now have a geyser; otherwise, you will get a bucket of warm water.
Booking hotels In Langtang
Nowadays, there are plenty of tea houses built throughout the trek. So getting a guest house in Langtang is not really a problem. In the off-season (June/ July and January/ February), you will have plenty of options for accommodation. However, in the peak season (March/ April and October/ November), it's wise you book your stay. You might find some of these hotels online, but many of them do not have any presence on the internet. So, you can hire a guide and ask him/ her to book your hotel or pay a guide for the hotel's telephone number. Since finding these contacts is not actually an easy job, it's wise to book a Langtang trek package. Try being on the safe side.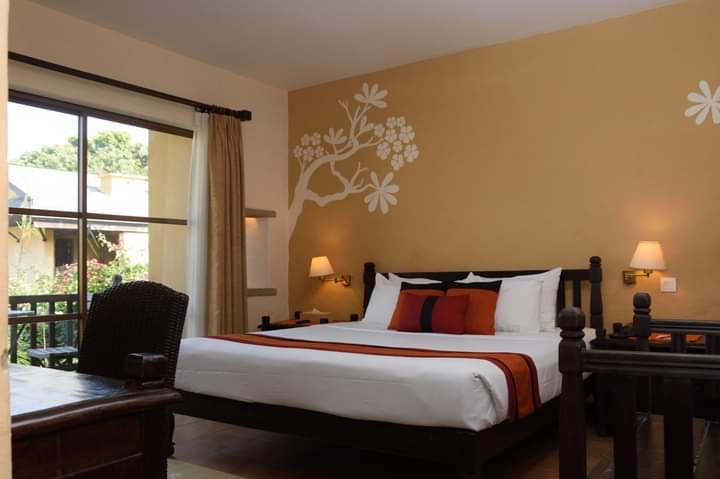 Charging and Electricity In Langtang
You can expect tea houses up to Lama Hotel to have plugs in the room. And even if they don't, the charging in the dining room is free. However, once you move towards Langtang village, things will be complicated. You need to charge your phone/ camera in reception for some additional cost for the next three days. It cost $2 to $3 according to time and device. That's why we suggest that you carry a robust power bank for the Langtang Valley trekking. Some trekkers also have solar-charged power banks.
Telephone network In Langtang
Beyond the Langtang village, you will not find phone coverage. Below the town, there is a network of NTC and cell towers. These are Nepal's top network service provider, and the SIM card cost about $1. You can issue the SIM card with your passport while you are in Kathmandu. Along with phone calls, you can also use mobile data for the internet. However, don't hope it to be super-fast- you might get a 3G network if you are lucky. However, that cannot be relied upon.
Internet/ Wi-Fi In Langtang
Thankfully, the facility of Wi-Fi is available up to Kyanging. However, the cost of Wi-Fi is not included in your accommodation, and it cost $1 to $2. The speed of Wi-Fi is not that good- you can surf social media but not upload a high-quality video. So, if you plan to work while trekking in Langtang, it won't be very reassuring. You might be able to use mobile internet below Langtang Village, but that's not reliable. So, be prepared to be disconnected from the internet for a few days.
This short Langtang village trek is supposed to be a rejuvenating experience in the proximity of nature. So, we suggest that you really don't worry about the internet and electricity. Just let the beauty of Langtang reach into your soul.
Note: A tourism committee has managed the tea houses of the Langtang region, and the price for food and bed is the same in all hotels. The menu is set as per the standard of the Langtang trek committee, and the price increases as you move to a higher altitude. Some discounts might be available in the off-season, i.e., winter and summer; otherwise, the price is standard. 
Conclusion
So that was all of the information we could share with you. Keeping all the doubts asides, we are sure that your Langtang trek will be a memorable journey. However, if you still have some doubts, you can drop a comment below. Or, just mail it to us.
Book your Langtang trek with the Himalayan master, and let us make all the arrangements while you just enjoy a wonderful time. For more details, you can contact us.
UNSURE WHERE TO GO? WE CAN HELP
Based on your preferences, location, timeframe, and budget, our team can design your dream trek based on our extensive knowledge and experience of the Himalayas. Get in touch with us for detailed information and assistance planning your dream trek. With our 97% success rate on trekking and climbing trips in 2022 and 2023 spring season, we will answer any questions you may have and guide you for an unforgettable experience.