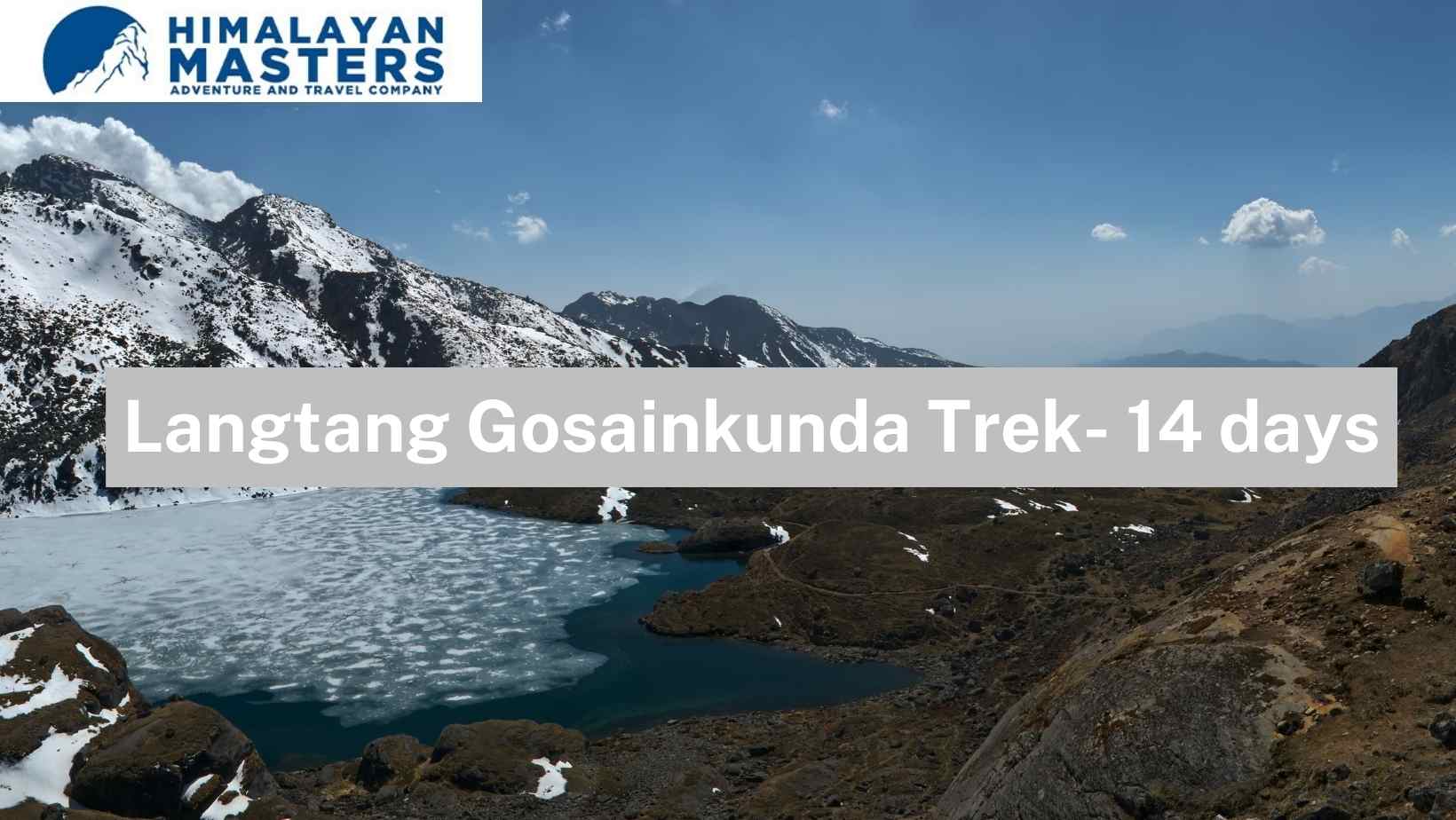 TRIP DURATION

14 Days
MAX. ALTITUDE

4962
TRIP GRADE

Moderate
LODGING

Tea house
BEST SEASON

Springs and autumn
MEALS

Breakfast lunch dinner
COMMUNICATION

Local sim card
PER DAY WALK

5 to 6 hours
Langtang Gosainkunda Trek- 14 days
Highlight of Langtang Gosainkunda Trek
Visit Gosainkunda Lake-Hindu's and Buddhist most excellent pilgrim site
Witness over dozens of mountain peaks in the Langtang region of Nepal
Understand the great Buddhist culture and history of Langtang
Explore a unique Himalayan landscape, incredible bio-diversity, and unique wild-life of Nepal
Overview
Who doesn't love an amalgamation of easy but naturally and culturally delightful trek within a short time? If you are looking for the best tours to the beautiful pristine lake, scenic mountains, unique landscape, and culturally blessed villages, this Langtang Gosainkunda Trek is just your type. Get ready to have an excellent memory.
This Langtang Gosainkunda Trek has been underrated for a century. This is a beautiful tea house trekking experience close to the capital to Gosainkunda, a holy lake for Buddhist and Hindu pilgrimage. Over centuries, Nepalese people have set an arduous journey to this sacred lake, and now it's open to the public. In August, during Janai Purnima, thousands of people are praying here. Besides the lake, you get to walk via the village of Langtang and Kyanjin Gompa for a deep insight into the Tibetan Buddhist culture.
Langtang Gosainkunda Trek begins with a drive to the north of the capital i.e., Syabru Besi village. From here, we get to the Lama Hotel and Mundu before climbing to Kyanjin Gompa. After a day here, we get back to Syabru Bensi and then climb to Sing Gompa. Finally, we get to the beautiful settings of Gosainkunda Lake before getting back to Kathmandu.
Things to see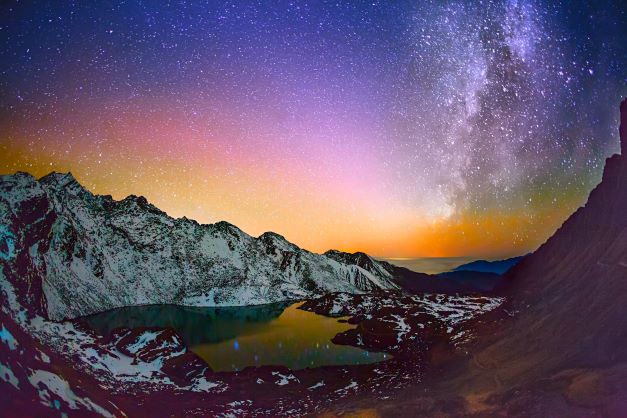 We witness over a dozen mountain peaks during the trek, including Langtang Ri, Langsisa, Dorje Lakpa, Langtang Ri, Ganjala Peak, and more. Next, we will also witness an incredible bio-diversity of sub-tropical and arid vegetation within a diverse landscape. The wild animals in the region make your tour even more enjoyable. Also, we will see the monasteries, stupas, mani walls, rotating wheels, and a lot of Buddhist cultural events. And obviously, Gosainkunda lake.
ITINERAY
Day 01: Arrival at kathmandu
Altitude: 1400 meters
After the customs formalities, we get you to the hotel. The short-30mins ride in Kathmandu's best market will be fun. After the rest, the guide helps you pack the bag and get some trekking essentials. And then, you will be guided to a farewell dinner. Here, we discuss our plans for the next 14 days.
Overnight in Kathmandu
Day 02: Drive to Syabru Besi from Kathmandu
Altitude: 1,600 meters
Walking time: 7-8 hours
Now, it's time to head towards the Mountains. So, an early morning ride takes us along the hilly winding road of Nepal. Beyond many small settlements, rivers, and waterfalls, we get to Syabru Besi. Here, you get to live a day in a local hotel and get ready for a fantastic journey ahead.
Overnight in Syabru Besi
Day 03: Trek to Lama Hotel
Altitude: 2,470 meters
Walking time: 5-6 hours
Duration: 10.9kms
Our initial trekking journey begins from Syabru Besi. In the morning, we walk to a bridge over the Langtang River. Then, we pass via the sub-tropical forest of Rhododendron, Pine, and Bamboo. Climbing slowly above the river, our days end at the Lama Hotel.
Overnight in Lama Hotel
Day 04: Trek to Langtang Village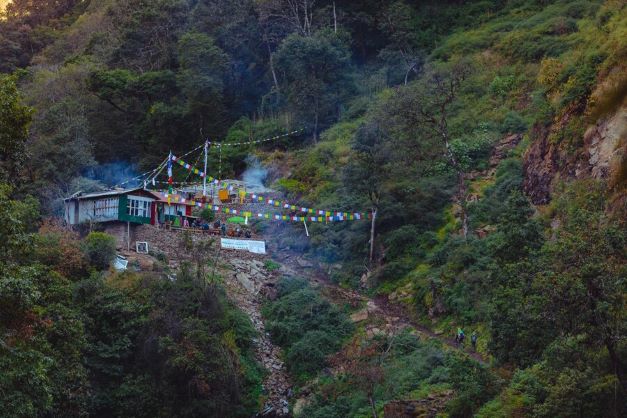 Altitude: 3,430 meters
Walking time: 4-5 hours
Duration: 14.8 km
This is a short and exciting walk to the Langtang Village. Walking with stunning Mt. Langtang Lirung before us, we first get to Ghora Tabela. Entering the Langtang National Park, we witness more amuses of Langtang. However, as we enter the Langtang Village, the impact of the 2015 earthquake will be visible.
Overnight in Langtang Village
Day 05: Trek to Kyanjin Gompa
Altitude: 3,870 meters
Walking time: 2-3 hours
Duration: 6.8 km
Today, we walk via many villages, yak pastures, and streams to Kyanjin Gompa. This white-washed old monastery of Langtang holds great significance to the people of Langtang. From then, we walk to Langtang Lirung and Dorje Lakpa.
Overnight in Kyanjin Gompa
Day 06: Rest day and hike to Tserko Ri
Altitude: 5,000m
Our plan for the day is to hike up to Tserko Ri in the morning. This hilltop lies at 5000 meters above sea level, and the sunrise from the top looks mesmerizing. It's also the best viewpoint for the panorama of Langtang Himal. In the evening, we explore the Kyanjin Gompa and learn more about Buddhist culture.
Overnight to Kyanjin Gompa
Day 07: Trek to Lama Hotel
Altitude: 3,430 meters
Walking time: 6 hours
Duration: 21.6 km
So, now we plan to trace the same route back to Lama Hotel. On the way down, we might spot some wild animals and birds. First, we get to Langtang village and then to Ghora Tabela. We reach Lama Hotel by night and stop here.
Overnight in Lama Hotel
Day 08: Trek to Syabru Besi
Altitude: 2,230 meters
Walking time: 6-7 hours
Duration: 13.1 km
On the 8th day also, we trace the same route from the Lama Hotel to Syabru Besi. Along with some fantastic landscapes, we also see more of Tamang cultural heritages and traditions in the village.
Overnight in Syabru Besi
Day 09: Trek to Sing Gompa
Altitude: 3,330 meters
Walking time: 3-4 hours
Duration: 6.8 km
Now onwards, the journey continues on a different trail to Gosainkunda. From Thulo Syabru Besi, we first reach Dursagang and then to Phoparng Danda. As Ganesh Himal appears magnificent before us, we walk for a few more hours to Sing Gompa. In the village, we will have some Buddhist heritages and a local cheese factory to visit.
Overnight in Sing Gompa
Read all Langtang Trek Guide
Day 10: Trek to Gosainkunda Lake

Altitude: 4,460 meters
Walking time: 4-6 rs
Duration: 11.2 km
Get excited for the incredible journey of your life. As we walk above Lauri Binayak, we can witness a significant change in the landscape. Seeing the view of Langtang Lirung beyond the valley, we get to the holy lake of Gosainkunda. This sacred lake created by Lord Shiva is our stop for the night.
Overnight in Gosainkunda Lake
Day 11: Trek to Sing Gompa or Chandan Bari
Altitude: 3250 meters
Walking time: 4.5 hours
In the morning, we explore the magnificent areas of Gosainkunda Lake. After breakfast, we then walk to Lauri Banayak before getting to Sing Gompa. Or we can also stop at Chandan Bari if you want a different stop.
Overnight in Chandan Bari or Sing Gompa
Day 12: Trek to Dhunche
Altitude: 2,030 meters
Walking time: 6 hours
This is your last day for the trek. Walking beyond the forest, we witness more langur monkeys and Himalayan animals. First, we get to Sing Gompa Stream and cross it on a suspension bridge. Then, we hike to the village of Dhunche, where we stop at the tea house for one last time.
Overnight in Dhunche
Day 13: Drive to Kathmandu
Altitude: 1400 meters
Driving time: 7 to 8 hours
The drive to Kathmandu starts in the early morning. Driving via many terraces, streams, and rivers, we get to witness the best of Nepal. Back to the hotel, you will have some time for the souvenir shopping. Then, you will all gather for a farewell dinner, sharing beautiful memories of the trip.
Overnight in Kathmandu
Day 14: Departure
Now, it's time to get back to the airport and catch and next plane home. So, we drive you to the airport a few hours before your scheduled time, and then you fly away with the beautiful memories of Nepal. Hope you have a great journey ahead.
Final words, 
Well, you will obviously have a memorable journey in Langtang Gosainkunda Trek. However, if you wish to make it luxurious and affordable without having to worry about permits and hotels, we are here to help you. Do contact us or leave a comment below.
Reviews
I recently had the privilege of embarking on a breathtaking hiking expedition in Nepal, and I can confidently say that it was an experience of a lifetime. What made this journey truly extraordinary was the exceptional guidance and expertise provided by our hiking guide, Dipak. His commitment to ensuring our safety, enhancing our understanding of the region, and creating unforgettable memories was truly unparalleled. I cannot recommend them highly enough!
From the moment we met Dipak, it was evident that he had a deep knowledge and passion for the Nepalese Himalayas. His wealth of experience shone through as he expertly navigated the trails, leading our group with confidence and skill. He effortlessly tailored the pace and difficulty of the hikes to accommodate everyone's abilities, ensuring that each member of our group felt included and challenged in the best possible way.
One aspect that truly impressed me was the commitment to our safety. From carrying essential safety equipment to consistently checking weather conditions, Dipak left no stone unturned. His meticulous attention to detail and unwavering focus on ensuring our well-being gave us peace of mind throughout the entire journey. I truly appreciated his ability to strike a perfect balance between adventure and caution.
Beyond professionalism, Dipak's genuine enthusiasm for the region and its rich cultural heritage was infectious. His deep respect for the local communities and efforts to engage us in meaningful interactions with the locals added an invaluable layer of authenticity to our experience.
In addition to his expertise and passion, Dipak's exceptional organisational skills ensured that every logistical aspect of the trip ran smoothly. From arranging the most comfortable accommodations to coordinating meals and transportation, he handled every detail with remarkable efficiency, leaving us with nothing to worry about except immersing ourselves in the stunning beauty that surrounded us.
Finally, I must mention the unforgettable moments of natural splendour our guide helped us discover. Dipak's intimate knowledge of the best viewpoints and hidden gems allowed us to witness Nepal's awe-inspiring landscapes in all their glory.
In conclusion, hiking in Nepal with Dipak, and our porters, Sujan and Santos, was an absolute privilege. Their professionalism, expertise, and genuine passion for the region made this adventure an experience I will cherish for a lifetime. If you're considering a hiking expedition in Nepal and want a guide who will go above and beyond to ensure an unforgettable journey, I wholeheartedly recommend Dipak. Trust me; you won't be disappointed!
Thank you, Dipak, for sharing your remarkable knowledge, skills, and love for Nepal with us. You truly made our hiking expedition an extraordinary and unforgettable adventure.

Shannon FAustralia 🇦🇺
FAQs
What is the Best time for the trek?
The government permits Langtang Gosainkunda Trek throughout the year, and the booking can be made as per your time. However, it's recommended to pick the autumn and spring months. Summer and winter trek is also possible, but you need some preparation before the tour. The season determines Langtang Gosainkunda Trek difficulty.
What is the accommodation in the Langtang Gosainkunda area like?
What kind of food do we get during Langtang Gosainkunda Trek?
What permits do you need for the Langtang Valley Trek?
Is there Wi-Fi/ Internet in Langtang Gosainkunda trek?
UNSURE WHERE TO GO? WE CAN HELP
Based on your preferences, location, timeframe, and budget, our team can design your dream trek based on our extensive knowledge and experience of the Himalayas. Get in touch with us for detailed information and assistance planning your dream trek. With our 97% success rate on trekking and climbing trips in 2022 and 2023 spring season, we will answer any questions you may have and guide you for an unforgettable experience.