How Much Does Langtang Trek Cost?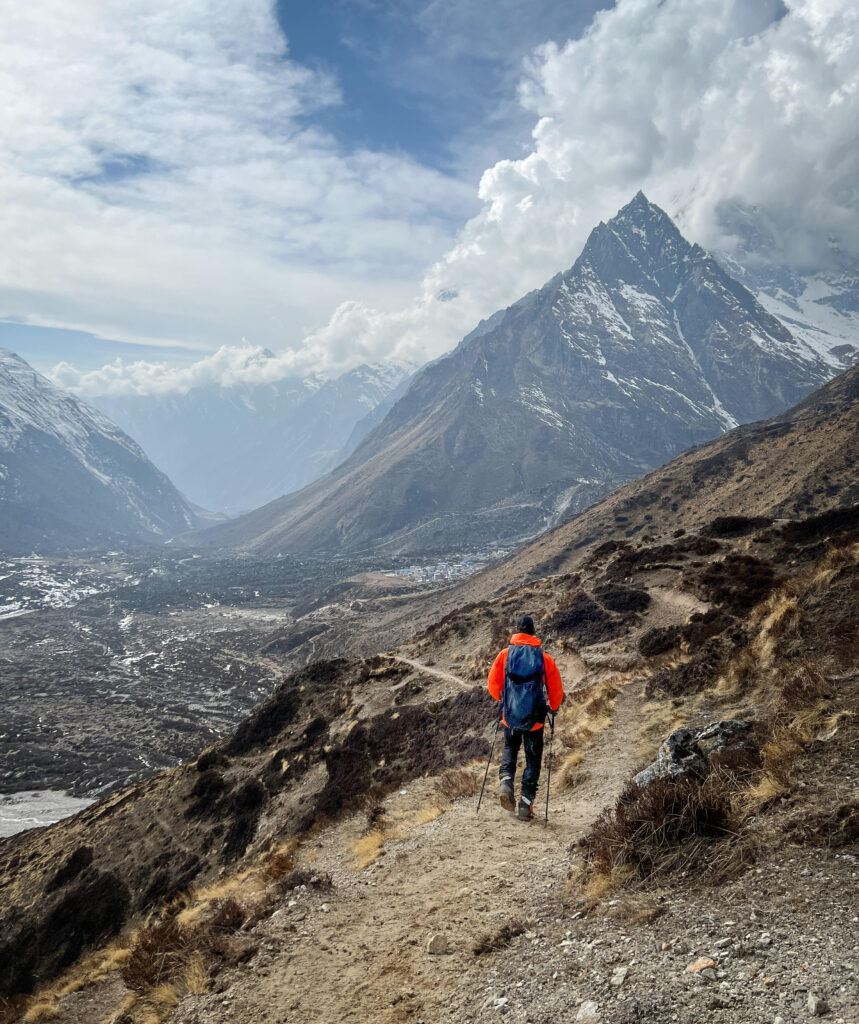 Attention!!! This article explains the Langtang Trek Cost and the Langtang Gosaikunda Trek Cost so that you can plan your trek in Nepal properly. The cost of the full package of the Langtang Valley trek is USD 800 with the Himalayan Masters. The Langtang trek includes two-night hotels in Kathmandu, transportation by private jeep, food and accommodation during trekking, a guide and potter, and Langtang trek permits. Read up to the last line for some brief information.
The Langtang Trek is a relatively short, easy, and unspoiled hike in Nepal in the proximity of Kathmandu. Nepal's best trekking places are the most unique and rewarding routes. From banana trees and monkeys in the lower region to the unbelievable beauty of mountains in the upper section, the Langtang valley is decorated with high peaks, swift rivers, pristine waterfalls, and century-old culture. Despite such exceptional beauty, Langtang Lirung has managed to keep its solitude and peace.
It's still a remote land with its beauty saved from foreign invasion and ranks as the cheapest trekking region in Nepal. The Langtang trek cost is very affordable. While travelling, most of you think of accommodation, food, and the bus as your only expenses. If you are one of them, we are going to warn you that this article will be long and cover literally every detail of your Langtang trek cost. So follow us to the end and plan your trek accordingly.
Langtang Trek Permit Cost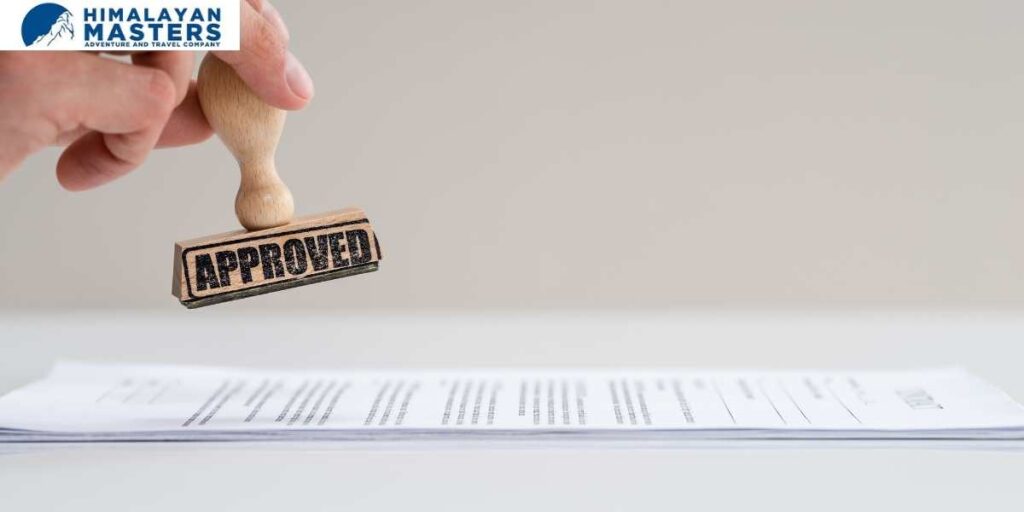 Along with your visa to Nepal, you shall require two other permits for trekking in Langtang. The Langtang permit is a major part of the Langtang trek price.
1.
Nepal Visa Cost
The visa for tourists is available upon arrival at the airport or border of Nepal. Along with your passport (having six months validity), you need to fill out an Arrival Card and an Online "Tourist Visa' form. Nepal visas cost USD 30, USD 50, and USD 125 for 15, 30, and 90 days, respectively. No visa is needed for the people of India, and it's free for the citizens of SAARC countries. (Note: Please visit the website of the Department of Immigration to learn about the visa to Nepal in detail).
2. Langtang National Park Entry Permit
After arrival, you need to apply for a Langtang National Park permit. The cost for a Langtang National Park permit is USD 30 for foreigners and USD 30 for the people of the SAARC country. It's free for children under 10. The pass can be issued at Nepal Tourism Board in Kathmandu or the National Park's entry point in Dhunche. Along with keeping a record of tourists entering the National Park, this Langtang trek costs for permit goes to preserve wildlife inside Langtang National Park. So it's money well spent.
Langtang Trek Cost for Nepali is low as there is no Permit cost included.
3. Langtang Local area permit/ TIMS card
After the decentralization of Nepal and the transfer of power to the local government, it's mandatory for tourists to issue a local area permit while trekking in Langtang Kyanjin Gompa. This means you won't need a TIMS card anymore. The Langtang Local area permit cost $10. This can also be issued by Nepal Tourism Board or at Dhunche itself. And in case you are wondering why you need this permit, it goes for the management of tourism and trail for the region. It's just a small amount that goes into building a better trekking route, managing the tourism committee, and ensuring your safety.
4. Shivapuri National Park Entrance Fee
While this permit is not mandatory for everyone, it's compulsory if you choose to enter the Langtang Valley via the Helambu trail, passing through Shivapuri National Park. People travelling from Syabrubeshi do not need this permit. The Shivapuri National Park permit costs $5 excluding VAT, and the money goes to the management of the national park itself. It's just a small amount for Langtang Trekking costs.
Langtang Valley Trekking Cost for Guide/ Porter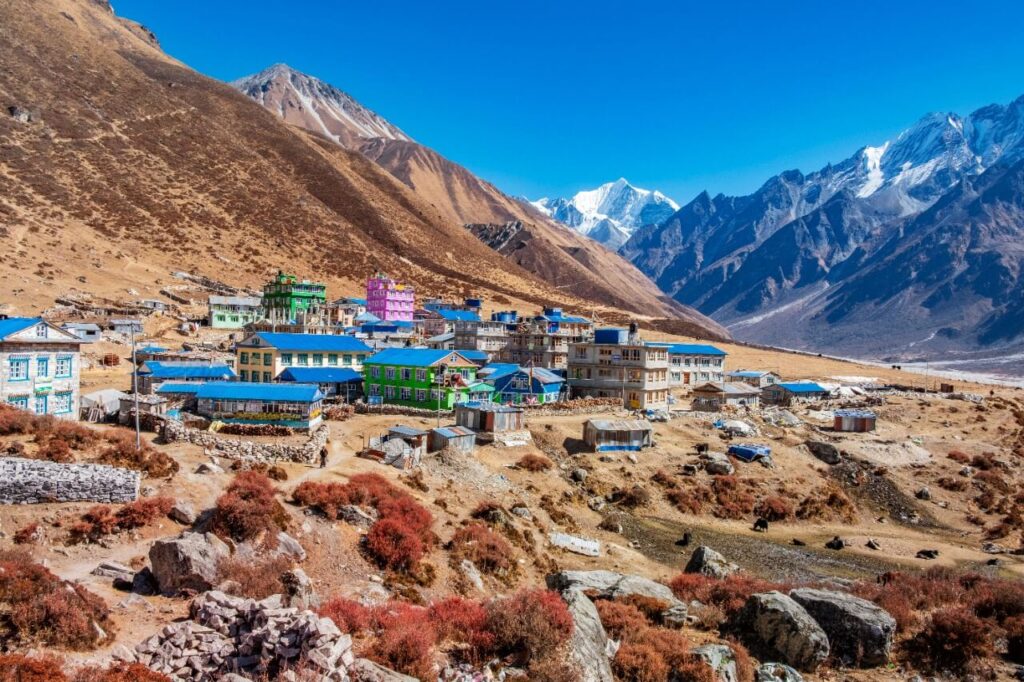 Hiring a guide for the Langtang trek is actually a good idea. While many people believe it to be expensive, a guide in Nepal is reasonable. You will find a very experienced trekking guide with a license for $20 to $30 per day. And the Langtang trek cost for guides includes their food, accommodation, and insurance. You can definitely trek to Langtang without a guide, but getting those permits, booking the hotels, finding the route within the forest, and every other thing about the trek becomes hectic without one. In short, $25 is just a small price you pay for all the comfort a guide brings to your Langtang Valley trek.
Next, you will also need a porter that adds to your Langtang Valley Trek Cost. Being a very remote region, you need to carry a lot of clothes, food, and basic amenities (personal care and electric items) for the trek. This means you cannot carry all that load by yourself. You can hire a porter for $15 to $20/ day, and they carry up to 15/20 kgs of the bag. We are often asked if the Langtang trek is possible only with a porter. Yes, it is. However, most porters do not communicate in English and do not walk at their pace. Also, they won't be helping you with the route and bookings; thus, you will need a guide for all that.
What To Expect From A Guide At Himalayan Master?
Our licensed guides have travelled to the Langtang region unceasingly and certainly know their way around the rough terrain. Thus, they plan the Langtang Valley trek so that you remain in utmost comfort.
They are obviously very fluent in English. You can also request a guide familiar with the language of your comfort, and we will try looking for such a personality.
They will help you find accommodation and restaurants. Also, they come in handy to build your relationship with the tea house owner and locals around the place.
The guides are also trained for first-aid and emergency cases. So, if you fall ill during the trek, they are the ones you can turn into.
A guide is actually an asset for comfort and also lowering your Langtang trek cost Transportation in Langtang trek.
How to get to Langtang? Langtang Trek Cost for Transportation
While we will be trekking for most of the journey, the only ride is from Kathmandu to Syabrubesi and back. As there is no airport in the Langtang region- you must travel via road. The views of terraced farms, stunning rivers, and quiet villages along the highway are actually rewarding. Different modes of road transportation options are available as per your budget.
Local transportation in Nepal is relatively cheap. This 8-hour long ride by public bus to Syarubesi will cost about USD 5. While this is the most affordable option, it might not be the most comfortable one. You can find the local bus to Syarubesi from Maccchapokharai, Gongobu.
Also, read about the shorter and easier Poonhill Trek in Nepal.
What Is A Local Bus In Nepal Like?
The buses are primarily crowded-carrying people beyond their capacity.
The local bus to Arughat usually leaves the bus park at 7 am and 8 am. But there might be delays and cancellations without pre-information. That's the risk you have to take
From Kathmandu and Dhading (about 90 km), the highway is blacktopped. However, beyond that, you will be riding off-road (very difficult on a local bus).• Well, it's not all bad news. A public bus means melodious local music and a chance to witness the Nepalese lifestyle (maybe make a few new friends as well)
Tourist buses: A handful of tourist buses leave for Syabrubesi from Kathmandu. Having a tourist bus is a more luxurious and comfortable option, but it's hard to find one. In the peak season, the tourist buses are mostly overbooked. That's where your guides come in. This tourist bus for the Langtang trek costs about USD 10–USD 15, and you shall have a relaxing journey for less than the Langtang Gosaikunda Trek costs.
Taxi (cabs):- If you are looking for comfortable options, you can take a bus from Kathmandu to Syabrubesi. Hiring a private car costs you about USD 100- USD 120 and depends upon your negotiating skills. However, the latter part of the journey is off-road, making it hard to travel in cabs. That's why most people prefer Jeeps.
Private Jeeps:- An excellent option for an off-road ride in Nepal is a private jeep. The seats are comfortable, and the journey is rather relaxing. It's a saviour if you have larger groups or if you can share the jeep with other people. The Langtang trek cost of a jeep is USD 15 per person. However, if you don't have a large group, you might have to book a Jeep by yourself for USD 150 to USD 200.
Why is A Private Jeep A Great Option?
It's a comfortable option that takes you quickly on and off-road. Also, the flexible departure time means you can take a Jeep whenever you want. Furthermore, it's faster, spacious, and has a lot of room for bags. The local bus makes the longer Langtang Trek difficult.
If you have a group of 5-10 people or your guide manages other people to share a Jeep with, it's a great option for reasonable Langtang Gosaikunda Trek costs.
Tea house Cost During Langtang Valley Trek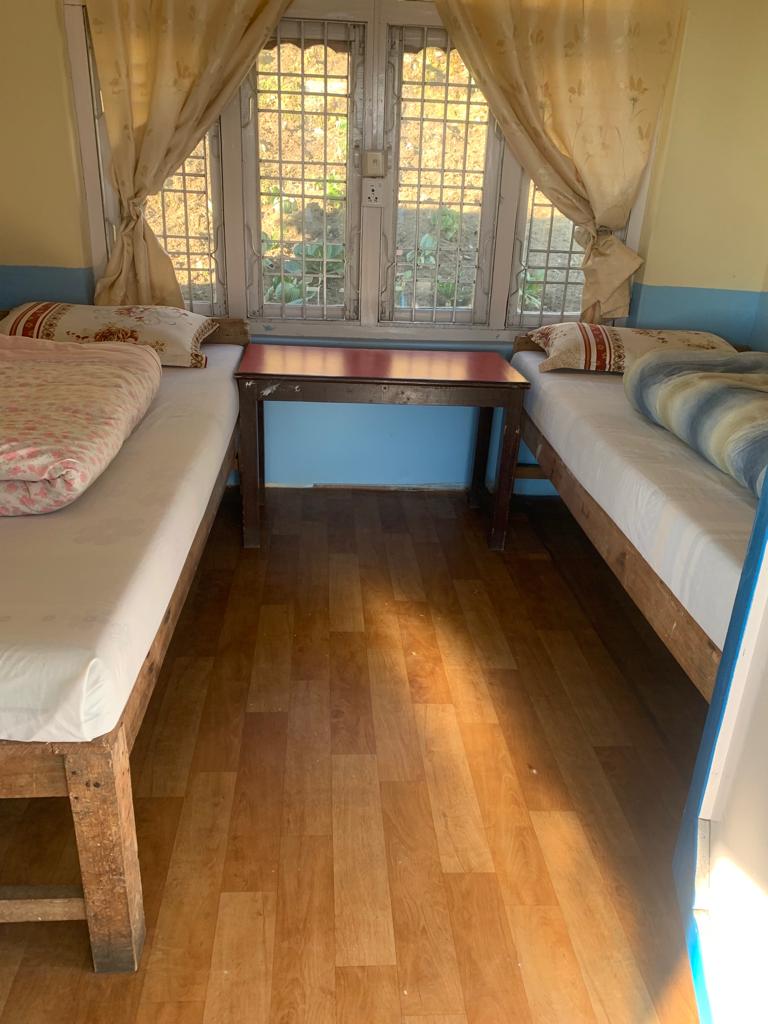 Surprisingly, the cost of hotels in Langtang is relatively low. Well, it's not hotels, to be precise; the basic accommodation along the trekking routes of Nepal is called tea houses. Tea houses are tiny guest houses run by the locals and provide only rudimentary facilities for the trekkers. It's a small part of the Langtang Trek cost.
Since most of these tea houses have been rebuilt after the massive destruction of the 2015 earthquake, the latest ones are made with Western technology. You can get the room on sharing basis ( 2 to 3 single beds), and the cost of the rooms is $5 to $8. Even though this rate is slightly higher than other trekking routes ( Like Annapurna Base Camp); however, they are way more equipped and clean.
What To Expect From A Tea House during Langtang Trek?
The rooms have a wooden bed with a mattress, bed sheet, pillow, and a small blanket. Only a few lucky ones get a mirror and table in the room. If you don't have a sleeping have (which we highly recommend carrying), you can ask for an extra blanket ($1 to $2 added).
Rooms with private bathrooms are very rear; it's on sharing basis. Most of the bathrooms are Western-style and remain clean. However, some tea houses might have a washroom with an Indian seat in the Langtang village and beyond.
You need to pay a few dollars ($2 to $4) for getting a hot water shower at such an altitude.
Bargaining on the menu is not possible. However, some discounts on rooms are available during the off-season (Monsoon and winter).
Food expenses for the Langtang trek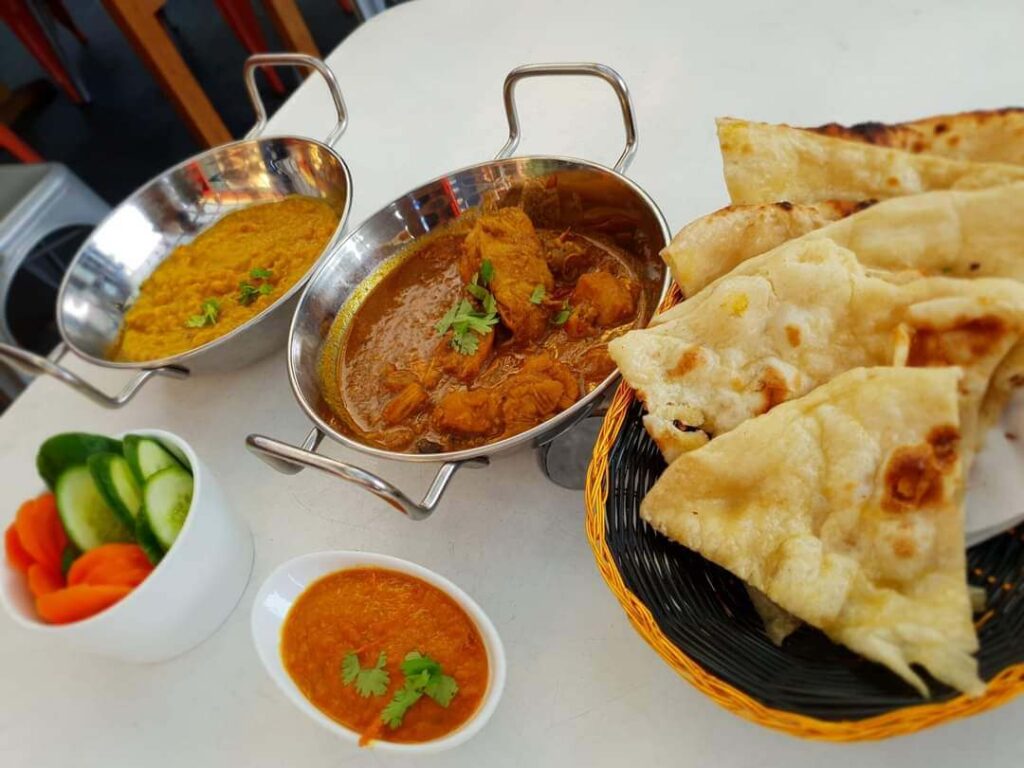 The options for food in Langtang are pretty impressive. All the tea houses have the same menu, and the trekking committee determines the cost. Since a porter or mule carries every food item in Langtang (sometimes by helicopter), the food price is relatively high compared to Kathmandu's. As per the current menu, the cost of food is about $6–$8 per meal. Breakfast is relatively cheaper than lunch. So, you can estimate the cost of the Langtang trek at $25 per day for food. Obviously, you need to add some extra dollars for coffee or tea and water.
Cost of Drinks In Langtang
You can buy bottled water throughout the trek for somewhere between $2 (lower altitude) and $4 (higher altitude). And since you will be buying 3–4 bottles of water each day, it's a lot of money. Plus, plastic bottles are harmful to the environment. Thus, the best option is to get a reusable water bottle and carry water-purifying tablets. A good choice of tea and coffee is also available during the Langtang trek. A cup of tea costs $2 to $3, and so does a cup of milk coffee.
The variety of coffee is limited, so if you are a coffee addict, carry your own instant coffee. There's also an option for a cold drink/ soda that costs about $4. And in case you want an alcoholic drink, a bottle of beer costs about $7 (600ml). The cost of food is the most significant expense of your trekking journey. You can carry your reusable water bottle, instant coffee, energy drinks, and a few chocolate bars to minimize your travel cost for food.
Related Content: Full Detail about Food and Accommodation in Langtang
Packing List For Langtang Trek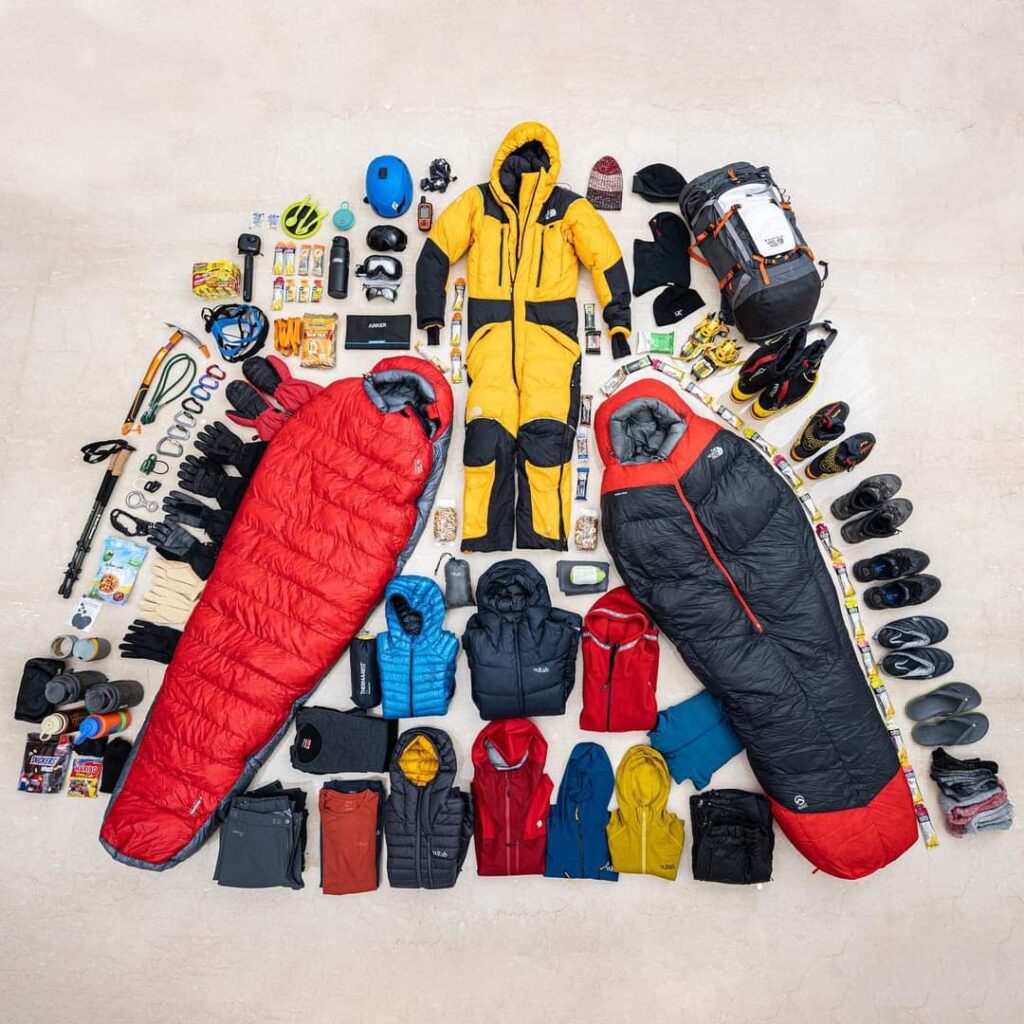 Now, the actual expense of a journey begins way before you head for the trek. Here we have listed what you should carry or buy for the hike. However, the price does not include your choice of how much you want to spend on your shopping. Hiking boots (high ankle boots are more expensive than regular shoes, but they make your trek way easier).
Down Jacket
A thermal coat for the inside
Waterproof hiking pants and warm pants.
Three pairs of inner clothing.
A pair of slippers and woollen shocks
Windproof gloves, head cover, sunglasses
Personal care items and toiletries
Water bottles and purifying tablets
Sleeping bag and Hiking bag+ hang bag(if you don't have one, you can rent one in Thamel for USD 1 to USD 2 per day)
Two Trekking poles (Cost USD 5/each in Nepal)
First aid kids
Crampon (only needed if the trail has ice; usually your agency provides you with the crampon)
Phone, camera, charger, power bank, universal adopter, and any other electronic items you need (carrying a laptop for the trek is not recommended)
Note: You won't need climbing ropes, an ice axe, a Goretex jacket, or a sleeping mat.
It's recommended that you buy genuine clothes from your home country. Although there are some excellent brands of trekking gear in Nepal, they might not be authentic. You can also rent many of these essentials while you are in Kathmandu. So, once you book the Langtang trek package from Himalayan Masters, ask your guide for a detailed packing list and prepare your bag accordingly.
Insurance cost: Trekking to the remote mountains of Nepal comes with significant challenges. Although the Langtang trek difficulty is moderate, the risk of altitude sickness cannot be ignored. Also, there are chances of injury, theft, and unpredicted weather. Thus, you need to ensure that your travel insurance covers high-altitude rescue above 5000m. The Langtang trek cost of the insurance obviously depends on your nationality.
Wi-Fi in Langtang: All regions of Langtang are connected to wireless internet. Although the speed is not exactly impressive, you can still be in contact with your loved ones back home. Connecting Wi-Fi in your tea house costs USD 2 to USD 3. It's also a big part of Langtang Gosaikunda Trek Cost.
Telephone in Langtang: NTC and Ncell networks are available in Langtang Village. You can ask your guide to get you a local SIM card that costs about a dollar. Then, you can purchase the data package as per your needs. The 3G network is available in Syarubesi and Lama Hotel. About USD 50 of mobile data will be more than enough for the journey.
Electricity/Charging in Langtang: In the lower region, charging ports are available in the room, and it's free of charge. However, as you move to a higher elevation, you need to charge your phone in the reception area. Charging a camera, mobile phone, and power bank will cost a few dollars (USD 2 to USD 4). Since locals run their tea houses with the small local hydropower running at a high cost, this money helps them pay for electricity. We recommend carrying extra batteries for the camera, a solar battery charger, or a power bank. Langtang Trek's cost for NEaplese might not include these charges for electricity.
Donations: As per your will, you can leave some donations during the visit to the Gompa/sambo. The amount directly goes to the maintenance of the premises.
Souvenirs: Nepalese are known for their exceptional skills in handicrafts. You can find great woodwork, paintings, and kitting (bags, purses). You can also find some great dried fruits and wines as souvenirs to take back home. You must separate a few dollars for this.
Tips: It's a trend that trekkers leave some tips for porters and guides. Although the amount depends on your will, you can leave USD 20 to USD 30 per person. Also, you might leave some tips for the tea house staff. This is a big addition to your Langtang trek cost.
Langtang Trek Cost Due To Duration
The ideal Langtang trek itinerary designed by the Himalayan master is nine days long. However, the unpredictable mountain climate, the trekker's health, and other emergencies might extend the trip for a few days. Also, if you want to explore other places around the village and stay a few more days, your cost will be added. There are other smaller peaks such as Kyanjin Ri and Tsergo Ri around. Most people prefer to add Gosainkunda and Helambu village trek to their Langtang Valley itinerary. These extensions will make a few additions to your Langtang trek cost. So, it would help if you were prepared accordingly. Each day added will raise your expenses to about $80 to $90 (including porter/guide) and $40 to $50 (excluding porter/ guide).
Langtang Package Cost
Now, you have two options for trekking in the Langtang region. Firstly, you can travel on your own by finding a guide and porter. The other option is to get a travel package that covers your overall cost. The nine-day Langtang trek costs about $1000 for independent travellers (trekking solo). And, if you are in a group, you will be sharing the cost of the guide, porter, and room. Thus, the price lowers when you travel in a larger group.
Thankfully, the Langtang trek package cost by the Himalayan master is $780. The package cost comes out to be cheaper when you are travelling solo. Even if you are travelling in a group, the agency offers unbelievable discounts. However, the cost here doesn't include water, charging, a hot shower, or other personal expenses. Even then, getting a well-arranged trek package for Langtang is a wise choice.
Langtang Trek Cost For Nepali
Well, if you are a Nepalese, the Langtang trek cost is somewhat lower than the one for foreigners. Since many internal tourists have been travelling to Langtang recently, the tourism committee has been trying to make everything cheaper and affordable for Nepalese. Firstly, you will not need any trekking permits. And if you are a native of Nepal, you won't probably need a guide. You can hire a porter and ask them for some help with the booking and route.
You can use local transportation to lower the price (the one mentioned above) further. The cost of the room for Nepalese is about $5; however, the cost of food is the same as on the menu (some negotiation is possible). The cost for a hot shower and Wi-Fi is a few dollars, but you might get to charge your phone for free. Basically, the Langtang trek price for Nepalese is about $400 to $500 for the nine-day journey. You might be able to save a lot more by skipping a porter and carrying your instant food yourself.
Additional Tips For Langtang Trek
There are plenty of ATMs in Kathmandu. However, once you head to the Langtang region, i.e. Syarubesi, there is no way you can withdraw cash. Further, the tea houses do not take cards. Thus, you need to withdraw the money you need in advance.
Even after taking a travel package, you will need some cash (more than $100) for things not included in the Langtang trek package.
Trekking in the off-season, i.e. December-February and July-August lowers your Langtang trek cost, and the agency offers some great discounts. However, these months have their own risk of harsh weather conditions (snow and rainfall), making it very hard to trek.
Make sure that you take proper measures to reduce high-altitude treks. If you fall sick, it will not only extend your budget but also risk your life.
Ask your guide to help with packing, shopping, and any other difficulties.
Final words, 
So, that was all about Langtang's trekking cost. You should know that Nepal is an excellent destination for backpackers. The trek is going to be a lot more rewarding than simply going for a luxurious vacation. And the price of the Langtang trek is worth it. Away from the crowds and chaos, you will indeed have a wonderful time.
UNSURE WHERE TO GO? WE CAN HELP
Based on your preferences, location, timeframe, and budget, our team can design your dream trek based on our extensive knowledge and experience of the Himalayas. Get in touch with us for detailed information and assistance planning your dream trek. With our 97% success rate on trekking and climbing trips in 2022 and 2023 spring season, we will answer any questions you may have and guide you for an unforgettable experience.