Langtang Helicopter Tour
Let's imagine a place that has a great mountain range in the back, a lush evergreen forest in the front, a cascading river, and a stunning waterfall in the way. Also, imagine a place with traditional people living in colorful villages and a cultural heritage appearing out of nowhere. And now imagine flying right into that magical land within a few minutes.
This does sound like a dream, doesn't it?
Close to Kathmandu valley, Langtang Valley is a land of spectacular mountain landscape. About 51kms away from Nepal's capital, the Langtang Valley has been renowned for its beautiful Himalayan peaks, unbelievable biodiversity, and cultural richness.
During this short Langtang Helicopter tour flight, we can see the mountains like Langtang Lirung, Kyanjin Ri, Cherko Ri, and dozens of other peaks during the trek. It's also our chance to explore the colorful Buddhist monastery, player flags, rotating wheels, and mani walls.
Langtang Helicopter tour from Kathmandu is a very prodigious tour. And we are here excited to make your journey even more enthralling. So, let's get started. Shall we?
Langtang Helicopter Tour Highlights
The cinematic 360° Panorama of the mountain landscape within Langtang valley
Witness dozens of the world's tallest peaks right before your eyes- a mountain flight to Langtang
Land at the pristine and holy Gosainkunda Lake which holds the highest importance among the Hindu followers of Nepal
A glimpse to the rich bio-diversity of the Langtang National Park from the helicopter
A chance to understand the Tamang culture and tradition during the short village tour
Understanding the lessons of soulful Tibetan Buddhist culture during a visit to the Kyanjin Gompa
Try very special Yak Cheese at the Kyanjin cheese factory
Langtang Helicopter Tour Facts
Tour duration: 1.5 hours to 2 hours
Ground time: 30 minutes at Kyanjin Gompa
Flight time: Almost one-hour
Tour starting point: Kathmandu airport or Langtang village
Tour ending point: Kathmandu airport
Highest altitude: 3830 meters (Kyanjin Gompa altitude)
Lowest altitude: 1400 meters (Kathmandu)
Group size: 1-5 passengers/ helicopter
Maximum body weight: 500 kgs
Quick booking: Via email (confirmation within a minute)
Contact person: Via Viber, Whatsapp, WeChat at +977 9823636377 (24Hrs available)
ITINERAY
Day 01: Heli Tour
6: 00 am to 6:30 am: Drive to the airport
Since the weather in the morning is stable and pleasant, our plan is to start the tour quite early. At 6:00 am, a driver will be waiting for you at the hotel gate in a private car. We will pick you up from any place around the Kathmandu Valley. Soon, you will be driving in the beautiful streets of Kathmandu and getting into the domestic terminal of Kathmandu airport.
6:30 to 6:45 am: Preparation
It takes us some time to complete the paperwork at the airport entry points. Then, we will drive to our Helipad where the pilot will be waiting for our arrival. Then, you will be an introduction to the crew and then it's time to get into the plane.
6:45 to 7:15 am: Take off and flight time
Soon, we will be flying above the concrete city of Kathmandu. Our helicopter flies north as we see the lush green hills below us. Within a few minutes, we can see the prodigious Himalaya range appearing before our eyes. We can witness the plane flying right to the Langtang valley.
We witness the beautiful valley, pristine glaciers, and the gigantic Himalayas before landing at Kyanjin Gompa. The last glimpse of the Langtang glacier is among the most prodigious views during this entire tour.
7:15 to 8:00 am: Landing at Kyanjin Gompa
Landing at the Kyanjin, we will first visit the Kyanjin monastery. After learning some beautiful lessons for the monks in the Gomba, our next visit is towards the yak cheese factory in the Kyanjin Gompa. We also get to visit the local village and learn about the Buddhist culture and lifestyle of the people for a short time.
At this hour, you can also enjoy a delicious breakfast of your choice in a local restaurant. After about half an hour, it's time to hop back to the plane and fly back to Kathmandu.
8:00 am to 8:30 am: Flying in Kathmandu
After we are all settled in the plane, the pilot flies us closer to the Langtang range for one more time. Then, we leave the alpine mountain landscape and fly towards the Lush hills of Kathmandu valley. You can see the huge forest and tiny settlements below your feet. In less than half an hour, you will land at the domestic terminal of Kathmandu airport.
8:30 am to 9:00 am: Drop-off to the hotel
After some final photos and interaction with the team, we officially end the Langtang Helicopter tour. A driver will drive you from the airport to the hotel and you will only be left with the beautiful memories of the entire journey.
Also Read: Best Travel Guide For Nepal tour 2022
useful info
How Does The Langtang Helicopter Tour Operate?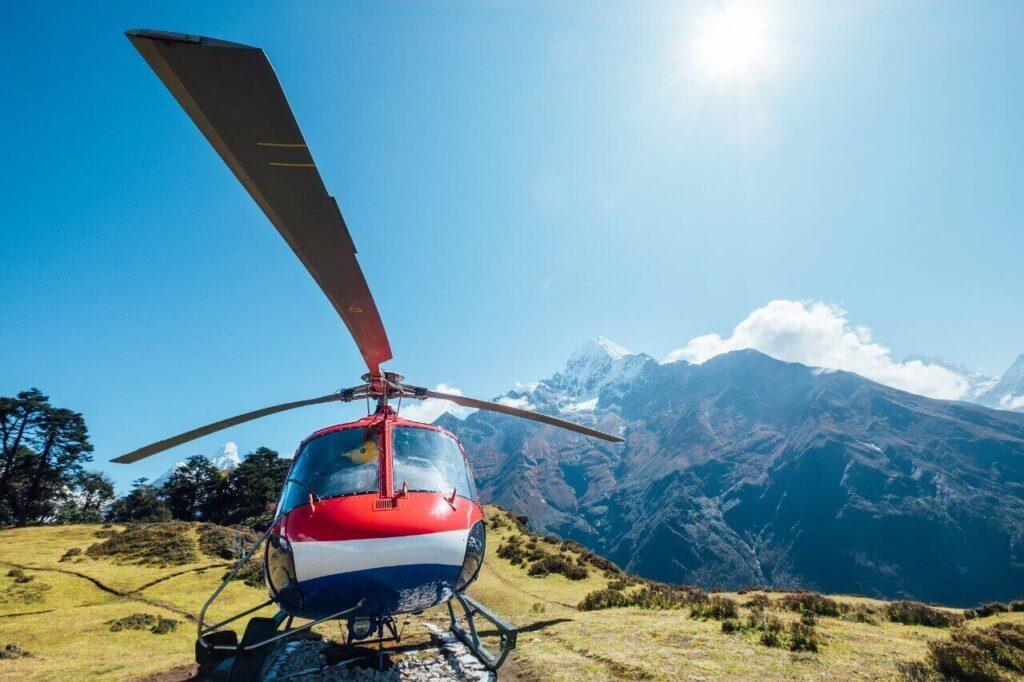 Starting Point
The classic Langtang Helicopter Tour commences from Kathmandu. From the domestic terminal at of Airport in Kathmandu, we will be flying for about 30 minutes. As the Heli flies over Kathmandu's verdant hills and moves towards the north, we can see the beautiful Langtang Valley before us.
The bird-eye view of Langtang's unique topography and treatment is a treat to the eyes. As we leave Kathmandu and move to the mountains, we complete the Langtang Heli flight in less than 2 hours and fly back to Kathmandu. The trip is completed in 3 phases.
Phase 1: Fly to Kyanjin Valley
Taking off from Kathmandu, we fly north beyond the Shiva Statue at Sanga. Soon, we will be entering the Langtang National park with the rich presence of rare flora and fauna. This 1,710 sq. km of park is really important to the local economy.
Flying above the district of Nuwakot, Rasuwa, and finally, at Sindhupalchok districts, we soon reach the famous Kyanjin Valley. In about 45 min, we will be enjoying a warm cup of coffee with the views of the mountains before us.
Phase 2: At Kyanjin valley
Landing at Kyanjin valley, the colorful Buddhist prayer flags will be greeting you. Here, we first witness the spectacular cold breezes that are arising from the mountains. The very first glimpse of the Langtang mountain range from Kyanjin will make you excited. Then, we visited the village and stopped at the Kyanjin Gompa.
This beautiful Monastery of stone and wood was made back in six centuries. Here, you can see 13 statues of Lord Buddha that represent the ancestors of the Dhomares. We stopped for about 30 mins for the delicious breakfast and yak cheese at the famous Kyanjin Cheese factory.
Phase 3: Fly To Gosainkunda
According to your package, we now either fly to Gosaikunda or return back to Kathmandu. For the Gosaikunda landing, we need another 30 mins added to the trip. Otherwise, the pilot will fly us directly to Kathmandu airport in about 25 minutes.The pilots fly you back to Kathmandu within a few minutes. Lastly, you will be driving to the hotel with the beautiful memories of the trip.
Also Read: Everest Base Camp Helicopter Tour In Nepal
Why Choose Langtang Helicopter Tour Over Trek?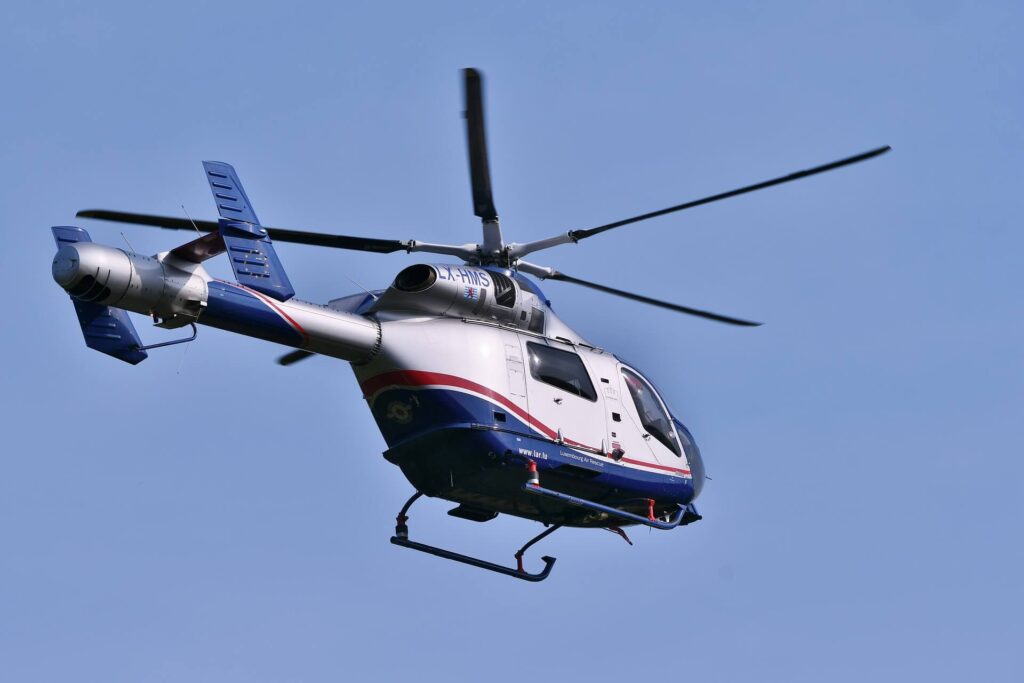 While trekking to Nepal is a very rewarding experience, it needs months of planning, preparation, and even physical training. Trek to Langtang also has a higher price and demands a very hard walk. However, the Langtang Helicopter tour allows the exact same view and benefits without having to trek for weeks. Here is some reason why this Langtang Heli tour must experience by everyone:
Very luxurious traveling experience
Get to the mountains without having to shed a drop of sweat
Very reasonable Langtang Heli price – cheaper than trekking
Save a lot of money as you don't need any travel gear and equipment
Enough landing time for photography and videography
Can be booked by people of all ages
A comfortable trip to people with poor physical and mental health
Safe trip for solo travelers
For short – transit: This Langtang Helicopter tour package is perfect for people who will be staying in Nepal for a really short time or have a transit point in Nepal. Travelers to Tibet and Bhutan can experience the true beauty of mountains within a few minutes of time. Or, if you are traveling to Kathmandu for a conference and meeting, this is a very rewarding tour.
Can I see Langtang Peak During This Visit?
Yes, you can witness the spectacular beauty of the entire Langtang range during this tour. The highest peak of this range i.e. Langtang Lirung at 7,234 meters is clearly visible. There are many other peaks as
Mt. Gaurishankar (7,134 meters)
Langtang Ri (7,205 meters),
Dorje Lakpa (6,966 meters),
Loenpo Gang (6,979 meters),
Yala Peak (5700 meters),
Another alternative Langtang Helicopter Tour Module
1. Langtang Village Landing
Langtang village lies a few km below the Kyanjin Gompa. Although the views of the mountains from Kyanjin Gompa are better, landing at Langtang village will help you witness the largest village within the Langtang valley and observe people's life from a close distance. Langtang village landing will add about 30mins to the overall flight to Langtang.
2. Langtang – Gosainkunda Helicopter tour
Gosainkunda, a pristine glacier lake in the Langtang region is the major pilgrim site of Hindus. This holy lake of Lord Shiva holds utmost importance in Hindu / Buddhist culture and many devotees set a hard walk to reach Gosaikunda each year.
A dip in the lake is said to take away your sorrow and cleanse your soul. Gosainkunda is about 15mins of flight distance from Kyanjin Gompa. As per this module, we land at Gosainkunda for a simple prayer and beautiful photography. The pristine blue lake with the backdrop of mountains shows the best view of Nepal.
3. Helambu Helicopter Tour
Helambu is a beautiful Tamang settlement at the start of Langtang village. This village has the very typical Buddhist culture and unique lifestyle that interest the tourist. Since this valley lies at a relatively lower altitude, we can land here for a longer time without the risk of altitude sickness. This gives you more time to enjoy the beauty of the Himalayas without developing AMS symptoms.
Also Read:- Amazing Makalu base camp trek in Nepal
Types Of Langtang Helicopter Tour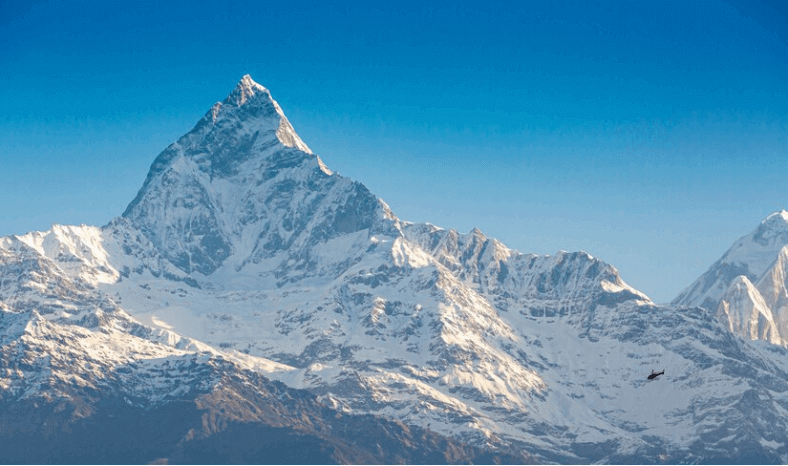 Group/ sharing Heli Tour
This trip has been designed with a focus on solo travelers and small groups. Since the cost of a Helicopter charter in Nepal can be unaffordable, you can share the cost with other new groups. Once you book your trip with the Himalayan Masters, we arrange a crew of 5 people to fly to Langtang together. This way, you will get to share the cost with other people and the Langtang helicopter flight cost will be cheaper. Also, you get to make some new friends.
Langtang Private Heli Flight
Travelers sometimes find it uncomfortable to share their Helicopter space with unknown people. Or, they already have a group of 4 to 5 people (friends or family). In such a case, we recommend this private Helicopter tour to Langtang. You can book the entire plane and then land or fly to many places around Langtang as per your will. Here's why Langtang private tour is worth the price.
You can increase the landing time in Kyanjin Gompa
You can extend the same trip to make it a Gosainkunda Helicopter tour
Optional landing at Langtang valley, Helambu valley, and other viewpoints in the region
Safe from disease ( it's important especially after the Covid-19 pandemic)
Comfortable time with your partner/ family/ friends
A customized trip with cakes and candles for occasions such as proposals, valentine day, anniversaries, or any special events
Arrangement of Helicopter position and slowing down for the photography and film-making
Langtang Helicopter Tour Cost
The Langtang helicopter Price by the Himalayan masters is very affordable and varies as per the group size, tour type, and tour time. When you have a larger group or fly on a Sharing basis, the cost is very affordable. Here's the list of Helicopters to Langtang cost.
| | |
| --- | --- |
| Number of people in your group | Sharing Langtang Helicopter tour cost from Kathmandu |
| 1 to 2 people | USD 800/ person |
| 3 to 4 people | USD 600/ person |
| 5 people | USD 500/ person |
The cost of an Annapurna base camp helicopter tour private flight depends on the number of people in the flight and also the time of landing.
| | |
| --- | --- |
| No. of pax in a private tour                                          | Langtang Helicopter tour cost from Kathmandu |
| 1 to 3 pax | USD 1900 per helicopter (single shuttle) |
| 4 pax | USD 1900 per helicopter (single shuttle) |
| 5 pax | USD 1900 per helicopter (single shuttle) |
Note: In a private flight, if you increase the landing time and landing points, there might be the addition of some costs. You can send us an email to confirm your Itinerary and Langtang helicopter cost. We also offer special discounts during events like Valentine's Day, Christmas, New-year, and Nepalese festivals of Dashain and Tihar. Such offers will be updated on our website frequently.
Langtang Helicopter Tour Booking Procedure
Booking a Langtang Helicopter tour with Himalayan masters is very easy. You can pay us half of the price mentioned in the list above and your booking is confirmed. The remaining amount can be paid online or in real, just before the tour. Here's the booking procedure:
Booking Via Form
Click on the booking form here.
Fill in your personal detail as asked in the booking form
Mention your preferable date and time for the Langtang helicopter flight
Mention the amount in the form and make the payment
Save the details of the payment
Booking Via Mail
You can send us an inquiry email with your personal details and the number of members in a group
We shall then mail you a customized Itinerary as per your date and need
After that, you can make the payment in the account details provided over the email
Send us the transaction detail for the future reference
Your booking will be confirmed
Note: We recommend that the travelers send us an inquiry mail before making the payment. In that case, we will be able to make the individualized Itinerary as per your need and also inform you about the special offers and discounts
Cancelation And Postpone Policy
We accept pre-booking with 50% payment only 24 hours before the tour time
Delay booking i.e. booking 24 hours before the trip time requires  to pay 100% of Langtang Helicopter tour cost
Cancelation can be done by filling up the cancellation form up to 15 days before the trip. If the reason is valid, we will fully refund your advance.
If the cancellation is done before 15 days of the tour, then we will not be able to refund the amount fully.
If the cancellation has to be done by the Himalayan master's team for any reason, we will cancel your trip (with a full refund) or postpone it to the next feasible date.
If the cancellation has to be done due to unavoidable circumstances like war, natural disaster, or global pandemic we will cancel your trip (with a full refund) or postpone it to the next feasible date.
For postponing your trip, you can send us an email mentioning the new date and time 15 days prior to the trip. Any postponement between 15 days to 3 days before the trip is chargeable to a USD 100 fine. Postpone cannot be done 3 days before the tour (in that case, we shall cancel your trip without a refund)
One or more members of the group can also transfer the flight to be a new member for free 3 days prior to the trip. Any transfer after that is charged with a USD 100 fine.
For any further information, you can communicate with us via email, or chat with us at Viber, Whatsapp, WeChat at +977 9823636377 (24Hrs available).
Latest Helicopter Model For Langtang Tour
Himalayan masters have been using the latest AS350b3e for high-altitude flights. This high-powered engine from Europe has been regarded as the most reliable helicopter for the mountain flight. With the experienced pilot and powerful helicopter, your safety is ensured by the team. This helicopter series has to accommodate five passengers and a pilot at a time (with a weight limit of 50kgs). Here are some other features of the AS350b3e Helicopter series:
 Can fly up to 7,000m above sea level ( however, we wouldn't fly above 5,000 meters(
The seats are spacious and extremely comfortable
Has a huge fuel tank for the longer flight
Full inspection of Helicopter after each flight
Regular maintenance and servicing
Oxygen cylinder and a first-aid kit for an emergency
Packing List For Langtang Helicopter Tour
Almost everything you need during this trip has been neatly arranged by our team. And since this is a short trip, there's not much you need. However, since the airspeed and UV rays at a higher altitude are quite intense, make sure you pack your personal care team. Our suggested list of packing for the Langtang Helicopter Tour are:
A warm windproof jacket
Full sleeve t-shirt
Windproof warm trousers
A water bottle
Sunglasses
Moisturizer and sunscreen
Silk/Nylon scarf
Toiletries
Camera essentials
Other personal items you might need.
Safety Rules For Langtang Kyanjin Helicopter Tour
You must follow the safety rules within the helicopter strictly to make your journey safe. Although the pilot recites these tips before the flight, let us list them so that you are pre-prepared.
You must always pay attention to the captain and the guide.
Get in or outside from the Helicopter only after the pilot's advice.
Do not change the seats and stand in the Helicopter without the pilot's permission
Keep your belongings well-tied and don't throw anything from widows
Smoking and drinking in the Langtang is not permitted
Langtang Helicopter Tour Weather
Langtang Valley at almost 3500 above sea level has cold and windy conditions year-round. However, the weather varies within different seasons and the change in climatic pattern is frequent. Thus, keeping yourself updated with the change in weather helps you plan your trip better.
Weather in Autumn
Langtang Helicopter flight during autumn is considered the best time. Despite the stable weather, the clear views of the sky are the major attraction of this month. The mountains are visible to their best throughout the winter. There are very few chances of rainfall and flight cancellation. The temperature of Kyanjin Gompa in the morning is about 12 degrees celsius.
Weather in Spring
In the spring, the forest is gorgeous with the colorful hues of the Rhododendron. The alpine vegetation in the higher altitude also looks fantastic. The peaks of Langtang II and Langtang Lirung look amazing. The temperature of Langtang in Spring morning is about 15 degrees Celsius and you are quite warm. With no rain and snow, the flight is rarely canceled.
Summer in Langtang
Summer flight in the rain-prone area of Langtang is not considered ideal. However, helicopter Langtang flight in summer is possible by planning the trip on a clear morning. We can book the trip in summer at a cheaper rate and enjoy the solitude at Kyanjin Gompa.
Winter in Langtang
In January and February, the Kyanjin Gompa is often covered in snow. Also, it's a cold month, the snow makes everything around the mountains magical. The frozen lakes and glittering peaks make winter a great time for helicopter flight. However, we need to avoid the snowfall days and clear the Langtang helipad before we can fly.
So, you need to contact us before the trip and learn about the condition of snow in Langtang. What could be the best season for this Langtang Helicopter flight? Experts recommend flying in autumn. However, we say why not try winter flight on a clear day?
So, are you ready to endeavor the magnificent Himalaya range of Langtang within a few minutes? Are you ready for the most beautiful journey of your life? All you need to do is fill out the booking form here to send us a mail (or just a text).
FAQs
Is a Helicopter tour to Langtang Nepal safe?
Himalayan masters and many other travel agencies in Nepal have been operating Langtang Helicopter tours for decades. Over time, there have not been any serious casualties in our Helicopter tour and mountain flight to Langtang. That's because we keep the safety of our travelers (and also our staff) at the top-most position.
With the high-powered helicopter having regular maintenance, an experienced pilot/ guide team, and all the pre-preparations, we assure you that your Helicopter flight to Nepal is going to be absolutely safe.
Why can't we land at Kyanjin Gompa for a long time?
Can kids/ elderly take the Langtang Helicopter tour?
Is travel insurance compulsory for the Langtang tour?
Can I add other landing places to the Langtang Heli tour Itinerary here?
Is there a chance of altitude sickness (Acute Mountain sickness) in Langtang?
What happens if our group has more than five people?
UNSURE WHERE TO GO? WE CAN HELP
Based on your preferences, location, timeframe, and budget, our team can design your dream trek based on our extensive knowledge and experience of the Himalayas. Get in touch with us for detailed information and assistance planning your dream trek. With our 97% success rate on trekking and climbing trips in 2022 and 2023 spring season, we will answer any questions you may have and guide you for an unforgettable experience.