How difficult is Manaslu Circuit Trek?
The wonderful experience of wandering in the off-beaten trail of the mountains is second to none. Passing the vast array of the mountain valley, you get to live within the river gorges and striking snowcaps. Along with paralleled Himalayan views from Larkya Pass (at 5,100 meters), this Manaslu trek offers intimate encounters with the lives of Manaslu and their ancient culture.
Manaslu Circuit Trek's difficulty is high but at the same time, it's traditionally enriching and scenically uplifting. Learning about the Manaslu trek difficulty will make you understand what you can expect during this journey to the Himalayas. So, let's learn how difficult the Manaslu Circuit trek is and how you can solve them to make your trip easier.
Manaslu circuit trek is "Moderately" challenging and achievable by anyone with good physical and mental health. Here are different kinds of Manaslu Circuit Trek difficulties faced along the route.
Things That Measure Manaslu Circuit Trek Difficulty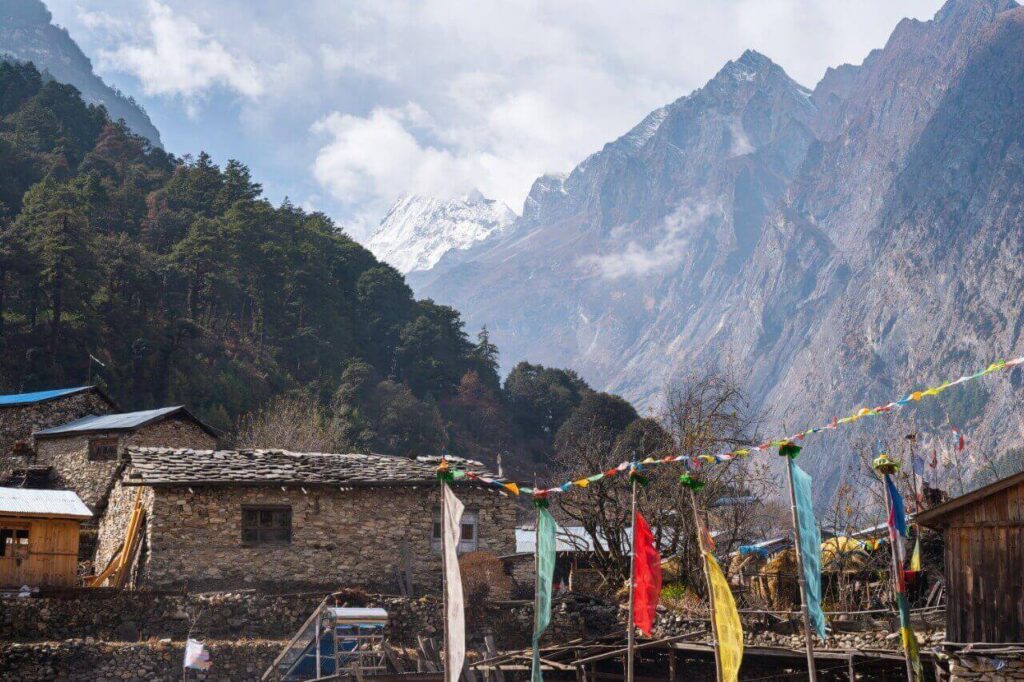 Distance Of Manaslu Trek
Your Manaslu and tsum valley trek journey actually starts with over 8 hours of ride from Kathmandu to Arughat or Soti Khola (140 km) which is itself a very big challenge. From Soti Khola, you will be trekking about 177 km in the next 11 days. On the Himalayan Masters standard Manaslu Trek itinerary designed by experts, you will be walking five to seven hours every day.
This means we cover 15-18 km each day, that too on a rocky and uneven mountain trail. In short, the first few trekking days will obviously be hard, especially for the newbie. The part where you cross the steep Budi Gandaki Gorge isn't easy. This all adds up to the increase in Manaslu Circuit Trek difficulty.
Altitude Sickness During Manaslu Trek
Manaslu Trek expresses significant differences in terms of altitude. From 1400 meters at Kathmandu, we drive to Soti Khola which lies only at 700 meters. As you move higher, you are exposed to high sun and wind. In the latter days, we move up to 5213 meters while crossing the Larkya La Pass. At such height, the air pressure drops rapidly and the level of oxygen can drop up to half.
Somewhere between 2500 meters to 3500 above sea level, most trekkers start to experience the symptoms of altitude sickness. Although we do know how an individual's body responds to the change in altitude –it totally depends on the age, gender, and health of the individual.
Altitude sickness shows symptoms such as,
Dizziness,
Shortness of breath,
Headache,
Loss of appetite,
Tiredness
Pain in chest
Fainting, etc
Although people don't take these symptoms seriously, altitude sickness can be deadly, adding up to the Manaslu Circuit Trek difficulty. To avoid such serious risks, we must use the theory of acclimatization. As we move up to a certain altitude, it's wise to take a rest day and stay at the same place for two nights. This gives our body a lot of time to deal with the changing air pressure.
However, a lot of trekkers end up avoiding this suggestion to make a short Manaslu trek and end up with serious consequences. Also, we suggest that you take the Manaslu trek Itinerary where you gain less than 1000 m in height per day. Thankfully, Himalayan masters have enough acclimatization days and an experienced guide for protecting you from any deadly situation. You will be in safe hands.
The Manaslu Circuit Trek Difficulty Due To Remoteness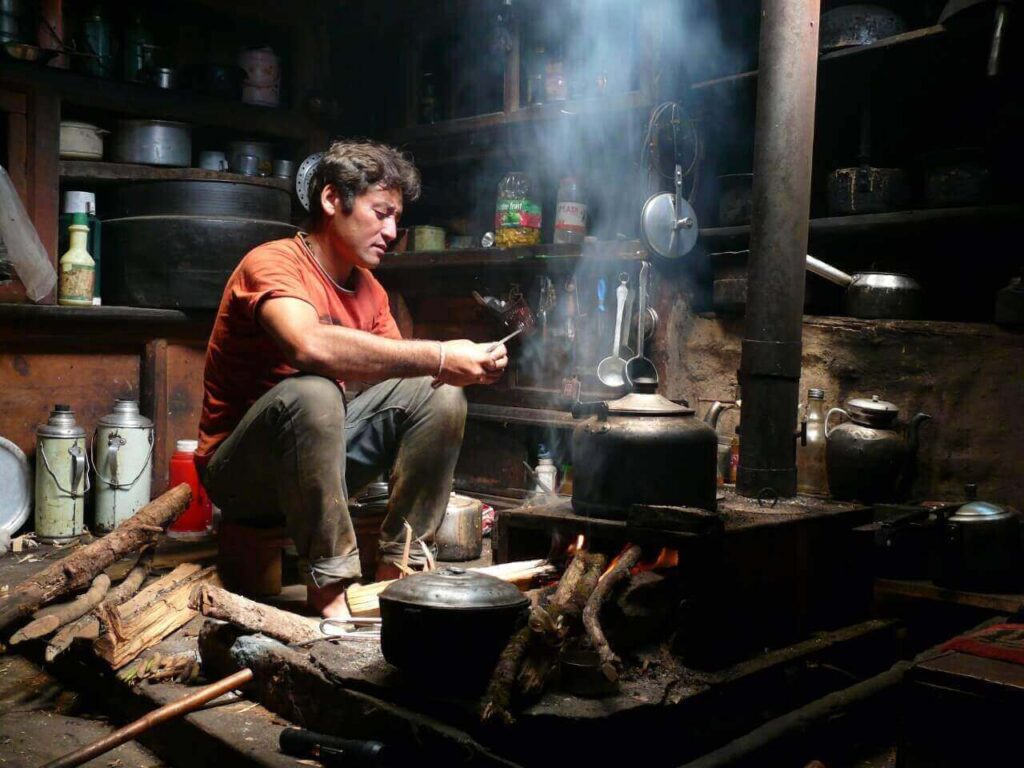 While trekking into the unknown land of the Himalayas, you must have a clear idea of what to expect. In the 2 weeks of trekking time, you will be staying in small Manaslu hotels that are called tea houses. These tea houses have small wooden rooms and two single beds on them.
The room will not have any other basic amenities and you will need your own sleeping bag (some even carry a sleeping mat). Wi-Fi is available almost in all hotels on the Manaslu trek, but it's very slow and you cannot do much with its speed. Sometimes, you even have to stay in the queue to charge your phone in reception as the rooms don't have plugs.
The bathrooms are available on a sharing basis only and they might not have Western seats (many hotels still have Indian-style seats). During the trek, you need to carry all your personal care items, clothes, and necessary food. There's not much you can buy along the Manaslu trek route. There are these small Manaslu Circuit Trek difficulties that people often forget to mention, but you must be aware of.
Related article: Know more about Manaslu trek cost
Difficulty Of Weather During Manaslu Trek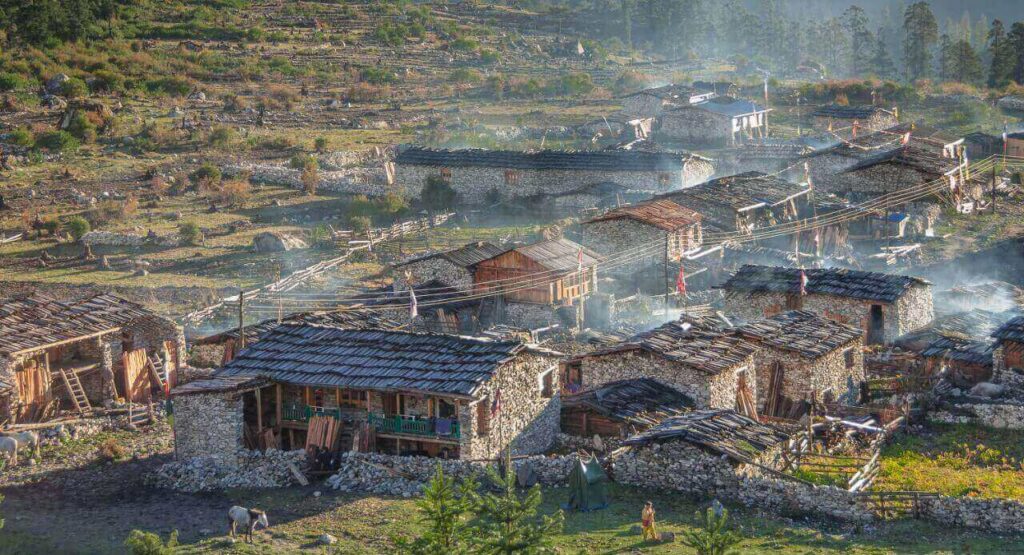 Warm and stable weather has a very big difference in your travel experience while you are wandering in the high mountain lands. Trekking in autumn (October and November) and spring (April, March, and May) is actually easier than winter and summer treks. Winter trek along the thick layer of snow and the slippery trail is the most difficult season for the Manaslu trekking. Summer trek on a rainy day is also very hard. Here, read about Manaslu weather and plan your trip accordingly.
Tips To Overcome Manaslu Trek Difficulty
As we are already aware that the Manaslu trek is a very strenuous and demanding trip, and one needs to be physically fit to achieve this tour. This means trekkers should be trained for such a long walk at a high altitude. The best way to train yourself is here.
Strength Training
You need to prepare your body to walk 5 to 7 hours each day on a rocky mountain trail with a backpack. For that, one needs to gather strength in the legs, shoulders, arms, and back. So, the first task is to strengthen your leg muscles with exercises such as leg presses, lunges, weight squats, or bodyweight squats. These exercises starting at least two months prior to the trek lowers your Manaslu Circuit Trek difficulty.
Cardiovascular Fitness
Along with physical strength, the capacity of your heart and lungs are also really important during high-altitude treks. Firstly, you need to be totally free of any heart and lungs related diseases (otherwise, the trek can be deadly). Next, you should prepare your body for a lower level of oxygen. For that, cardio exercises such as cycling, jogging, brisk walking, swimming, running, and skipping are really useful.
Diet
A healthy habit of having proper food during the training session is extremely important. Make sure you have a balanced diet rich in carbohydrates, protein, and fibres to make your muscle strength. Then, start building the habit of drinking a lot of water. This diet planning should be strictly followed during the trek.
Mental Preparation
Just like physical fitness, sound mental health is extremely important during the Manaslu trek. Manaslu trek has been successfully done by many newbie trekkers without any difficulty. And you should have that confidence in yourself.
Your mental health determines your ability to handle stress and pain. People without the right motivation and sound mental health often end up giving up the mid-way. Start working on yourself and keep your mind in a very peaceful state so that you can fully enjoy this trip.
Collect Some Experience
Many newbie trekkers with zero experience in high-altitude trekking have already been able to complete the Manaslu trek. However, some previous experience of high altitude trek makes this Manaslu tour easier. Trekking in the nearby hills around your hometown, or preparing with short hikes in Nepal is obviously helpful.
Right Packing
The trekkers often pack in a hurry and miss many things from the packing list for Manaslu. That's when they have to face the worst challenge. So, make sure you ask your guide for the list of things to pack for Manaslu. Your guide will prepare the bags before you leave Kathmandu.
Travel Insurance 
And even after all this preparation, sometimes things go beyond our control. The unpredicted weather, natural calamities, or any other physical condition might affect us during a trek to Manaslu. That's why we make it compulsory for our travellers to have travel insurance. You must have travel insurance in Nepal that covers all risks of high-altitude emergencies including helicopter rescue. The document of travel insurance should be submitted to the team before the tour.
Conclusion, 
Every new thing you wanna try does feel difficult. Obviously, the trek to the Himalayas sounds impossible once you start it. However, once you set foot in the mountains, you actually sense that peace and pride you always wanted. So, stop imagining how difficult the Manaslu Circuit trek might be, and start your tour now. However, do ensure that you are guided by a trustworthy team of experts at Himalayan Masters. It's gonna be a wonderful journey for all of us. One of the famous trekking trails in Nepal is the Everest trek and I wrote an article about the Everest base camp trek difficulty and enjoy reading it.
Frequently Asked Questions about Manaslu trek difficulty
1. How difficult is the Manaslu Camping trek?
Manaslu camping Trek comes with challenges you might have never thought of. You will not have any electricity unless you have a solar power charger. The network coverage is only available in some villages, and Wi-Fi is not available anywhere. Also, you need to carry everything to the mountains, and you will not get to buy anything on the trail.
Related article: Kanchenjunga Trek difficulty
So, you only get to eat the things that the porter has taken. There are no chances for a shower and washing your clothes unless you stop for a day. However, if you plan the Manaslu Camping trek with the help of an expert and manage to carry everything you need, you might be able to overcome some difficulties.
2. How to minimize the risk of altitude sickness in Manaslu?
When handled carelessly, every one in three travellers can suffer from altitude sickness. However, such severe cases can sometimes be managed with easy tips. We have already talked about acclimatization above. Another simple tip to avoid altitude sickness is to keep yourself hydrated by drinking 3-4 litres of lukewarm water each day.
Also, avoid hard drinks and foods that are hard to digest. You need to carry high-energy foods like chocolates and juices. If you feel any unease or pain, immediately stop the hike and walk to the lower altitude. This helps your body to cure itself.
What about food during the Manaslu trek?
Despite the many troubles you might face during this journey, Manaslu Trek food is something that won't disappoint you. You can pick from many Nepalese foods like Noodles, Momo, Rolls, Roti, and some curry. You are gonna love the typical Dal Bhat combination. Also, there are some continental options like Pizza and burgers. Do try local foods such as Thukpa and butter tea.
UNSURE WHERE TO GO? WE CAN HELP
Based on your preferences, location, timeframe, and budget, our team can design your dream trek based on our extensive knowledge and experience of the Himalayas. Get in touch with us for detailed information and assistance planning your dream trek. With our 97% success rate on trekking and climbing trips in 2022 and 2023 spring season, we will answer any questions you may have and guide you for an unforgettable experience.