Food and Water During Manaslu Trek
While you are away from home, especially while wandering in the off-beaten trail of the Himalayas, your health should always be the topmost priority; your diet is extremely important. Thankfully, the Manaslu circuit trek has an impressive range of options for healthy and organic food. This article writes everything you need to know about Manaslu trek food.
Where Should You Eat During The Manaslu Trek?
In cities like Kathmandu, people get to choose where they want to eat i.e. you can pick any restaurant around the town for the food. However, on the trekking trails of Nepal, you must eat in the tea house/hotel in Manaslu where you sleep. There are no restaurants along the way and you eat breakfast/dinner wherever you will be staying. For lunch, we will be stopping at some other tea house in the mid-day.
A few years back, the Manaslu Circuit trek was among the most popular camping treks in Nepal. During the camping trek, your team should have carried everything needed to cook at a higher altitude. The porters would carry all cooking utensils and foods for the trek and you could only eat whatever has been carried from Kathmandu. Even now, if you wish for a camping trek in Manaslu, this is the pattern to be followed. However, during the tea house trek, there are unlimited options for food.
Types Of Food In Manaslu Circuit Trek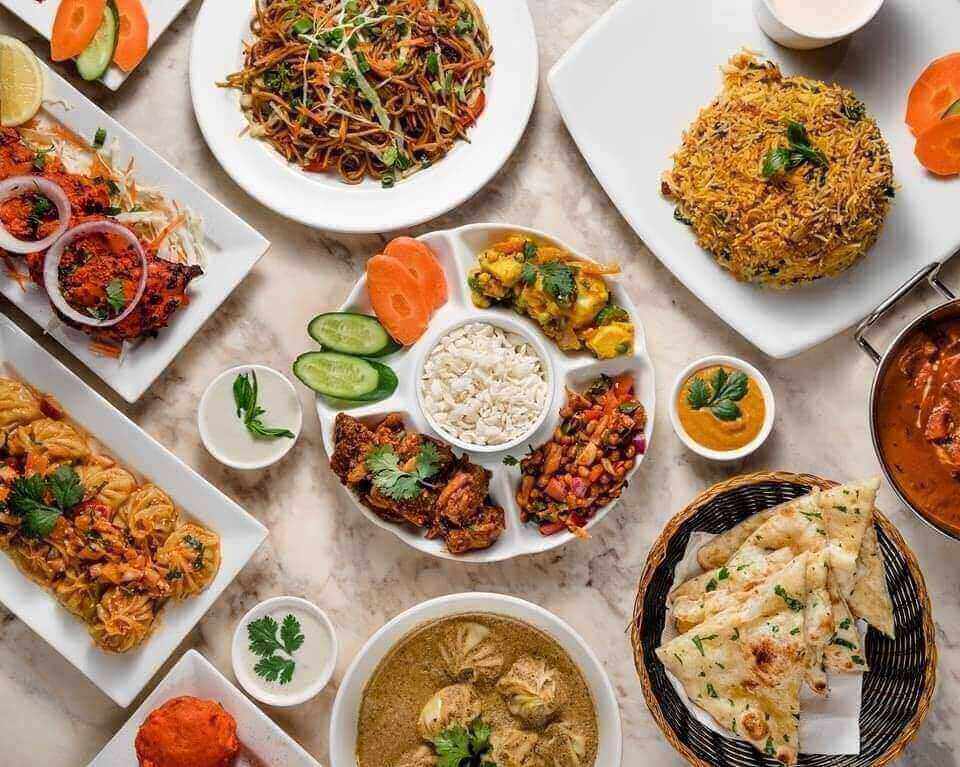 The latest built tea houses in Manaslu have an unlimited option for breakfast, lunch, and dinner during this trek. We have explained all Manaslu trek food below.
Tibetan bread: The most popular option for breakfast is the local Tibetan bread that is served with honey or jam or peanut butter. Egg and cheese can be added
Breakfast set: The breakfast set has a Chapati sandwich or toast that is served with boiled egg/omelette, hash brown potato and a hot drink.
Porridge: If you prefer a light breakfast, porridge/ muesli/ cornflakes served with fruits/ milk are recommended.
Paratha: This Indian delicacy for breakfast includes potato/ egg paratha
Soup: All veg and non-veg soup are available for breakfast dinner, and lunch.
Egg: boiled/ fried/ vegetable egg and poached omelette along with garlic omelette is available
Pancake: Different kinds of pancakes served with honey or peanut butter
Lunch And Dinner
Thukpa & Thenduk: This vegetable/ non-veg noodle soup can be enjoyed during breakfast, lunch and dinner. It's served hot and warm- a good remedy on cold
Curry and rice: The classic steamed rice with different curry
Pasta: pasta served with tomato sauce/ vegetable/ egg
Spring rolls: vegetable/ tuna/egg/ cheese spring roll
 Pizza: All kinds of pizza
Macaroni: Veg/ non-veg/ and egg macaroni
Spaghetti: plain/veg /tuna spaghetti
Chowmein and MoMo of different kinds
Noodles of all kinds
 Potato dish: finger chips, mashed potato, fried potato, chips chilly
Snacks: light snacks such as popcorn, pakora, pork fried, pork chilly, mushroom chilly, etc
Papad: different kinds of Indian Papad
Other Food Items
Hot drink: The options for the hot drink are black/ milk/ Tibetan tea, ginger with honey, hot chocolate, and hot lemon. The healthier option is mint tea, ginger tea, and black coffee.
Desert: rice/ chocolate/ custard pudding, apple/ pumpkin pie, and apple fitter
Salad: Green/ Potato/ Russian/ Fruit/ Nepali salad
Soft drink: Canned juice, red bull, coke, Fanta, sprite
Hard Drinks: Firstly, we must say that alcoholic drinks during the high-altitude trek are highly discouraged. When your body is dehydrated, there's a very high risk of altitude sickness. However, there are few options for alcohol available in the tea house. You can find beer and some international brand drinks. Local raksi, Vodka, some whiskey, and Rum are also available.
The Best Option For Manaslu Trek Food
There's a "never-go-wrong" food item on the menu of the Manaslu trek. And that's typical Nepalese Dal Bhat. This combination of steamed rice, lentil soup, curry, and pickle has so much flavour and taste. Nepalese are addicted to this combination and they eat this same food two times a day for all their life.
And we can assure you that you will also love Nepalese dal, Bhat. Most importantly, when you order Dal Bhat, you can always ask for more. It's like a buffet system every day. Dal Bhat is rich in all kinds of carbohydrates, minerals, and proteins, to keep you boosted all day long.
It's healthy for your stomach as well. However, it's a high-calorie food and if you are on a diet, you can have Dal Bhat for Lunch and enjoy something light for Manaslu food.
Local Foods Of Manaslu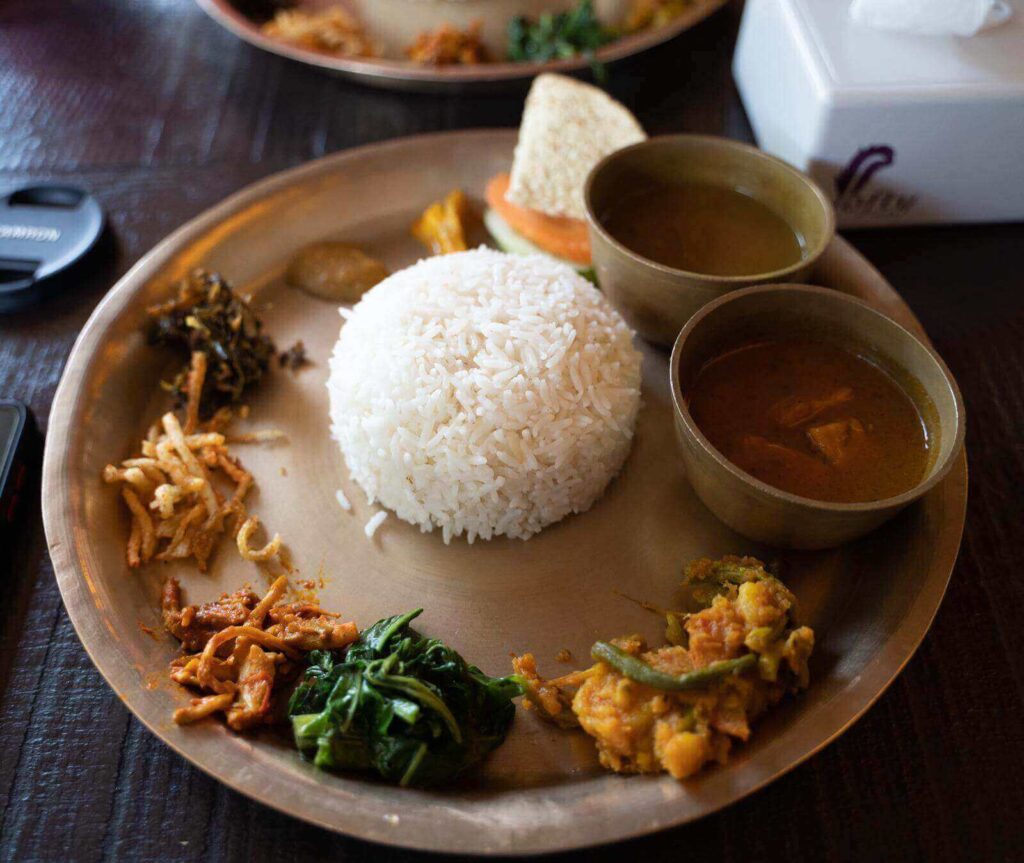 Manaslu's food is highly influenced by traditional Tibetan culture. Along with Nepalese popular foods like Dumplings, and chow mein, Thukpa is very popular there. The warm set of veg and non-veg soup is also very common. Next, we shall also enjoy yak items such as yak meat, yak butter, and yak milk.
Barley food items served along with the stews and curries are also very popular food in the

 

Manaslu region.
Butter tea is among the "must-haves" while you are trekking in the Himalayas. These high-energy drinks help the trekkers stay safe from extreme cold and altitude sickness.
Among many interesting Manaslu trek foods in the Himalayas, Gundruk Dhindo carries the highest importance in Nepalese history. Ghandruk is a fermented green vegetable that is often enjoyed as a soup dish and Dhindo is a porridge that has been made from corn/ millet/ buckwheat/ or barley. This diet is known to be long-lasting and more energetic than Dal Bhat. People in the highland claim to have lived longer due to this organic combo.
Drinking Water During Manaslu Circuit Trek
Water is always the most important part of your diet. Especially, while you are trekking at a higher altitude, keeping yourself dehydrated is extremely important. Drinking about 3 litres of water every day keeps you safe from altitude sickness. If possible, we recommend drinking lukewarm water instead of cold water.
So, where do you get the water in the Manaslu Circuit Trek? You can buy bottled water in the tea houses along the way. A bottle of water costs more than $1 and when you buy 3 to 4 bottles each day, you will spend over $70 on water alone. On the other hand, you can easily save this cost by carrying your water bottle.
How?
In the lower region like Jagat, the guest house themselves allows you to refill the bottle. As you move higher, you can find plenty of natural springs/ taps where you can refill the bottle. However, you cannot drink this water directly i.e. you need to add some chlorine or iodine for the purification.
Purification: Many purification tablets are available at a very cheap rate. For regular trekkers, we recommend buying Steripen Ultra which treats 1l of water in 90 seconds to make it completely germ-free. Other techniques such as Lifestraw and Water-to-go are also used by some travelers.
Cost of Food In Manaslu Circuit Trek
Mostly, the food cost of the Manaslu trek is covered by the travel agency and you don't need to worry about the money. When you get the Manaslu trek package, all three meals are provided by the agency and you get to choose what you wanna eat. However, for independent trekkers, the food makes the highest price for the Manaslu Circuit trek.
You should know that the food cost of the Manaslu trek is higher than that of the cities. In the highlands of Manaslu, everything has to be carried by humans or animals. The porters sometimes carry the sack of grain and vegetables for weeks so that you are served a warm dinner. And this makes the cost higher.
The cost of breakfast ranges from $3 to $7. The lunch and dinner cost about $5 to $10. The price of tea and coffee is somewhere between $0.5 to $2 per cup. In the lower region of Manaslu i.e. around Soti Khola, Jagat, and Namrung, the food price is a bit lower. As you move higher i.e. towards Sama Gaun, Samdo, and Dharapani, the price becomes higher. In short, you will need $25 to $35 per day for the Manaslu Circuit trek food cost. Here is the list of all foods and their cost.
Frequently Asked Questions
1. Is there any food we should carry during the Manaslu Circuit trek?
Manaslu Circuit is now a busy and popular trail. That means trekkers can find all kinds of foods of their choice. However, the cost of food is 2 to 3 times higher than that of cities. So, we suggest that you carry some lightweight foods for the trek. Our recommended list is
Chocolate bars
Energy drinks
Instant coffee
Canned Juices
Cookies
Few instant noodles
Important Note: Estimate the amount that you might need for 14 to 20 days of walking and then add it to your Manaslu trek packing list. In the daytime, the porter carries your trekking bag and you will only have a handbag with you. So, keep the food you need in the daytime in your handbag.
2. Who prepares the Manaslu trek food?
Usually, it's a hired cook who is responsible for preparing the food. Only some good restaurants and popular tea houses hire professional chefs. Otherwise, there will be a local guy who will be taught to make the food on the Menu in a short time and start the work. Sometimes, the owner of the tea houses themselves works as a chef (often in the off-season). These people do not have very good knowledge of international and continental cuisines.
So, when you order international food in Manaslu, it might not meet your expectations. However, they are excellent at making Nepalese and Tibetan foods as per their culture. The mixture of traditional cooking skills and Nepalese spices makes them good cooks.
3. Is there any food we should avoid while trekking?
Other than the hard drinks, we also recommend avoiding meat at a higher altitude. Since all food item in Manaslu (including meat) is carried to the higher region i.e. Sama Gaun, Samdo, and Bimthang, the meat might not be fresh and can make you ill.
4. What kinds of food will we get in Kathmandu before the trek?
Kathmandu, Nepal's capital has an impressive range of restaurants. Thamel bestows unlimited restaurants to dine for all kinds of Nepalese and international cuisine. The cost of food in Kathmandu is usually not included in the Manaslu Circuit trek package. Hope this article about foods in Manaslu will come in handy while you are heading for treks in Manaslu.
Do you need help planning your trip to Nepal? Then, the Himalayan master's team is here to welcome you to Nepal with the best service available. Book our affordable Manaslu Circuit trek package and make the most wonderful memory of your life.
UNSURE WHERE TO GO? WE CAN HELP
Based on your preferences, location, timeframe, and budget, our team can design your dream trek based on our extensive knowledge and experience of the Himalayas. Get in touch with us for detailed information and assistance planning your dream trek. With our 97% success rate on trekking and climbing trips in 2022 and 2023 spring season, we will answer any questions you may have and guide you for an unforgettable experience.