Manaslu Trek Cost And Its Detailed Information 2023

Hello everyone! This is a long article that covers almost everything you should know about the Manaslu Circuit Trek by a local trekking guide who has been to this trail more than 30 times. This is the most updated article about Manaslu trekking costs you will ever find online, so enjoy reading.
The article explains the Manaslu circuit trek and the Tsum Valley trek cost. This is a must-updated article so you can plan your trek to the Manaslu circuit properly. The cost of the full package for the Manaslu circuit is USD 920 with Himalayan Masters. The total cost for the Manaslu trek includes two nights' basic accommodation in Kathmandu and transportation from Kathmandu to Soti Khola by bus. Food and accommodation during the Manaslu circuit, trekking permits for Manaslu and a trekking guide
Among Nepal's dozens of mountains above 8000 meters, Mount Manaslu is fast becoming the trekkers' favourite. Manaslu, the world's 8th highest peak, lies about 64 km east of the famous Annapurna range in the Gorkha District. Although the Manaslu climb is considered a dangerous experience, the Manaslu circuit trek has become famous for its wilderness and beauty. The half-month of trekking on this mountain is actually rejuvenating. And such a great escape is also cheap-the Manaslu Trek cost we are offering is very affordable. Nepal is one of the cheapest places to visit in the world, and this Manaslu trek cost is not something that you should be worried about.
The deep Georges, awesome landscape, hospitable locals, insight into century-old culture and architecture, and incredible biodiversity are not something you can resist. People who have been to Manaslu once have absolutely fallen in love with this place, and we assure you that you will also adore it. So if the Manaslu Circuit trek price is the only thing that's bothering you, we shall clear out the details for you. Here's everything you need to know about Manaslu Trek Cost in detail.
Let's begin.
Obviously, the biggest travel expense is flying from your home country to Nepal. It depends on the distance and mode of transportation you pick. Do add the cost of a two-way flight or ride to the list given here.
What Are The Manaslu Permits Cost And Paper Works?
You must have travel insurance that covers high-altitude trek rescue before coming to Nepal. Even after we adopt all the necessary measures, trekking in the mountains of Nepal is a risky job. And you will need insurance before booking the Manaslu trek package. We don't know the cost of insurance in your home country; however, you should add it to the list.
Nepali Travel Visa: As soon as you land in Nepal, you need to issue a tourist visa to Nepal. Nepalese visa is available on arrival and cost:
15 Days – 30 USD
30 Days – 50 USD
90 Days – 125 USDManaslu Trek Cost for India and SAARC nation citizens do not contain this Visa Cost. So, it's kinda cheaper.
Read about other Manaslu Trek Nepal.
Manaslu Permits Cost: Trekking to Manaslu needs three kinds of permits.
Manaslu Restricted Area Permit: This is a special permit issued by the Nepal government and is compulsory for trekking in the Tsum Valley. This permit costs USD 100 per person from September to November ($15/ day if you stay longer than a week) and USD 75 per person from December to August ($10/day if you stay more than a week).
Manaslu Conservation Area Project: This permit costs USD 30 per person for foreigners and about USD 10 for people of SAARC country. 
Annapurna Conservation Area Permit: This permit is only needed for the Manaslu trek if you enter into Annapurna Conservation Area. ACAP entry cost is also USD 30 per person for foreigners and about USD 10 for people of SAARC country.
So, these Manaslu Permit costs add a lot to your travel expenses.
The first thing to note is that Manaslu is among the restricted trekking regions of Nepal. Here, free individual trekkers are strictly forbidden. You need to be in the group (minimum of two people) and accompanied by a licensed guide to even issue this permit. This doesn't mean you will necessarily need a travel agency to book your Manaslu trip, however, having one will be very cheap. Learn about where and how to get the permit in our other article here.
Total Cost For Guide And Porters to Manaslu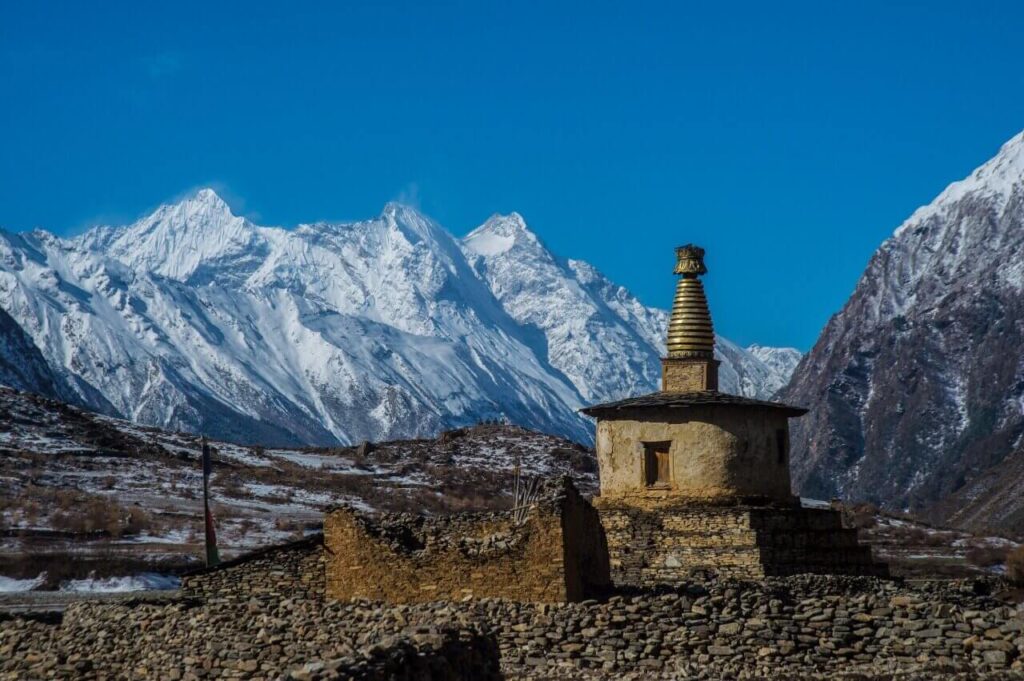 Now, this makes another major part of your Manaslu travel price. As mentioned above, you will need to hire a licensed trekking guide to Manaslu. The cost of the guide ranges from USD 25 to USD 30/day. These English-speaking guides are very familiar with your trekking route and come in handy during an emergency. Having a good relationship with a travel guide makes your journey even better. They will help you build a better relationship with the locals, find a hotel, and order food.
Our guides at Himalayan Masters are also trained in first aid and emergency conditions. This Manaslu Trek cost for a guide is worth it. Next, you will need a porter. Since Manaslu is a completely remote village, you need to carry everything you need for the journey. This makes your bag very heavy, and hiring a porter is an easier way to deal with the load.
You can hire one or two porters (one porter often carries the bag of two people if it's not that heavy) as per your will. The cost of a porter is about USD 20 to USD 25/day. Now, multiply the cost by the number of days, and there you have the cost for the guide and porter.
Transportation Cost for Manaslu Circuit Trek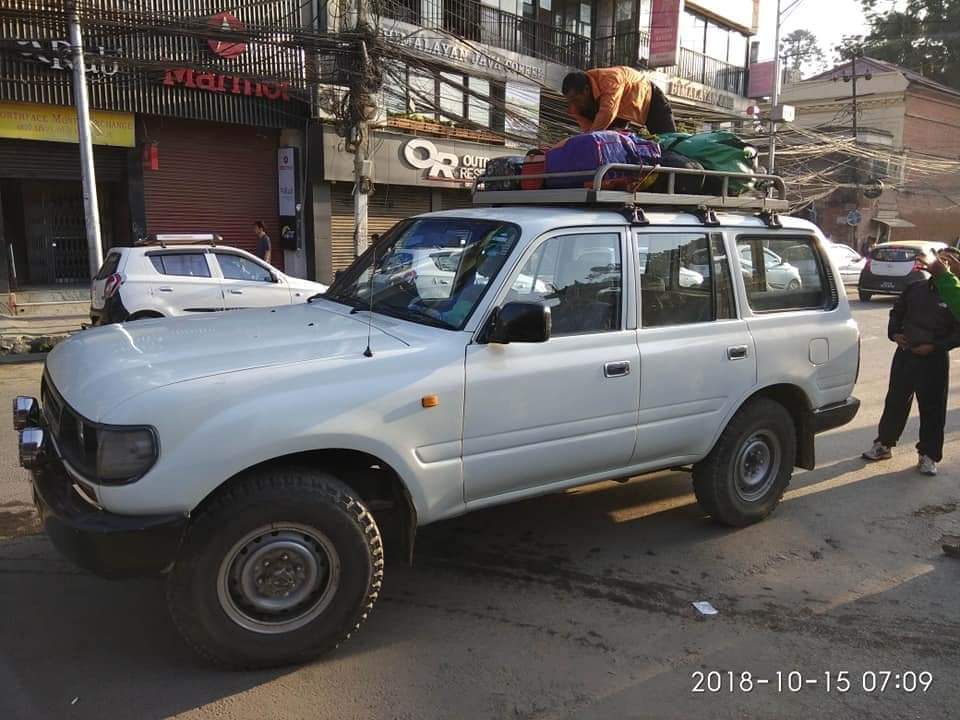 Before the trek commences, we drive from Kathmandu to Soti Khola. The Manaslu Circuit Trek and Manaslu Base Camp trek usually end at Dharapani/Besisahar. If it's the TSUM valley trek, you will probably end the trek in Arughat. Neither of these places has an airport nearby. So, the only option for you is to ride for 6 to 8 hours from Kathmandu. However, there are many options for the vehicle. Add the best option you find to the total Manaslu Trek cost.
Local Vehicle during Manaslu Trek
A bus to Soti Khola leaves from Gangabu Bus Park each morning. But, you should know that the public bus in Nepal is not exactly a comfortable and clean option. The bus is mostly overcrowded, and the noise makes it hard to travel. There's never enough space for your legs and bags. However, it's hella cheap. You will be able to travel to any of these places for USD 5 to USD 8 per person. If you are up for a little adventure, this might be a great chance to witness the Nepalese lifestyle at a close distance.
Private jeep during Manaslu Circuit Trek
A jeep is well suited to running on the rough highways of Nepal. The Jeep accommodates about eight people and takes you to Soti Khola in about six hours. This is a very comfortable option for tourists. It's also spacious, with a lot of room for bags. If you can book a Jeep by yourself, it will cost about USD 150 to USD 190; and they will come to pick you up right at the hotel. Or, you can share the Jeep with other people, and that costs about $40 to $50 per person. However, it's not always easy to find another group to share a Jeep with you. Your guide will help to make the bookings.
Taxi (Cabs)
While this is a very luxurious option, it's not exactly suitable for the rough terrain in Nepal. You can have an entire car by yourself and travel at your convenience. A taxi accommodates four people and costs USD 100- USD 120 (a little bit lower than the Jeep). Ask your guide to negotiate with the driver to give you the best deal.
Manaslu Trek accommodation cost
The hotels in Manaslu are called tea houses. Tea houses are small wooden homes owned by the locals of Manaslu. Since many of these tea houses have been newly built, you can expect them to be clean and comfortable. There will be a centrally heated dining room for a warm dinner. They have to build cozy rooms with two to three single beds only. In the tea house, you will be provided with a mattress, a blanket, and a pillow.
The rooms with private bathrooms are unimaginable; you will be using the bathroom on a shared basis. Some bathrooms might have Western seats, but most bathrooms in Manaslu will have Indian seats. And that's almost it. The cost of this room is $5 to $6 only. This adds only a small amount to your Manaslu Trek cost. In Kathmandu, you will have a good choice of 3-star to five-star hotels. The cheapest bunk beds are available at $5 per bed, and a good, clean room can cost about $20.
Additional charges in a tea house during the Manaslu trek
Most of the tea houses in the lower region have a connection to Wi-Fi (even if the speed is not that good). Connecting to Wi-Fi costs about $3 per night.
In the tea house, you can ask for a hot water shower or a bucket of hot water. A hot water shower costs about $4 to $5.
You should know that even electricity doesn't come cheap. The room does not have a plug, and you will need to charge your phone in the reception or dining hall. The cost of charging your phone/camera/power bank is about $2 to $3. The charge depends on how long you will be charging and your device also.
Know more about accommodation
Food cost during the Manaslu circuit trek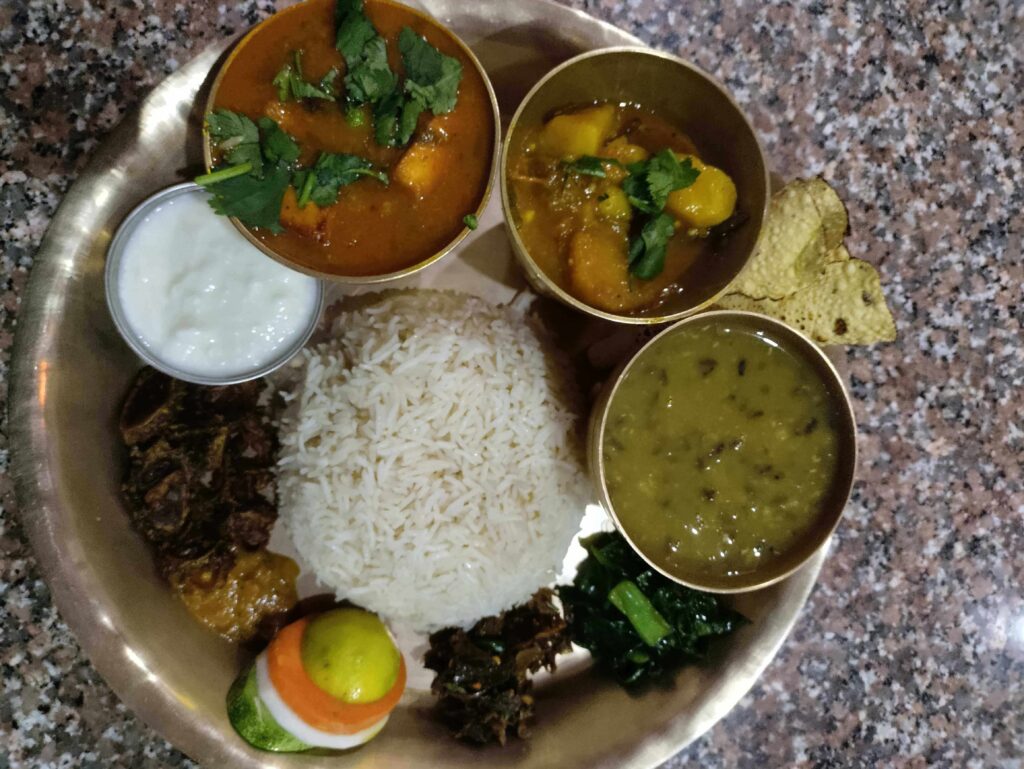 Food is the biggest part of your Manaslu Trek cost. The thumb rule while trekking in Nepal is that you will be eating where you sleep. So, you will be served the food listed on the menu available at the tea houses. A warm meal with fresh ingredients on such remote land is itself a blessing. The menu is almost the same throughout the route, and the cost is also similar (a little more costly at the higher altitude).
For breakfast, there are options like bread, omelette, pancakes, oats, muesli, and fruits. The cost for breakfast is about $5 to $7. Then, you have pasta, momo, noodles, soup, rolls and some other dish for lunch. However, the best combination is Nepalese dal, Bhat. The unlimited Buffet of Nepalese khana has steamed rice, lentil soup, vegetable curry, spinach, and some pickle.
There are also some desserts like Pudding and chocolates. Lunch and dinner cost $4 to $8 as per your choice, while dessert is about $3. The cost of food in Manaslu is about $28 to $30 per day, depending on how foodie you are.
Note: Trekking in the mountains is a wonderful chance for some local food hunting. We suggest that you must try Tibetan bread, Gundruk Dhindo, butter tea, Thukpa, yak cheese, and Nepali curd. You can ask the tea house owner if they can prepare anything special for you, or you can even learn to make it yourself.
Cost For The Drink in Manaslu Circuit Trek
You should understand that everything you eat during this trek will be carried to a higher altitude by a porter, mule, or helicopter. That makes everything (especially food) quite expensive. Also, the options on the menu might not be as versatile as you would see in urban restaurants. However, the tea house owner tries their best to serve you a great diet.
The cooks might not be very familiar with preparing continental cuisines, so it's always safe to go for Nepalese food. That's what they are best at cooking. Throughout the trek, you can get normal milk and coffee, which costs $1 to $3 per cup. There are not many options for coffee. We suggest that you carry your own instant coffee and tea.
Also, you can get some hard drinks; a bottle of beer costs about $7. You might also find some energy drinks and juice. However, it's better if you carry a couple of these canned juice from Kathmandu. Next, we should definitely talk about drinking water. A bottle of water costs about a dollar in Manaslu.
And considering you buy 3-4 bottles each day, that's a lot of money wasted. It's cheaper if you could carry a water bottle of your own and then refill it in tea houses/ natural taps. Then, you can use purifying tablets to make the water pure and drink it.
Know more about food and water.
Manaslu Trek packing list cost
Manaslu Circuit Trek was a camping trek for a few years. The trail has recently been upgraded to the tea house trekking in Nepal. This implies that the Manaslu trekking region is still very remote, and you need to carry every essential for the trek. A large sum of your expense goes to clothes and gear for the trek. Here, we have listed a few essentials in short. You can either get this stuff from your home country or from Nepal, and the price varies greatly as per the brand and choice. So, we have not mentioned the price here; just add it to your total Manaslu Trek Cost.
Shoes: Trekking shoes (high ankle hiking boots are quite expensive, but it's a trek prerequisite); A comfortable slipper and warm shocks
Down Jacket (air and water-proof); A thermal coat, most likely of cotton; trekking pants and comfortable shorts; T-shirts and a few inner clothes Windproof gloves, a head cover, sunglasses
Health: Water bottles and purifying tablet; First aid kids; Personal care items and toiletries
Food: Chocolate bars; instant coffee, energy drinks (and whatever you love).
Other: Sleeping bag; Hiking bag; hang bag; two trekking poles (cost USD 5/each in Nepal); crampon (only in winter); Phone, camera, charger, power bank, and whatever electronics you need.
Note: You won't need climbing ropes, an ice axe, a Gore-Tex jacket, or a sleeping mat for this trek. Also, the packing list is different for each season. It's better to consult your guide at Himalayan Masters and make a list of things you need before the trek.
You can rent Sleeping bags, hiking bags, trekking boots, down jackets, etc., in Thamel for USD 1 to USD 2 per day. If you want to save the cost of buying them, ask your guide where you can rent these products. However, if you keep trekking quite frequently, buying your own stuff turns out to be cheaper. Kathmandu has some great places to shop for these trekking gear. However, they might not always be of reliable brand and price. So, we suggest that you shop for clothes in your home country.
Manaslu Trek Cost Due To Duration
The ideal Manaslu Circuit trek is 15 to 20 days long. No matter how long you stay, the cost of transportation, the Manaslu/Annapurna Conservation area permit, and trekking gear is the same. However, it adds the cost of a guide/porter, food, accommodation, and a TSUM area permit.
So, the cost actually depends on your Manaslu Trek Itinerary. Sometimes, the unpredicted weather of Manaslu and untold emergency might extend your trip. So, be prepared for such cases.
Other Manaslu Trek Cost
Donations: We will be visiting many temples, gompas, and monasteries during this trek. You might want to donate a few dollars here and there. Add a few dollars for that.
Tips: Nepal is not exactly a country known for generous tips; it's a trend to tip your guide and porter. Although the amount is your choice, you might wanna keep it above USD 50 for each of them. You can also leave something for tea houses and restaurants. However, it's just our suggestion, and you can make a reasonable decision yourself.
Souvenir: Nepal's unique handicrafts and artwork are loved around the world. The metal and woodwork of Nepalese women are also extraordinary. These are the kinds of souvenirs tourists spend a lot on. That's why we want you to be prepared. Add a few dollars to your final Manaslu Trek cost for this kind of stuff.
Manaslu Package Cost vs. Independent Travel Cost
Let's take the example of the 14-day Manaslu Circuit Trek via Himalayan peaks and draw a conclusion. As independent trekkers ( with a guide and a porter), you will be spending about USD 920 per person. And the usual Manaslu Circuit cost is about $1400. with includes a full board package.
When you take the package, some costs like drinks, donations, tips, etc., will not be included. Eventually, both cost comes out to be similar. If you are taking any other routes of Manaslu (Manaslu Base Camp, Tsum Valley, etc.), you can just add up the cost and find the total expenses.
Then compare to the common Manaslu package cost listed on the website of a Nepalese travel agency. Boom, you will know which the best option is. Also, remember that getting a well-arranged trek package to Manaslu saves you from a lot of hassle and trouble. Everything will be neatly presented to you.
Manaslu Trek Cost For Nepali Citizens
As an internal tourist, you will definitely get to travel for a lower price. The cost of the Manaslu permit is not applicable to Nepalese. Also, you can travel by public bus to reduce transportation costs. However, the cost of food and accommodation is similar for Nepalese and international tourists. The cost for Wi-Fi, electricity, and hot shower is also similar.
Some discounts will be available in the offseason if you have good bargaining skills. Next, you won't exactly need a guide (however, having a porter is very helpful). So, with a porter, 14-days Manaslu Circuit cost for Nepalese is about NRP 70,000 or lower- depending on the luxury you want.
How To Get The Money- Cash Or Card?
When you book the Manaslu travel package, you need to pay the amount to the travel agency before departure. You can transfer the payment into their account easily and then only carry some extra dollars you need. You might want to keep about $500 or more with you for drinks and other personal expenses.
The money can be exchanged in Kathmandu. However, if you are not taking a Manaslu travel package, you must handle your money wisely. Instead of bringing all of the cash from home, you can withdraw the money from ATM in Kathmandu and exchange it here.
There will not be any ATMs, and the card is not accepted in the Manaslu region. You need to pay for accommodation and food in the Nepalese rupee. A small tip- don't Keep all of your money in a single place.
Some useful tips to lower Manaslu Trek Costs. 
Once you leave Kathmandu, there's probably no chance you can withdraw the cash; so make sure that you have enough with you.
Although your Langtang trek package covers all the expenses for the trek, you will be some extra cash in your pocket- $400 to $500 might be a safe amount to keep with you.
You can pay your guide and porter some advance so that you don't have to carry a lot with you.
Carry fewer clothes and focus on other essentials like power banks, poles, and food to keep your Manaslu Trek Cost
Make sure that you have a proper relationship with your guide, and he/she will help you with things like packing, shopping, and other-difficulty.
Conclusion,
So, we have listed out everything that adds to your Manaslu trek cost. This article can be useful for all treks in the Manaslu region—even other teahouses trekking in Nepal. The Himalayan master's team is waiting for your visit.
Is there anything else that you are worried about? Then, leave us a mail here.
Our Email: Info@himalayan-masters.com
UNSURE WHERE TO GO? WE CAN HELP
Based on your preferences, location, timeframe, and budget, our team can design your dream trek based on our extensive knowledge and experience of the Himalayas. Get in touch with us for detailed information and assistance planning your dream trek. With our 97% success rate on trekking and climbing trips in 2022 and 2023 spring season, we will answer any questions you may have and guide you for an unforgettable experience.