Langtang Trek Difficulty And Tips To Overcome Them
Endeavoring the beauty of the Himalayas is probably the most magical experience of your life. The stunning Langtang range of Nepal is hidden behind infinite hills and high peaks. Conquering each of these hills is a new challenge you haven't experienced. However, in the end, it's the accomplishment you remember. We often find people changing their plans without knowing "how difficult Langtang valley trek" is. Unlike many traditional beliefs, the Langtang Valley Trek Nepal is one of the easiest treks in the high mountains of Nepal.
Professionally, it has been graded, "moderate" can be accomplished by any newbie hikers. Obviously, this rough terrain trek will bring unbelievable challenges before you. But this is nothing you cannot solve on your way up. This article firstly tells you about Langtang trek difficulty and suggests, how this difficulty can be solved. So, If you ever plan on exploring the beauty of Langtang peaks, you must read this Langtang Valley Trek Nepal difficulty article to the end.
Langtang Valley Trek Nepal Route/ Langtang Map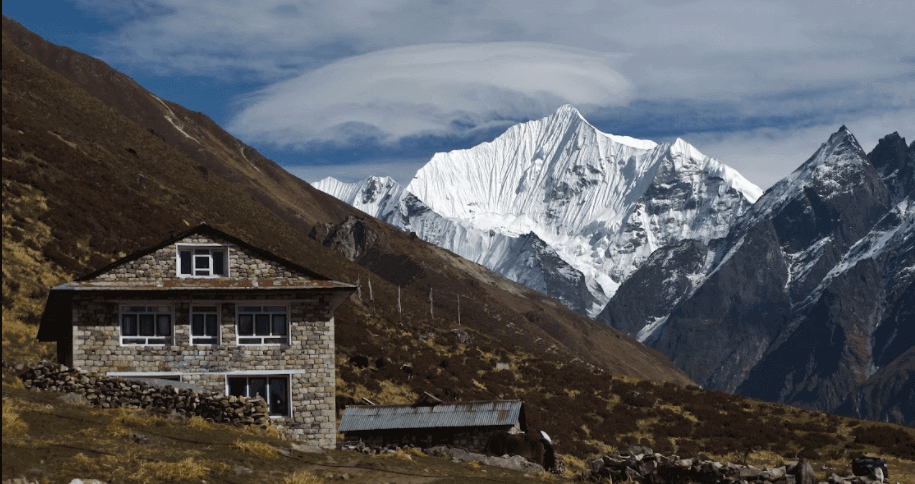 Although all of the Langtang treks sound similar, there are many routes taking you to the Langtang Valley. Experts in the Himalayan master have designed the classic short Langtang trek package from Syabrubensi to Kyanjin Gompa. This 9-days Langtang trek route has stone-stairs (in most parts) and very well-built infrastructure- making it relatively easy.  However, you can take many other routes in the Langtang region.
There will be difficult to find the route and appropriate accommodation when you take a more comprehensive and newly built trail. The Tamang heritage trek, Langtang Helambu trek, and Gosaikunda trek are about a week-long and marked as easy trek in the Langtang region. However, if you go for Ganjala pass Trek and Tilman pass trek (about three weeks long), the Langtang trek difficulty increases.
So, we suggest the beginners pick a relatively short and easy Langtang hike option. From Syabrubensi to Kyanjin Gompa and back, we will be walking about 65kms (40miles). This Langtang trek distance is conquered in 4 to 5 days. Thus, you will be walking 15-20kms each day- about 6 to 7 hours of daily hiking. And climbing the rough terrain is not as easy as strolling in the park.
By now, you might already have the answer to How long is Langtang Valley Trek.
So, this is something you should be physically and mentally prepared for.  Here is the distance you will be covering each day
Thankfully, our Langtang trek route does not involve any tricky climbs that need mountaineering skills. Trekking in winter might be a bit difficult due to the thick layer of snow; however, you will not need any crampons, axes, or ropes. As long as you are physically fit, the trek is achievable.
Read about Langtang Trek Permit Cost.
Langtang Elevation And Altitude Sickness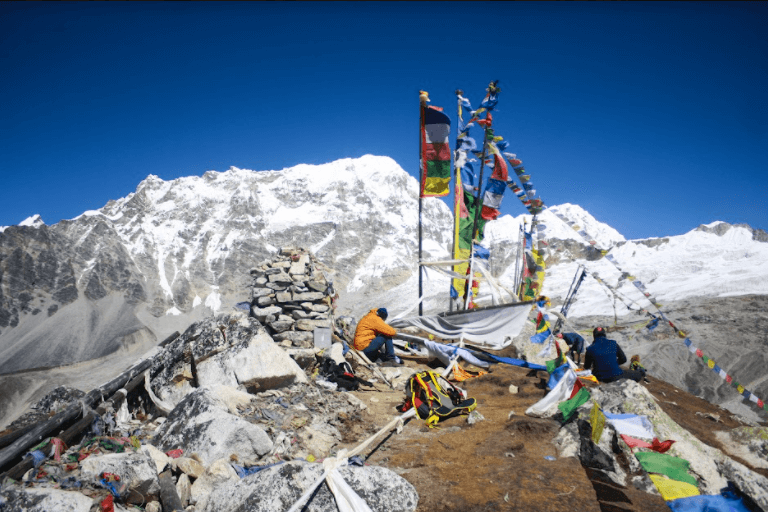 Langtang valley trek is a high-altitude trek, and being 5000meters above sea level brings some unbelievable changes in your body. Here is the elevation of different stops during the Langtang Valley trek:
Syabrubesi (1467 meters/ 4813 feet)
Lama Hotel (2470m/ 8104 feet)
Langtang village (3430 meters/ 11253 feet)
Kyanjin Gompa (3870 meters/12697 feet)
Tsergo Ri (5033 meters/ 16,404 feet)
As you can see, we will be climbing 500 to 1000 meters of height each day. When you reach 5000 meters above sea level, altitude sickness's chances dramatically increase; the oxygen level drops to half, and it's hard to breathe. In such cases, you might develop symptoms like headache, Nausea, vomiting, Shortness of breath, and Dizziness. There might also be Heart rate increment and difficulty in sleeping. It would help if you immediately walked to the lower altitude. We have listed ways to treat altitude sickness in the lower section of this article. So keep reading…
Langtang Trek Difficulty In Different Seasons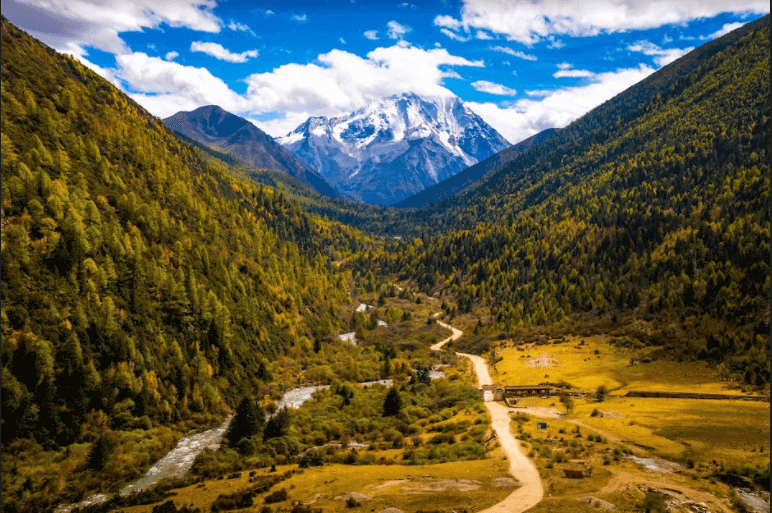 The information about the weather is crucial to determine your Langtang trek difficulty. Trekking in the right season brings excellent comfort, while trekking during unstable weather brings new challenges. So while you are booking your Langtang trek package, you must book it for a suitable month. Be informed about the weather and climate of Langtang to prepare yourself accordingly.
The weather of Langtang in Autumn: Autumn (September, October, November) is known to have the most stable kind of weather. The days are short, calm, and sunny, with a temperature of about 10°C-20°C throughout the route. The night temperature remains above 5°C, and the chances of rainfall/ snowfall are close to nill. So, it's a good time for the visit. The sky is clear, opening the best views of the mountains.
The weather of Langtang in Winter: Trekking up to Langtang village in winter is not a big deal. However, Kyanjin Gompa and Tsrong Ri are all covered in snow, making it very hard to trek. The daytime temperature of Langtang ranges from 3°C-6°C, and the night temperatures can fall below -3°C in January. However, the views in winter are just mesmerizing. So, if you are aiming for a winter trek, make sure you have experts from Himalayan masters to guide you.
Weather of Langtang in Summer: The Langtang weather in summer is relatively unstable; the frequent rainfall might make it hard to trek. However, it's the warmest month with a Langtang temperature of 12.1°C. June and July get about 1500mm of rainfall. Leeches, mosquitoes, and slippery trails are significant challenges of the summer trek. However, most precipitation occurs in the evening and night, making it possible to trek in the daytime.
The weather of Langtang in Spring: Spring has warm and stable weather with long sunny days. Also, it's time for beautiful wildflower blooms. Thus, if you seek an easy hike, Spring is the best time for the Langtang trek. However, getting good tea houses is really difficult during Spring and Autumn; thus, you must make the bookings in advance.
Availability Of Infrastructure / Food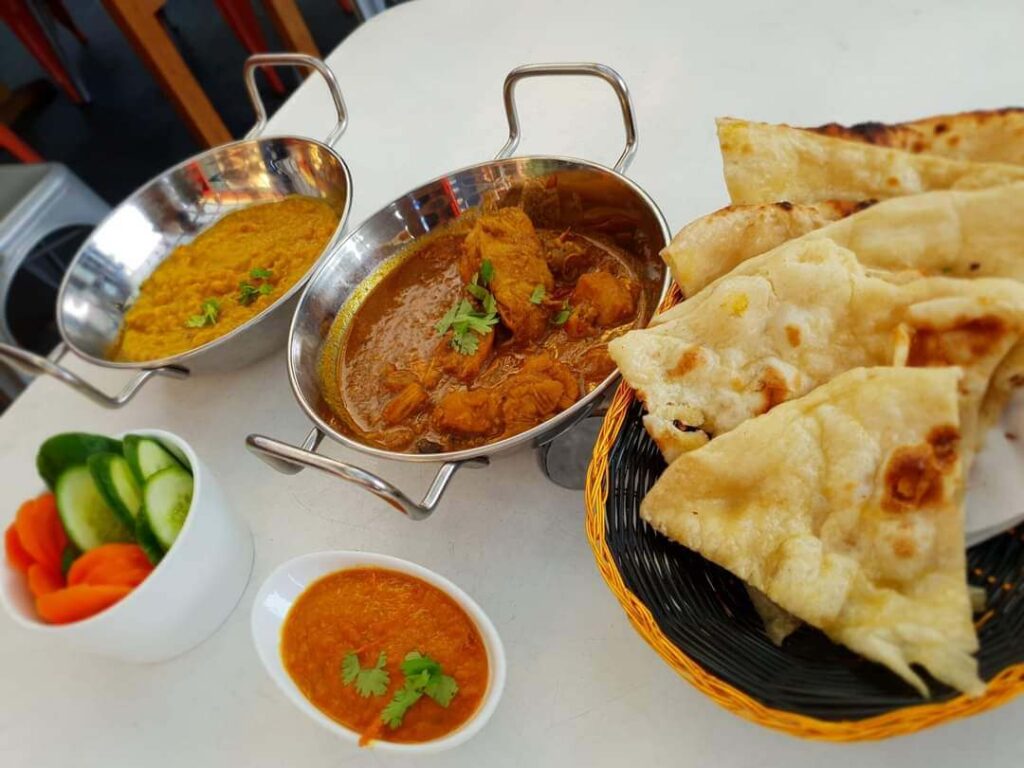 We should also analyze, the Langtang trek difficulty due to the availability of infrastructure. Firstly, let's talk about food and Accommodation in Langtang. There are plenty of tea houses in the popular stopping point mentioned above. Most of these tea houses have been newly built and have good services. The bed is comfortable and clean. However, the tea houses in Langtang village are overcrowded in peak season, and you must make sure that you book your hotel in advance.
The tea houses also have a centrally heated restaurant with a versatile menu. You are served with a variety of warm and healthy food, so that's nothing you need to worry about. The other problem is the Shared bathroom. It's unlikely that you find a private bathroom in tea houses. Using a shared bathroom with Indian style seat is challenging for many trekkers. Also, not having a hot water shower is a big deal.
Next, the Langtang region has Wi-Fi, but it's unreliable. You cannot connect with your friends/ family for a few days, and one must be prepared for that. Now, you might be pretty confused with all the difficulties we have listed. However, these are only minor difficulties that can be overcome with some preparation and guidance. Let us help you with that also.
Tips To Overcome Langtang Trek Difficulty
Preparation For Langtang Trek
Some warm-up before the hike really helps you overcome the Langtang trek difficulty. A few months before the trek (2 to 3 months), you can start trekking some places around your home. You might practice regular jogging, running, cycling, and swimming. Joining the gym before the trek and engaging in cardio exercises is proven to be really helpful. If you are prepared with such dedication, the Langtang Valley trek is just a piece of cake.
Requirements of Physical Fitness
Langtang trek is achieved by people of sound physical and mental health. You don't need to be an experienced trekker; however, good health is necessary. If you have some heart and lungs problems, we don't suggest that you aim for this trek. Anyone under medication of any kind should not attempt for Langtang Valley trek without the physician's permission. Even if you don't have any such health issues, you must prepare your body with some sort of exercise mentioned below.
Take a Langtang trek packaged
When you pick a well-managed Langtang trek package from a trusted company like the Himalayan master, everything about the trek will be neatly arranged. Having an experienced guide with you on the hike saves you from many unseen difficulties. Also, there will be a porter to carry your bags and you get to walk freely. Permits, accommodations, first-aid and every other detail will be taken care of.
Pack wise
There are two things you should consider. Firstly, you must pack light and yet have every essential you need. The remote villages of Langtang don't have shops for your personal essentials. Next, you should be prepared for all kinds of weather at a higher altitude. Other than being comfortable, your clothes should be waterproof/ windproof. It should be warm and dressed in layers. Good pair of boots and trekking poles also make your Langtang Hike easier. And, also some food for Langtang Valley Trek. You can read our other article to get the full packing list.
Limit yourself to Trekking Trail
Trekking to the higher mountains of Nepal is itself an adventure. Walking via the thick forest and very sparse villages, you will often experience the risk of wild animals. That's why you should limit yourself to the pre-built trekking trail. Wandering around the forest and looking for shortcuts is not really appreciated.
Traveling in the right weather
Just before you book your trek, make sure that you watch the weather map of Langtang and then pick the dates accordingly. Although many travel agencies claim that you can trek throughout the year, traveling in the right weather brings a lot of comforts and awesome views.
Prevention from Altitude sickness
We have already discussed, how deadly altitude sickness can be. However, it's easily manageable with some basic tricks. First, you should not be walking more than 1000meters of height each day. So, whenever you pick a Langtang trek Itinerary, choose the one that involves a short hike each day. Walking slowly and letting your body acclimatize is the key.
Next, you must remain hydrated throughout the trek. Drinking sufficient Lukewarm water is the key. We highly recommend that you avoid drinking at a higher altitude. Even then, if you observe any of the symptoms listed above, you can adopt these precautions:
Immediately inform your guide about your condition
Take medication for the pain in the body and head
Avoid climbing any further
After some rest, slowly walk down to the lower altitude
In the worst case, ask for the helicopter rescue
Note: Even after all this preparation, there might be chances that things don't go as expected. That is why you should get travel insurance covering high-altitude treks. This will not only be useful for helicopter rescue but also help in medical emergencies and theft.
Final words, 
In short, the Langtang valley trek is not actually a difficult trekking trail. Anyone with sound health and zero experience of high altitude trek can easily make it to Kyanjin Gompa and back. However, you will need proper guidance and help from the expert to overcome the Langtang trek difficulty.
What else do you wanna know? Our expert team at Himalayan masters will be happy to assist you with the Langtang trek preparation. You can either send us a mail or leave a comment below.
UNSURE WHERE TO GO? WE CAN HELP
Based on your preferences, location, timeframe, and budget, our team can design your dream trek based on our extensive knowledge and experience of the Himalayas. Get in touch with us for detailed information and assistance planning your dream trek. With our 97% success rate on trekking and climbing trips in 2022 and 2023 spring season, we will answer any questions you may have and guide you for an unforgettable experience.