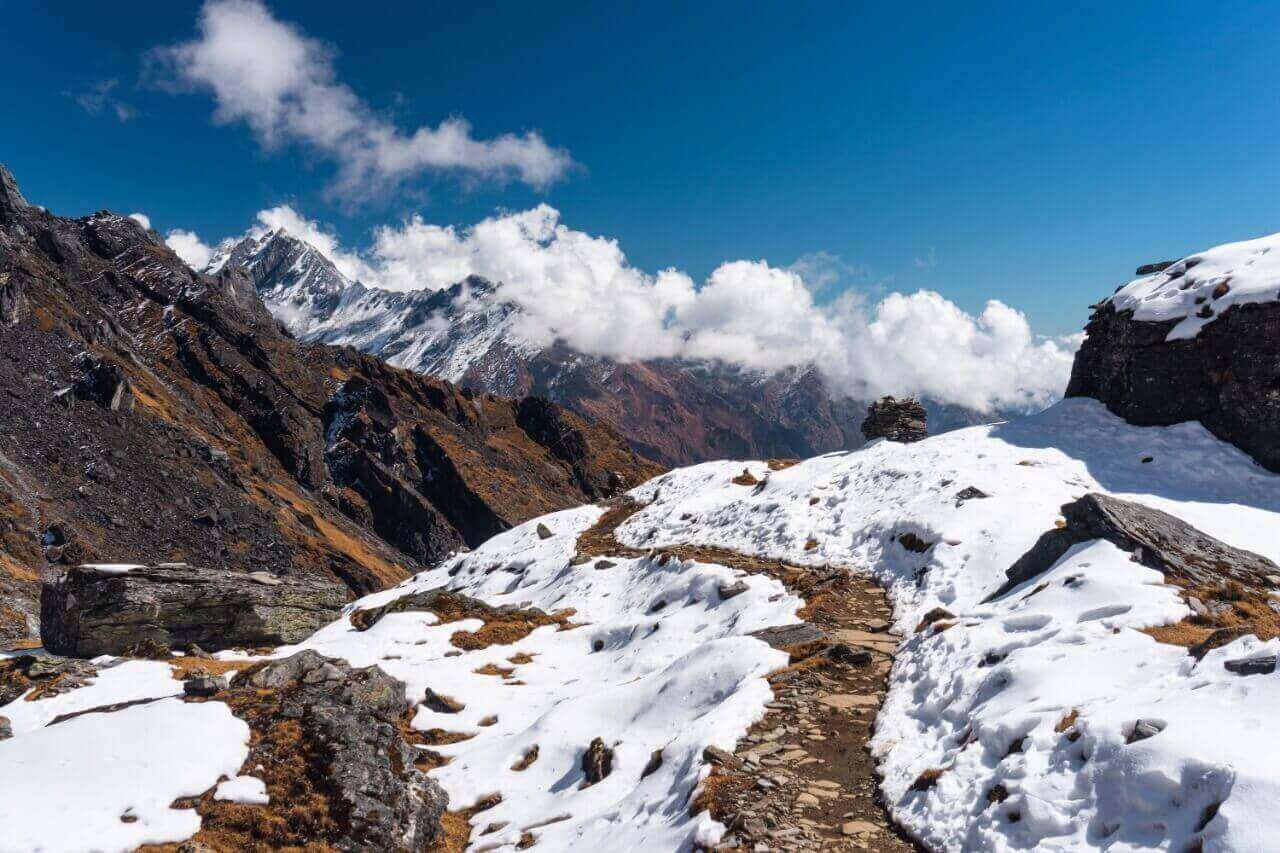 TRIP DURATION

17 Days
MAX. ALTITUDE

6400
TRIP GRADE

hard
LODGING

Tea house and tent
BEST SEASON

Springs and autumn
MEALS

Breakfast lunch dinner
COMMUNICATION

Local sim card
PER DAY WALK

5 to 6 hours
Mera Peak Climbing
Right next to Mount Everest, lies the highest trekking peak in Nepal i.e. Mera Peak. The possibility of a true mountain climb with minimum trekking experience has made Mera Peak among the most popular trekking peak in Nepal. And the sense of victory is worth it. At 6,476 meters above sea level, Mera Peak is the highest you can go without mountain climbing permits. This Mera peak climbing is perfect for experienced trekkers and new climbers.
If you plan to conquer other high peaks of Nepal above 8,000 meters in the future, the Mera Peak climb can be a practice peak. Most importantly, you can experience the thrill of climbing without actually having to pay thousands of dollars for a climbing permit- Mera's peak climbing price is actually affordable. And this short 17 days journey gives a wholesome natural and cultural experience.
Mera Peak is itself the highest form of adventure. However, the views of the World's highest peak like Mt. Everest, Mt. Lhotse, Mt. Cho Oyu, Mt. Makalu, and Mt. Kanchenjunga makes it even more interesting. Added to these interesting views, the unspoiled landscape and rich biodiversity of Everest make everything exciting.
Mera peak climbing commences with a Lulka flight from Kathmandu. From Lukla, we leave the classic Everest Base Camp route and head to Chhuthang. Crossing our first high passes at Zatrawala, we get to Tuli Kharka and walk to Kothe. Then, we get to Thangnak and reach Khare and finally land at Mera Base camp. We must settle here for a day before climbing to High Camp and finally conquering the summit.
After the wonderful Victory, we plan to get back to Khare. On the same way back, we get to Kothe and Tuli Kharka. Climbing the Zatrawal for one last time, we get to Lukla and fly to Kathmandu. Although you leave the mountains, the memories of the trip with remain with you forever.
Mera Peak Climbing Highlights
 Conquer the highest altitude trekking peak of Nepal at 6746 meters
 Experience in true mountain climbing without having to issue a climbing permit
 A thrilling flight to Lukla for the experience of a mountain flight
 The incredible landscape of the Khumbu region including Lukla, Hinku Valley, and Yak pastures
 Get all training and mountain climbing skills from our expert guide and Sherpas
 Experience the remote Lifestyle and unique culture of Sherpas that would take you a few centuries back
Insight of wild flora and fauna that are only seen in the subtropical and alpine lands of Nepal
One of the simpler 6000-meter peaks to climb is the Mera Summit.
How Much Does It Cost For Mera Peak Climbing?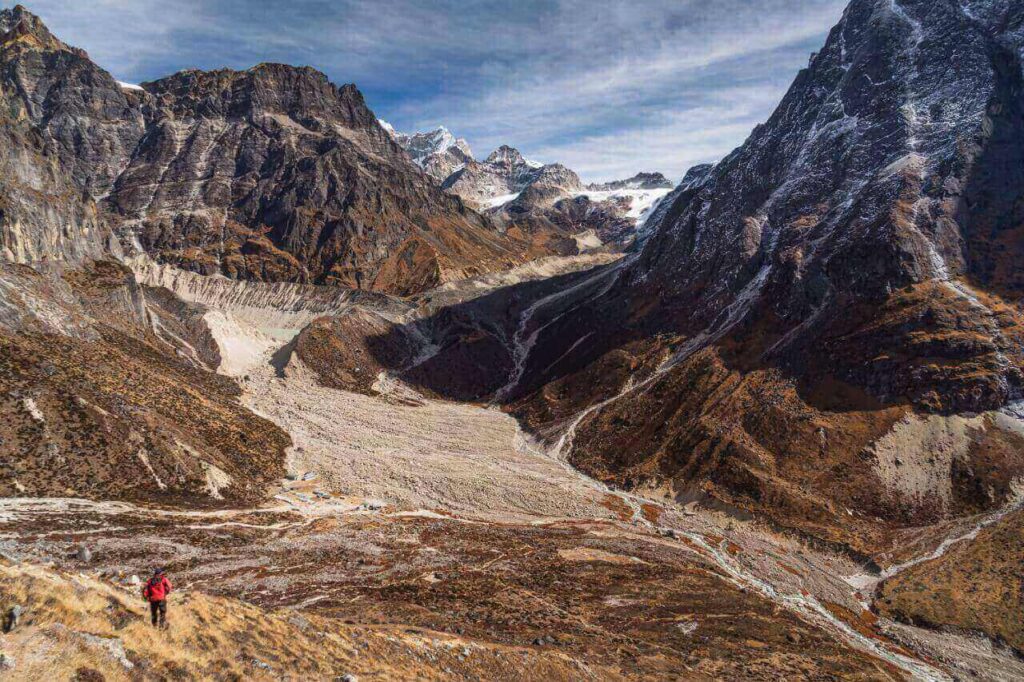 Before knowing this, there are two kinds of information you need to have. Firstly, Mera Peak climbing is a total camping trek. This means, you need to carry all food and camping material from Kathmandu and that needs additional porters and cooks. So, it turns out to be more expensive than other popular treks in Nepal.
However, Mera Peak climbing is cheaper than real mountain climb where you need to issue a very expensive climbing permit and hire professional climbers. In general, the Mera Peak climbing cost is USD 2305 with Himalayan masters is include pretty much everything.
With Himalayan master's economic Mera Peak climbing price, you get to travel for less than $2500. We offer the best price for great facilities. Mera's peak climbing cost for Nepali can go down to about Nepalese rupees of 1 lakh if you don't hire many porters and travel with a minimum facility.
Also Read:- Nar Phu Valley Trek In Nepal
ITINERAY
Day 01: Arrival at kathmandu
When you arrive at the international airport of Nepal, there will be a driver waiting for your arrival. Luxurious drive in a private vehicle along the smooth roads of Kathmandu is itself fun. Reaching the hotel, you will have a lot of private time for refreshments. In last, we gather for a few minutes for the briefing session. Meting some members of the team, we celebrate your arrival with a welcome dinner.
Overnight in Kathmandu
Day 02: Climbing Preparation and Sightseeing around Kathmandu
Altitude: 1400m
An additional day in Kathmandu during this Mera Peak Itinerary is itself very interesting. In the morning, we get around some of the UNESCO world heritage sites like Swayambhunath and Pashupatinath. After that, we drive to Balaju for the rock climbing training. For a few hours, the Himalayan master's expert guide helps you learn the techniques to use ropes, crampons, and axes. Then, we drive back to our hotel in Thamel. Engaging in shopping/ renting trekking gear, we pack your bags and get ready for the trek.
Overnight in Kathmandu
Day 03: Flight to Lukla (25 min) and trek to Chhuthang
Altitude: 3020m
Duration: 4-5 hours
In the morning, we start the day by driving to the airport. After the paper works, we hop on a domestic flight to Lukla. For the next 25 minutes, you will be delighted with parallel views of the mountain vistas. Landing on Lukla, you will be in a totally different landscape. Here, we met our porters and Sherpas for the first time.
After getting a local area permit here, we move towards Chhuthang. Crossing the village via the Kalo Khola ridge, we cross thick subtropical forests. In the Chhuthang, we set our first camp during the Mera Peak trip.
Overnight in Chhuthang
Day 04: Trek to Chatrabuk
Altitude: 4320m
Duration: 5-6 hours
From Chhuthang, we start climbing at 4,200 above sea level. Today's steep climb at Zatrawala pass gives you an idea about the difficulty of Mera peak climbing. From the top of the pass, we can see Kongdi Ri, Karyolang Peak, Number Himal, and Lumding Himal. This Zatrawala actually separates Khumbu and Hinku valley during the Mera Peak trip. Then, we descend to Chatrabuk for a short time and crash at a camp here.
Overnight in Chatrabuk
Day 05: Trek to Kothe
Altitude: 3580m
Duration: 5-6 hours
After breakfast, we move on a zigzagged trail of rhododendron trees. Since the area is mostly empty, we cannot see much human settlement until Kothe. With the awesome view of Mera Peak before us, the path takes us to Kothe for the night. It's a beautiful day on our Mera peak trip.
Overnight in Kothe
Day 06: Trek to Thangnak
Altitude: 4358m
Duration: 3-4 hours
From Kothe, we move to the Upper section of Hinku valley for the most delightful view of the Kusum Kanguru (6,367m). We stop at a small local Gompa that has been camouflaged beautifully in the rocky setting. Then, we walk slowly towards the Thangnak.
Overnight in Thangnak
Day 07: Acclimatization Day
Thangnak is actually a very beautiful place for acclimatization. Stopping here for a day allows us to adapt to the low oxygen level. However, we keep ourselves active by exploring the nearby hills and villages. We shall burn the campfire and have awesome memories of the trip.
Overnight in Thangnak
Day 08: Trek to Khare
Altitude: 5045m
Duration: 3-4 hours
From Thangnak, it's a rather easy and short climb to Khare. We only walk for 3 to 4 hours in the morning and stop here for some acclimatization. This is the final settlement before the Mera peak base camp and we can clearly see the range of Mera, Kusum Kanguru, and Kyashar mountains.
Overnight in Khare
Day 09: A day for further acclimatization
This is our last stop before we head for the Mera peak summit climb. We plan to take short hikes around the village and learn some mountaineering skills. You will learn to use crampons, axes, and rope to tackle the difficult section of the trip. If you develop any difficulty at this height, we wouldn't move any further for Mera Peak climbing.
Overnight in Khare
Day 10: Trek to High Camp
Altitude: 5800m
Duration: 5-6 hours
This is the easier day of our attempt at the summit. From Khare, we shall first climb to the Mera La pass at the height of 5415m. In a few hours, we will already be in the Mera Base Camp. Here, we can see many colorful camps built by the trekkers who are about to climb the Mera Peak summit. We also set our camps before the fantastic panoramic views of the Himalayas and sleep right at the base of the mountain.
Overnight in High Camp
Day 11: Climb to Mera Peak and back to Khare
Altitude: 6476m (Mera peak); 5000m (Khare)
Duration: 8-9 hours
This is going to be the longest and the hardest day of our Mera peak climb. We start the hike while it's still dark and start walking with the help of a torch. As the sun rises, we can see the golden range of the mountains smiling at us. Climbing to Mera peak at High camp altitude is really challenging. The last part of the climb is very steep and you need to be careful with the instructions. Getting to the top, you can see the views of Everest, Makalu, Lhotse, Cho Oyu, and Kanchenjunga. We plan to reach the summit before mid-day as the wind after that is really strong. Then, we walk for about four hours to Khare.
Overnight in Khare
Day 12: Reserve day for climbing
In case of unstable weather, we wouldn't climb the summit on the proposed day. Also, there might be times when you cannot climb due to sickness. So, this day is reserved for such conditions.
Day 13: Trek to Kothe
Altitude: 3580m
Duration: 5-6 hours
From Kothe, we retrace our steps along with the tiny settlements of the mountains. Then, we stop for a visit to the monasteries and then walk up to the Thangnak. From Thangnak, we head to Gondishung, and Mosom Kharka. Finally, after a long walk, we reach Kothe.
Overnight in Kothe.
Day 14: Trek to Thuli Kharka
Altitude: 4320m
Duration: 6-7 hours
Following the path we are already familiar with, we slowly walk to Thuli Kharka. We only cover a short distance a get to the camp earlier. Reaching here, we interact with the locals and explore the village around us. It's a day to understand the unique culture of the Sherpa people.
Overnight in Thuli Kharka
Day 15: Trek to Lukla
From Thuli Kharka, we shall first head south towards the Zatrawal pass. Here, we stop for the exciting panorama of mountains for a while. Next, we shall head downwards to the Lukla. This will take a couple of hours of smooth walk. In the evening, we celebrate a farewell with the team. The Sherpas and porters leave us at Lukla.
Overnight in Lukla
Day 16: Fly to Kathmandu
The flight from Lukla to Kathmandu is usually scheduled in the morning. If the weather is unstable, we might have to stop here for a few days. From Lukla, we fly to Kathmandu airport in only 25 minutes. At the airport, a driver will already to waiting for your arrival. Arriving at Thamel, you will have time to recover from the trek. Also, take some time aside for souvenir shopping. In the evening, we can again gather for a farewell dinner.
Overnight in Kathmandu
Day 17: Departure
In Kathmandu, you will have a wonderful breakfast. Then, a private driver will pick you up as per your flight schedule. You will be dropped off at the airport, a few hours before the flight time. Then, it's time to fly back to your home country with the wonderful memories of the trip.
So, did this trip make you excited? If yes, book your trek with Himalayan masters and be served with the best possible facilities. We are committed to giving you a memory you shall cherish for a lifetime. You can book our trip or contact us from the booking form here or even leave a comment below.
include / exclude
Trip Cost Includes
A professional English-speaking trekking guide during the trekking
A professional porter for trekking and climbing with his food, accommodation and insurance
Breakfast, Lunch and dinner during your trekking and expedition
Basic twin-sharing tea house accommodations In the mountains.
Sagarmatha National Park permits
Mera peak permits
Kathmandu to Lukla to Kathmandu airfare
Guide Flight Ticket
Mera Peak climbing Cost includes

a one-night tent stay at the island peak base camp
and one-night tent accommodation at Island Peak High Camp.
Breakfast, lunch, and dinner during base camp and high camp, as well as tea and coffee, are unlimited.
A climbing sherpa for Mera Peak 2 sherpa for three clients (Private guide)
Guide insurance
The Complimentary service from The Himalayan Masters
-a 25-degree sleeping bag during the trip.
down jacket during the trip.
Water bottles and purification tablets by Himalayan Masters
first aid kit box.
 Himalayan Masters Brand Duffle Bag for the Trip
Himalayan Masters Brand Trekking T-Shirt and Cap
Farewell dinner in Kathmandu by Himalayan Masters Team
Trip Cost Excludes
an international flight ticket
Tips for Climbing guides and porters and base camp staff
 Lunch and dinner in the mountains
Wifi, battery charging, and hot showers in the mountains
Travel Insurance
Your personal expenses
Other things that have not been mentioned above are also on the exclusion list
useful info
How Difficult Is Mera Peak Climbing?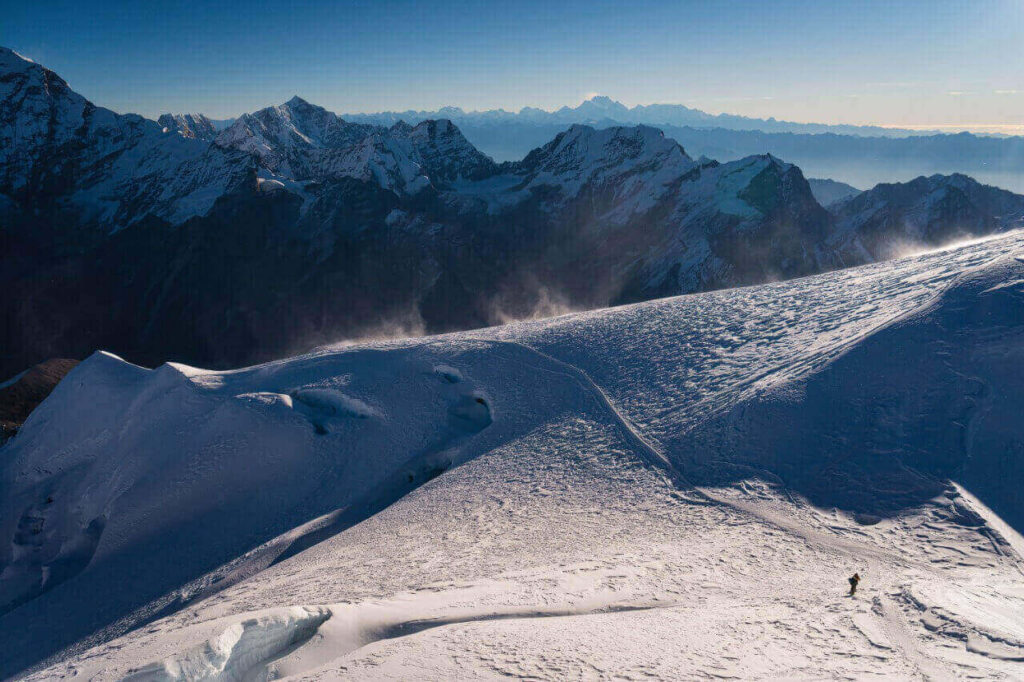 Difficulties In Terms Of Distance:
On the 14 trekking days, we will be walking for 5 to 7 hours each day. The total distance of the Mera Peak climb is about 150kms. To cover this distance, you should be physically fit, especially without any heart and lung disease. Prior to the tour, some exercises like jogging, running, swimming, cycling, push-ups, squats, etc. prepare your body. You must practice these exercises for a couple of months before landing in Nepal to lower the Mera Peak difficulty.
Altitude Sickness During Mera Peak Climbing:
As with all high-altitude treks, the Mera peak trek also bears the risk of altitude sickness. The sudden change of altitude from Kathmandu to Lukla (1400m to 2860m) can be troublesome for anyone. As you climb to the Mera peak altitude of 6,461 meters, air pressure can take a toll on the human body and increase Mera Peak difficulty.
Acute Mountain Sickness (AMS) shows symptoms such as nausea, insomnia, loss of appetite, and diarrhea. And these symptoms can be moderate for some; they can get fatal for others. In severe cases, you need to walk back to a lower altitude and even require airlifting due to extreme conditions. This is why we don't suggest climbing Mera Peak solo for other female and male trekkers.
Therefore, you should avoid triggering altitude sickness by following measures.
Try to travel less than 1,000 meters each day, and plan an acclimatization day for every 3,000 feet of ascent.
Keep your body hydrated with mild warm water and fully avoid alcoholic drinks.
Eat plenty of carbs with healthy snacks, including lots of whole grains.
Consult with your physician prior to your treks to get the medications in case of severe symptoms
Technical Difficulty:
Trekking Mera peak also demands technical climbing skills. But you don't need this training beforehand- the guide will teach you simple ways to use crampons ropes, and axes before you head for the trek.
Note: Some people also include Mera Peak and Island Peak or Mera Peak and Lobuche Peak climbing in a single trip. Before you do that, we suggest analyzing Mera peak vs Island peak and then climbing one at a time. Thankfully, there haven't been any Mera Peak deaths yet. With a responsible team, you are likely to be fine.
Accommodation In Mera Peak Climbing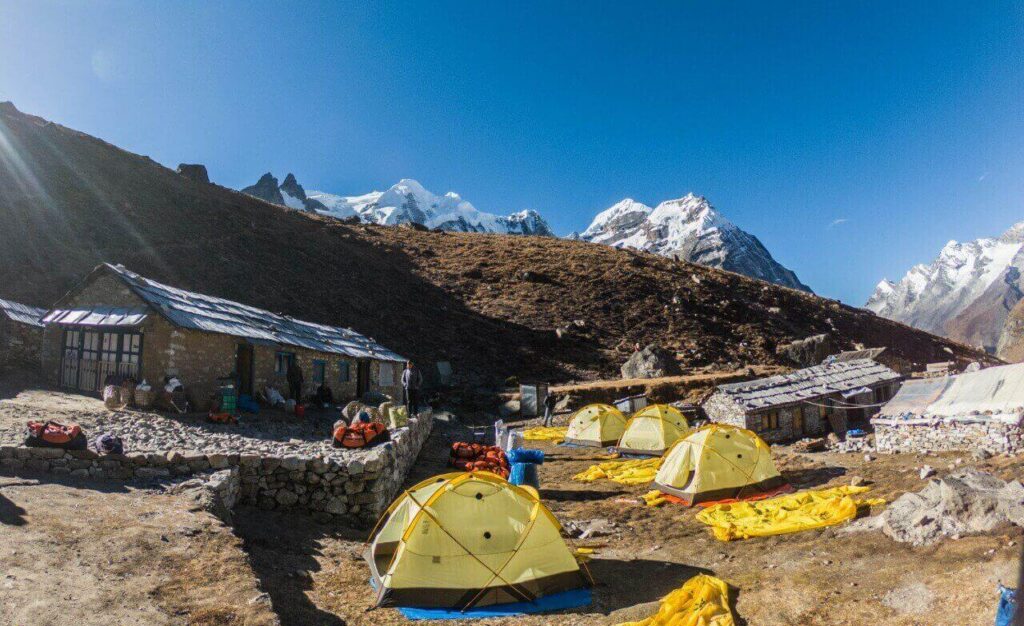 Mera Peak climbing has three kinds of accommodation depending on the season and route. The first one is hotels in Kathmandu. You will be staying in three-star hotels in Kathmandu that are pretty luxurious with all the necessary amenities. You can have an attached bathroom in the room with a hot shower. Also, there are other unlimited options for hotels in Thamel, and you can switch to higher facilities of your own.
Tea houses/ local lodges: In the lower region, ie. Up to Namche, we will be staying in tea houses- a small yet comfortable local lodge. The rooms only have two single beds, a mattress, pillows, and a clean white sheet. But the option of a tea house is only available for the lower region.
Camps: In the higher region i.e. above Namche, we stay in the tent/ camp. We will primarily be carrying all your food and accommodation for the 17 days Mera Peak climbing journey. The porters from Himalayan masters will help you take everything for the camp and set the tent for the night. The cooks will prepare your food, and you can trek easily.
The trekkers can choose any accommodation of their preference for the lower altitude- either tea house or the camps. But, as we move higher, we cannot find the tea houses and thus stick with the camps. Camping trek in Nepal can be tricky (and expensive), but it's a true adventure into nature.
UNSURE WHERE TO GO? WE CAN HELP
Based on your preferences, location, timeframe, and budget, our team can design your dream trek based on our extensive knowledge and experience of the Himalayas. Get in touch with us for detailed information and assistance planning your dream trek. With our 97% success rate on trekking and climbing trips in 2022 and 2023 spring season, we will answer any questions you may have and guide you for an unforgettable experience.