Upper Dolpo Trek Itinerary- 26 days
Highlights of Upper Dolpo
Walk within the wilderness of mountains by following the footprints of the traditional trans-Himalayan traders during Upper Dolpo Trek
Explore the unique semi-arid vegetation behind the majestic Dhaulagiri range
A camping trek experience for the sense of true wilderness
Witness century-old Bon practices in various monasteries (Shey Gompa, Yangze Gompa, and Bon Gompa) and live a classic Buddhist tradition
Enticing views of Yak Caravan, and lakes such as Shey Phoksundo
Almost a month-long trek in Nepal's mountains, on a trail explored by few- a genuinely fulfilling and rejuvenating experience
Upper Dolpo Overview
Close to the Tibetan Plateau, Dolpo is one of the least explored regions of Nepal. With its boundary far away from modernization, the intact natural beauty and serenity of Upper Dolpo are beyond explanation. If you ought to know what natural bliss and peace actually mean, Dolpo is the only place you ever need to be.
Upper Dolpo Trek remains a restricted region even today, meaning you need a special permit to be wandering here. Upper Dolpo Trek was only opened for tourists in 1989 and is protected as part of Shey Phoksundo National Park. Shey Phoksundo Lake is Nepal's smallest and deepest lake with colorful blue water.
Along with lots of natural wonders, Dolpo is also the place to witness the pure form of Tibetan culture. In the higher region, you can witness the colorful alpine shrubs and the lower region has an abundance of lush green meadows. Among these lush meadows, you might find the hidden wildlife of blue sheep, mountain musk deer, and snow leopard.
The Upper Dolpo trek route commences from Juphal when we fly from Nepalgunj. That means we should first get to Nepalgunj via flight or road and then fly to Jupal. Now, passing through many settlements, we shall first get to Shey Phoksundo Lake at 3600 meters. Then, we cross the Kang – La Pass which is known to connect the Phoksundo valley and Shey Gompa. Then on, we explore the valley of Upper Dolpo where will get an absolute retreat with the nature and culture of remote villages.
So, are you ready for this one-in-a-million experience?
ITINERAY
Day 01: Kathmandu to Nepalgunj flight (30 mins flight, 150m)
Our exciting journey to the Upper Dolpo beings only after we fly to Nepaljung from Kathmandu. Nepalgunj is a beautiful city on the southern border of India. Indians can directly join our Upper Dolpo Trek at Nepalgunj. Since the flight from the domestic terminal of TIA is usually scheduled in the morning, we shall have an entire day to explore Nepalgunj. Do visit the local temples and pond while you try the stress foods of Nepalgunj.
Overnight stay in a hotel
Day 02: Fly to Jhupal (20 minutes) and trek to Dunai(5-6 hrs/ 2,140m)
Our second flight from Nepalgunj takes us to Jhupal. We fly as early as possible since the weather in mountains can be very unstable. With awesome views of lush hills and the beautiful Himalayas, the mountain flight to Jhupal definitely feels exciting.
At Jhupal, we get our bags ready and start heading towards the Bheri River. Soon we will be walking on a narrow ridge taking us to Dunai. Dunai is the largest settlement of Dolpa and also its headquarters.
Overnight stay in tented camp
Day 03: Trek to Ankhe(2,130m, 5-6 hours)
On 3rd day of the Upper Dolpo Trek Itinerary, we follow the Bheri River to the north. The suspension bridge and terrace farms along the trail keep us excited while we walk to Phoksundo River Valley. Hiking over more ridges and canyons, we get to Rahagaon where we can see some quite old houses. Then, we walk into the very dense forest into a village that is called Ankhe. This is where the Shey-Phoksundo National Park commences and the mountains becomes cear.
Overnight stay in tented camp
Day 04: Trek to Sulighat (3180 m, 5 hrs)
We continue the Dolpo trekking package walking in the sub-tropical forest, making many ascents and descending on the way. Walking via the river that flows on a very rocky path, we reach Ryajik. After some interaction with the local area, we move towards Sulighat.
Overnight stay in tented camp
Day 05: rek to Phoksundo Lake(3,611m/5-6 hours)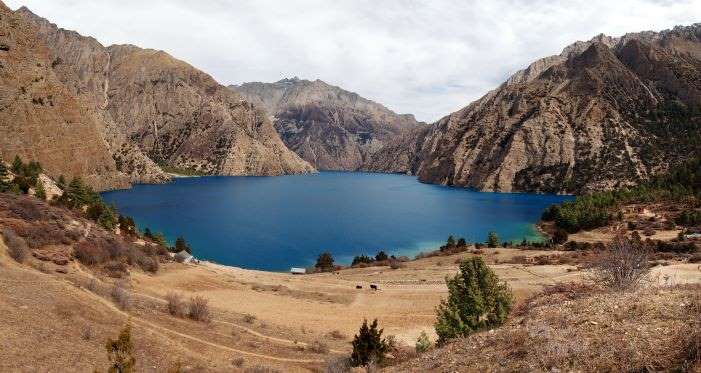 The 7th day of our Upper Dolpo trek is actually going to be exciting as we stroll in the valley leading us to the Phoksundo River and Pungmo River junction. We cross the river in the thrilling wooden bridge and then hike to the Pungmo River. Finally, we reach Phoksundo Lake almost at the end of the day.
Overnight stay in tented camp
Day 08: Visit Phoksundo Lake
As we are already at 3,600 meters above sea level, it's wise to stop for a day and let our bodies rest well in this Dolpo trekking package. And the pristine beauty of Shey Phoksundo Lake makes it a perfect spot for acclimatization. The prodigious turquoise-colored lake and the visit to the Ringmo village make your day fruitful. We shall also visit an old Tibetan Buddhist Monastery nearby.
Overnight stay in tented camp
Day 09: Trek to Phoksundo Khola(3,750m/5-6 hrs)
After a wonderful day on the Lakeshore, we move to the west of Phoksundo Lake. Hiking in the tough rocky hills and the lush grassland, we get to the Phoksundo Khola. Although there's nothing much to see around the river, we stop here for the night.
Overnight stay in tented camp
Day 10: Trek to Phoksundo Bhanjyang(4,717m/15,417ft)
Now, we walk on the north of the river, entering the glacial valley. Crossing many bridges in the river junction, we continue the uphill climb to a steep George. From the hilltop, we can see the Kang-La pass while connecting us to the Dolpo valley. For today, we set our camps right at the Phoksundo Bhanjyang.
Overnight stay in tented camp
Day 11: Trek to Shey Gompa Dolpo(4,500m/7 to 8 hours)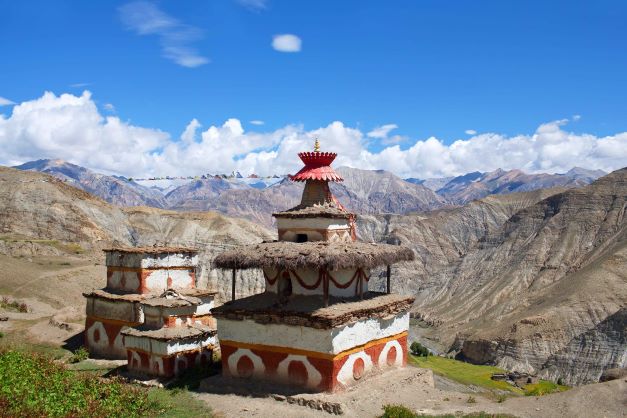 Ready for the most difficult and exciting part of your Upper Dolpo trek? Today, we walk beyond the Phoksundo valley and get to the Dolpo region. For that, we need to cross the via Kang-La pass which lies at 5,360m above sea level. This is the highest point of our trek offering the most magical view of deserted valleys and Crystal Mountain.
Now, heading downwards, we cross some more streams and yak meadows/ sheep to get into a red Buddhist shrine. Here, we are welcomed into Shey Gompa Dolpo. It's your first night in the Dolpo region.
Overnight stay in a tea house
Day 12: Rest day
As the team will all be tired from the walk to the Kang-La Pass, you all deserve a rest day at Upper Dolpo Trekking. And without a doubt, Shey Gompa is an exciting place for the rest and acclimatization while we explore Dolpo. In the daytime, we take our time to explore Shey Gompa Dolpo. This is an important monastery in Upper Dolpo Trekking with hundreds of Buddhist devotees.
Overnight stay in a tea house
Day 13: Trek to Namduna Gaun (4,800m/ 6-7 hours)
After a rest day, we are all rejuvenated to walk on the path of the amid Juniper forest to explore Dolpo. Walking via the rocky canyon, we walk via the meandering trail first getting to Saldang-La Pass. At 5,200 meters, this will also be a challenging climb, but the views from the top are worth it. Then, we descend while walking on the north to Namduna Gaun. After visiting the Namgung monastery, we crash at Namduna Gaun for the night of this Dolpo trekking package.
Overnight stay in a tea house
Day 14: Trek to Saldang (3,620m/4- 5 hrs)
We start the 14th day of Upper Dolpo Trekking by walking in the barren hills for a couple of hours. Today's walk to the Saldang Village, which lies on the slope above Namga River will be quite easy and relaxing. This is the biggest village in Inner Dolpo that has almost 600 people. You will find some decent tea houses and terrace farms during this exploration of Dolpo.
Overnight stay in a tea house
Day 15: Trek to Yangze Gompa(4,960m/4-5 horus)
Although our stay in Saldang village will be quite fun, we leave the place to head further north. Walking to the Nang Chu, we enter the more remote village of Tiling, and Lurigaon village. Finally, we reach Yangze village for the night where we can see the Bon-Po monastery and also visit the Panzang river.
Overnight stay in a tea house
Day 16: Trek to Sibu (4,560m/6-7 hours)
From Yangze, our Upper Dolpo Trekking Itinerary is two paths leading us to Sibu. If you pick the longer route, we get to walk via the village of Nishalgaon and Shimengaon. However, we walk on a shorter path that first takes us to Saldang village and then turns towards the Namdo village. This is also a large valley with almost 400 residents. In the daytime, we get to pray at Namdo monastery which lies close to the Nam Khong river, and then walk for a few more hours to Sibu.
Overnight stay in a tea house
Day 17: Trek to Jeng-la Phedi (4,900m/6-7 horus)
Now, following the Nam Khong river, we walk into the yak's caravans. In Summer and Spring, you can see many yak herds grazing around in these caravans. However, the winter is all covered in snow. In a few hours, we get up to the Jeng La Phedi.
Overnight stay in tented camps
Day 18: Trek to Tokyu Gaon(4209m/7-8 hours)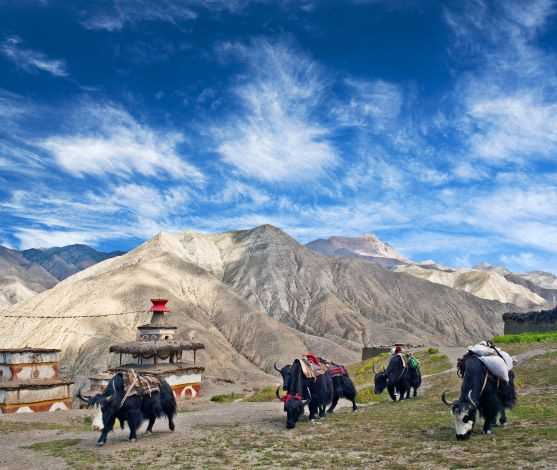 The starting of the day is going to be quite challenging as we get to the top point of Jeng La Pass at 5110 meters. These two hours of the hike are worth the awesome picturesque views of the Dhaulagiri massif. Now, we walk down to Tarap Valley and then to Tokyu village which is our stop for the night. We set our camps and start preparing the food.
Overnight stay in tented camps
Day 19: Trek to Dho Tarap(4,040m/ 4-5 hours)
Today's walk is quite relaxing as we head into the broad fertile valley of Dho Tarap. In the daytime, we visit several Chortens and take many beautiful pictures before crashing at Dho Tarap. Dho Tarap is an important destination for Upper Dolpo Trekking.
Overnight stay in Teahouse
Day 20: Rest Day
Today's rest is not only for acclimatization. Since we want our trekkers to understand the lifestyle and culture of Dolpo, we spend a beautiful day here. Dho Tarap is a huge settlement at the highest altitude one can possibly imagine. Here, we get to visit the villages and the beautiful gompas. You can build a friendship with some of these Magars and Tibetans while also visiting the Bon Gompa. This is the highlight of the Inner Dolpo trek.
Overnight stay in Tea house
Day 21: Trek to Tarap Khola (3,800m/6 hrs)
Now, we start to lose altitude while we keep on descending to the lower section of the valley. Today's trek through the bushes of junipers brings us to the meeting point of Tarap Chu and the Lang Khola. Then, we walk to Tarap Khola, which is also called Kamakharka to set up our camps.
Overnight stay in Tented Camp
Day 22: Trek to Khanigaun(3,150m/5 hours)
Another day of easy walk in the gorge of Tarap Khola until we reach Khanigaun. We will rarely see any houses and even met any people in this section of the tour.
Overnight stay in Tented Camp
Day 23: Trek to Tarakot ( 2,537m/ 4-5 hours)
First, we walk to the Lalberi village and then cross the thick sub-tropical forest leading us to the river. Then, we get to the Tarakot, a small town in Dolpo that was one of the fortresses. Tarakot was earlier the center of Tichorung Kingdom and used to be the hub for international trade in the past. 
Overnight stay in Tented Camp
Day 24: Trek to Dunai (2,140m/5-6 hours)
After morning breakfast, we first get to the Bheri River. Now, walking via many gorges, we get to Lawan village. Exploring some more settlements of Byas Gadi, and Lochakhola Gaon, our path finally leads us to Dunai. The headquarters of Dolpo already has over 2700 residents and great tea houses.
Overnight stay Teahouse
Day 25: Trek to Juphal(2,475m,2-3 hrs)
It's an easy walk towards the Jhuphal airport. After a lavish breakfast, we continue walking on the path of Thuli Bheri. First, we get to Dhupichaur and stop at Rupgad. After a final stop at Motipur, we reach Juphal for the night's stay. The most memorable trek of your life i.e Inner Dolpo ends here at Jupal, it's time for celebration.
Overnight stay in Teahouse
Day 26: Fly to Nepalgunj and to Kathmandu
Early in the morning, we shall first fly to Nepalgunj from Juphal. This short mountain flight with an awesome view of the hills and mountains will obviously be amazing. Then, we get on a flight taking us to Kathmandu from Nepalgunj. As we reach Kathmandu in mid-day, we have time for some shopping and enjoy a great dinner in Thamel. Your Inner Dolpo trek ends here.
Overnight stay in Hotel
useful info
Necessary Information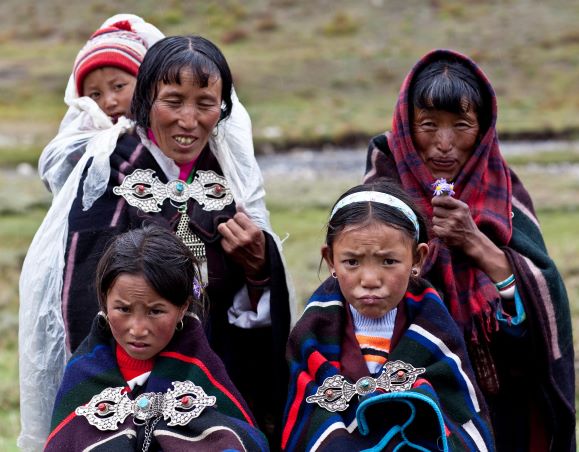 You need a special permit to trek in the restricted region of Dolpo. This means, you cannot travel as an Independent trekker, you must be accompanied by a licensed guide and travel in a group of two people. The trek is easier if you book the Upper Dolpo Trek package with a trusted Travel agency like Himalayan Masters who arranges all permits and documents. An individual cannot issue a license. But if you are a solo traveler, an agency might help you get the authorization. Besides the Dolpo permit, you also need a license to Shey- Phoksundo National Park.
FAQs
How hard is the Upper Dolpo trek?
A month-long journey in a land with no houses, no internet, and no electricity is not a joke. The experts have marked the Inner Dolpo trek difficulty as "Challenging." And this is among Nepal's hardest and longest trekking trails. That being said, the rewards are astounding! And, you must be aware of the different difficulties you face during this Upper Dolpo trek.
However, you don't need any technical climbing skills and the trek is easily achievable with the proper guidance.
What Dolpo trek permits you to need?
What kind of accommodation in Upper Dolpo is available?
Is the Upper Dolpo trek worth it?
UNSURE WHERE TO GO? WE CAN HELP
Based on your preferences, location, timeframe, and budget, our team can design your dream trek based on our extensive knowledge and experience of the Himalayas. Get in touch with us for detailed information and assistance planning your dream trek. With our 97% success rate on trekking and climbing trips in 2022 and 2023 spring season, we will answer any questions you may have and guide you for an unforgettable experience.