TRIP DURATION

16 Days
MAX. ALTITUDE

6200 meters
TRIP GRADE

hard
LODGING

Tea house and tent
BEST SEASON

Springs and autumn
MEALS

Breakfast lunch dinner
COMMUNICATION

Local sim card
PER DAY WALK

5 to 6 hours
Island Peak Climbing
Among Nepal's mountain climbers and experienced trekkers, Island Peak climbing is the best trekking peak. Located in the Khumbu region, this high peak of Nepal at 6,160 meters is the raw form of adventurous travelling. Also called Imja Tse, this is a tough challenge for newbie climbers. Even Edmund Hillary and Tenzing Norgay, the first successful climbers of Mount Everest, used Island Peak as their practice peak.
And this spectacular high peak waits for your arrival. Keep your doubts away and listen to the calling of the mountains. Island Peak is regarded as Lhotse's extension separated by a small col. This means the exciting climb to the Imja Tse offers an enjoyable trek as well as the spectacular scenery of the Himalayas, including Everest, Lhotse, Makalu, and many other peaks above 8000 meters.
Along with rejuvenating experience in the mountains, the tour also offers an insight into the unique Sherpa culture and rich Biodiversity of the Khumbu region. It's an equally prodigious journey, whether it be an Everest Base camp with an Island Peak climb or only Island Peak climbing.
There are two Ridges one can use for the Island Peak climb route.
South Ridge
The base camp of Island Peak is located at Pareshaya Gyab at an altitude of 5,150m. The base camp lies between Imja Tse and Imja Glacier. Although the base camp is an excellent place for climb preparation, climbers prefer to settle at the High Camp. Walking along the broad open gully leading to the high camp is an effortless journey. From there, the difficult climb along with the steep snow and ice ramps finally leads us to the summit.
 North Ridge Route
The first climb to the Island peak from the northern ridge was done in 1958. This route, discovered by the team of two Sherpas, Alf Gregory and Dick Cook, climbs from the height above the col. Getting on the right bank of the Imja Glacier, we move above Lhotse Sar Glacier. Finally rising to the northwest over snowy slopes, we continue to the due south and then to the final summit pyramid. The north ridge route is graded PD+ by the climbers and is relatively tricky.
Island Peak Climbing Highlights
Conquer one of the highest trekking peaks of Nepal, i.e. the ultimate adventure, without needing any pro mountaineers skills
Gain training and experience for climbing higher mountains in the future
Commence the trek with the thrilling flight to Lukla airport- one of the highest altitude airports in Nepal
A great chance to witness the beautiful Khumbu Icefall
Visit the Chukung Valley with the amusing 360 views of the mountains.
Trace the classic Everest Base Camp route to visit the Namche Bazaar and the Tengboche Monastery.
Can You See Everest From Island Peak Climbing?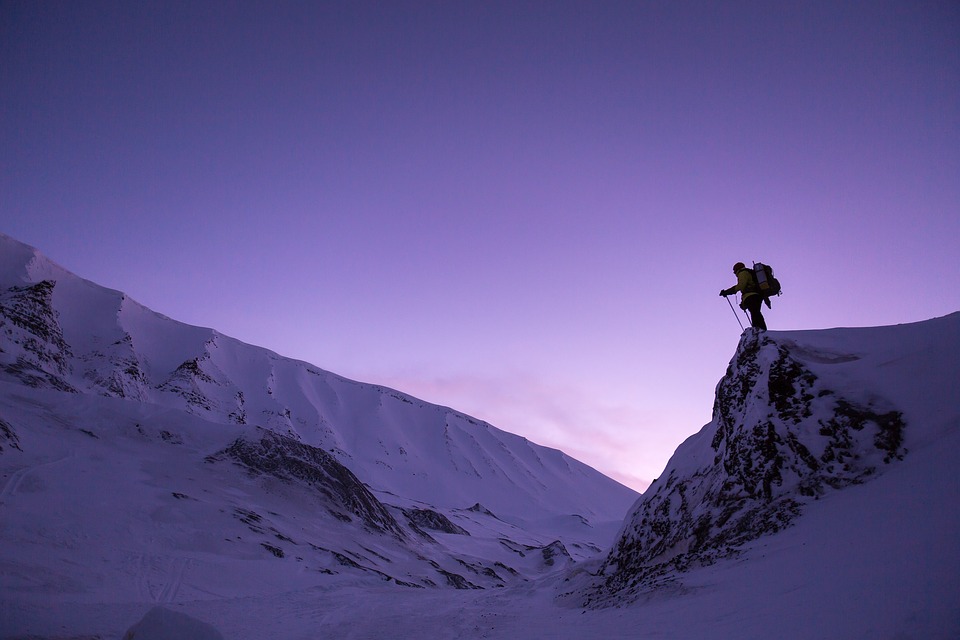 Yes, you can see Mount Everest during this Island peak climbing Itinerary. Everest becomes visible from Namche and appears large as you move closer to the mountains. Along with Mount Everest, you can witness Dozens of other peaks. Here are other peaks you can see during the Island peak climbing:
Nuptse (7,879m),
Lhotse Middle Peak (8,410m),
Lhotse Shar (8,383m),
Makalu (8475m) in the east,
Baruntse, and
Amadablam in the south
How Difficult Is The Island Peak Climbing?
This Island Peak climb is not a piece of cake. The long climb at 6,189m above sea level comes with some difficulties that you cannot really think about. Some previous hiking experience, great physical health, and a lot of determination are needed to make this Island peak climb successful. Further, the most important thing is the guidance from the expert team at Himalayan Masters.
As per the Himalayan masters' Itinerary of 16 days, you will be walking for 6 to 7 hours each day. This is about 12 to 13 hours of walking with 10 to 15 kg of a backpack in the very rough mountain terrain. The Island Peak climb has alternative uphill and downhill routes with a few very steep walks. In some parts, you might need crampons, ropes, and axes.
Further, if you add Mera and Island peak climbing, the journey gets harder. Trekking via the rugged path at Island Peak height of 6,160 meters means your body gets half of the oxygen from that at sea level. Cases of altitude sickness are seen in every one in three people (when precaution is not taken).
Since our Itinerary has a lot of rest days and only a few hours of walking per day, you will be safe in our hands. Also, people should keep themselves hydrated, avoid all kinds of alcoholic drinks, and walk slowly. Further, the Island peak climb season also determines the Island peak difficulty.
Our Sherpas are experts in the mountains and guide you really well for a safe climb. Similarly, we will also have a group of cooks and porters who will be assisting you in every step. And if something still goes unexpected, you can easily be rescued in a helicopter. In short, you will be safe with Himalayan masters.
Also Read: Dhaulagiri Circuit Trek In Nepal
ITINERAY
Day 01: Arrival
Your first day in Nepal will already be fun. After you land at Airport, a private car will pick you up and drive in the smooth streets of Kathmandu. Getting to the hotel in Thamel, you can take your time recovering from the Jet lag. In the evening, we meet some team members and gather for an exciting welcome dinner. There might be some briefing and fun sessions.
Overnight in Kathmandu
Accomodation : Hotel
Day 02: Sightseeing, training, and Preparation
Today, we start the day with short tours around Kathmandu valley. Kathmandu, the beautiful city of temples, has many architectural masterpieces listed in the world heritage list. We begin by visiting Swayambhunath and Pashupatinath. Unfortunately, we cannot visit other exciting places as we need to move to Balaju for rock climbing training.
The guide assists you in using ropes and crampons. In the evening, we get back to Thamel for some shopping, and the guide helps us to pack our bags. After the preparation, you can enjoy the nightlife of Thamel.
Overnight in Kathmandu
Meal : Breakfast
Accomodation : Hotel
Day 03: Fly to Lukla and Trek To Namche
Quite early in the morning, a driver picks us up from the Airport and drives us to the domestic Airport. On a morning flight, we can clearly see the mountains smiling at us while we land at Lukla Airport at 2,845 meters. We met our Sherpas and porters here, starting the trek as a group.
From Lukla, the crew starts the walk via the small villages of Chheplung and Ghat. Walking the route of the Dudh Koshi River, we hike to Sano and Thulo Gumela. Even on the first day, we get to witness the monasteries of Drangdrak Gompa and Pema Choling Gompa. After a couple of hours, we will be resting at the tea house of Phakding.
Overnight in Phakding
Meal : Breakfast Lunch Dinner
Accomodation : Guest House
Walking / Driving : 5/6 hours trekking
Day 05: Rest day at Namche
The 5th day of the trip is an exciting walk via the subtropical forest. It's your chance to see Nepal's rear flora and fauna before you get to alpine grassland. We also get to cross the thrilling suspension bridge like Hillary Bridge. In Monjo, we stop to get our permits checked and start climbing upward. The final tough walk brings us to the Namche bazaar by the evening. This traditional trading town of Khumbu has a lot of restaurants and bars for a wonderful night.
Overnight in Namche
Meal : Breakfast Lunch Dinner
Accomodation : tea house
Walking / Driving : 5 to 6 hours trekking
Day 06: Trek to Tengboche
Our plan is to continue further on the classic EBC route. Following the Dudh Koshi River valley, we walk to the sub-tropical forest for several hours. Climbing above Namche, our path first continues to the Khyangjuma. As the majestic Ama Dablam appears before us, we shall first walk down the beautiful stone-paved path of Phunki Tenga. Then, we shall climb to Tengboche hill. In the village, we visit the classic Tengboche monastery, the largest in the region.
Overnight in Tengboche
Meal : Breakfast Lunch Dinner
Accomodation : tea house
Walking / Driving : 5 to 6 hours trekking
Day 07: Trek to Dingboche
Leaving Tengboche, we head further north in the mountains. With the awesome views of Ama Dablam and Kantega before us, we shall stop at Pangboche. Here, we get to visit another large monastery and then climb to a big village. After visiting another big mani stupa, we stroll towards Dingboche for the night's stay.
Overnight in Dingboche
Meal : Breakfast, lunch and dinner
Accomodation : Tea house
Walking / Driving : 5 to 6 hours trekking
Day 08: Trek to Island Peak Base Camp
From Dingboche, our initial climb is towards the Imja valley. Witnessing the stunning Lhotse and Nuptse (mountain among the world's ten tallest), we continue from Chukung to Island Peak Base Camp. Walking for view hours to the southeast direction on the path along the stream, we soon reach our destination. Here, we set up camp with the team's help and let our bodies rest. A night in the base of the mountains will definitely be magical.
Overnight in Island peak base camp
Meal : Breakfast Lunch Dinner
Accomodation : Tea House
Day 09: Rest day at the Island peak base camp
Our purpose for the day is acclimatization and training. As we stay at 5,000 meters above sea level, you must let your body adjust to the changing air pressure. We recover from all the mental and physical stress while enjoying a relaxing day in the mountains. Also, the guide shall show us some tricks of a mountain peak. We can hike to nearby hills and learn to use mountaineering gear. We check all equipment crampons, ice axes, and harnesses and make our bags ready.
Overnight in Island peak base camp
Meal : Breakfast Lunch Dinner
Accomodation : Tent
Walking / Driving : 6 hours trekking
Day 10: Early morning Summit Isaland Peak (6189m) and back to Base Camp
Today is the hardest and the most exciting day of the entire Island Peak climbing journey. We start the day early in the morning, i.e., before sunrise. Fully equipped, we began to hike the summit before noon. Since the wind after midday is mighty, we plan to reach the summit before that.
The guide will assist you in the difficult section, so make sure you listen to him properly. From the peak, we can witness the breathtaking panorama of the mountain vistas.
We will tackle several technical sections and head towards the summit. After some moments here, we slowly walk down in the tricky area and reach base camp before the night gets dark.
Overnight in Island peak base camp
Meal : Breakfast Lunch Dinner
Accomodation : Tent
Walking / Driving : 11 hours climbing
Day 11: Trek down to Dingboche
Walking duration: 3 hours
From the Island base camp, we slowly walk down to Dingboche. It's a reverse walk from Chukung to Island Peak Base Camp. Walking through this alpine grassland with no human settlement has its own kind of fun. In a couple of hours, we will be resting in the beautiful tea house of Dingboche.
Overnight in Dingboche
Day 12: Trek to Tengboche
Walking duration: 3 hours
Crossing the familiar paved path of Phunki Tenga, we soon reach the village of Tengboche. The return journey will be even more interesting as we only walk a few hours and spend a lot more time capturing photos and interacting with the locals.
Overnight in Tengboche
Day 13: Trek to Namche
Walking duration: 4 hours
Walking downwards, we will again be back to Dudh Koshi River. You can witness the drastic change in landscape- the alpine grassland now changes into a thick forest. After about 4 hours of easy walking, we will be back to Namche- this place is already familiar to you.
Overnight in Namche
Day 14: Trek to Lukla
From Namche to Lukla, the path moves steeply downwards. Like earlier, we cross Mani-stone, chortens, prayer flags, and a beautiful pine forest, leading us to Monjo and finally to Lukla. The Island Peak climb ends here, and it's time for a celebration.
Overnight in Lukla
Meal : Breakfast, Lunch and dinner
Accomodation : Tea house
Walking / Driving : 5 to 6 hours trekking
Day 15: Fly to Kathmandu
However hard we fall in love with the mountains, it's time to get back—the agency books your flight from Lukla to Kathmandu in the morning. Leaving your team and the mountains, you get to Kathmandu within 25-mins.
Again, a car picks you up at the airport and drives you to the hotel in Thamel. In the evening, it's celebration time. We raise a toast for the successful conquest of the Island Peak and enjoy a final meal together.
Overnight in Kathmandu
Meal : Breakfast, lunch and dinner
Accomodation : Hotel
Walking / Driving : 30 min flight
include / exclude
Trip Cost Includes
Private car pick-up and drop-off at all International and domestic airports
A professional English-speaking trekking guide during the trekking
Three Night Accommodation in Kathmandu with Breakfast. (3-star Hotel)
A professional Proter for trekking and climbing with his food, accommodation and insurance
Breakfast, Lunch and dinner during your trekking and expedition
Basic twin-sharing tea house accommodations In the mountains.
Sagarmatha National Park permits
Khumbu municipality permits
Island peak permits
Kathmandu to Lukla to Kathmandu airfare
Guide Flight Ticket
Island Peak climbing Cost includes

a one-night tent stay at the island peak base camp
and one-night tent accommodation at Island peak high Camp.
Breakfast, lunch and dinner during base camp and high camp, tea and coffee are unlimited.
A climbing sherpa for island peak 2 sherpa for three clients (Private guide)
Guide insurance
The Complimentary service from The Himalayan Masters

-a 25-degree sleeping bag during the trip.
down jacket during the trip.
Water bottles and purification tablets by Himalayan Masters
first aid kit box.
 Himalayan Masters Brand Duffle Bag for the Trip
Himalayan Masters Brand Trekking T-Shirt and Cap
Farewell dinner in Kathmandu by Himalayan Masters Team
Trip Cost Excludes
an international flight ticket
Tips for Climbing guides and porters and base camp staff
 Lunch and dinner in the mountains
Wifi, battery charging, and hot showers in the mountains.
Travel Insurance
Your personal expenses
Other things that have not been mentioned above are also on the exclusion list.
useful info
Island Peak Climbing cost
The island peak is the ideal option for anyone wishing to climb a peak higher than 6000 meters, and climbing it with Himalayan Masters would cost you USD 2305 in total. We have produced an in-depth essay regarding the cost of climbing the island peak.
Reviews
I contacted Sandip from Himalayan Masters about a trip to Nepal in early 2022. I was hopeful of doing Everest base camp and maybe a climb of a 6000m peak. From the second we first connected Sandip cared so much about my trip and my needs.

After arriving in Nepal Sandip greeted me at the airport and gave me a beautiful flower necklace. He dropped me at my hotel and made sure I checked in okay. He was always a message away if I needed anything.

I started my trek 4 days after arriving and my guide was Govinda. Govinda was an amazing guide with awesome English. Govinda and I instantly connected and over the next 17 days, we had an absolute ball. Over 17 days I don't have a smile left my or Govinda's face.

My trip to the Himalayas was Truly life-changing. I would recommend anyone considering a trip to Nepal/Bhutan/Tibet to contact Sandip from Himalayan Masters for a great value package.

I would also recommend Govinda as a guide if you're looking for a friendly fun loving human who genuinely cares about you and your needs. I'm lucky enough to call Govinda my brother now :)

Thank you Himalayan Masters and I will be back!

Lachlan NorrisAustralia
FAQs
What is the cost of Island Peak climbing?
climbing Island Peak The cost is determined by the travel agency, your itinerary, and the level of luxury you desire while on the expedition. With Himalayan Masters, climbing Island Peak typically costs around $2305, including visas, permits, camps, food, equipment, lodging, guides, and porters. The Island peak permit costs less than other climbing peaks in Nepal because it doesn't require an extraordinary mountain ascent. At USD 2305, Himalayan Masters has the most affordable Island peak climb price.
How technical is Island Peak to Climb?
How long does it take to climb Island Peak Climbing?
How difficult is it to climb Island Peak?
UNSURE WHERE TO GO? WE CAN HELP
Based on your preferences, location, timeframe, and budget, our team can design your dream trek based on our extensive knowledge and experience of the Himalayas. Get in touch with us for detailed information and assistance planning your dream trek. With our 97% success rate on trekking and climbing trips in 2022 and 2023 spring season, we will answer any questions you may have and guide you for an unforgettable experience.